General
Money
Entry Requirements
Health & safety
Weather
Embassies
Etiquette
Public Holidays
Attractions
Map
---
Introduction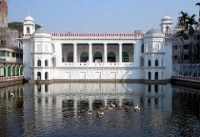 Hussaini Dalan, Bangladesh ©David Stanley
From elaborately detailed clothes and ornately decorated taxis to crowded cities packed bumper to heel and temple to mosque, Bangladesh is bursting at its seams. So much detail packed into such little area. An eclectic near 160 million people cram into a tight 55,600 square miles (144,000 km) of land.
Bangladesh has stunning sites from the world's most famous rivers, to the world's longest beach, ancient ruins and sacred religious sites, all uncorrupted by commercialised tourism. The capital Dhaka is usually the tourist's port of entry. Here a hectic city centre comprises a pattern of narrow and cramped streets between a sprawl of low buildings.
Development is sometimes difficult as the country is often recovering from devastating floods and cyclones. The rivers of the Ganges, Brahmaputra and Meghna spread their waters into the world's largest delta. Monsoon rain and melted Himalayan ice flood the river banks annually. This provides fertile soil and lush vegetation for the mostly flat country, but also a hard pattern of life.
Features such as South Asia's largest shopping mall stand in testament to recent economic growth. Beginnings of foreign investments are giving Bangladesh a much needed bump into the world economy but it is also constructing a paradoxical society. At one end, steadily growing industries are trying to pull away from the country's vast majority of the poorest people at the other. City development gives visitors a tourist infrastructure within major cities but very little elsewhere.
Bangladesh will likely remain a country very few tourists will visit, buy those that do, presuming they possess an open mind, will seldom forget the experience.
Communications
The international access code for Bangladesh is +880. The outgoing code is 00 followed by the relevant country code (e.g. 0044 for the United Kingdom) and city codes are in use (e.g. 2 for Dhaka). Dial up internet connections are found in larger towns and cities. Most cell phones work on a GSM network with prepaid SIM cards.
Emergencies
Ambulance: 199; Fire: 9 555 555; Police: 999
Languages Spoken
The official language of Bangladesh is Bangla. The language is central to their national identity. English and Urdu are often understood.
Duty Free
Travellers to Bangladesh may bring with them 200 Cigarettes, 50 Cigars or 225g of tobacco. Travellers are also granted an amount of perfume reasonable for personal use, and gifts of up to 500BDT in value. Non-Muslims may have two bottles of liquor.
Electricity
Electrical current in Bangladesh is 220 Volts, 50Hz. Round pin plugs, flat blade plugs, triangular three round pin plugs and parallel flat pins with grounding pin plugs are all common.
Climate Info
Bangladesh has a very wet climate defined by its subtropical monsoon seasons. Most of the rain falls from late May through October, followed by a cool season through February and a hot summer from March to mid-May. Summer temperatures in Bangladesh average above 90°F (32°C) and are at their peak in April; summer is also very humid and prone to hailstorms.
The rainy season in Bangladesh is focused from June to September, during which three quarters of the country's annual rainfall happens. Bangladesh is prone to annual cyclones and floods, which are most likely between May and June, and October and November.
Bangladesh is a good winter sun destination for Northern Hemisphere travellers; the best time to visit Bangladesh is between October and February, when the weather is mostly sunny and dry, with temperatures averaging around 75°F (24°C).
Passport
Although some visas are available on arrival these are limited and inconsistently 'given out'. Visa fees depend on embassy and nationality. Israelis are denied entry. A return or onward ticket is required and departure tax depends on onward destination.
Entry Requirements
United States passport holders require a valid passport as well as a visa; visas can be issued on arrival for stays of up to 30 days.
British passport holders require a valid passport as well as a visa. Visas valid for 30 days can be issued on arrival.
Canadian passport holders require a valid passport as well as a visa. Visas valid for 30 days can be obtained on arrival.
Australian passport holders require a valid passport as well as a visa. Visas valid for 30 days can be obtained upon arrival.
South African passport holders require a valid passport as well as a visa. However, South Africans with proof of Bangladeshi origin can obtain a 30 day visa on arrival.
Irish passport holders require a valid passport as well as a visa. Visas valid for 30 days can be obtained upon arrival.
New Zealand passport holders require a valid passport as well as a visa. Visas valid for 30 days can be obtained upon arrival.
Health
Medical facilities aren't close to the quality of most western hospitals and travellers with serious conditions should seek help outside of the country. Before travellers arrive they should consult a physician four to six weeks in advance to receive necessary immunisations and begin taking anti-malaria and typhoid medication. Malaria medication is needed for all areas outside of Dhaka. Make sure all ordinary immunisations are current. Hepatitis A and B immunisations are recommended as well as rabies and Japanese encephalitis for travellers to rural communities and the outdoors. Tuberculosis is also on the rise in Bangladesh. Travellers' diarrhoea is the most common affliction. Make sure to drink bottled water and be sceptical of undercooked foods. A Yellow Fever vaccination certificate is required for all travellers older than one year of age arriving from a yellow-fever infected area.
Safety
The security situation in Bangladesh is fluid and travellers should contact their local embassy for advice closer to the time of travel. All protests should be avoided in case they turn violent. Chittagong Hill Tracts should be avoided by all tourists as they have had political unrest and violence in the past. Armed robbery and theft is a problem especially in poor urban areas. Pickpocketing and purse snatching are common and directed at foreign travellers. Travellers should avoid walking or taking public transport at night because of crime. However city transport can be dangerous due to road and traffic conditions at all times. Ferries also result in fatalities each year. Monsoon season cyclones and flooding are a threat especially on coastal regions and near rivers.
Emergency Phone Number
Ambulance: 199; Fire: 9 555 555; Police: 999
* For current safety alerts, please visit
Foreign travel advice - GOV.UK
or
Travel.State.Gov
Money
The currency in Bangladesh is the Bangladesh Taka (BDT). There are ATMs in major cities but credit cards are usually only accepted in Dhaka. Banks and large stores will accept travellers cheques. The best exchange rate is found in private shops. Travellers are not allowed to leave with more currency than what they declare on arrival. Banking hours are 9 am to 3 pm, Sunday to Thursday.
Exchange Rate
Not available.
Embassies of Bangladesh
Bangladesh Embassy, Washington DC, United States of America: +1 (202) 244 0183.
Bangladesh High Commission, London, United Kingdom (also responsible for Ireland): +44 (0)20 7584 0081.
Bangladesh High Commission, Ottawa, Canada: +1 (613) 236 0138.
Bangladesh Embassy, Canberra, Australia:+61 (2) 6290 0511.
Bangladesh High commission, Pretoria, South Africa: +27 (12) 343 2105.
Bangladesh Consulate, Auckland, New Zealand: +64 (0)9 302 0545.
Foreign Embassies in Bangladesh
Embassy of the United States of America, Dhaka: +880 (2) 885 5500.
British High Commission, Dhaka: +880 (2) 882 2705.
Canadian High Commission, Dhaka: +880 (2) 988 7091.
Australian High Commission, Dhaka: +880 (2) 881 3101.
South African High Commission, Colombo, Sri Lanka: +94 11 246 3000.
Ireland Embassy, New Delhi, India: +91 (11) 4940 3200.
New Zealand High Commission, New Delhi: +91 11 4688 3170
Customers
The left hand is considered unclean and generally isn't used to greet people or pass food. It is common to eat with one's hands. Women should dress conservatively and often don't shake hands with men in greetings. People are addressed with a suffix denoting their relative age so addressing unknown people as older brother or sister is common. Bangladesh is an Islamic and a male dominated society despite having prominent women in government.
Tipping
Tipping in Bangladesh is not expected but welcome.
Public Holidays in Bangladesh
Travel Guide powered by www.wordtravels.com, copyright © Globe Media Ltd. All rights reserved. By its very nature much of the information in this guide is subject to change at short notice and travellers are urged to verify information on which they're relying with the relevant authorities. Globe Media and UNIGLOBE Travel does not accept any responsibility for any loss or inconvenience to any person as a result of information contained above.