General
Money
Entry Requirements
Health & safety
Weather
Embassies
Etiquette
Public Holidays
Attractions
Map
---
Introduction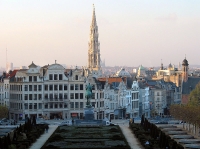 Belgium capital, Brussels ©Jean-Pol GRANDMONT
It may be a little country, but it is a lovely one, so it is sad that Belgium is often overlooked when travellers plan a trip to Europe. Tucked between the desirable and obvious destinations of London, Paris and Amsterdam, Belgium is usually treated as a stepping stone to the English Channel, or, at most, a quick stop-over for a look-see in the capital, Brussels.
Beyond the city of Brussels with its historic Gothic buildings and tall European Union office blocks, is a treasure-trove of undiscovered lazy seaside towns, and the inland wooded gorges of the splendid Ardennes, sprinkled with medieval castles and steeped in folklore. The medieval city of Bruges has character and charm galore with a rich architectural heritage, graceful canals, winding waterways and cobbled streets, and is a favourite with visitors. Belgium is a country that has inspired many artists and writers with the charm of its Gothic cathedrals, town halls, gabled guildhouses and rich museums.
After a busy day exploring it all, evenings are best spent experiencing Belgium's fantastic cuisine and delighting in the country's variety of 300-odd brews of beer. Belgians have a reputation for their gracious hospitality, no doubt due in part to the country's location, which has created an international crossroads for commerce and culture. Despite this, Belgium and its distinct regions of Flemish Flanders (north) and French Wallonia (south) has proudly preserved its traditions and identity.
Communications
The international access code for Belgium is +32. Mobile coverage is extensive, with mobile phones operating on GSM networks. There are many internet cafes and plenty of coffee shops and bars offer free wifi.
Emergencies
Emergencies: 101, or 112 from cell phones
Languages Spoken
The Flemish, in the north, speak Dutch; the Walloons in the south speak French. Brussels is bilingual, the majority of citizens speaking French. In the east there is a small German-speaking community. English is also spoken.
Duty Free
Travellers to Belgium arriving from non-EU countries are allowed to enter the country with the following items without incurring customs duty: 200 cigarettes, 100 cigarillos, 50 cigars or 250g tobacco; 1 litre spirits over 22 percent in alcohol or 2 litres of dessert wine 22 percent in alcohol and sparkling wine, and 2 litres wine; 50g perfume and 250ml eau de toilette; and other goods such as souvenirs to the value of €175. Prohibited items include unpreserved meat products.
Electricity
Electrical current in Belgium is 230 volts, 50Hz. Standard European-style two-pin plugs will work. Three pin plugs, with a male grounding pin, can also be used.
Climate Info
The Belgium climate is temperate, with warm weather in summer (May to September) and cool to cold weather in winter (December to February). There is also a possibility of snow when in Belgium which is always an exciting winter prospect! Generally visitors can expect a maritime climate and a high average annual rainfall. Visitors can also expect a thundershowers at any time of year, so it's always best visitors pack a rain coat or an umbrella. Temperatures range from highs of around 73°F (23°C) in summer to 45°F (7°C) during winter.
Passport
The borderless region known as the Schengen area includes the following countries: Austria, Belgium, Czech Republic, Denmark, Estonia, Finland, France, Germany, Greece, Hungary, Iceland, Italy, Latvia, Lithuania, Luxembourg, Malta, The Netherlands, Norway, Poland, Portugal, Slovakia, Slovenia, Spain and Sweden. All these countries issue a standard Schengen visa that has a multiple entry option that allows the holder to travel freely within the borders of all. Nationals of non-EU countries are recommended to hold return or onward tickets, sufficient funds and documents for their next destination. It is recommended that passports are valid for six months after departure from any holiday destination.
Entry Requirements
US nationals must have a passport valid for three months beyond period of intended stay. A visa is not required for stays of up to 90 days.
A visa is not required for passports endorsed 'British Citizen', 'British Subject' (containing a Certificate of Entitlement to the Right of Abode issued by the United Kingdom), and 'British Overseas Territories Citizen' issued by Gibraltar. No visa is required for stays of up to 90 days in a half-year period for holders of passports with any other endorsement. Holders of identity cards issued by Gibraltar authories, and endorsed 'Validated for EU travel purposes under the authority of the United Kingdom', do not require a visa to visit Belgium.
Canadians must have a passport valid for three months beyond period of intended stay. A visa is not required for stays of up to 90 days.
Australian nationals must have a passport valid for at least three months beyond period of stay. A visa is not required for stays of up to 90 days.
South African nationals require a passport valid for at least three months beyond period of intended stay. A Schengen visa is required and should be obtained before travel. South African temporary passports are not recognised.
New Zealand nationals require a passport valid for at least three months beyond intended period of stay. No visa is required for stays of up to 90 days.
Health
No vaccinations are required for travel to Belgium. Medical facilities and care in Belgium is excellent but expensive so travellers are advised to take out medical insurance. UK citizens receive emergency medical care for a reduced cost, but should have a European Health Insurance Card (EHIC) to qualify.
Safety
Most visits to Belgium are trouble-free, but travellers should be wary of street crime in the cities, such as mugging and pickpocketing, particularly in Brussels at major railway stations and on public transport. Brussels is home to a number of international organisations, including EU and NATO, which could become the target of indiscriminate terrorist attacks.
Emergency Phone Number
Emergencies: 101, or 112 from cell phones
* For current safety alerts, please visit
Foreign travel advice - GOV.UK
or
Travel.State.Gov
Money
The Belgian currency is the Euro (EUR). Most international credit cards are accepted. ATMs are available in all towns and cities. Banks are open Monday to Friday, 9am to 4pm, and are closed on Saturdays, Sundays and holidays. Some banks close for an hour during lunch. There are, however, some foreign exchange offices that trade on Sundays.
Exchange Rate
Not available.
Embassies of Belgium
Embassy of Belgium, Washington DC, United States: +1 202 333 6900.
Embassy of Belgium, London, United Kingdom: +44 (0)20 7470 3700.
Embassy of Belgium, Ottawa, Canada: +1 613 236 7267.
Embassy of Belgium, Canberra, Australia: +61 (0)2 6273 2501.
Belgium Embassy, Pretoria, South Africa: +27 (0)12 440 3201.
Embassy of Belgium, Dublin, Ireland: +353 (0)1 631 5284.
Consulate of Belgium, Wellington, New Zealand: +64 (0)4 974 9080.
Foreign Embassies in Belgium
Embassy of the United States, Brussels: +32 (0)2 811 4000.
British Embassy, Brussels: +32 (0)2 287 6211.
Canadian Embassy, Brussels: +32 (0)2 741 0611.
Australian Embassy, Brussels: +32 (0)2 286 0500.
South African Embassy, Brussels: +32 (0)2 285 4400.
Embassy of Ireland, Brussels: +32 (0)2 282 3400.
New Zealand Embassy, Brussels: +32 (0)2 512 1040.
Customers
Belgium law requires everyone to carry some form of official identification at all times.
Business
Belgians are very formal in business, enjoy a great deal of personal space, and are generally reserved and extremely private. Dress should be conservative; dark suits are acceptable, with a high importance placed on quality and neatness of clothing. Punctuality is extremely important at meetings, which will begin and end with a quick, light handshake with all involved, and exchanging business cards is standard practice; it is recommended that cards are printed in English with the other side translated in either French or Dutch depending on the main language of the region where business is to take place. it is a good idea to research beforehand whether a business is French or Dutch-speaking. Compromise is very important in Belgian business culture, and may be required as a show of friendship. Business hours are generally 9am to 5pm.
Tipping
Service charges are included in bills in Belgium and tipping is not necessary, unless for exceptional service. Porters, coatroom and bathroom attendants are generally tipped.
Public Holidays in Belgium
| | | |
| --- | --- | --- |
| | 2017 | 2018 |
| Armistice Day | 11 Nov | 11 Nov |
| New Years Day | 1 Jan | 1 Jan |
| Easter Monday | 17 Apr | 2 Apr |
| Labour Day | 1 May | 1 May |
| Ascension Day | 25 May | 10 May |
| Whit Monday | 5 Jun | 21 May |
| National Day | 21 Jul | 21 Jul |
| Assumption of the Virgin Mary | 15 Aug | 15 Aug |
| All Saints Day | 1 Nov | 1 Nov |
| Christmas Day | 25 Dec | 25 Dec |
Overview
When it comes to world-class attractions and exciting sightseeing options Belgium packs a mighty punch for a country of such modest proportions. Take your pick from the heavyweight attractions and cosmopolitan thrills of the capital city Brussels, to the medieval charms of Bruges, and the lesser known historical treasures of Ghent. In between, you'll find welcoming people, great food and Europe's finest beer and chocolates to keep you energised.
Belgium is a year round destination too, although the countryside does look its best during the summer months of April to October. The transport infrastructure is excellent, and that makes getting around a true pleasure.
This is not a country to see from the confines of a tour bus, however. You need to get out on foot and explore the cobbled streets framed by medieval buildings; spend an afternoon on Grand Place watching the world go by; rent a bicycle and ride into the countryside alongside a burbling canal. However you choose to explore the pleasures of Belgium, spend some time here and you'll be rewarded with some of Europe's most underrated and wonderful attractions.
Map of Belgium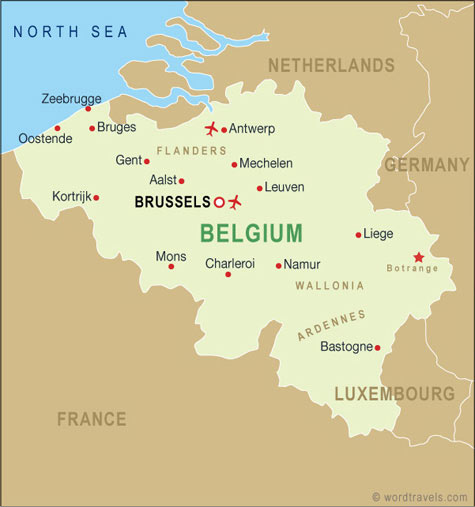 Travel Guide powered by www.wordtravels.com, copyright © Globe Media Ltd. All rights reserved. By its very nature much of the information in this guide is subject to change at short notice and travellers are urged to verify information on which they're relying with the relevant authorities. Globe Media and UNIGLOBE Travel does not accept any responsibility for any loss or inconvenience to any person as a result of information contained above.