General
Money
Entry Requirements
Health & safety
Weather
Embassies
Etiquette
Public Holidays
Attractions
Map
---
Introduction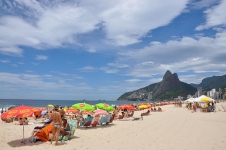 Ipanema Beach ©Mike Vondran
Brazilians exhibit a passion for life and exuberance of spirit that charms travellers from around the world. The long-lasting impression with which most visitors leave Brazil is of carefree, colourful people dancing and celebrating in the street parades at Carnival.
The country has much to offer visitors at all times of year. Tourists descending on the country's exciting cities, such as hedonistic Rio de Janeiro, can enjoy five-star hotels, shopping malls, pristine beaches, sunny skies and bustling nightlife. Visitors to Brazil can live the high life without really having to confront the hundreds of shantytowns (favelas) where the poorest of the poor eke out a living in the shadows of the skyscrapers. However, favela tours, meals, and overnight stays are becoming increasingly popular as tourists begin to explore safer neighbourhoods that are colourful, vibrant and friendly.
With booming mining, agricultural and manufacturing sectors, Brazil has the highest GDP in Latin America and is expected to be one of the world's dominant economies by the middle of the century. Brazil also caters well for business tourism and is a favoured destination for conventions, congresses and expos, particularly the city of Sao Paulo, which is the country's largest city and the business capital of Brazil.
Being so vast, larger than the continental United States, Brazil is home to a variety of cultures and topographies. From the Amazon and Pantanal rainforests to the urban jungle of Sao Paulo, the vast central plateau around Brasilia and world-famous beaches of Copacabana and Ipanema to the mountain towns of Minas Gerais; it all adds up to an exotic and exciting Latin American experience where the common denominators are samba, sunshine, sultry smiles and soccer.
Communications
The international access code for Brazil is +55. Mobile phone networks cover the main cities and towns, and phones are available to rent. Internet cafes are widely available and most hotels provide internet access. Every town has a central telephone office called a Posto Telefonico where long distance calls can be made, and public phone booths are everywhere, operated by phone cards.
Emergencies
Emergencies: 190 (police), 193 (ambulance)
Languages Spoken
The spoken language in Brazil is Portuguese, however Spanish and English are also used in the cities.
Duty Free
Travellers to Brazil can enter the country with 400 cigarettes or 25 cigars; 24 units of alcoholic beverages, with a maximum of 12 units per type of beverage; and goods to the value of US$500, without incurring customs duty. Restricted items include fresh produce, meat and dairy products. Strict regulations apply to temporary import or export of firearms, antiquities, tropical plants, medication and business equipment.
Electricity
Brazil has a variety of electrical voltages, sometimes within the same city. The better hotels offer 220 volts, 60Hz. If not, transformers are available in electrical stores. Outlets often accept a variety of plug types.
Climate Info
Brazil's weather is quite diverse as there are five different climatic regions: equatorial, tropical, semi-arid, highland tropical and subtropical. Cities such as Sao Paulo and Brasilia, on the plateau, have a mild climate with temperatures averaging 66°F (19°C). Rio de Janeiro, Recife, Natal and Salvador on the coast have warmer climates balanced by the Trade Winds. Rio, for example, has an average temperature of around 80°F (26°C), which will climb to over 100°F (38°C) during the summer months, between December and February. In the southern Brazilian cities of Porto Alegre and Curitiba, the subtropical climate is similar to parts of the US and Europe, with frosts occurring in the winter months, between July and August, when temperatures can fall below freezing. Summers are hot, however. Despite the popular image of the Amazon as a region of blistering heat, temperatures rarely rise above 90°F (32°C), and days are generally warm, wet and humid. The region has two seasons: a rainy season (November to May) and not-so-rainy season (June to October).
Passport
All visitors require passports that are valid for at least the period of intended stay in Brazil but we strongly recommend that passports be valid for six months after intended date of travel. Border control may well deny entry to holders of passports valid for less than six months. Sufficient funds to cover their stay in Brazil, as well as a return or onward ticket and documentation required for further travel, are necessary for all travellers. Visa requirements vary from country to country.
Entry Requirements
A valid passport and a visa are required by US nationals.
UK passport holders do not require a visa for either business or holiday travel for stays of up to 90 days. A valid passport is required.
A valid passport and a visa are required by Canadian nationals.
A valid passport and a visa are required by Australian nationals.
A valid passport is needed, but no visa is required by South African nationals if travelling on holiday or business for up to 90 days.
Irish nationals need a valid passport, but do not require a tourist or business visa for stays of up to 90 days.
New Zealanders need a valid passport, but no visa is required for a stay of up to 90 days.
Health
Hepatitis A and B vaccinations are recommended for all travellers. Mosquito-borne diseases like dengue fever and malaria are prevalent in Brazil, so insect repellent and protective clothing is essential. Malaria exists below 2,953 feet (900m) in most rural areas, and outbreaks of dengue fever occur frequently. Visitors travelling from infected areas outside the country require a yellow fever certificate, and vaccination is recommended for those travelling to rural areas, as outbreaks have occurred in recent years. Tap water is heavily treated resulting in a strong chemical taste; bottled water is, however, freely available for drinking purposes. Typhoid vaccinations are recommended if travellers intend to spend a lot of time outside of major cities. Milk in rural areas is not pasteurised. Hospitals in the major cities are fairly good, but most doctors will want cash payment, even for travellers with insurance.
Safety
Brazil is politically stable and seldom a target for terrorist activities. In metropolitan areas, however, crime is a fact of life. Rio in particular is regarded as one of the most crime-ridden cities in the world and, although violent crime is generally limited to the slum areas, foreigners are advised to take precautions. Visitors should not attempt to visit slum areas (favelas) unless on a guided tour. Violent crime is on the increase due to the establishment of drug and criminal gangs around Rio and Sao Paulo. Muggings, often involving firearms, are frequent and visitors should dress down, conceal cameras, and avoid wearing jewellery and expensive watches. Valuables should be deposited in hotel safes. The threat of personal attack is lower outside the main urban centres, but incidents do occur, and women should be aware that sexual assaults have been reported in coastal holiday destinations. Beware of unofficial taxis and those with blacked-out windows and be particularly careful on public transport in Rio, Recife and Salvador.
Emergency Phone Number
Emergencies: 190 (police), 193 (ambulance)
* For current safety alerts, please visit
Foreign travel advice - GOV.UK
or
Travel.State.Gov
Money
The Brazilian currency is the Real (BRL). The US Dollar is also welcome in most tourist establishments. In the main cities, foreign currencies can be exchanged at banks or cambios. There is an extensive network of ATMs in the country and most major international credit cards are accepted.
Exchange Rate
Not available.
Embassies of Brazil
Brazilian Embassy, Washington DC, United States: +1 202 238 2700
Brazilian Embassy, London, United Kingdom: +44 (0)20 7747 4500
Brazilian Embassy, Ottawa, Canada: +1 613 237 1090.
Brazilian Embassy, Canberra, Australia: +61 (0)2 6273 2372.
Brazilian Embassy, Pretoria, South Africa: +27 (0)12 366 5200.
Brazilian Embassy, Dublin, Ireland: +353 (0)1 475 6000.
Brazilian Embassy, Wellington, New Zealand: +64 (0)4 473 3516.
Foreign Embassies in Brazil
United States Embassy, Brasilia: +55 (61) 3312 7000.
British Embassy, Brasilia: +55 (61) 3329 2300.
Canadian Embassy, Brasilia: +55 (61) 3424 5400.
Australian Embassy, Brasilia: +55 (61) 3226 3111.
South African Embassy, Brasilia: +55 (61) 3312 9500.
Irish Embassy, Brasilia: +55 (61) 3248 8800.
New Zealand Embassy, Brasilia: +55 (61) 3248 9900.
Customers
Brazil is a diverse cultural and ethnic melting pot, but most social customs will be familiar to visitors. As a result of three centuries of colonization by the Portuguese, the Brazilian culture is actually recognisably European in many ways. Physical appearance is considered important by most Brazilians and care is taken to dress well, although not generally formally.
Business
Business practices vary quite substantially from city to city in Brazil: very formal in Sao Paulo, but more relaxed in Rio de Janeiro and other centres. Multi-national companies have similar business etiquette to those in Europe or the US, while local businesses require a few more considerations, particularly preferring face-to-face meetings over phone calls or written communication. Brazilians place a very high value on personal relationships within business environments and will generally only conduct business through personal connections or with those whom they have already established a personal relationship. Nepotism is considered not only acceptable but actually desirable, because it is seen as ensuring trust and good relationships in business.
All meetings are preceded by handshakes and small talk, and visitors should avoid the temptation to rush things; even after the meeting is over, it is considered rude to rush off. Entertaining is common, either at a restaurant or someone's home, again with the emphasis on building personal relationships. Punctuality is flexible, except when meeting at a restaurant, when tardiness is considered impolite, and a small gift or flowers for the hostess is common when invited to a home. Business suits are expected, especially for first meetings. Portuguese is the dominant language, and although English is widely spoken in business, an interpreter might be required. Business cards, as well as written documents, should be printed in both English and Portuguese. Business hours are 8.30am to 5.30pm Monday to Friday.
Tipping
Nearly all hotels add a service charge to the bill, usually 10 percent. Most restaurants also add 10 percent or more to the total of the bill, but must make it clear that they have done so; waiters appreciate another five percent if their service has been good. Otherwise, a 10 to 15 percent tip is customary. Brazilians don't normally tip taxi drivers, except if they handle bags, although they may round up the total. Hotel staff expect small tips and most other service personnel, including barbers, shoe shiners, and petrol station attendants, are usually rewarded with a 10 to 15 percent tip. Parking attendants earn no wages and expect a tip of around two real.
Public Holidays in Brazil
| | | |
| --- | --- | --- |
| | 2017 | 2018 |
| New Years Day | 1 Jan | 1 Jan |
| Carnival / Mardi Gras | 27 Feb | 12 Feb |
| Good Friday | 14 Apr | 30 Mar |
| Tiradentes Day | 21 Apr | 21 Apr |
| Labour Day | 1 May | 1 May |
| Corpus Christi | 15 Jun | 31 May |
| Independence Day | 7 Sep | 7 Sep |
| Our Lady of Aparecida | 12 Oct | 12 Oct |
| All Souls Day | 2 Nov | 2 Nov |
| Proclamation of the Republic | 15 Nov | 15 Nov |
| Christmas Day | 25 Dec | 25 Dec |
Overview
Brazil's attractions are equally divided between the urban and the natural; with the cultural delights of cities like Rio de Janeiro and Sao Paulo, and the natural wonders of the Amazon and Pantanal rainforests, there's something to see and do in Brazil for just about anybody.
Every year, thousands flock to the world-famous Carnival in Rio, when the entire city is awash in parties, parades, music and dancing. Rio also features the iconic Christ the Redeemer statue, which is one of the seven marvels of the modern world, and the architectural wonder Samba City. The mild climate of the major cities makes them an attractive destination all year round, with the coastal areas being even warmer and suited to year-round sunbathing. Brazil's major cities are known for their wild nightlife, with enough bars, clubs, dance halls, and parties to satisfy even the most hedonistic visitor.
Brazil's beaches are just as famous, with several (Ipanema and Copacabana) immortalised in song. There are several well-known nude beaches, including one in the relaxed town of Pinho. The southern beaches, including Praia Do Rosa, offer big waves that attract top surfers from all over the world between April and November. There are also many popular scuba diving spots that boast beautiful coral reefs, volcanic islands, caves, and shipwrecks.
Brazil is a huge country, with an area larger than the continental United States, and over half of that is rainforest. The Amazon, the world's largest tropical rainforest, covers seven million square kilometres and is a wildlife and bird watching paradise, home to countless species of plants and animals you won't find in any other country. The pink dolphin, for example, is only found in the Amazon and its tributaries. You might also find jaguars, howler monkeys, sloths, toucans and anacondas, among many other creatures.
Brazil's oceans are also teeming with amazing animals. Dolphin and whale watching are popular activities in places like Fernando de Noronha, and snorkelling in Bonito, which fittingly means 'beautiful', is a delight. Praia do Forte and other beaches are also good places to witness the hatching of sea turtles.
Map of Brazil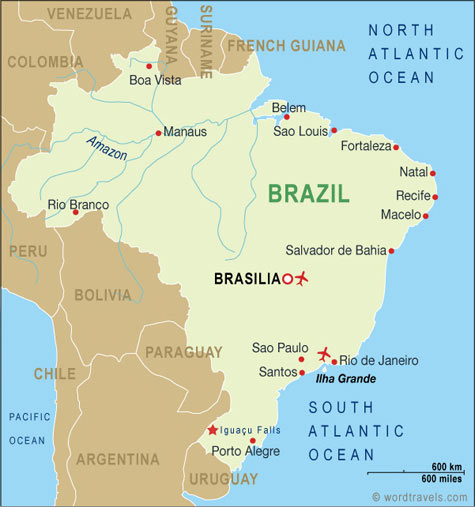 Travel Guide powered by www.wordtravels.com, copyright © Globe Media Ltd. All rights reserved. By its very nature much of the information in this guide is subject to change at short notice and travellers are urged to verify information on which they're relying with the relevant authorities. Globe Media and UNIGLOBE Travel does not accept any responsibility for any loss or inconvenience to any person as a result of information contained above.