General
Money
Entry Requirements
Health & safety
Weather
Embassies
Etiquette
Public Holidays
Attractions
Map
---
Introduction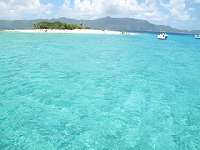 BVI ©Fairphotos
Visitors to the British Virgin Islands will not be hard pressed to find out why they're nicknamed 'Nature's Little Secrets'. Abounding in natural beauty, the 36 islands making up the Caribbean archipelago (16 of which are uninhabited) have kept the effects of tourism at bay and offer unblemished beaches, numerous unspoilt anchorages, exotic fauna and flora and a relaxed, low-key lifestyle.
Situated about 50 miles (80km) east of Puerto Rico and just northeast of the US Virgin Islands, the islands and cays that make up the British Virgin Islands are clustered around the Sir Francis Drake Channel, which is renowned for its sheltered, crystal clear waters. Its location has made the archipelago a popular destination for yachting enthusiasts, and the islands are known as one of the best and safest sailing destinations in the world with reliable trade winds, near-perfect weather and a choice of secluded and intriguing bays to visit.
The largest island, Tortola, is the yachting capital of the Caribbean and the territory's main commercial centre; it has beautiful mountainous slopes endowed with tropical fruits and flowers. Tortola is an ideal base from which to explore some of the other inhabited islands such as Virgin Gorda, noted for its spectacular geological formations and one of the British Virgin Islands' most famous landmarks: The Baths. Travellers in search of a remote and rustic retreat, with the smell of freshly baked banana bread and the sounds of calypso music in the air, should head for the friendly beach haven of Jost Van Dyke; and the reefs surrounding Anagada's low-lying coral atoll and its miles of deserted white beaches shouldn't be missed by divers, snorkellers and sun worshippers. Besides these major islands, there are also dozens of secluded islets and cays to explore, each blessed with its own special charm and unique beauty.
Communications
The international dialling code for the British Virgin Islands is +1 284. The outgoing code is 011 followed by the relevant country code (e.g. 01127 for South Africa). No area codes are required. A GSM 900/1900 network covers the islands. Internet cafes are available throughout the islands and many hotels provide Internet connections. Phone boxes are widely available and accept coins and phone cards, which can be purchased in most shops.
Emergencies
Emergencies: 999.
Languages Spoken
English is the main language spoken on the islands.
Duty Free
Travellers to the Virgin Islands over 18 years do not have to pay duty on 200 cigarettes or 50 cigars or 227g of tobacco and wine or spirits up to 1 litre.
Electricity
Electrical current is 110 volts, 60 Hz. Plugs are the same as in the US with two-pin flat blades and one with a third round grounding pin.
Climate Info
The British Virgin Islands have a sub-tropical climate with high humidity, although temperatures are moderated by trade winds. Temperatures vary little all year but there is a slight difference in average temperatures between the seasons: temperatures in summer average from 79°F to 88°F (26°C to 31°C) and in winter temperatures average between 72°F to 82°F (22°C to 28°C). Rainfall is variable but there is a 'dry' season between January and July (the cooler, winter months) and a wet season between August and November.
The British Virgin Islands are a great year-round holiday destination but the best time to visit is between January and June when it is slightly cooler and drier and there is no risk of hurricanes.
Passport
Travellers need a return or onward ticket and all the documents required for their next destination, as well as sufficient funds. As part of the Western Hemisphere Travel Initiative (WHTI), all travellers travelling between the United States and Canada, Mexico, Bermuda, and the Caribbean region are required to present a passport or other valid travel document to enter or re-enter the United States. If departing from the USA a valid passport will be required by immigration authorities. We recommend that passports be valid for six months after intended period of travel.
Entry Requirements
United States passport holders must have a valid passport, a government-issued photo ID, such as a driver's license, as well as proof of citizenship, such as an original or certified birth certificate. No visa is required for stays of up to six months.
UK passport holders need a passport, but no visa is necessary.
Canadian passport holders require a passport or a government-issued photo ID, such as a driver's license, as well as proof of citizenship, such as a birth certificate. No visa is required for stays of up to six months.
Australian passport holders need a passport, but no visa is necessary for a stay of up to six months.
South Africans need a passport, but no visa is necessary for stays of up to six months.
Irish nationals need a passport, but no visa is necessary for stays of up to six months.
New Zealand nationals require a passport, but no visa is necessary for stays of up to six months.
Health
There is a small risk of dengue fever in the British Virgin Islands, so visitors should protect themselves with insect repellent. Recommended vaccinations are minimal but include hepatitis A, if not previously taken. Limited medical facilities can be found on all the main British Virgin Islands and there is a hospital located in Road Town, Tortola. Comprehensive medical and travel insurance is recommended.
Safety
The British Virgin Islands are generally considered very safe for travellers and they have a low crime rate, but sensible precautions should always be taken regarding valuables, especially on beaches. The islands are susceptible to hurricanes, particularly during the months between June and November, but tropical storms can occur throughout the year. It is a good idea to check the forecast for storms during your stay and to plan around the hurricane season, particularly the months of October and November.
Emergency Phone Number
Emergencies: 999.
* For current safety alerts, please visit
Foreign travel advice - GOV.UK
or
Travel.State.Gov
Money
The official currency is the US Dollar (USD), which is divided into 100 cents. Most establishments on the larger islands accept credit cards, but on Anegada it is best to have cash. Banks and exchange facilities can be found in Road Town, Tortola. ATMs are available in Tortola and Virgin Gorda.
Exchange Rate
Not available.
Embassies of British Virgin Islands
British Embassy, Washington DC, United States: +1 202 588 6500.
British High Commission, Ottawa, Canada: +1 613 237 1530.
British High Commission, Canberra, Australia: +61 2 6270 6666.
British High Commission, Pretoria, South Africa: +27 12 421 7500.
British Embassy, Dublin, Ireland: +353 1 205 3700.
British High Commission, Wellington, New Zealand: +64 4 924 2888.
Foreign Embassies in British Virgin Islands
United States Embassy, Bridgetown, Barbados (also responsible for the BVI): +1 246 436 4950.
Canadian High Commission, Bridgetown, Barbados (also responsible for the BVI): +1 246 429 3550.
Australian High Commission, Port of Spain, Trinidad and Tobago (also responsible for BVI): +1 868 628 0695.
Customers
In the British Virgin Islands, it is considered impolite to take photographs of the local people without asking their permission beforehand.
Business
Business attire in the British Virgin Islands is fairly formal and conservative; a lightweight suit is appropriate for most meetings, unless in an informal outdoor setting where smart slacks and a shirt is more appropriate. Handshaking is customary for introductions between both men and women; women are considered equals in the business world and should be treated as such. Business cards are exchanged on introduction. Being late for meetings is considered offensive despite the laid back impression of the island, although meetings are usually fairly unstructured. The language of business is English, and hours of business generally from 9am to 5pm Monday to Friday.
Tipping
For good service, a 10 to 15 percent tip is usual in the British Virgin Islands. Hotels often add a service charge to the bill, usually between 10 and 12 percent, so it is best to check before tipping. Bellhops and porters usually expect $1 per item of luggage.
Public Holidays in British Virgin Islands
Travel Guide powered by www.wordtravels.com, copyright © Globe Media Ltd. All rights reserved. By its very nature much of the information in this guide is subject to change at short notice and travellers are urged to verify information on which they're relying with the relevant authorities. Globe Media and UNIGLOBE Travel does not accept any responsibility for any loss or inconvenience to any person as a result of information contained above.