General
Money
Entry Requirements
Health & safety
Weather
Embassies
Etiquette
Public Holidays
Attractions
Map
---
Introduction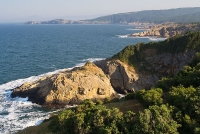 Bulgaria's beautiful coastline ©Evgord
Bulgaria is a beautiful country, with a sprinkling of mountains; it is small in size but rich in ancient culture, scenic splendour, friendly people and old-fashioned warmth and hospitality. Situated in the southeast of Europe, on the Balkan Peninsula, Bulgaria is not as much a tourist destination as its Greek and Turkish neighbours despite the popularity of its reasonably priced Black Sea resorts, which are scenically captivating with their fine, sandy beaches, sunny climate, and safe seas.
Although better known for its sea resorts, the essential character of Bulgaria can really be found in its spectacular mountainous regions. The six very different mountain ranges in the country vary from high, snow-covered peaks to gentle green slopes and forests, harbouring thermal springs and mineral spas, and valleys where the air bears the fragrance of flowers and herbs. The Valley of Roses lies in the heart of the country and is one of the largest producers of rose oil in the world, giving credence to Bulgaria's soubriquet, 'Land of Roses'.
At the foot of the Vitosha Mountains lies the laid back capital city, Sofia, which is home to a great number of architectural monuments and museums. On the other hand, the rugged heights of the Rila and Pirin mountains form a spectacular setting for ski resorts, as well as the famous Rila Monastery and the majestic landscape of the Pirin National Park, a UNESCO World Heritage site. Crossing the entire country is the Balkan Range, a 329 mile (530km) chain that offers some of the best hiking in Europe.
As varied as the different mountain ranges are the people who dwell in them, with distinctive regional customs, crafts, festivals, and folklore adding colour to the Bulgarian landscape. Small, picturesque villages welcome guests with typical, warm-hearted Bulgarian hospitality, sharing traditional cooking and a delight in their pastoral environment.
Bulgaria's history is displayed across the country in its old towns, ancient Thracian relics, decorated churches and monasteries, and in the rustic settlements that have preserved the traditional beliefs of its people. One of the country's biggest assets for visitors is its variety, but whatever aspect one chooses to explore, there is always the assurance of a warm welcome.
Communications
The country dialling code for Bulgaria is +359, followed by the relevant city code. The city code for Sofia is (0)2. The outgoing code is 00 followed by the relavent country code (e.g. 0044 for the United Kingdom). Betcom or Bulgarian Telecommunication Company phone booths require a special card available from kiosks. Telephone offices are also available and are attached to post offices. Bulgaria is one of the few countries in Europe that has no peak or off-peak call times. The country has mobile GSM operators, and several Internet Service Providers. Internet cafes can be found across big cities.
Emergencies
112 (Pan-European General Emergency Helpline).
Languages Spoken
Bulgarian is the official language, which uses the Cyrillic alphabet, but English, German and French are spoken in resorts, hotels, and restaurants.
Duty Free
Travellers to Bulgaria, aged 17 and older, do not need to pay customs duty on 200 cigarettes or 50 cigars or 250g of tobacco; 1 litre of spirits and 2 litres of wine; 50g of perfume or 100g of eau de toilette; and gifts. Allowances are larger for goods purchased within the EU. Prohibited items include arms and ammunition, narcotics and pornography.
Electricity
Electrical current is 220 volts, 50Hz. European two-pin plugs and schuko plugs are in use.
Climate Info
Bulgaria has a temperate-continental climate, which is typical for Central Europe.There are four distinct seasons: summer is long, hot, and generally considered peak tourist season; autumn is also a pleasant time of year popular with tourists for its rich, autumn colours and the fact that it is less crowded; winter is long and cold, but opffers great skiing opportunities; while spring is warm and lovely for all of the blossoming flowers.
Bulgaria is generally a sunny country with between 2,200 and 2,500 hours of sunlight every year. It can rain throughout the year and thunderstorms are common in the summer months. Snow falls abundantly between December and March, especially in the mountainous areas. There is a marked difference in weather between the mountains and the milder, southern regions near the Mediterranean sea. Summer temperatures, between June and August, average around 75°F (24°C); whereas winter temperatures, between December and February, average around 32°F (0°C). Bulgaria is a year-round tourism destination because it attracts off-season visitors for skiing, but the most popular time to visit is summer.
Passport
Visitors must have proof of sufficient funds or onward or return tickets in addition to other documents needed for the next destination. Valid health insurance is required. All visitors to Bulgaria, other than EU nationals, must register as foreigners at a local police station within five days of arrival. This registration is usually done as a matter of course through the hotel or accommodation establishment. Visitors are advised to check this, as a dated registration slip has to be submitted when leaving the country. Immigration and entry regulations are very strictly enforced. Passports of all visitors should be valid for at least three months after leaving Bulgaria. We recommend that passports be valid for six months after intended period of travel. Visitors should be prepared to show proof of valid medical insurance upon request. Visa requirements vary from country to country.
Entry Requirements
Citizens of the US do not need a visa to visit Bulgaria for a period of up to 90 days. Passports must be valid for at least three months beyond period of intended stay.
British Citizens do not need a visa to visit Bulgaria for a period of up to 90 days. A passport valid for at least three months beyond period of intended stay is required.
Canadians do not need a visa to visit Bulgaria for a period of up to 90 days. A passport valid for at least three months beyond period of intended stay is required.
Australians do not need a visa to visit Bulgaria for a period of up to 90 days. A passport valid for at least three months beyond period of intended stay is required.
South Africans need a visa to enter Bulgaria, except for stays of up to 90 days for holders of a Schengen visa. A passport valid for at least three months beyond period of intended stay is required.
Irish nationals do not need a visa to visit Bulgaria for a period of up to 90 days. A passport valid for three months beyond period of intended stay is required.
New Zealanders do not require a visa for a maximum stay of 90 days. A passport valid for at least three months beyond period of intended stay is required.
Health
Bulgaria poses few health risks and there are no vaccinations required for entry. Vaccinations for hepatitis A and hepatitis B are, however, always recommended for travellers, and a typhoid vaccination is recommended for travellers who may be eating and drinking outside of hotels and restaurants and travelling off the beaten track. Similarly, a rabies vaccination is recommended for travellers who will be spending a lot of time outdoors or who will be exposed to animals.
Travellers should note that medical treatment can be expensive and payment is expected immediately. Facilities in local hospitals are basic and specialised treatment or equipment may not be freely available. Medical insurance, with provision for emergency evacuation, is therefore vital. Travellers from the UK should also hold a European Health Insurance Card (EHIC) in case of emergency medical treatment.
Safety
Most visits to Bulgaria are trouble-free. Violent crime is rare, but criminal groups target casinos and nightclubs and groups of young pickpockets are active in city centres and the Black Sea holiday resorts. Car theft is also relatively common.
Emergency Phone Number
112 (Pan-European General Emergency Helpline).
* For current safety alerts, please visit
Foreign travel advice - GOV.UK
or
Travel.State.Gov
Money
The official currency is the Lev (BGN), which is divided into 100 stotinki. Bulgaria has strict currency regulations. If you enter Bulgaria with cash of any currency amounting to the equivalent of BGN 8,000 or more, you must declare it to customs officials. Foreign currency may be exchanged in banks, hotels or at one of the numerous bureaux de change; however, due to a common practice of misleading rates of exchange it is better to go to banks to change money. A receipt called a bordereaux is issued when exchanging currency, indicating the amount that will be given, and it must be kept until departure. Major international credit cards are increasingly becoming accepted by tourist hotels, upmarket shops and restaurants, travel agents and car rental agents, but Bulgaria is still largely a cash economy. There are ATMs in the main cities and at Black Sea resorts.
Exchange Rate
Not available.
Embassies of Bulgaria
Bulgarian Embassy, Washington DC, United States: +1 202 387 0174.
Bulgarian Embassy, London, United Kingdom: +44 20 7584 9400.
Bulgarian Embassy, Ottawa, Canada: +1 613 789 3215.
Bulgarian Embassy, Canberra, Australia: +61 2 6286 9711.
Bulgarian Embassy, Pretoria, South Africa: +27 12 342 3720/1.
Bulgarian Embassy, Dublin, Ireland: +353 1 660 3293.
Foreign Embassies in Bulgaria
United States Embassy, Sofia: +359 2 937 5100.
British Embassy, Sofia: +359 2 933 9222.
Canadian Consulate, Sofia: +359 2 969 9710.
Australian Consulate, Sofia: +359 2 946 1334.
South African Embassy, Sofia: + 359 2 939 5015
Irish Embassy, Sofia: +359 2 985 3425.
Customers
Foreigners should be aware that traditionally a shake of the head means 'yes' and a nod means 'no', although allowances are often made for visitors; it is useful to clarify the answer verbally to avoid confusion. Family values are extremely important in Bulgaria, so treating seniors with deference is important.
Business
Relationship building is important in Bulgaria, and initial meetings may be used as an introduction, after which more business-related meetings can be planned. Face-to-face meetings are therefore preferred over communication by email, fax or phone. The use of English in business is increasing, however the services of a translator might be required, and presentations should include the use of visuals where possible. Introductions include firm handshakes, and the exchange of business cards. Dress should be conservative business attire and punctuality is expected. Business hours are generally 9am to 6pm, Monday to Friday.
Tipping
Tips of 10 percent of the bill are customary for most services, including restaurants, while hotel porters and taxi drivers expect visitors to round up the bill for good service.
Public Holidays in Bulgaria
| | | |
| --- | --- | --- |
| | 2017 | 2018 |
| Boxing Day | 26 Dec | 26 Dec |
| New Years Day | 1 Jan | 1 Jan |
| Liberation Day | 3 Mar | 3 Mar |
| Orthodox Easter | 14 Apr | 6 Apr |
| Labour Day | 1 May | 1 May |
| St Georges Day | 6 May | 6 May |
| Day of Culture and Literacy | 24 May | 24 May |
| Unification Day | 6 Sep | 6 Sep |
| Independence Day | 22 Sep | 22 Sep |
| Revival Day | 1 Nov | 1 Nov |
| Christmas | 25 Dec | 25 Dec |
| Christmas Eve | 24 Dec | 24 Dec |
Overview
Bulgaria is a country rich in both natural and cultural attractions and from a sightseeing perspective it caters to all tastes. Popular things to see and do in Bulgaria include myriad outdoor activities and opportunities for ecotourism, and the country's mountain scenery is unsurpassed. In addition to this natural splendour, Bulgaria has a rich history and folklore and visitors can enjoy a wealth of archaeological sites, religious institutions, museums and ethnographic attractions.
The capital city, Sofia, boasts a number of the most popular sightseeing attractions in Bulgaria, including the Boyana Church, Alexander Nevsky Cathedral, St George Rotunda, the SS Cyril and Methodius National Library, and the St Sophia Church. Looming over the city is another great Bulgarian tourist attraction, the Vitosha Mountain, which provides a natural playground for visitors and locals alike in all seasons.
Bulgaria is half covered in mountains and it is the craggy beauty of its many ranges that most characterises the country in the global imagination. The more delicate, flowery mountains in the Rhodope range, which is scattered with picturesque villages, is complemented by the rugged splendour of the Pirin and Rila mountain ranges. Some of the most popular attractions in the mountainous regions are the 10th-century Rila Monastery, the Pirin National Park, the folk centre of Momchiloutsi village, and a number of ancient Thracian sites. This is, of course, in addition to the natural wonders of caves, hot springs, alpine lakes and dense forests.
Bulgaria's tourism tends to be dominated by its many beach and ski resorts but these holiday centres, enjoyable though they are, should only serve as a doorstep into the country, which has a lot to offer travellers, and is often overlooked as a great European destination.
Map of Bulgaria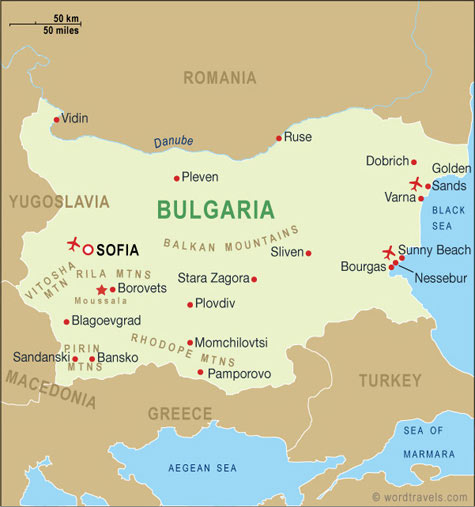 Travel Guide powered by www.wordtravels.com, copyright © Globe Media Ltd. All rights reserved. By its very nature much of the information in this guide is subject to change at short notice and travellers are urged to verify information on which they're relying with the relevant authorities. Globe Media and UNIGLOBE Travel does not accept any responsibility for any loss or inconvenience to any person as a result of information contained above.