General
Money
Entry Requirements
Health & safety
Weather
Embassies
Etiquette
Public Holidays
Attractions
Map
---
Introduction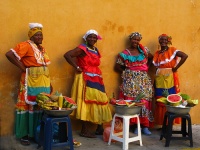 Colombian vendor women ©Luz Adriana Villa
Colombia is rapidly changing its negative image and travellers are returning to this unspoilt beauty which crowns the continent of South America. While both the US State Department and British Foreign and Commonwealth Office still advise against travel to parts of Colombia, the country is statistically safer than most in the region. Those intrepid and curious travellers who do venture here are rewarded with the most diverse destination in South America: an exhilarating fusion of shabby, thoroughly entertaining towns, Caribbean and Pacific coasts, Andean valleys, Amazonian jungles, and wide plains.
Most visitors flock to the capital, Bogota, the legendary resort town of Cartagena, or the duty-free island province of San Andres. In recent years Cali and Medellin are also popular stopovers. Wherever one chooses to explore, a fascinating, exciting experience is in store.
The fortunes of modern Colombia had their foundations laid in the coffee plantations, but the onset of political violence and civil war in the 1950s effectively cauterised the industry. The exception to this can be found in the hilly Quindio province, where many former farmers have turned their traditional red-tile roofed homesteads into good quality bed and breakfast establishments, set among exotic gardens and rows of leafy coffee bushes.
On the other hand, urban Colombia centres on Bogota, home to about 20 percent of the country's inhabitants. This ancient city was the pre-Colombian capital of the Chibcha Indians and remains a blend of old and new, teeming with Spanish colonial buildings and plazas alongside modern skyscrapers. Beggars in the streets rub shoulders with business people, while mule trains wind their way through the traffic jams.
A major drawcard for tourists is the Spanish colonial port of Cartagena with its spectacular walled old town, a medieval wonderland of palaces, monasteries, plazas and overhanging balconies. To the south of the town are Colombia's major seaside holiday resorts with excellent beaches and scuba diving opportunities.
The country's equatorial rainforests clothe the river valleys, riddled with magnificent airplants, vines, creepers and brilliant flowers and birds. The Los Katios National Park in Choco contains hundreds of species of plant and animal life that have yet to be listed. The country's jungles also shelter wondrous archaeological treasures, like the ancient city of La Cuida Perdida and the monuments, tombs and burial mounds at San Augustin and Tierrodentro.
Communications
The international dialling code for Colombia is +57. The outgoing code depends on which network is used to dial out on, which is followed by the relevant country code (e.g. 00544 for the United Kingdom). The area code for Bogota is 1, but the access code to make a call within the country from another area also depends on what network is used. The country has cellular telephone operators with GSM networks. Mobile phone companies have active roaming agreements with many international network operators. Colombia, particularly Bogota, is well connected to the internet with dozens of internet cafes throughout the city, some doubling as bars.
Emergencies
123, for general emergencies; 01 337 4413, for the tourist police.
Languages Spoken
Spanish is the official language of Colombia.
Duty Free
Travellers to Colombia over 18 years do not have to pay duty on 200 cigarettes or 50 cigars or 500g of tobacco; perfume for personal use; and 2 bottles of alcohol per passenger.
Electricity
Electrical current is 110 volts, 60Hz. Two-pin flat blade attachment plugs and three-pin (two flat blades with round grounding pin) plugs are in use.
Climate Info
The climate of Colombia is tropical, marked by a great deal of wet weather. It is generally wet all year round in Colombia and there is always the chance of rain, although there is also plenty of sunshine. Being close to the equator, the low coastal areas of Colombia have high temperatures and high humidity, with little seasonal variation during the year. Rainfall on the coast averages 40 inches (1,000mm) per annum.
In the interior the altitude of the mountains ensures cooler conditions which are also influenced by prevailing winds and the topography, while the coastal cities have a year-round average temperature of 70 to 80°F (23 to 32°C) during the day and become significantly colder during the night. The best time to visit Colombia is between December and March when it rains least. This is the peak tourist season, however, and prices rise accordingly.
Off-peak season, from August to September, when it is less crowded and expensive, is often preferable. It is best to avoid May to July and October to November as this is when the rainfall is heaviest.
Passport
All tourists visiting Colombia must hold valid passports, tickets and documents for onward or return travel, and sufficient funds to cover their stay. We recommend that passports be valid for six months after intended period of travel.
Entry Requirements
US nationals must have a passport valid on arrival but do not require a visa for touristic stays of up to 90 days.
British nationals must have a passport valid on arrival but do not require a visa for touristic stays of up to 90 days.
Canadians must hold a passport valid on arrival but do not require a visa for touristic stays of up to 90 days.
Australians must have a passport valid on arrival but do not require a visa for touristic stays of up to 90 days.
South Africans must have a passport valid on arrival but do not require a visa for touristic stays of up to 90 days.
Irish nationals must have a passport valid on arrival but do not require a visa for touristic stays of up to 90 days.
New Zealanders require a passport valid on arrival but no visa is necessary for a touristic stay of up to 90 days.
Health
Mosquito borne illnesses like dengue fever and malaria are prevalent in Colombia. Travellers to Colombia must be sure to take preventative measures, pack enough mosquito repellent and wear concealing clothing. Malaria prophylaxis is recommended for several parts of Colombia so be sure to consult your doctor beforehand about whether you will need to take malaria medication. Vaccinations are recommended for yellow fever, hepatitis A, hepatitis B, and typhoid. Additionally, the Zika virus has been detected in Colombia, so travellers should take care to avoid osquito bites and sexual contact with any carriers of the virus.
Visitors should not drink tap water, unbottled beverages or drinks with ice. Fruit and vegetables should be peeled, cooked and eaten while piping hot. Avoid undercooked meat or fish. Medical care is adequate in major cities but varies in quality elsewhere. Medical insurance is essential. If you require prescription medication while travelling then it is best to take your medication with you into Colombia; make sure you have all the necessary documents from your doctor to help you get the medicine through customs.
Safety
Visitors to Colombia need to be aware that they face various risks and should maintain a high level of vigilance. The risk of terrorist attacks from domestic Colombian groups in the towns and cities on public places like bars, restaurants and nightclubs frequented by expatriates, is high. Foreigners are also targeted by thieves, pickpockets and drug traffickers, especially in urban areas, and crime is usually accompanied by violence.
Never hail taxis in the street (book them through your hotel) and never accept food, drinks, chewing gum or cigarettes from strangers. These could be drugged to incapacitate victims. Foreign nationals have also been victims of kidnappings in recent years, the risk being higher in rural areas; foreigners are advised against travel to the departments of Sucre, Bolivar, Choco, Putumayo, Meta, Arauca, Nariño and Caqueta. Some parts of the country are particularly dangerous and fraught with guerrilla and paramilitary activity. The rural areas of Antioquia, Cauca, Valle de Cauca, Huila and Norte de Santander are the most affected by political/narcotic violence and should also be avoided. All travel to southern parts of Meta and to the Sierra Nevada de Santa Marta, including the 'Lost City', should also be avoided due to a high risk to personal safety.
Travellers are advised to contact their country's consular representatives and acquaint themselves with the latest situation before entering these areas, or preferably avoid them completely. Floods and landslides are common during the rainy season in April/May and October/November. If you are cautious and well-informed it is possible to have a completely trouble free holiday in Colombia.
Emergency Phone Number
123, for general emergencies; 01 337 4413, for the tourist police.
* For current safety alerts, please visit
Foreign travel advice - GOV.UK
or
Travel.State.Gov
Money
The unit of currency is the Colombian Peso (COP), which is divided into 100 centavos. Banks have no fixed policy on exchanging cash. Some provide the service, some do not, and different banks can differ on this from day to day. Cash can be exchanged at casas de cambio, or money exchange bureaux, located in cities and border towns.
US Dollars are preferred for most exchanges. Visitors are warned to beware of fake US Dollars, which are printed in Colombia. Credit cards, especially Visa, are becoming more widely accepted and are welcome at top hotels and restaurants, travel agents and car rental agencies. In the main towns and cities ATMs are becoming more prevalent, but cards should be used with caution for security reasons.
Exchange Rate
Not available.
Embassies of Colombia
Embassy of Colombia, Washington DC, United States: +1 202 387 8338.
Embassy of Colombia, London, United Kingdom (also responsible for Ireland): +44 020 7589 9177.
Embassy of Colombia, Ottawa, Canada: +1 613 230 3760.
Consulate-General of Columbia, Sydney, Australia: +61 02 9955 0311.
Embassy of Colombia, Pretoria, South Africa: +27 012 342 0211.
Consulate of Colombia, Dublin, Ireland: +353 87 883 5122.
Consulate of Colombia, Wellington, New Zealand: +64 4 499 5534.
Foreign Embassies in Colombia
United States Embassy, Bogota: +57 01 275 2000.
British Embassy, Bogota: +57 01 326 8300.
Canadian Embassy, Bogota: +57 01 657 9800.
Australian Consulate, Bogota: +57 01 694 6320.
South African Embassy, Caracas, Venezuela (also responsible for Colombia): +58 212 952 0026.
Honorary Consul of Ireland, Bogota: +57 01 446 6114.
New Zealand Consulate, Bogota: +57 01 633 1322.
Customers
Homosexuality is not widely accepted, and unfortunately, it is advisable that couples be discreet. It is prohibited to take photographs of military sites. Colombians use both their maternal and paternal surnames. The paternal surname is listed first and is used in conversation if addressing someone by his or her title.
Business
Formality in Colombian business is expected, more so inland than at the coast, and this applies to protocol as well as to dress. Punctuality for appointments is important, regardless of whether the host is there on time or not, and handshakes are customary on arriving and departing. Many business people speak English, although all presentation materials and documentation should be translated into Spanish, and the use of visual aids widely used where possible. It might be necessary to use a translator, but it is best to check beforehand to avoid causing offence.
Business cards should also be printed in both English and Spanish. The importance of building social relationships should not be underestimated, and small talk before and after meetings is vital towards building a sense of trust and goodwill. Business hours are generally 9am to 5pm Monday to Friday.
Tipping
Tipping is common and expected for most services. Waiters in restaurants should receive 10 percent of the bill if it has not automatically been added. Porters expect around one USD per bag. It is not obligatory to tip taxi drivers, but 10 percent is appreciated. Hotels usually add a service charge of 16 percent to the bill.
Public Holidays in Colombia
| | | |
| --- | --- | --- |
| | 2017 | 2018 |
| New Years Day | 1 Jan | 1 Jan |
| Epiphany | 9 Jan | 8 Jan |
| Maundy Thursday | 13 Apr | 29 Mar |
| Good Friday | 14 Apr | 30 Mar |
| Labour Day | 1 May | 1 May |
| Ascension Day | 29 May | 14 May |
| Corpus Christi | 19 Jun | 4 Jun |
| Sacred Heart | 26 Jun | 11 Jun |
| Feast of Saint Peter and Saint Paul | 3 Jul | 2 Jul |
| Independence Day | 20 Jul | 20 Jul |
| Battle of Boyaca Day | 7 Aug | 7 Aug |
| Assumption of Mary | 21 Aug | 20 Aug |
| Columbus Day | 16 Oct | 15 Oct |
| All Saints Day | 6 Nov | 5 Nov |
| Independence of Cartagena | 13 Nov | 12 Nov |
| Feast of Immaculate Conception | 8 Dec | 8 Dec |
| Christmas Day | 25 Dec | 25 Dec |
| St Josephs Day | 20 Mar | 19 Mar |
Map of Colombia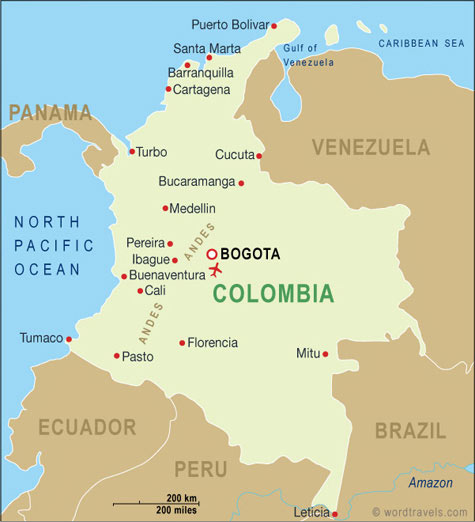 Travel Guide powered by www.wordtravels.com, copyright © Globe Media Ltd. All rights reserved. By its very nature much of the information in this guide is subject to change at short notice and travellers are urged to verify information on which they're relying with the relevant authorities. Globe Media and UNIGLOBE Travel does not accept any responsibility for any loss or inconvenience to any person as a result of information contained above.