General
Money
Entry Requirements
Health & safety
Weather
Embassies
Etiquette
Public Holidays
Attractions
Map
---
Introduction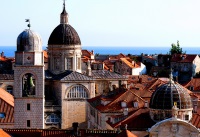 Croatia ©Les Haines
Croatia has emerged triumphantly as an attractive and stable tourist destination, having put years of civil and ethnic unrest behind it. With its magnificent coastline boasting 1,185 islands, islets and reefs, and countryside scattered with Roman ruins and picturesque medieval villages, Croatia is fast becoming a rival to the magical Greek islands for luring lovers of beaches, great food and history.
After centuries of being sliced and diced geographically to suit empires, conquerors and political and ethnic divisions, Croatia has been left with a diverse cultural legacy and a wealth of historical attractions. The long Adriatic coastline forms the western leg of the arc-shaped country, tapering to the unique ancient seaport of Dubrovnik in the south, while the land between the rivers Drava and Sava form the northern section. The capital, Zagreb, sits in-between. Although Croatia's history is dramatic the atmosphere of this balmy Mediterranean country is now tranquil, with sleepy old towns and impossibly picturesque lakes and beaches just begging travellers to relax. The wonderful landscapes can be easily explored on foot or by mountain bike as the country is criss-crossed with good trails, and the food and wine is so delicious that a bit of exercise might be necessary.
The most prominent feature of Croatia's tourism offering is the glorious Dalmatian coastline, which is indented with rocky cliffs, peninsulas and small inlets. Numerous good quality hotels and marinas have been resurrected or constructed in the past few years, and Croatia is once again beginning to enjoy a tourist boom reminiscent of its heyday in the 1930s, becoming ever more popular as a cruise destination. There is a special atmosphere in Croatian towns and villages, many of which were built on the sites of ancient Greek settlements dating from as far back as the 4th century BC. This, coupled with a reserved but hospitable population, Mediterranean climate, scenic beauty and lush vegetation, is aiding Croatia's transformation into one of the world's best tourist hotspots.
Communications
The international access code for Croatia is +385. The outgoing code is 00 followed by the relevant country code (e.g. 0044 for the United Kingdom). The city code for Zagreb is (0)1 and for Dubrovnik (0)20. Public phones take phone cards, which can be bought in post offices and hotels. GSM operators have active roaming agreements with most international networks, and cover most of the country. Internet cafes are available in the larger towns and cities.
Emergencies
112 (General Emergency Helpline)
Languages Spoken
The official language is Croatian.
Duty Free
Non-EU travellers to Croatia can enter the country with the following items without incurring customs duty: 200 cigarettes or 50 cigars or 250g of tobacco; 4 litres of wine, 1 litre of spirits, and up to 16 litres of beer; eau de cologne and perfume for personal use; and other goods up to the value of HRK 3,200 if arriving by air, or HRK 2,200 if arriving by other means. Regulations apply to firearms and radio instruments. No item of archaeological, historical, ethnographic, artistic, cultural or scientific value may leave the country without a license issued by the appropriate authorities.
Electricity
Electrical current is 230 volts, 50Hz. European-style, round, two-pin plugs are standard.
Climate Info
Croatia's climate differs quite dramatically from the coast to the interior. The coast has a typically Mediterranean climate with hot, dry and sunny summers (June to August) and relatively mild, sometimes wet winters (November to February). Summer temperatures average around 79°F (26°C) but it frequently gets as hot as 90°F (32°C). Winters are significantly colder but they are not severe and along the coast snow is unusual. Winter temperatures seldom drop below 41°F (5°C). Visitors should experience some sunny days in autumn and even a few in winter, but the colder months can be rainy.
In the interior of Croatia the climate is continental and more extreme with colder winters and more common snowfall; temperatures in winter frequently drop below 32°F (0°C). Summers, on the other hand, are similar in temperature to the coastal regions but feel hotter in the interior due to the lack of refreshing cool breezes from the sea.
The peak tourist season in Croatia is in the summer months when the weather is hottest and driest, but the best time to visit is probably September or May when the weather is still warm enough for swimming and fun in the sun but the country is less crowded.
Passport
All foreign passengers to Croatia must hold return/onward tickets and the necessary travel documentation for their next destination, and proof of sufficient funds to cover their stay in the country. It is highly recommended that your passport has at least six months validity remaining after your intended date of departure from your travel destination. Immigration officials often apply different rules to those stated by travel agents and official sources.
Entry Requirements
US citizens must present a passport valid for three months beyond period of intended stay. Visas are not required for stays of up to 90 days.
UK nationals must have a passport valid for the period of intended stay in Croatia, or valid for three months beyond period of intended stay, depending on the endorsement in the passport. For stays of up to 90 days, a visa is not required for holders of British passports endorsed British Citizen, British National (Overseas), British Overseas Citizen, British Overseas Territories Citizen, British Protected Person or British Subject. Other UK passport holders should check with the embassy whether a visa is required for travel.
Canadian citizens must have a passport valid for three months beyond period of intended stay in Croatia. No visa is required for stays of up to 90 days.
Australian citizens must have a passport valid for three months beyond the period of intended stay in Croatia. No visa is required for stays of up to 90 days.
South African nationals must have a passport valid for three months beyond the period of intended stay in Croatia, and a visa is required unless already holding a multiple-entry Schengen C visa.
Irish nationals must have a passport valid for the period of intended stay in Croatia. No visa is required.
New Zealand citizens must have a passport valid for three months beyond the period of intended stay in Croatia. No visa is required for stays of up to 90 days.
Health
No vaccinations are required, but it is recommended that all travellers get vaccinations for hepatitis A and hepatitis B. Travellers who plan to spend a significant amount of time travelling off the beaten track should consider getting a typhoid vaccination. There is a risk of tick-borne encephalitis for those travelling in forested areas during the summer months.
The medical facilities and care in Croatia is fairly good, with free emergency medical care available to UK citizens with a European Health Insurance Card (EHIC), though some medicines are in short supply in public facilities. Non-UK nationals are advised to invest in comprehensive health insurance and those who need particular medications should take the supply needed for the duration of their stay with them, with a doctor's letter on hand to get them through customs.
Safety
Most visits to Croatia are trouble-free, and there is no particular threat of terrorism. Crime levels are low and violent crime is rare; however, petty theft can be a problem in busy tourist areas, so it is worth keeping a careful eye on possessions. Outside the normal tourist routes travellers should be aware that unexploded mines might remain in rural areas, particularly in Eastern Slavonia and the former Krajina. Tourists are urged to be cautious in former conflict areas, including Eastern Slavonia, Brodsko-Posavska County, Karlovac County, areas around Zadar, and in more remote areas of the Plitvice Lakes National Park, and stay on known safe roads and areas. If in any doubt check with authorities before setting out into remote areas.
Emergency Phone Number
112 (General Emergency Helpline)
* For current safety alerts, please visit
Foreign travel advice - GOV.UK
or
Travel.State.Gov
Money
The official unit of currency is the Kuna (HRK). One Kuna is divided into 100 Lipa. ATMs are plentiful throughout the country and banks, authorised bureaux de change, post offices and most hotels will exchange foreign currency. Banks open Monday to Saturday and some banks also open on Sundays in the main cities. Major credit cards are widely accepted at the main hotels and restaurants, and may be used to draw cash from ATMs, which are widely available throughout the country.
Exchange Rate
Not available.
Embassies of Croatia
Embassy of Croatia, Washington DC, United States: +1 202 588 5899.
Embassy of Croatia, London, United Kingdom: +44 (0)20 7387 2022.
Embassy of Croatia, Ottawa, Canada: +1 613 562 7820.
Embassy of Croatia, Canberra, Australia: +61 (0)2 6286 6988.
Embassy of Croatia, Pretoria, South Africa: +27 (0)12 342 1206.
Embassy of Croatia, Dublin, Ireland: +353 (0)1 476 7181
Consulate of Croatia, Auckland, New Zealand: +64 274 998850.
Foreign Embassies in Croatia
United States Embassy, Zagreb: +385 (0)1 661 2200.
British Embassy, Zagreb: +385 (0)1 600 9100.
Canadian Embassy, Zagreb: +385 (0)1 488 1200.
Australian Embassy, Zagreb: +385 (0)1 489 1200.
South African Embassy, Budapest (also responsible for Croatia): +385 (0)1 468 0981.
Embassy of Ireland, Zagreb: +385 (0)1 627 8920.
New Zealand Consulate, Rome, Italy (also responsible for Croatia): +39 06 853 7501.
Customers
Passports, or some form of identification, should be carried at all times. In some towns and cities it is prohibited, or considered rude, to walk around town centres shirtless or in swimming costumes - sometimes, such as in Dubrovnik, there is signage indicating that the practice is prohibited by law and offenders will be fined, but even when no such signage exists travellers should pay attention to local conventions.
Business
Business in Croatia is conducted in a formal manner: punctuality is key, dress should be smart and conservative (suits and ties are the norm for men) and polite greetings are made with a handshake. Titles and surnames are usually used unless otherwise indicated and business cards are usually exchanged at the beginning of a meeting. English and German are widely spoken, but any attempt at speaking some Croatian will be appreciated. Women frequently hold high positions in business and are well respected. Building a good working relationship is important in Croatia and it is useful to work with a reliable local partner. Although Croatia appears typically European in its dealings, business can take some time to conclude. Business hours are usually 8am to 4pm, Monday to Friday.
Tipping
In tourist or upmarket restaurants a tip of 10 percent will be appreciated, but otherwise it is usual to just round up the bill if the service has been good, unless a service charge has already been added. Tour guides expect to be tipped. Most other services receive a small tip by rounding up the bill.
Public Holidays in Croatia
| | | |
| --- | --- | --- |
| | 2017 | 2018 |
| St Stephen's Day | 26 Dec | 26 Dec |
| All Saints' Day | 1 Nov | 1 Nov |
| New Years Day | 1 Jan | 1 Jan |
| Epiphany | 6 Jan | 6 Jan |
| Easter Monday | 17 Apr | 2 Apr |
| Labour Day | 1 May | 1 May |
| Corpus Christi | 15 Jun | 31 May |
| Anti-Fascist Struggle Day | 22 Jun | 22 Jun |
| Statehood Day | 25 Jun | 25 Jun |
| Victory and Homeland Thanksgiving Day | 5 Aug | 5 Aug |
| Independence Day | 8 Oct | 8 Oct |
| Christmas Day | 25 Dec | 25 Dec |
| Assumption of Mary | 15 Aug | 15 Aug |
Overview
One of Europe's fastest growing tourist destinations, Croatia has much to see and do along its magnificent coastline, boasting 1,185 islands, islets and reefs and enjoying a welcoming Mediterranean climate.
Although many visitors come primarily for the cruising, boating and beaches, Croatia also boasts cultural attractions and plenty of ancient history. Many of Croatia's cities are built on the sites of ancient Greek and Roman settlements dating from as far back as the 4th century BC. Explore the Roman ruins in Zagreb and Split, stroll through the cobblestone streets of the fairytale medieval villages or just enjoy taking in the great food and history. The Croatian History Museum in Zagreb features an impressive display of Neanderthal remains, while culture vultures will enjoy a trip to the Croatian National Theatre in Zagreb.
Dubrovnik, and in particular its medieval old city, is one of Croatia's top holiday destinations, boasting exquisite beaches along its rugged coastline and a very picturesque cityscape. Split is a great base for exploring the Dalmation coastline and is a breathtakingly beautiful old town. It is a UNESCO World Heritage Site and promises some exciting sights, such as the city of Trogir and Brac Island just off shore.
Spring and autumn are good seasons to visit as milder weather, less crowds and cheaper prices mean tourists can explore the country more freely; however, summer (June to August) is peak tourist season and the best time to enjoy the beautiful beaches. Travelling by bus is an economical mode of transport, while ferries and catamarans are the only mode of transport to the islands and a way of life on the coast. For a more relaxed but slightly more expensive option, hire a car and drive yourself round this beautiful country.
Map of Croatia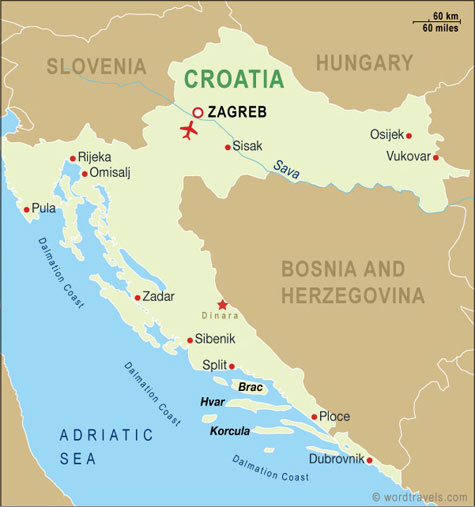 Travel Guide powered by www.wordtravels.com, copyright © Globe Media Ltd. All rights reserved. By its very nature much of the information in this guide is subject to change at short notice and travellers are urged to verify information on which they're relying with the relevant authorities. Globe Media and UNIGLOBE Travel does not accept any responsibility for any loss or inconvenience to any person as a result of information contained above.