General
Money
Entry Requirements
Health & safety
Weather
Embassies
Etiquette
Public Holidays
Attractions
Map
---
Introduction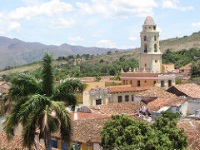 Cuba ©Stephen Colebourne
Cuba could portray itself as the archetypal Caribbean island paradise, with its sandy, palm-fringed shores washed by crystal-clear waters and cooled by breezes carrying the scent of frangipani, mango and guava, but Cuba has so much more to offer than generic Caribbean bliss. Those who venture away from the beaches and resorts will find charmingly dilapidated colonial architecture and grand plazas, streets filled with classic vintage automobiles, and the hip-swaying sounds of salsa music filling the night air. Cuba is about cigar smoke and rum cocktails, baseball, and everywhere visual references to the 1959 revolution which still dominates Cuban identity. The largest island in the Caribbean has a dramatic history and a very distinct culture; it is the perfect destination for those in search of something a little different on their beach holiday.
Christopher Columbus discovered Cuba on his way back to Spain after his second voyage to the New World in 1492 and was the first European to remark on its beauty. Cuba is so large that it allegedly confused Columbus, who thought he had discovered a continent and not an island. It sits at the mouth of the Gulf of Mexico; the main island is 746 miles (1,200km) long with an irregular coastline that offers hundreds of lovely bays and beaches.
Today, Cuba is starting to really exploit its glorious attractions, welcoming droves of travellers keen to explore this once mysterious island. The years of political isolation post-revolution have largely protected Cuba from mass tourism; the main towns and villages retain a crumbling colonial charm and are generally devoid of the large resorts that blight some of its neighbouring islands.
With its turbulent history and great offering of natural attractions, Cuba ticks all the boxes for an adventurous Caribbean getaway. Most visitors agree that Cuba is a country so individual and extraordinary that to be truly understood and appreciated it has to be experienced in person.
Communications
The international access code for Cuba is +53. Cellular phone companies have roaming agreements with many international cell phone companies, but not the United States. A GSM network covers most main towns, and cell phones are available for rent. Public telephones are widely available for domestic as well as international calls, but international calls are expensive. Pre-paid phone cards are available. Internet cafes are located in the main towns and cities.
Emergencies
106 (Police)
Languages Spoken
The official language is Spanish, but English is spoken in the main tourist spots.
Duty Free
Travellers to Cuba over 18 years do not need to pay customs duty on 400 cigarettes or 50 cigars or 500g of tabacco; 2.5 litres of alcohol; medicines and perfume for personal use; and gifts to the value of CUC 60. The import and export of local currency is prohibited.
Electricity
Most older hotels use 110 volt power, 60Hz, while newer hotels use 220 volts, 60Hz. A variety of outlets are in use, but the flat and round two-pin plugs are most common.
Climate Info
Cuba has a semitropical, temperate climate and experiences two seasons: a rainy season from May to October, and a dry season from November to April. Generally the weather in Cuba is sunny, hot and humid. The average minimum temperature is 70°F (21°C), and the average maximum temperature is 81°F (27°C). In summer (June to August) the heat can get uncomfortably intense, with temperatures reaching 100°F (38°C) and high humidity. The sea breezes tend to make conditions more pleasant on the coast. The rainy season includes a hurricane season from July to November, with September and October being the months most likely to experience serious tropical storms. Cuba has a very good public safety record when it comes to handling these storms but travellers ought to be aware that travel itineraries can easily be thrown by such weather. December, January and February are the coolest months. December to March is also the most popular time to visit Cuba due to the cooler weather and lack of rain and storms. However, as it can get very crowded over this peak period, March, April and May are also considered good months in which to visit Cuba. Although June through August is a hot period many people do flock to Cuba to celebrate carnival during the summer months.
Passport
In lieu of a visa, a Tourist Card ("Tarjeta del Turista") may be issued by tour operators, travel agents or airlines for a single-entry holiday trip of up to 30 days, provided accommodation has been pre-booked and paid. A return ticket or proof of onward travel is required, as well as sufficient funds to cover the period of intended stay in Cuba (US$50 or equivalent per person per day). All those entering Cuba must hold travel insurance, with coverage in Cuba, to ensure cover of medical expenses for the period of stay. It is highly recommended that your passport has at least six months validity remaining after your intended date of departure from your travel destination. Immigration officials often apply different rules to those stated by travel agents and official sources.
Entry Requirements
US nationals must have a passport valid on arrival. A visa is also required if the visitor does not have a Tourist Card.
British nationals must have a passport valid on arrival. A visa is also required if the visitor does not have a Tourist Card.
Canadian citizens must have a passport valid on arrival. A visa is also required if the visitor does not have a Tourist Card.
Australian citizens must have a passport valid on arrival. A visa is also required if the visitor does not have a Tourist Card.
South African citizens must have a passport valid on arrival. A visa is also required if the visitor does not have a Tourist Card.
Irish nationals must have a passport valid for two months beyond the date of arrival. A visa is required if the visitor does not have a Tourist Card.
New Zealand citizens must have a passport valid for two months beyond the date of arrival. A visa is required if the visitor does not have a Tourist Card.
Health
Health insurance, with provision for emergency repatriation, is compulsory for visitors to Cuba. Those travellers without adequate health insurance will be obliged to purchase Cuban health insurance on arrival. No vaccinations are officially required, however visitors are advised to take precautions against typhoid, particularly if travelling to rural areas. Vaccinations are also recommended for hepatitis A and hepatitis B. Most of the more serious tropical diseases are rare in Cuba, but viral meningitis and dengue fever do occasionally break out, even in urban areas like Havana. Dengue fever is on the increase in most of the Caribbean and the best prevention against it is mosquito repellent and suitable clothing to avoid being bitten. Rabies should only be a risk for those at risk of animal bites, but if you are planning to spend a lot of time outdoors a vaccination should be considered. Food in Cuba is generally considered safe. Bottled water is available and advised for the first few weeks, although mains water is chlorinated. Cuban medical facilities are mediocre and many medicines are unavailable, so those requiring regular prescription drugs should bring them with, along with a copy of the prescription and a doctor's letter to facilitate entry through customs.
Safety
Cuba is considered comparatively free from the threat of global terrorism, but has an increasing crime rate. Visitors are warned that theft from baggage during handling in airports is common, and valuables should not be packed in suitcases. Be wary of pickpockets and bag snatchers in Old Havana, at major tourist sites and on buses and trains. Visitors are advised to take taxis after dark rather than walk but you should always make sure taxis are registered and not just private cars. If there are political demonstrations of any kind during your holiday you should avoid them; Cuban authorities are known to clamp down on street protests quickly and sometimes violently. Tropical storms and hurricanes usually occur between June and November; although good warning is given, electricity, water and communications can be disrupted for weeks.
Emergency Phone Number
106 (Police)
* For current safety alerts, please visit
Foreign travel advice - GOV.UK
or
Travel.State.Gov
Money
The official currency is the Cuban Peso (CUP), divided into 100 centavos, but the 'tourist' currency is the Peso Convertible (CUC), which replaces the US Dollar as currency in tourist related establishments like hotels, restaurants and so called 'dollar shops'. US Dollars are no longer accepted as payment, and a 10 percent commission or more is charged to exchange them, therefore the best currency to bring along is Euros, the British Pound or Canadian Dollars. The CUC is almost equal in value to the US Dollar. Some places only accept Cuban Pesos and others only Pesos Convertible (usually tourist related establishments). Money should only be changed at official exchange bureaux or banks to avoid scams confusing the two currencies. Visa and MasterCard are generally accepted only in major cities and hotels as long as they haven't been issued by a US bank; Diners Club has limited acceptance, and American Express is not accepted anywhere on the island. No US-issued credit or debit cards will work in ATMs, but those holding cards issued in other countries should be able to get pesos at most major tourist destinations.
Exchange Rate
Not available.
Embassies of Cuba
Cuban Embassy, Washington DC, United States: +1 202 797 8518.
Cuban Embassy, London, United Kingdom: +44 (0)20 7240 2488.
Cuban Embassy, Ottawa, Canada: +1 613 563 0141.
Cuban Embassy, Canberra, Australia: +61 (0)2 6290 2151.
Cuban Embassy, Pretoria, South Africa: +27 (0)12 346 2215.
Cuban Embassy, Dublin, Ireland: +353 (0)1 671 8300.
Cuban Embassy, Wellington, New Zealand: +64 (0)4 464 2210.
Foreign Embassies in Cuba
US Embassy, Havana: +53 (0)7 839 4100.
British Embassy, Havana: +53 (0)7 214 2200.
Canadian Embassy, Havana (also responsible for Australia): +53 (0)7 204 2516.
South African Embassy, Havana: +53 (0)7 204 9671.
Irish Embassy, Mexico City, Mexico (also responsible for Cuba): +52 55 5520 5803.
New Zealand Embassy, Mexico City, Mexico (also responsible for Cuba): +52 55 5283 9460.
Customers
Visitors should address Cuban men as 'señor' and women as 'señora'. While many Cubans will engage in political discussion and debate, it is not advised to criticise the government too vocally, and one should be respectful of revolutionary figures such as Fidel Castro and Ernesto 'Che' Guevara. Homosexuality is legal in Cuba but public displays of affection between same-sex couples are not always well-received by locals. The penalties for possession of illegal drugs are very strict, as are the penalties for any breach of Cuban immigration rules.
Business
Cubans tend to be warm and hospitable, and business is conducted more informally than in many other countries. Establishing a good relationship is vital to successful business and some time may be given over to small talk. Due to relative isolation from the global economy, business in Cuba tends to take some time and effort, and one is often hemmed in by the country's communist practices. Punctuality is always important, but don't expect meetings to begin on time or deals to be struck quickly. The dress code tends to be more casual than elsewhere but businesspeople still usually wear collared shirts and the dress code for women is sophisticated. Business hours are usually about 8.30am to 12.30pm and 1.30pm to 4.30pm, Monday to Friday. Some businesses are open every second Saturday.
Tipping
Tipping in convertible pesos is very welcomed as salaries in the service industry are small. A 10 percent tip is appreciated in restaurants and by taxi drivers. Although giving out items like toothbrushes and pens is popularly recommended by travellers, this practice is sometimes frowned upon and certainly not necessary - service staff would almost always prefer a tip to these sorts of gifts.
Public Holidays in Cuba
| | | |
| --- | --- | --- |
| | 2017 | 2018 |
| New Years Day | 2 Jan | 2 Jan |
| Liberation Day | 1 Jan | 1 Jan |
| Labour Day | 1 May | 1 May |
| National Rebellion Celebration | 25 Jul | 25 Jul |
| Anniversary of the 1868 War of Independence | 10 Oct | 10 Oct |
| Christmas Day | 25 Dec | 25 Dec |
| Good Friday | 14 Apr | 30 Mar |
Overview
Cuba is a country like no other: visitors here experience the thrill of novelty, of being in unfamiliar territory. There is much to see and do, particularly if you enjoy Havana's majestically decaying colonial architecture and revolutionary artefacts infused with communist iconography. Cuba is a vibrant, fun and unique holiday destination and just wandering around the streets or along the beaches is entertainment enough for most visitors. There are, however, plenty of cultural and historical attractions for those who enjoy more traditional sightseeing, including the Museo de la Revolucion, the Capitolio Nacional, and the Museo Nacional de Bellas Artes.
Then there are the fabulous beaches, mercifully largely free of the rampant resort development you'll find elsewhere in the Caribbean. And the beaches are not the only natural wonders. It is a pity that many visitors never get out of the capital because the countryside holds a wealth of natural splendour and interesting attractions, such as the sugarcane palaces of Trinidad and the colonial city of Sancti Spiritus. Cuba is also developing its potential for eco-tourism with environmentally stunning areas like the Montemar Natural Park which includes forests, marshes and beautiful clear lagoons. The cave systems of Gran Caverna de Santo Tomas are also pleasantly unspoiled, allowing for a more authentic caving experience than many of the glitzy tourist-orientated caves found on the international circuit.
Map of Cuba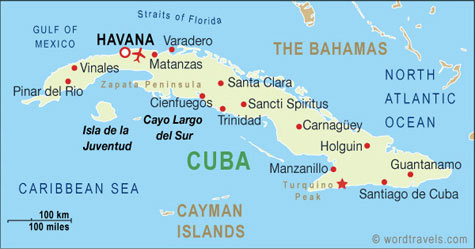 Travel Guide powered by www.wordtravels.com, copyright © Globe Media Ltd. All rights reserved. By its very nature much of the information in this guide is subject to change at short notice and travellers are urged to verify information on which they're relying with the relevant authorities. Globe Media and UNIGLOBE Travel does not accept any responsibility for any loss or inconvenience to any person as a result of information contained above.