General
Money
Entry Requirements
Health & safety
Weather
Embassies
Etiquette
Public Holidays
Attractions
Map
---
Introduction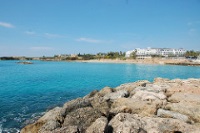 Cyprus ©Krzysztof Belczynski
There is a great deal packed into a small space on the island of Cyprus in the eastern Mediterranean. Not only does it abound with good beaches and holiday resorts, but its relatively tiny landmass is riddled with the relics of ancient history, from the beehive huts of primitive man to classical Greek and Roman ruins, and everything imaginable in-between.
A thousand years is but a blip in time in the long history of Cyprus, but it was that long ago that the city of Nicosia (also known as Lefkosia) became its capital. Today Nicosia is unique in Europe because it is divided by the 'green line' that bisects the whole island, dividing north from south. The line, which serves as a United Nations peacekeeping buffer, was drawn in 1974, when the Turks invaded and took over the north. Most of the tourism development since then has taken place in the southern Government-controlled sector, and the political divide, even in Nicosia itself, has not dampened the island's appeal as a major holiday destination.
The charms of Cyprus are many and varied. For a start the weather is sunny and dry for most of the year, and the encircling sea is blue, clear and enticing. There are modern luxury hotels in the coastal resort towns, historic restored city precincts to explore, tavernas and nightlife aplenty. Cyprus has remote and picturesque mountain villages and monasteries, beautiful churches, Crusader castles and fascinating museums. The local people are extremely welcoming of tourists, happy to share with them their innate love of life and camaraderie. In Cyprus it is possible to mingle with crowds, or seek isolation off the beaten track as the mood takes you, even in peak holiday season. For this reason the island is also a favoured destination for honeymooners, a reputation enhanced by the fact that legend has it that Cyprus was where Aphrodite, Greek goddess of love, rose from the sea.
Communications
The international access code for Cyprus is +357. The outgoing code is 00 followed by the relevant country code (e.g. 0044 for the United Kingdom). Area codes are required. Mobile phone operators use GSM networks and have roaming agreements with most international operators. There are public phones in all towns and villages which can be used for domestic and international calls. Phone cards can be purchased from shops, banks and post offices. Internet cafes are available in the main towns and resorts.
Emergencies
112 (General Emergency Helpline)
Languages Spoken
The majority of Cypriots speak Greek, and a small percentage speaks Turkish. The Greek Cypriot dialect differs from mainland Greece. English, German and French are spoken in tourist areas.
Duty Free
Travellers to Cyprus over 17 years arriving from non-EU countries do not have to pay duty on 200 cigarettes or 100 cigarillos or 50 cigars or 250g smoking tobacco; 1 litre spirits with higher than 22 percent alcohol volume or 2 litres spirits or aperitifs with less than 22 percent alcohol volume, or 2 litres of wine; 50g perfume or 250ml eau de toilette; 500g coffee; 100g tea; medicines for personal consumption; and other goods to the value of €175. Prohibited items include fresh fruit, meat and dairy products.
Electricity
Electrical current is 230 volts, 50Hz. UK-style three square-pin plugs are used.
Climate Info
Cyprus enjoys a Mediterranean climate, with abundant sunshine year round. Long, dry summers and mild winters are separated by short autumn and spring seasons. Summer is a time of high temperatures with cloudless skies, but the sea breeze creates a pleasant atmosphere in the coastal areas. Winters are mild, with some rain and snow on the Troodos Mountains.
Cypriots are fond of saying that 11 out of the 12 months are sunny in their country and it is no idle boast: the 'summer' holiday season lasts about eight months in Cyprus, beginning in April with average temperatures of 70-73°F (21-23°C) during the day and 52-55°F (11-13°C) at night; and ending in November when average temperatures are 72-73°F (22-23°C) during the day, and 54-57°F (12-14°C) at night. The remaining four months of the year are by no means freezing either, with temperatures still sometimes exceeding 68°F (20°C).
These enviable statistics make Cyprus a year-round holiday destination, particularly as European winter sun-seekers often choose to vacation here even in the cooler months. However, peak tourist season is summer (June to August).
Passport
Travellers, except EEA nationals, should hold an onward or return ticket and documentation necessary for that journey, as well as sufficient funds for the period of intended stay in Cyprus. It is also advisable to have a hotel reservation. Extensions are available to visa-exempt nationals. Travellers should note that foreigners entering Cyprus north of the UN-patrolled 'green line' are deemed by the Government of the Republic of Cyprus to have entered illegally, and can be fined when crossing to the south (EU). Policies and procedures are subject to sudden changes, and visitors should check on the current situation before departing for Cyprus. It is highly recommended that your passport has at least six months validity remaining after your intended date of departure from your travel destination. Immigration officials often apply different rules to those stated by travel agents and official sources.
Entry Requirements
US nationals must have a passport valid for three months beyond the period of intended stay in Cyprus. A visa is not required for a stay of up to 90 days.
British passports must be valid three months beyond period of intended stay. For holders of passports endorsed British Citizen, no visa is required. No visa is required for a touristic stay of up to 90 days for holders of passports endorsed British National (overseas), British Overseas Territories Citizen (and containing a Certificate of Entitlement to the Right of Abode issued by the United Kingdom and UK residence stamp), British Subject (and containing a Certificate of Entitlement to the Right of Abode issued by the United Kingdom and UK residence stamp), or British Overseas Territories Citizen issued to residents of Gibraltar.
Canadian nationals must have a passport valid for three months beyond the period of intended stay. No visa is required for stays of up to 90 days.
Australian nationals must have a passport valid for three months beyond the period of intended stay. No visa is required for stays of up to 90 days.
South African nationals must have a passport valid for at least three months beyond the period of intended stay. A visa is required, except for those carrying multiple-entry Schengen C visas that have already entered the Schengen area or been issued by Bulgaria, Croatia, Romania or a Schengen Member State.
Irish nationals must hold a passport valid upon arrival. No visa is required.
New Zealand nationals must have a passport valid for three months beyond the period of intended stay. No visa is required for stays of up to 90 days.
Health
No vaccinations are required for travel to Cyprus but hepatitis A and B vaccinations are always recommended for travellers by health authorities. A typhoid vaccination is also recommended but only for travellers who intend to eat and drink outside of restaurants and hotels or mean to travel off the beaten tourist track. Travellers are advised to avoid eating fruits and vegetables unless they have been peeled or cooked and to avoid meat that is raw or undercooked. Travellers should also always be wary of food sold by street vendors.
Health services on Cyprus are of a good standard. UK citizens should bring with them a European Health Insurance Card (EHIC), which enables them to receive free emergency medical treatment. Medical fees are reasonable in Cyprus, but supplies are expensive and it is probably a good idea to take with you any important prescription medications you may require (with the appropriate notes from your doctor to get them through customs). Medical insurance is advised.
Safety
The terrorist threat is low, and crime against tourists is rare.
Emergency Phone Number
112 (General Emergency Helpline)
* For current safety alerts, please visit
Foreign travel advice - GOV.UK
or
Travel.State.Gov
Money
The official currency is the Euro (EUR). Major credit cards are accepted in most establishments. Money can be exchanged at banks, open from Monday to Friday. There are ATMs spread throughout the island, operating 24 hours a day.
Exchange Rate
Not available.
Embassies of Cyprus
Cyprus Embassy, Washington DC, United States: +1 202 462 5772.
Cyprus Embassy, London, United Kingdom: +44 (0)20 7321 4100.
Cyprus Consulate General, Toronto, Canada: +1 416 944 0998.
Cyprus High Commission, Canberra, Australia (also responsible for New Zealand): +61 (0)2 6281 0832.
Cyprus High Commission, Pretoria, South Africa: +27 (0)12 346 3329.
Cyprus Embassy, Dublin, Ireland: +353 (0)1 676 3060.
Foreign Embassies in Cyprus
United States Embassy, Nicosia: +357 2239 3939.
British High Commission, Nicosia: +357 2286 1100.
Consulate of Canada, Nicosia: +357 2277 5508.
Australian High Commission, Nicosia: +357 2275 3001.
South African Embassy, Athens, Greece (also responsible for Cyprus): +30 210 617 8020.
Irish Embassy, Nicosia: +357 2281 8183.
New Zealand Embassy, Rome, Italy (also responsible for Cyprus): +39 (0)6 853 7501.
Customers
Avoid taking photographs near military establishments. Religious customs such as Ramadan should be respected, particularly in the north where most of the Turkish Cypriots are Muslim; avoid eating, drinking, smoking and chewing gum in public during the holy month. Women should dress modestly.
Business
Business in Cyprus is best conducted face-to-face, as developing a working relationship based on trust is important. Business is conducted formally, and dress should be smart and conservative (a suit and tie are the norm). Greetings are usually made with a handshake, and business cards are exchanged. It is common for women to hold high positions and they are generally well respected in the business world. Punctuality is important, but meetings may not begin on time. Business hours can vary according to the season, but are usually 8am to 1pm and 4pm to 7pm Monday to Friday in summer, closing at 5pm in winter.
Tipping
A 10 percent service charge is levied in hotels and restaurants so a tip is not obligatory, but small change is always welcome. Taxi drivers, porters etc, appreciate a small tip.
Public Holidays in Cyprus
| | | |
| --- | --- | --- |
| | 2017 | 2018 |
| New Years Day | 1 Jan | 1 Jan |
| Epiphany | 6 Jan | 6 Jan |
| Green Monday | 27 Feb | 19 Feb |
| Greek Independence Day | 25 Mar | 25 Mar |
| Greek Cypriot National Day | 1 Apr | 1 Apr |
| Greek Orthodox Good Friday | 14 Apr | 6 Apr |
| Greek Orthodox Easter Monday | 17 Apr | 9 Apr |
| Labour Day | 1 May | 1 May |
| Pentecost Monday (Kataklysmos) | 5 Jun | 28 May |
| Assumption of the Virgin Mary | 15 Aug | 15 Aug |
| Cyprus Independence Day | 1 Oct | 1 Oct |
| Greek National Day | 28 Oct | 28 Oct |
| Christmas Day | 25 Dec | 25 Dec |
| Boxing Day | 26 Dec | 26 Dec |
Overview
Steeped in hundreds of years' history, it's no wonder Cyprus offers some of the most exciting and fascinating sightseeing opportunities in Europe.
Highlights for travellers include a visit to the Archaeological Museum in Nicosia to view artefacts dating back over 8,500 years; exploring the site of the first discovered Neolithic ruins of Choirokoitia, just north of Larnaca; marvelling at the striking mosaic floors in Paphos, dating from the third century AD; and visiting the mystical Catacombs where visitors are greeted by a pistachio tree laden with pieces of cloth.
Another favourite for visitors is taking a romantic excursion from Paphos to visit the natural grotto on the Akamas Peninsula near Polis (30 miles/48km north of Paphos) where legend has it that the Greek goddess of love, Aphrodite, used to take her baths. With so much to see and do, tourists are unlikely to ever exhaust the wonders of this country or run out of things to see and do in Cyprus.
While Cyprus' fascinating history is worth exploring, many tourists come to enjoy the country's beautiful beaches and resorts. Cyprus is home to 49 Blue Flag beaches, which offer fun in the sun that includes snorkelling and scuba diving, waterskiing, quad biking, and windsurfing. The top beaches have excellent facilities, with restaurants and bars, hotels, and other amenities within easy reach of the sand.
The public transport system in Cyprus is reliable enough to get to most major cities, however, one of the best ways to get a real feel for the country and to explore everything it has to offer is to hire a car or moped and take a leisurely tour round Cyprus.
Map of Cyprus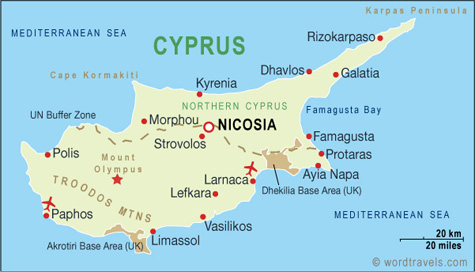 Travel Guide powered by www.wordtravels.com, copyright © Globe Media Ltd. All rights reserved. By its very nature much of the information in this guide is subject to change at short notice and travellers are urged to verify information on which they're relying with the relevant authorities. Globe Media and UNIGLOBE Travel does not accept any responsibility for any loss or inconvenience to any person as a result of information contained above.