General
Money
Entry Requirements
Health & safety
Weather
Embassies
Etiquette
Public Holidays
Attractions
Map
---
Introduction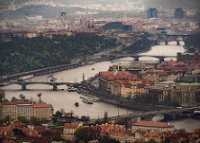 Czech Republic ©Paulius Malinovskis
During the past few decades the Czech Republic has slowly been emerging as a popular tourist destination, favoured particularly by the discerning traveller seeking culture and charm.
However, most visitors still tend to explore no farther than the capital, Prague: fewer than 10 percent of tourists venture into the countryside, which means they are missing out on a treat. Prague is a truly beautiful city of spires and a visual feast of medieval, Baroque and Art Nouveau architecture; a city which richly deserves its reputation as a favourite European destination. But, if they leave the cosmopolitan city behind, travellers will find a magnificent undulating landscape of mountains and plains, forests and farmland, and a small-town Czech culture which seems untouched by time.
The Czech Republic is divided into two geographic and cultural sections, Bohemia and Moravia. Bohemian spa towns and laid-back Moravian wine villages seem to be in a time warp, welcoming visitors as though they are living museums enshrining a refined and relaxed rural lifestyle. There are also more than 100 castles dotted around the countryside, ranging from forbidding fortresses to elegant chateaux, all open to the public. The Czech countryside is also a major drawcard for hikers, cyclists and cross-country skiers, with hundreds of kilometres of marked trails crisscrossing the landscape.
Communications
The international access code for the Czech Republic is +420. There are high surcharges on international calls from hotels; it is cheaper to use the public telephone boxes - phone cards can be bought from newsagents. The local mobile phone operators use GSM networks and have roaming agreements with all major international operators, except those in the USA. Internet cafes are available in the main towns.
Emergencies
112 (General); 158 (Police); 155 (Ambulance)
Languages Spoken
Czech is the official language but English and German are also widely spoken.
Duty Free
Travellers over the age of 17, arriving from non-EU countries, do not have to pay duty on 200 cigarettes or 100 cigarillos or 50 cigars or 250g tobacco, or a proportional assortment of these; 1 litre spirits over 22% volume or 2 litres of spirits under 22% volume and 4 litres of wine and 16 litres of beer; and other goods up to the value of €430 for travellers arriving by air, and €300 for other travellers.
Electricity
Electrical current is 230 volts, 50Hz. Round two-pin plugs with a hole for a male grounding pin are standard. Most sockets also take the standard European two-pin plugs.
Climate Info
The Czech Republic has a typically European continental climate with cold, snowy winters and warm (sometimes wet) summers. Winters (November to February) can get very chilly; January is the coldest month, with daytime temperatures far below zero and strong, cold winds. Snowfall can be heavy: in the low-lying areas the yearly average of snow days is less than 40; in the mountainous areas it reaches 120. Summer temperatures average between 68°F (20°C) and 77°F (25°C) but often reach as high as 86°F (30°C). There is plenty of sun in summer but there are also frequent thunderstorms. The capital, Prague, experiences average temperatures ranging from 25°F (-4°C) during winter, to 73°F (23°C) during summer.
The best time to visit the Czech Republic is from May to September when days are warm and nights cool. The European summer (June to September) is the tourist high season, but spring and autumn can also be rewarding times to visit, particularly if you prefer to avoid the tourist crowds. Although the winters are cold, the Czech landscapes do look strikingly beautiful when it is snowy. In a way, every season has its advantages from a touristic point of view.
Passport
The borderless region known as the Schengen area includes the following countries: Austria, Belgium, Czech Republic, Denmark, Estonia, Finland, France, Germany, Greece, Hungary, Iceland, Italy, Latvia, Lithuania, Luxembourg, Malta, The Netherlands, Norway, Poland, Portugal, Slovakia, Slovenia, Spain, Sweden, and Switzerland. All these countries issue a standard Schengen visa that has a multiple entry option, and which allows the holder to travel freely within the borders of all the aforementioned countries. All visitors must hold an onward or return ticket, or proof of sufficient funds to buy a ticket, and all documents required for onward travel. They must also fill in and sign a border-crossing card, and be able to show proof of the following at the request of the Authority of Aliens Police Service: (i) sufficient means of support for the duration of their stay; (ii) documents confirming financial security (credit cards, bank statements, etc.); (iii) documents confirming accommodation for the period of stay in the Czech Republic, unless another accommodation arrangement is provided; (iv) valid health insurance, with complete coverage. NOTE: It is highly recommended that your passport has at least six months validity remaining after your intended date of departure from your travel destination. Immigration officials often apply different rules to those stated by travel agents and official sources.
Entry Requirements
US citizens must have a passport valid for three months beyond the period of intended stay in the Czech Republic. A visa is not required for stays of up to 90 days.
Passports endorsed 'British Citizen' must be valid on arrival; British passports with other endorsements must be valid at least three months beyond the period of intended stay. Passport exemptions apply to holders of identity cards issued by Gibraltar, and endorsed 'Validated for EU travel purposes under the authority of the United Kingdom', as well as to holders of emergency passports issued to nationals of the United Kingdom. A visa is not required for passports endorsed British Citizen. No visa is required for stays of up to 90 days for holders of passports endorsed British National (overseas), British Overseas Territories Citizen (containing a Certificate of Entitlement to the Right of Abode issued by the United Kingdom), and British Subject (containing a Certificate of Entitlement to the Right of Abode issued by the United Kingdom).
Canadians must have a passport valid for three months beyond the period of intended stay in the Czech Republic. No visa is required for a stay of up to 90 days.
Australian citizens must have a passport valid for three months beyond the period of intended stay in the Czech Republic. A visa is not required for a stay of up to 90 days.
South Africans require a passport valid for three months beyond the period of intended stay in the Czech Republic. A pre-arranged visa is required.
Irish nationals must have a passport, or emergency passport, valid for the period of intended stay in the Czech Republic. No visa is required.
New Zealand citizens must have a passport valid for three months beyond the period of intended stay in the Czech Republic. No visa is required for a stay of up to 90 days.
Health
There are no vaccination requirements for international travellers, and no major health risks are associated with travel to the Czech Republic. Vaccinations are recommended for hepatitis A and hepatitis B. Long-term visitors to forested areas may want to consider seeking medical advice about immunisation against tick borne encephalitis.
Medical facilities are good in Prague but may be more limited in rural areas. A reciprocal health agreement with the UK entitles citizens with a European Health Insurance Card (EHIC) to free emergency health care. Comprehensive medical insurance is advised.
Safety
The majority of visits to the Czech Republic are trouble-free, although the country has a risk of indiscriminate terrorist attacks, which it shares with most of Europe. Petty theft is a concern, especially in Prague, and visitors should be vigilant about their belongings particularly on public transport and around the main tourist sites. Violent crime is rare.
Emergency Phone Number
112 (General); 158 (Police); 155 (Ambulance)
* For current safety alerts, please visit
Foreign travel advice - GOV.UK
or
Travel.State.Gov
Money
The official currency is the Czech Crown, locally known as the Koruna (CZK), which is divided into 100 haler. Most credit cards, including American Express, Diners Club, Visa and MasterCard are accepted, but it is best to have cash handy when travelling outside of Prague and the main tourist centres. Foreign currency can be exchanged at banks, bureaux de change and some hotels; commission is highest in hotels. Banks are closed on weekends. ATMs (known as 'bankomats') are now common in Prague and are probably the best way to obtain local currency at a good rate. The Czech Republic is still cheap compared to the rest of Europe, though the gap is closing.
Exchange Rate
Not available.
Embassies of Czech Republic
Embassy of the Czech Republic, Washington DC, United States: +1 202 274 9100.
Embassy of the Czech Republic, London, United Kingdom: +44 (0)20 7243 1115.
Embassy of the Czech Republic, Ottawa, Canada: +1 613 562 3875.
Embassy of the Czech Republic, Canberra, Australia: +61 (0)2 6290 1386.
Embassy of the Czech Republic, Pretoria, South Africa: +27 (0)12 431 2380.
Embassy of the Czech Republic, Dublin, Ireland: +353 (0)1 668 1135.
Honorary Consulate of the Czech Republic, Auckland, New Zealand: +64 (0)9 306 5883.
Foreign Embassies in Czech Republic
United States Embassy, Prague: +420 257 022 000.
British Embassy, Prague: +420 257 402 111.
Canadian Embassy, Prague: +420 272 101 800.
Australian Consulate, Prague: +420 221 729 260.
South African Embassy, Prague: +420 267 311 114.
Irish Embassy, Prague: +420 257 011 280.
New Zealand Embassy, Berlin, Germany (also responsible for Czech Republic): +49 (0)30 206 210.
Customers
Drunken behaviour and drinking in public is punishable by law in the Czech Republic. Some bars and restaurants in Prague will not allow entry for stag parties.
Business
Punctuality is vital in the Czech business world and dress should be smart and conservative. Initial greetings are usually formal, with a firm handshake. Titles and surnames are used, unless otherwise indicated. There is generally some small talk to establish rapport at the beginning of meetings; be polite and courteous. German is the most common foreign language used in the Czech Republic but English is widely spoken by younger generations. Translators are available and any attempts at speaking Czech will be appreciated when doing business. Deals can take a long time to manifest due to significant bureaucratic red tape and it is important to be patient. Business hours are usually 8am to 4pm Monday to Friday and some businesses close during the month of August.
Tipping
Tipping in restaurants is optional and generally no service charge is added to bills. Gratuities of about 10 percent are expected for good service. Taxi drivers are tipped by rounding up the fare at the end of the journey.
Public Holidays in Czech Republic
| | | |
| --- | --- | --- |
| | 2017 | 2018 |
| New Years Day | 1 Jan | 1 Jan |
| Labour Day | 1 May | 1 May |
| Liberation Day | 8 May | 8 May |
| Saints Cyril and Methodius Day | 5 Jul | 5 Jul |
| Jan Hus Day | 6 Jul | 6 Jul |
| Day of Czech Statehood | 28 Sep | 28 Sep |
| Independence Day | 28 Oct | 28 Oct |
| Fight for Freedom and Democracy | 17 Nov | 17 Nov |
| Christmas Eve | 24 Dec | 24 Dec |
| Christmas Day | 25 Dec | 25 Dec |
| St Stephens Day | 26 Dec | 26 Dec |
| Easter Monday | 17 Apr | 2 Apr |
Overview
Sightseeing in the Czech Republic gets you the very best of classical Europe combined with the charm and spark of a truly original country. Most visitors spend their time almost exclusively in Prague, enjoying the beauty of the medieval buildings and evocative scenery of the river-front location, while sampling the cultural delights of the dynamic live music and theatre scene. Attractions in this beautiful city include Charles Bridge (the most photographed feature of the city), the Old Town Square, St Vitus Cathedral, and numerous incredible buildings in the Castle District on the hill above Prague.
Beyond Prague is a host of delights often unjustly neglected by foreign visitors. These include world-class attractions such as picturesque Ceský Krumlov, the fascinating ossuary of Kutna Hora, and Karlsbad, the queen of the Czech Republic's many spa resort towns. The Czech Republic also boasts some wonderful hiking trails and scenic areas, which make it the ideal destination for those who enjoy travelling on foot. The countryside is dotted with numerous castles, keeps and medieval villages.
The most popular time to visit is over the peak summer months of July and August, although Prague in particular can get very crowded. Spring - April to June - has mild weather and warm days and is probably the ideal time to visit.
Map of Czech Republic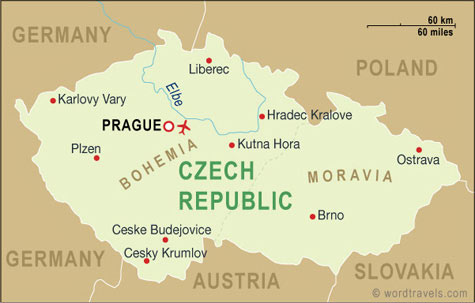 Travel Guide powered by www.wordtravels.com, copyright © Globe Media Ltd. All rights reserved. By its very nature much of the information in this guide is subject to change at short notice and travellers are urged to verify information on which they're relying with the relevant authorities. Globe Media and UNIGLOBE Travel does not accept any responsibility for any loss or inconvenience to any person as a result of information contained above.