General
Money
Entry Requirements
Health & safety
Weather
Embassies
Etiquette
Public Holidays
Attractions
Map
---
Introduction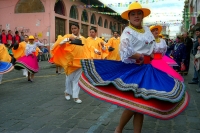 Ecuador ©jpereira_net
Ecuador is the smallest country in the Andean Highlands. Despite its size, it is one of the world's most bio-diverse countries. It's crammed with an astounding variety of wildlife, birds, and vegetation, existing in contrasting climatic zones.
Within a short time, the traveller can experience dramatic changes in scenery, temperature, and altitude, journeying between Pacific Coast beaches, the sweltering rainforest, the capital city of Quito surrounded by ice-covered volcanoes, and the windswept highlands of the Andes Mountains.
The geographic environment has influenced the cultures and traditions of its people. Two mountain chains and over 30 volcanoes make up the Andean highlands, the country's backbone. Between the two chains lies the central valley, the Avenue of Volcanoes, at about 8,960 feet (2,800m) above sea level.
This valley, or sierra, is the heartland of cultural activity, punctuated by dozens of remote communities. It is also home to the bulk of the population. Larger towns like Saquisilí and Otavalo swell on market days, villagers coming to sell their produce and handiwork in a vibrant, colourful, and festive atmosphere.
Additionally, the sierra contains most of the old and historically important cities, including the aforementioned Quito. The country itself is beautiful, colonial architecture blending effortlessly with magnificent, panoramic scenery and a welcoming people.
One of the world's greatest treasures of natural history lies in the bewitching Galapagos Islands. Famed for its unique wildlife such as marine iguanas, giant tortoises, and colourful Sally Lightfoot crabs, the island chain is the highlight of any holiday in Ecuador.
Communications
The international access code for Ecuador is +593. Calls made from hotel rooms can be expensive, but public telephones can be found in most public buildings in the main cities. The most cost-effective way to telephone internationally is from call centres, which are located in most towns and cities. They also offer fax services and sometimes internet, although internet cafes are available in the main towns. The local cell phone network uses GSM; European, Australian and phones from other non-GSM networks will not work but cell phones can be rented at the airport or at cellular phone shops.
Emergencies
101 (Police); 911 (Ambulance)
Languages Spoken
Spanish is the official language, but many speak an Amerindian language called Quichua.
Duty Free
Travellers entering Ecuador do not have to pay customs duty on 300 cigarettes or 50 cigars or 200g tobacco; 1 litre of alcoholic beverages; perfume for personal use; and gifts and personal effects to the value of US$200 for a stay of up to seven days, US$300 for eight days to six months, and US$400 for stays of six months to two years.
Electricity
Electrical current is 120 volts, 60Hz. Two-pin plugs are standard.
Climate Info
Ecuador's geography has endowed the country with a variety of microclimates. The coast is hot all year, with a humid rainy season between December and May. In the mountains climate depends on altitude, becoming cooler the higher you go. The Amazon region is hot, humid and wet, while the Galapagos Islands are dry with a steady year-round average temperature of 77ºF (25ºC).
Passport
Passports should be valid for at least six months beyond the date of arrival in Ecuador. All visitors should hold an onward or return ticket, and must demonstrate proof of sufficient funds for their stay in the country. Extensions are possible for travellers who do not need a visa to enter Ecuador. Those who are travelling to the Galapagos islands need to register with the government prior to arrival. NOTE: It is highly recommended that your passport has at least six months validity remaining after your intended date of departure from your travel destination. Immigration officials often apply different rules to those stated by travel agents and official sources.
Entry Requirements
US citizens must have a passport valid for six months beyond the date of their arrival in Ecuador. No visa is required for stays of up to 90 days.
British citizens must have a passport valid for six months beyond the date of their arrival in Ecuador. No visa is required for stays of up to 90 days, irrespective of the endorsement with regard to national status contained in the visitor's passport.
Canadian citizens must have a passport valid for six months beyond the date of their arrival in Ecuador. No visa is required for stays of up to 90 days.
Australian citizens must have a passport valid for six months beyond the date of their arrival in Ecuador. No visa is required for stays of up to 90 days.
South African citizens must have a passport valid for six months beyond the date of their arrival in Ecuador. No visa is required for stays of up to 90 days.
Irish citizens must have a passport valid for six months beyond the date of their arrival in Ecuador. No visa is required for stays of up to 90 days.
New Zealand citizens must have a passport valid for six months beyond the date of their arrival in Ecuador. No visa is required for stays of up to 90 days.
Health
A yellow fever certificate is required for those arriving from infected areas, and is recommended for everyone entering Ecuador, particularly for those travelling to the Amazon basin. Vaccinations are recommended for hepatitis A and hepatitis B. There is a high risk of malaria and dengue fever in areas below 5,000 feet (1,500m) in Ecuador. There has been a dramatic increase in the number of reported cases of dengue fever primarily in coastal and Amazon regions. The best prevention is to cover up and use mosquito repellent liberally throughout the day. High altitude can affect some people's health so visitors to Quito (6,500 feet/2,800m), for example, are advised to take it easy for the first few days. It is advisable to take seasickness tablets on a Galapagos boat cruise. Tap water should not be consumed; bottled water is available. Milk is unpasteurised so it is best to avoid dairy products. Medical facilities are often inadequate, especially outside of Quito, and comprehensive medical insurance is highly recommended.
Safety
Ecuador is generally a safe country to travel to but visitors should be vigilant with their belongings as most crime is opportunistic. Travellers are warned not to store belongings in the overhead lockers or under seats on public buses and trains.
Due to a risk of kidnapping and armed crime, travel to the northeastern areas bordering Colombia is not advisable, and travel to the northern provinces of Sucumbios and Orellana should be avoided. Travellers should also avoid hiking to Volcan Pichincha via Cruz Loma as violent gangs are known to operate in the wooded areas; a cable car provides access, but there have been several recent cases of armed robbery and rape reported in the area. Several incidents have also occurred along the hiking trail up Cerro Mandango near Vilcabamba, Loja, in which hikers have been robbed of all valuables by masked men.
Ecuador has many active volcanoes, which are rather poorly monitored. Recent eruptions have caused the evacuation of thousands of people, particularly in the Baños area.
There is an ongoing risk of disruption to travel due to social and political unrest; all public gatherings and demonstrations should be avoided.
Emergency Phone Number
101 (Police); 911 (Ambulance)
* For current safety alerts, please visit
Foreign travel advice - GOV.UK
or
Travel.State.Gov
Money
The US Dollar (USD) is the official currency in Ecuador. It is recommended that travellers bring US dollar notes as other foreign currencies are difficult to exchange outside of Quito, Guayaquil, and Cuenca. Small denominations in good condition are the easiest to exchange outside of the main cities.
In the main centres most currencies can be exchanged at banks and exchange houses (casas de cambio) at variable commission rates. ATMs are available in the cities, and major credit cards are accepted in tourist areas and large hotels, although a commission of six to eight percent is often charged.
Exchange Rate
Not available.
Embassies of Ecuador
Embassy of Ecuador, Washington DC, United States: +1 202 234 7200.
Embassy of Ecuador, London, United Kingdom: +44 (0)20 7584 1367.
Embassy of Ecuador, Ottawa, Canada: +1 613 563 8206.
Embassy of Ecuador, Canberra, Australia: +61 (0)2 6286 4021.
Ecuadorian Embassy, Pretoria, South Africa, +27 012 346 1662
Foreign Embassies in Ecuador
United States Embassy, Quito: +593 (0)2 398 5000.
British Embassy, Quito: +593 (0)2 297 0800.
Canadian Embassy, Quito: +593 (0)2 245 5499.
South African Embassy, Lima, Peru (also responsible for Ecuador): +511 612 4848.
Irish Honorary Consul, Argentina (also responsible for Ecuador): +54 11 5787 0801.
Customers
Always ask permission to take photos of the local people. A tip is often requested for taking a photo. It is a legal requirement to carry identification at all times. Dress is more conservative and modest in the highlands compared to the coast. Politeness and good manners are essential for communication and a light handshake is the practiced form of greeting.
Business
An essential aspect of conducting business in Ecuador is having a link with a reputable local partner. Business dealings are somewhat formal; dress is usually smart and conservative, punctuality is important and greetings are made with a handshake. Dress can be more casual in hotter regions such as Guayaquil. Business cards are usually exchanged and it is recommended to have some business cards, company brochures and presentations translated into Spanish. Note that business disputes that would in countries such as the United States be dealt with by civil litigation are often, under Ecuadorian law, viewed as criminal, and can lead to arrest and imprisonment. Although the official language is Spanish, English is widely spoken and understood in the business sector. Business hours are usually 8:30am to 4:30pm Monday to Friday, with some businesses closing during lunch.
Tipping
A 10 percent service charge is usually added to good quality hotel and restaurant bills, but often the waitron does not receive this fee, so it is discretionary to add another five to 10 percent as a tip. Taxi drivers do not expect to be tipped but tour guides usually receive tips.
Public Holidays in Ecuador
| | | |
| --- | --- | --- |
| | 2017 | 2018 |
| New Years Day | 1 Jan | 1 Jan |
| Carnival | 27 Feb | 12 Feb |
| Good Friday | 14 Apr | 30 Mar |
| Labour Day | 1 May | 1 May |
| Battle of Pichincha Day | 24 May | 24 May |
| Independence Day | 10 Aug | 10 Aug |
| Independence of Guayaquil | 9 Oct | 9 Oct |
| All Souls Day | 2 Nov | 2 Nov |
| Independence of Cuenca | 3 Nov | 3 Nov |
| Christmas Day | 25 Dec | 25 Dec |
Overview
Ecuador is most famous as a travel destination for it's ecological wealth and the most notable tourist attraction is the Galapagos island chain, once the scientific playground of Charles Darwin. On this small archipelago of volcanic islands weird and wonderful animals like the giant tortoise and marine iguana can be observed. Tourism on the Galapagos is strictly controlled to preserve the famous eco-system.
Other breathtaking natural wonders in Ecuador include the many volcanoes, particularly Cotopaxi, which is one of the highest active volcanoes in the world and home to one of the few equatorial glaciers in the world; the Amazon rainforest, which attracts many adventurous travellers, with the town of Tena the most common launching point for jungle treks; and the Cuyabeno Wildlife Reserve, in the Andean foothills, which is a great favourite with nature lovers.
Those wanting to experience the scenic Ecuadorian coastline would do best to head to the southern coast, where numerous picturesque beach resorts can be found. The most popular of these is the pretty town of Montanita.
The capital, Quito, is the transport hub of the country and attracts tourists in its own right with colonial architecture, colourful markets, and Cotopaxi looming in the background. Cuenca is also a very attractive town and a hotspot on Ecuador's tourist circuit.
Map of Ecuador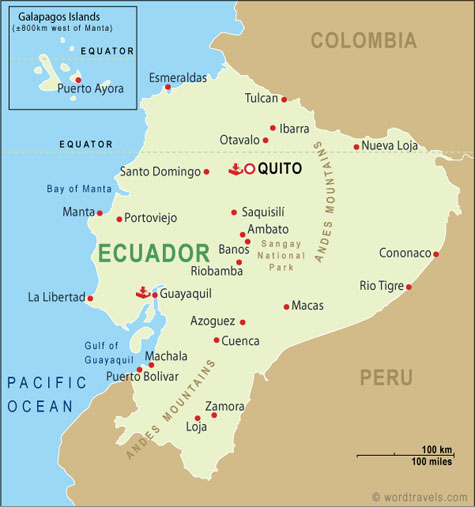 Travel Guide powered by www.wordtravels.com, copyright © Globe Media Ltd. All rights reserved. By its very nature much of the information in this guide is subject to change at short notice and travellers are urged to verify information on which they're relying with the relevant authorities. Globe Media and UNIGLOBE Travel does not accept any responsibility for any loss or inconvenience to any person as a result of information contained above.