General
Money
Entry Requirements
Health & safety
Weather
Embassies
Etiquette
Public Holidays
Attractions
Map
---
Introduction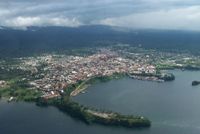 Malabo ©Ipisking
The lush and lovely Equatorial Guinea consists of a mainland territory, Rio Muni, and five island territories within the Gulf of Guinea. While the country does have a significant and dark history - one of failed coups, and severe corruption - there is enough to keep adventurous visitors returning to its beautiful shores.
Rio Muni, oddly enough, is not the epicentre of the country; it is the largest region but is 60 percent rainforest, constituting a conservation area respected among primate experts for its large variety of gorilla and monkey species. The real buzz of Equatorial Guinea is Bioko Island, which is situated closer to Cameroon than Rio Muni, north of the mainland, and which is home to the capital city, Malabo.
Bioko Island is a beautiful, volcanic isle and Malabo is a dilapidated but charming city with a prevalence of Spanish colonial architecture that belies the fact that you are in an African state. In fact, the official languages of Equatorial Guinea are Spanish and French, a further nod to the former colonists. While the architecture is a must in terms of the island's attractions, the marketplace of Malabo is also popular. A lively market filled with curiosities and exquisitely wrought tapestry, tourists will enjoy this unique experience. Visitors do have to take care though not to be pick-pocketed or mugged while exploring the city.
The country is poor but not violent and crime is petty. Equatorial Guinea is a beautiful country and it rewards exploration for those brave enough to set out off the beaten track, but it is not a well-known tourist destination and travel through its rich jungles and islands is not risk-free. Officials make travel difficult by frequently demanding to see papers and sometimes expecting bribes. Tourism infrastructure is almost non-existent and visitors should come prepared to travel rough, but those in search of an adventure will find stunning beaches and pristine rainforest as well as exciting wildlife if they are willing to make the journey.
Communications
Landline telephone penetration is low in Equatorial Guinea and there is only one GSM mobile telephone operator which has coverage in Malabo, Bata, and several other mainland cities. Internet is available in the major cities and some internet cafes do operate but internet usage is not yet widespread among the local population. The international access code for Equatorial Guinea is +240.
Emergencies
Rather than rely on national helplines, it is best to familiarise oneself with the contact details of the local authorities in each city.
Languages Spoken
Spanish and French are the official languages of Equatorial Guinea, although the majority of the population speak African languages.
Duty Free
Visitors to Equatorial Guinea may import the following goods into the country: 200 cigarettes; 50 cigars or 250g of tobacco, one litre of wine and one litre of spirits, and an amount of perfume reasonable for personal use.
Electricity
Electrical outlets in Equatorial Guinea usually supply electricity at between 220 and 240 volts, 50Hz. European two-pin plugs with round or flat pins are standard.
Climate Info
As the country's name suggests, Equatorial Guinea has an equatorial or tropical climate which means high temperatures year-round, heavy rainfall and dense cloud cover for most of the year. This means that while it is almost always hot, it is not necessarily sunny. There are variations in climate according to altitude and proximity to the coast and the mainland differs somewhat from the island territories. On the mainland the wet season runs from February to June and from September to December. Rainfall is higher in the coastal regions. The average annual temperature, which fluctuates very little throughout the year, is about 79°F (26°C). Bioko island is slightly less humid and a little cooler, with an average annual temperature of 77°F (25°C) that also remains fairly constant all year. Bioko has a dry season between November and March (although it is seldom completely dry) and is rainy for the rest of the year. Most of the time it is cloudy and overcast.
The best time to visit Equatorial Guinea is in the dry season. In the rainy seasons many of the roads become impassable without a 4x4 due to mud and flooding and even with a capable vehicle traversing the country is difficult.
Passport
All foreign visitors to Equatorial Guinea require two passport-sized photographs for police control, if arriving there for the first time, and must provide evidence of their ability to financially support themeselves during their stay. NOTE: It is highly recommended that your passport has at least six months validity remaining after your intended date of departure from your travel destination. Immigration officials often apply different rules to those stated by travel agents and official sources.
Entry Requirements
US citizens must have a valid passport to enter Equatorial Guinea. No visa is required.
British citizens require a valid passport and a visa to enter Equatorial Guinea.
Canadian citizens require a valid passport and a visa to enter Equatorial Guinea.
Australian citizens require a valid passport and a visa to enter Equatorial Guinea.
South African citizens require a valid passport and a visa to enter Equatorial Guinea.
Irish citizens require a valid passport and a visa to enter Equatorial Guinea.
New Zealand citizens require a valid passport and a visa to enter Equatorial Guinea.
Health
Equatorial Guinea is a malaria area and malaria medication is essential - consult your doctor to decide which prophylaxis will suit you best. Vaccinations are recommended for hepatitis A, hepatitis B and typhoid. Those who will be spending a lot of time outdoors and may be at risk of animal bites should also consider a rabies vaccination. Yellow fever certificates are required for any travellers arriving from infected areas in Africa or the Americas, and a yellow fever vaccination is recommended for all visitors to Equatorial Guinea. Travellers should not drink tap water in Equatorial Guinea unless it has been boiled, filtered or chemically disinfected. Don't drink anything with ice in it, don't eat fruit and vegetables unless they have been peeled or cooked, and ensure that meals are eaten while hot and not left to cool. Travellers should note that food bought from street vendors can be hazardous.
Medical facilities are extremely limited in Equatorial Guinea and the country suffers frequent shortages of essential medications and supplies. Comprehensive travel insurance is recommended but most doctors will expect payment in cash. Visitors should bring along any medicine they require, in the original packaging and with a signed and dated letter from their doctor detailing what the medication is and why it is necessary.
Safety
There is little threat of terrorism in Equatorial Guinea and violent crime is rare. The overall level of criminal activity is low compared to other countries in the region, but petty crime and theft is on the rise and has become common. As tourism is rare there is little evidence of tourist scams. Official corruption, however, is very common and it is not unusual for foreigners to be stopped by uniformed officers and confronted with various 'violations' that will go away with a bribe. Visitors are not advised to encourage this corruption and it is best to request an official citation of the violation to be paid at the local court, or to demand a receipt stating the violation, the amount paid and the officer's name.
There is a risk of piracy off the coast of Equatorial Guinea.
Emergency Phone Number
Rather than rely on national helplines, it is best to familiarise oneself with the contact details of the local authorities in each city.
* For current safety alerts, please visit
Foreign travel advice - GOV.UK
or
Travel.State.Gov
Money
The Central African CFA Franc (XAF) is the official currency of Equatorial Guinea (along with five other central African countries). It is divided into 100 smaller units called centime. Equatorial Guinea is largely a cash economy and credit cards are seldom accepted. Foreign currency can be exchanged at hotels and banks in major cities but the process is expensive and time consuming and travellers are advised to bring funds in the local currency.
Exchange Rate
Not available.
Embassies of Equatorial Guinea
Equatorial Guinea Embassy, Washington DC. Tel: (202) 518 5700.
Equatorial Guinea Embassy, London. Tel: (020) 3752 6626.
Equatorial Guinea Embassy, Pretoria. Tel: (012) 342 9945.
Foreign Embassies in Equatorial Guinea
US Embassy, Malabo. Tel: (+240) 333 09 57 41.
British Honorary Consul, Malabo. Tel: (240) 222 277 502.
South African Embassy, Malabo. Tel: (240) 333 099 522.
Customers
Both the people and the customs of Equatorial Guinea are friendly and welcoming. Greetings are important, and may last longer than foreign visitors are accustomed to. People tend to stand close together when conversing. Always ask permission before photographing someone; photographing military personnel or buildings is prohibited. Various things may make officials suspicious in Equatorial Guinea, including camouflage gear, weapons, binoculars and radios, and these things may be confiscated or lead to questioning.
Business
Businesses in Equatorial Guinea tend to shut down daily between 1pm and 4pm for a long lunch break and siesta; working hours are generally 8am to 1pm and 4pm to 7pm, Monday to Saturday. Lightweight suits are acceptable attire for meetings and shaking hands is an appropriate greeting. Greetings tend to be formal. Business cards should be in Spanish or French and a translator may be necessary if you only speak English.
Tipping
Small tips for good service are appreciated and often expected in Equatorial Guinea. Service charges are not usually included in restaurants and tips of about 10 percent for waitrons are customary. Taxi fares should be rounded up if the service is good.
Public Holidays in Equatorial Guinea
| | | |
| --- | --- | --- |
| | 2017 | 2018 |
| Good Friday | 14 Apr | 30 Mar |
| New Years Day | 1 Jan | 1 Jan |
| Labour Day | 1 May | 1 May |
| Presidents Day | 5 Jun | 5 Jun |
| Immaculate Conception | 8 Dec | 8 Dec |
| Corpus Christi | 15 Jun | 31 May |
| Freedom Day | 3 Aug | 3 Aug |
| Constitution Day | 15 Aug | 15 Aug |
| Independence Day | 12 Oct | 12 Oct |
| Christmas Day | 25 Dec | 25 Dec |
Overview
Equatorial Guinea is relatively unexplored by tourists due to the lack of infrastructure and the difficulty of getting around, not to mention the official penchant for demanding bribes and permits frequently along the way. For those brave enough to take on the inconveniences and delays which are sadly quite inevitable on a trip to Equatorial Guinea, the beautiful rainforests and beaches will compensate. Although the big cities of Malabo and Bata have a handful of interesting landmarks and markets for sightseers, the country's attractions are primarily natural, luring conservationists, animal lovers and adventurers.
From Bata it is possible to explore the lovely coastline of the mainland, and it is only a short trip to Monte Alen National Park and all the wonders of the rainforest. Here aspiring naturalists can seek out many different primate species, including mountain gorillas, and enjoy long hikes and rustic campsites in the jungle.
Malabo, the capital, is generally the starting point for a holiday in Equatorial Guinea and the city can keep tourists happily occupied for a day or two with its colonial charm and oil-fuelled expat scene. However, the real paradise lies beyond the city, in the Bioko rainforest and along the black beaches of the volcanic island, where turtles have their nesting grounds. A visit to the small village of San Antonio de Ureca, on the southern coast of Bioko, is a great adventure. For shorter excursions out of Malabo, hiking up one of the three inactive volcanoes near the city is popular and fun, earning visitors amazing views.
Travel Guide powered by www.wordtravels.com, copyright © Globe Media Ltd. All rights reserved. By its very nature much of the information in this guide is subject to change at short notice and travellers are urged to verify information on which they're relying with the relevant authorities. Globe Media and UNIGLOBE Travel does not accept any responsibility for any loss or inconvenience to any person as a result of information contained above.