General
Money
Entry Requirements
Health & safety
Weather
Embassies
Etiquette
Public Holidays
Attractions
Map
---
Introduction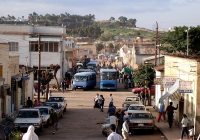 Asmara ©Jacopo
Eritrea has two faces, split by the Great Rift Valley. The western 'half' is fertile land while the east is a desert descending to the coastline. Eritrea sits squarely over the Danakil Depression, where three tectonic plates tug away from one another. And if the possibility of the ground pulling apart underneath you wasn't enough to complicate your movements on this land, getting around in Eritrea once there, is tricky. It has some of the world's most expensive fuel and even if you could afford a taxi or rental vehicle, many of the country's roads are defunct or closed. Instead, the only way to navigate the interior is by rail.
Still, despite the poor infrastructure and notable lack of tourists, Eritrea is not without charm. With the Red Sea serving as its coastline, diving to see coral and majestic sea life is a rewarding experience and Eritrea's most popular tourist activity. The exotic coastal town of Massawa is a good base for exploring the coast. The capital of Asmara boasts some of the most intact colonial (Italian) architecture in Africa, while to the south of Asmara there are pre-Aksumite civilisation sites such as the ruins of Qohaito, the ongoing excavation of which is constantly revealing new mysteries.
Unfortunately the wonder of Eritrea will probably remain buried until conflict with neighbouring Ethiopia is resolved. The current government stringently controls all travel, media, business and other enterprise, earning Eritrea the dubious accolade of being dubbed the 'North Korea of Africa'. Many travel authorities, including the British Foreign Office, currently advise against travel to Eritrea.
Communications
Statistics on communications infrastructure in Eritrea are not widely available, but landline use, mobile telephone use and internet use are all limited. Travellers should be able to find an internet cafe in Asmara, but outside of the capital and other big cities even finding phones may be difficult. The international dialling code for Eritrea is 291 and city codes are not in use.
Emergencies
You can reach the police at +291 1 127 799
Languages Spoken
Eritrea has no official language but Tigrinya and Arabic are the most widely spoken languages, and English and Italian are also widely understood.
Duty Free
Visitors to Eritrea may import the following goods: 200 cigarettes/50 cigars/250g of tobacco, and one litre of alcohol.
Electricity
Electrical outlets in Eritrea usually supply electricity at between 220 and 240 volts. European two-pin plugs with round pins are standard.
Climate Info
Eritrea has two main climate zones, with a hot, dry desert strip along the eastern coast and cooler, wetter weather in the western highlands. The lowland regions between these extremes tend to be semi-arid.
The eastern lowlands and coastal belt experience a hot summer season, between June and September, when temperatures range uncomfortably between 86°F and 102°F (30°C and 39°C), and a cooler winter season, between October and May, when temperatures range between 77°F and 89°F (25°C and 32°C). The coastal belt gets some rain between October and March, but not enough to hinder travel. In the Dankalia desert region it gets unbearably hot and hardly any rain falls.
The western highlands are generally cooler and wetter, with an average annual temperature of 64°F (18°C). May is the hottest month of summer, with temperatures reaching 86°F (30°C), and the coldest winter months, between December and February, see temperatures dropping almost to freezing point at night. June to September is the rainy season in the highlands.
Asmara, in central Eritrea, has a pleasant climate year-round, with an average annual temperature of 60°F (16°C), with most rain falling between June and September.
The best time to visit Eritrea is either in September and October, or March and April. The period between June and September is best avoided because it is rainy in the west, and uncomfortably hot in the east.
Passport
Foreign passengers to Eritrea are recommended to carry a passport valid for at least six months beyond their arrival in the country. All visitors should hold return or onward tickets, and the necessary travel documentation for their next destination. Tourist visas should be arranged in advance when possible, but can sometimes be obtained on arrival in Eritrea, provided that they have been requested by a local sponsor at the Eritrean Immigration Authority, 48 hours before the passenger's arrival. Note that boarding should not take place until confirmation of this request has been received. One passport-sized photo is required to issue the on-arrival visa. Yellow fever vaccination certificates are required to enter Eritrea, if the visitor is arriving within six days of leaving or transiting through an infected area. NOTE: There are differing accounts as to whether a visa can be obtained upon arrival in Eritrea, and what the criteria are for issuing visas on arrival; therefore, it is highly recommended that visas are arranged prior to travel to Eritrea. Immigration officials often apply different rules to those stated by travel agents and official sources.
Entry Requirements
US citizens must have a passport valid for at least one month beyond period of intended stay in Eritrea, and a visa is required.
British citizens must have a passport valid for at least one month beyond period of intended stay in Eritrea, and a visa is required.
Canadian citizens must have a passport valid for at least one month beyond period of intended stay in Eritrea, and a visa is required.
Australian citizens must have a passport valid for at least one month beyond period of intended stay in Eritrea, and a visa is required.
South African citizens must have a passport valid for at least one month beyond period of intended stay in Eritrea, and a visa is required.
Irish citizens must have a passport valid for at least one month beyond period of intended stay in Eritrea, and a visa is required.
New Zealand citizens must have a passport valid for at least one month beyond period of intended stay in Eritrea, and a visa is required.
Health
Malaria prophylaxis is recommended for all areas of Eritrea except Asmara and altitudes above 7,218 ft (2,200 metres). A yellow fever vaccination is required for all travellers arriving from yellow fever areas, and is recommended for travellers visiting the states of Anseba, Debub, Gash Barka, Maekel and Semenawi Keih Bahri. Vaccinations are also recommended for hepatitis A, hepatitis B and typhoid. Those who may be at risk of animal bites, or who will be in contact with bats, should consider a rabies vaccination. Travellers are generally advised to be up to date on vaccinations for MMR (measles, mumps, rubella), tetanus-diphtheria and polio.
Travellers should not drink tap water in Eritrea unless it has been boiled, filtered or chemically disinfected, and should avoid ice in beverages. Don't eat fruit and vegetables unless they have been cooked or peeled, and eat all cooked meals while still hot.
Medical facilities in Eritrea are extremely limited and visitors should ensure that they have comprehensive travel and health insurance. As the availability of medicine is limited visitors should take along any medication they may need, in its original packaging and accompanied by a signed and dated letter from a doctor detailing what the medicine is and why it is needed.
Safety
The British Foreign and Commonwealth Office advises against all travel near Eritrea's border with Ethiopia, as tensions between the countries remain high and there are sometimes military clashes in the region. The British Foreign and Commonwealth Office also advises against all travel near Eritrea's borders with Djibouti and Sudan. The US Department of State advises Americans not to travel to Eritrea.
The Eritrean government maintains tight control of foreigners and all foreign nationals must apply for a travel permit to leave Asmara. These applications are frequently denied. Landmines and unexploded munitions are a threat outside of the capital city and travellers should be wary of straying off the main roads.
Crime levels are comparatively low in Eritrea, but seem to be increasing, especially in Asmara. Travellers should take all the normal precautions to ensure their personal safety. Valuables, including passports, should be kept out of sight.
Emergency Phone Number
You can reach the police at +291 1 127 799
* For current safety alerts, please visit
Foreign travel advice - GOV.UK
or
Travel.State.Gov
Money
The currency of Eritrea is the Nafka (Nfa). It is divided into 100 cents. Eritrea has a cash economy and there are no ATMs in the country. Major hotels may accept credit cards, but will usually charge a hefty commission. The best currency to carry is US dollars.
Exchange Rate
Not available.
Embassies of Eritrea
Foreign Embassies in Eritrea
Customers
In Eritrea, local customs and social etiquette are heavily influenced by the religious convictions of the population. Whether Orthodox Christians or followers of Islam, Eritreans value respect of their elders, conservative dress and behaviour (although casual dress is accepted), and strict observance of fasting periods. It is also considered rude to show the soles of your feet or shoes, and to touch or move objects with your feet. Visitors should avoid using their left hand when greeting others, or when eating, as it is considered 'haram' (impure). Also note that homosexuality is illegal in Eritrea, and is punishable by imprisonment.
Business
Eritrea's economy was promising post-independence but has taken a huge hit from war and drought. It is not an easy country to do business in. Meetings often don't start punctually, but foreigners should be sure to arrive on time or offense might be taken. Suits are appropriate attire for business meetings for both men and women, but women should ensure that skirts are knee-length or longer. Office hours are generally 8am to 4pm Monday to Friday, and 8am to 11am on Saturdays.
Tipping
Tipping is appreciated but not generally expected in Eritrea. The standard 10 percent tip is acceptable in restaurants and small amounts are appreciated by hotel staff and taxi drivers.
Public Holidays in Eritrea
Travel Guide powered by www.wordtravels.com, copyright © Globe Media Ltd. All rights reserved. By its very nature much of the information in this guide is subject to change at short notice and travellers are urged to verify information on which they're relying with the relevant authorities. Globe Media and UNIGLOBE Travel does not accept any responsibility for any loss or inconvenience to any person as a result of information contained above.