General
Money
Entry Requirements
Health & safety
Weather
Embassies
Etiquette
Public Holidays
Attractions
Map
---
Introduction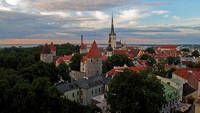 Estonia ©TausP.
Estonia is a beguiling mix of the ultra-modern and firmly traditional, a northern Baltic land of primeval forests, rivers, and sea islands, with one of the smallest populations of any country in the world. Most Estonians have opted for city life, leaving the countryside rather wild and filled with rare birds, plants and roaming deer, elk, wild boar, bears and wolves.
The low, largely flat landscape is also dotted with relics of Estonia's medieval glory, when the Teutonic knights reigned supreme and built castles which are now left as decaying hulks, testifying to the wealth of the traders who made use of the country's ports. The main port, Tallinn, today still the capital city, was part of the mighty Hanseatic League in the 13th century.
Its medieval prosperity has given the romantic city a wealth of attractions for modern-day tourists to explore. Historical and natural attractions are only one reason why Estonia is experiencing an upsurge in tourism. The country is sandwiched between east and west Europe, also easily accessible from the south, offering fresh and unspoilt opportunities for those who enjoy the Nordic experience. The country lies along the Baltic Sea, just below Finland, with Russia to the east and Latvia to the south.
Estonia has only recently (in 1991) thrown off the shackles of Soviet domination, and a vibrant spirit of freedom and rebirth pervades the air not only in the capital but also the lively university town of Tartu, the busy industrial centre of Narva and the idyllic summer vacation capital of Pärnu on the southwestern coast.
Communications
The international dialling code for Estonia is +372 and the outgoing code is 00 followed by the relevant country code (e.g. 0044 for the United Kingdom). The country has area codes, except for the capital, Tallinn. Pay phones using cards are widely available. Cards can be purchased from hotel reception desks, tourist information offices, post offices, newsstands and some shops. There is a GSM mobile network available. There are several internet cafes in Tallinn.
Emergencies
112 (General Emergency Helpline)
Languages Spoken
Locals speak Estonian, which is part of the Finno-Ugric family of languages. English is widely used and understood among the younger generation and those involved in the tourist industry.
Duty Free
Travellers over 18 years arriving from non-EU countries do not have to pay duty on goods to the value of €175. The following items are duty-free: 200 cigarettes or 100 cigarillos or 50 cigars or 250g tobacco; 1 litre spirits higher than 22 percent alcohol volume or 2 litres spirits or aperitifs with alcohol content lower than 22 percent (includes sparkling wines, liqueur wines, still wine), and beer to the value of €175. Goods for personal consumption include 50g perfume, 250ml eau de toilette and medical products for personal use. Travellers arriving with goods purchased in EU countries have more leeway.
Electricity
The electricity supply in Estonia is 230 volts, 50Hz. European-style two-pin plugs are in use.
Climate Info
Estonia has a temperate climate, with warm summers and severe winters. Temperatures range from a summer average of 70°F (30°C) to a winter average of 18°F (-8°C). Being on the Baltic Sea, the country is subjected to sea breezes and humidity and its northern latitude means long summer daylight hours (the longest summer day stretches to 19 hours), and dark winters when daylight sometimes lasts only six hours. The cold winter does not necessarily mean constant snow; in fact snowfalls are few and far between. When it falls it stays though, and there tends to be a layer of snow constantly on the ground between December and March. Summertime brings unexpected rain showers, so an umbrella and light raincoat are recommended.
Passport
The borderless region known as the Schengen Area includes the following countries: Austria, Belgium, Czech Republic, Denmark, Estonia, Finland, France, Germany, Greece, Hungary, Iceland, Italy, Latvia, Lithuania, Luxembourg, Malta, The Netherlands, Norway, Poland, Portugal, Slovakia, Slovenia, Spain, Sweden and Switzerland. All these countries issue a standard Schengen visa that has a multiple entry option, and which allows the holder to travel freely within the borders of all the aforementioned countries. Additionally, most foreign passengers entering Estonia must have a passport that is valid for three months beyond the period of intended stay in the country. Passports that have been issued more than ten years prior to the time of trave are unlikely to be accepted.
NOTE: It is highly recommended that your passport has at least six months validity remaining after your intended date of departure from your travel destination. Immigration officials often apply different rules to those stated by travel agents and official sources.
Entry Requirements
US citizens must have a passport that is valid for three months beyond the period of intended stay in Estonia. A visa is not required for a stay of up to 90 days in a half-year period.
Holders of identity cards issued by Gibraltar authorities, and endorsed 'Validated for EU travel purposes under the authority of the United Kingdom', do not require a visa to visit Estonia.
Canadian citizens must have a passport that is valid for three months beyond the period of intended stay in Estonia. A visa is not required for a stay of up to 90 days in a half-year period.
Australian citizens must have a passport that is valid for three months beyond the period of intended stay in Estonia. A visa is not required for a stay of up to 90 days in a half-year period.
South African citizens must have a passport that is valid for at least three months beyond the period of intended stay in Estonia. A Schengen visa is required.
Irish citizens must have a passport that is valid upon arrival in Estonia. No visa is required.
New Zealand citizens must have a passport that is valid for three months beyond the period of intended stay in Estonia. A visa is not required for a stay of up to 90 days in a half-year period.
Health
No vaccinations are required for entry to Estonia. Lyme disease is often reported from April through October and travellers should wear protective clothing if embarking on a nature trip and check themselves for ticks. Estonia's medical professionals are highly trained. Good health facilities can be found in Mustama and East Tallinn Central Hospital. Immediate cash payment is expected from visitors requiring care. There is a reciprocal health agreement with the UK and most EU countries, whose citizens are entitled to free medical and dental treatment on presentation of a European Health Insurance Card (EHIC). Medical insurance is advised for all nationalities.
Safety
Visits to Estonia are usually trouble free, but with an increase in tourism there has also been an increase in tourist-related crime. There is a risk of pick-pocketing and mugging around Tallinn's Old Town, at ferry ports and major hotels. Be vigilant and take precautions like avoiding unlit side streets and parks after dark.
Emergency Phone Number
112 (General Emergency Helpline)
* For current safety alerts, please visit
Foreign travel advice - GOV.UK
or
Travel.State.Gov
Money
The Estonian currency is the Euro, as the Kroon (EEK) was discontinued in 2011. Foreign currency can be easily exchanged at hotels, banks and exchange bureaux in the larger towns, at the airport and main railway station. Major credit cards are generally accepted in the larger hotels, main restaurants and shops, but it is wise to check first.
Banking hours are generally weekdays 9am to 4pm. Exchange bureaux are open till 6pm on weekdays and from 9am to 3pm on Saturdays. Some open on Sundays. ATMs are available in most towns.
Exchange Rate
Not available.
Embassies of Estonia
Estonian Embassy, New York City, United States: +1 212 883 0636.
Estonian Embassy, London, United Kingdom: +44 (0)20 7589 3428.
Estonian Embassy, Ottawa, Canada: +1 613 789 4222.
Estonian Honorary Consulate, Cape Town, South Africa: +27 (0)21 913 3850.
Estonian Embassy, Dublin, Ireland: +353 (0)1 478 8888.
Foreign Embassies in Estonia
United States Embassy, Tallinn: +372 668 8100.
British Embassy, Tallinn: +372 667 4700.
Canadian Embassy, Tallinn: +372 627 3311.
Australian Consulate, Tallinn: +372 650 9308.
South African Embassy, Helsinki, Finland (also responsible for Estonia): +358 (0)9 6860 3100.
Irish Embassy, Tallinn: +372 681 1888.
New Zealand Embassy, Berlin, Germany (also responsible for Estonia): +49 30 2062 10.
Customers
Estonians are at first glance generally quiet and reserved, and do not like to draw attention to themselves. A handshake is the practised form of greeting.
Business
Business is conducted formally in Estonia. A formal dress code is expected. Shaking hands is the common form of greeting for men and women. The person should be referred to as 'Harra' (Mr), 'Prova' (Mrs) or 'Preili' (Miss) followed by the surname. Relationships based on trust need to be developed and several meetings may need to take place. Business cards are often exchanged and it is polite to have the alternate side translated. Decisions are not necessarily made during the meetings. Business hours are generally 8am to 6pm Monday to Friday with an hour taken over lunch.
Tipping
Tipping is not a common practice, but there is a growing trend to leave tips in restaurants; generally 10 percent of the bill according to level of service; some places do however include a service charge on the bill. Taxi drivers appreciate the spare change.
Public Holidays in Estonia
| | | |
| --- | --- | --- |
| | 2017 | 2018 |
| Boxing Day | 26 Dec | 26 Dec |
| Christmas Eve | 24 Dec | 24 Dec |
| New Years Day | 1 Jan | 1 Jan |
| Independence Day | 24 Feb | 24 Feb |
| Good Friday | 14 Apr | 30 Mar |
| May Day | 1 May | 1 May |
| Presidents Day | 5 Jun | 5 Jun |
| Victory Day | 23 Jun | 23 Jun |
| Midsummer Day | 24 Jun | 24 Jun |
| Day of Restoration of Independence | 20 Aug | 20 Aug |
| Christmas | 25 Dec | 25 Dec |
Map of Estonia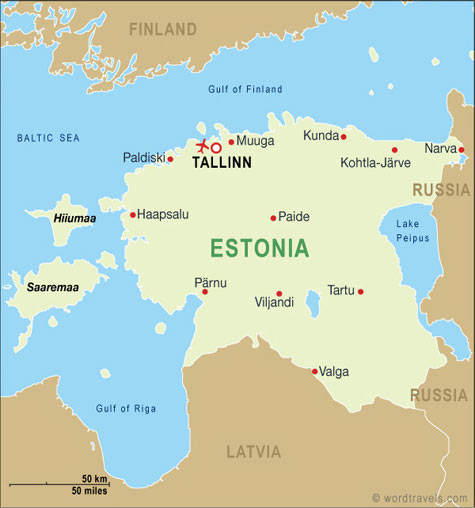 Travel Guide powered by www.wordtravels.com, copyright © Globe Media Ltd. All rights reserved. By its very nature much of the information in this guide is subject to change at short notice and travellers are urged to verify information on which they're relying with the relevant authorities. Globe Media and UNIGLOBE Travel does not accept any responsibility for any loss or inconvenience to any person as a result of information contained above.