General
Money
Entry Requirements
Health & safety
Weather
Embassies
Etiquette
Public Holidays
Attractions
Map
---
Introduction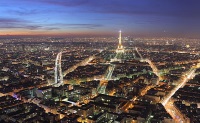 Paris, France ©Benh Lieu Song
Wherever you choose to begin or end a sojourn in Europe's largest country, and however long you spend exploring, you'll simply be scratching the surface of this vast and varied land. France's geography stretches from rugged coastline to seemingly infinite beaches, from bustling cities to quaint rural villages and from a sun-drenched isles to luxury mountain ski resorts.
A civilisation dating back to 50,000 BC and spanning Roman and Frankish invasion, wars of power and religion, a wealthy and powerful monarchy ultimately crushed by revolution, the rise of Napoleon and a new battle between monarchy and republic, and two world wars, has left the country brimming with historical and cultural sites. Cave paintings, castles, cathedrals and battle scars are scattered across the land, yet much of the French countryside remains untouched, and traditional rural life still flourishes.
This is the country that inspired Monet's reinvention of colour, Toulouse Lautrec's portrayal of the dark underbelly of Paris society, and the haunting harmonies of Debussy. It has tantalised our taste buds with foie gras and frogs' legs, and captured the imagination of the world's jet-set with the resorts of St Tropez and Port Grimaud. Millions discover its wonders each year with a holiday in France, and rediscover the meaning of .
Communications
The international access code for France is +33. Most public telephones accept phone cards, which are available in newsagents. Most hotels add a surcharge to calls, which can be very expensive; the cheapest way to call abroad is often with a phone card from a public telephone or at a post office. The local mobile phone operators use GSM networks and have roaming agreements with most international mobile phone companies. Internet cafes are available in towns throughout France.
Emergencies
112 (General)
Languages Spoken
French is the official language.
Duty Free
Travellers from non-EU countries over 17 years entering France can bring in the following items duty-free: 200 cigarettes, or 100 cigarillos, or 50 cigars, or 250g tobacco; 1 litre of spirits with alcohol content 22 percent and over, or 2 litres of dessert wine or sparkling wine not exceeding 22 percent alcohol volume, and 2 litres of table wine; 50g perfume or 250ml eau de toilette and other goods to the value of €175 per adult or €90 for children under 15 years.
Electricity
Electrical current is 230 volts, 50Hz. European two-pin plugs are standard.
Climate Info
France is a large country extending over a wide field of latitude, therefore the climate differs according to region. The south of France has a warm Mediterranean climate with hot summers and mild winters. Strong winds, known as 'le Mistral', can occur in the Cote d'Azur, Provence and in the Rhone valley particularly over the winter and spring. Rainfall is distributed throughout the year and some snow is expected in winter. Northern France, including Paris, has a temperate climate similar to southern England, with warm summers, cold winters and rainfall throughout the year. The western coast, from the Loire valley to the Pyrenees, is milder, and summer days are generally very hot. The mountainous areas are cooler and get heavy snowfall in winter.
During summer most French residents take their five-week vacation to the coast and mountains, and empty cities tend to shut down accordingly. The peak tourist season in France is in the summer months of July and August, when the French themselves tend to take their vacations, but as this period is expensive and crowded the best time to visit France is actually in the spring (March, April) and autumn (September, October) when the weather is mild. Of course, the ski resorts boom in the winter and, for those who don't mind the cold, a winter holiday in cities like Paris has a charm of its own.
Passport
The borderless region known as the Schengen Area includes the following countries: Austria, Belgium, Czech Republic, Denmark, Estonia, Finland, France, Germany, Greece, Hungary, Iceland, Italy, Latvia, Lithuania, Luxembourg, Malta, The Netherlands, Norway, Poland, Portugal, Slovakia, Slovenia, Spain, Sweden and Switzerland. All these countries issue a standard Schengen visa that has a multiple entry option, and which allows the holder to travel freely within the borders of all the aforementioned countries. Additionally, travellers must hold sufficient funds to cover their stay in France, and proof of repatriation (a return or onward ticket, and the necessary travel documentation for their next destination). Note that Schengen visas, if required, are also valid for French Guiana, French West Indies and Reunion, provided that the Schengen visa is endorsed "Also valid for French territories being in observation of the respective French territories". We recommend that passports always be valid for six months after intended period of travel.
Entry Requirements
US citizens must have a passport that is valid for at least three months after their intended stay in France. No visa is required for a stay of up to three months.
Holders of identity cards issued by Gibraltar authories, and endorsed 'Validated for EU travel purposes under the authority of the United Kingdom', do not require a visa to visit France.
Canadian citizens must have a passport that is valid for three months after their intended stay in France. No visa is required for a stay of up to three months.
Australian citizens must have a passport that is valid for three months after their intended stay in France. No visa is required for a stay of up to three months.
South African citizens must have a passport that is valid for three months after their intended stay, and a valid Schengen visa, to enter France. Note that entry and transit will be refused to holders of Temporary passports.
Irish citizens must have a passport that is valid for the duration of their intended stay in France. No visa is required.
New Zealand citizens must have a passport that is valid for three months after their intended stay in France. No visa is required for a stay of up to three months.
Health
No particular vaccinations or medications are required for travel to France. The prevalence of certain tick-borne infections, like lyme disease, tularemia, tick-borne encephalitis, and rickettsial diseases, mean that travellers should take precautions against ticks if they are travelling in rural or forested areas in warm weather. Rabies also occurs occasionally and those who will be spending time with wild animals or who are at any risk of animal bites should consider a rabies vaccination.
French hospitals and health facilities are first class. British citizens, and visitors from other EU countries, are entitled to heavily discounted medical treatment and medicines on presentation of a European Health Insurance Card (EHIC). Otherwise doctors and hospitals often expect immediate cash payment for health services. Medical insurance is advised. Pharmacies will provide some first aid, but charge for it.
Safety
There is a high threat from terrorism and there have been a number of high profile terrorist attacks in 2015 and 2016 across France. Attacks could be indiscriminate and visitors are asked to be vigilant in public places and follow the advice of local French authorities. Due to ongoing threats to France by Islamist terrorist groups, and recent French military intervention against Daesh (formerly referred to as ISIL), the French government has warned the public to be careful and has fortified its own domestic and overseas security measures.
Security has been heightened in France over the last decade following the London and Madrid bombings, particularly in the transport sector. Unattended luggage left in public places will be removed or destroyed by security staff. While generally safe, visitors to France are advised to take precautions against petty theft and to ensure their personal safety. Thieves and pickpockets operate on the metro and around airports. Theft from cars is prevalent, particularly in the south, around Marseilles, and in Corsica. Tourists are advised to conceal bags and purses even when driving, and to never leave valuables unattended in the car. Bag snatching is also common, particularly on public transport and in shopping centres, and visitors should also be vigilant of luggage while loading bags into and out of hire cars at airports. Violent crime against tourists is rare and holidays in France are generally trouble-free.
Emergency Phone Number
112 (General)
* For current safety alerts, please visit
Foreign travel advice - GOV.UK
or
Travel.State.Gov
Money
The Euro (EUR) is the official currency in France. Currency can be exchanged at banks, bureaux de change and some large hotels, though you will get a better exchange rate at the ATMs. Major credit cards are widely accepted, particularly in major tourist destinations. Foreign currency is not accepted.
Exchange Rate
Not available.
Embassies of France
French Embassy, Washington DC, United States: +1 202 944 6000.
French Embassy, London, United Kingdom: +44 (0)20 7073 1000.
French Embassy, Ottawa, Canada: +1 613 789 1795.
French Embassy, Canberra, Australia: +61 (0)2 6216 0100.
French Embassy, Pretoria, South Africa: +27 (0)12 425 1600.
French Embassy, Dublin, Ireland: +353 (0)1 277 5000.
French Embassy, Wellington, New Zealand: +64 (0)4 384 2555.
Foreign Embassies in France
US Embassy, Paris: +33 (0)1 4312 2222.
British Embassy, Paris: +33 (0)1 4451 3100.
Canadian Embassy, Paris: +33 (0)1 4443 2900.
Australian Embassy, Paris: +33 (0)1 4059 3300.
South African Embassy, Paris: +33 (0)1 5359 2323.
Irish Embassy, Paris: +33 (0)1 4417 6700.
New Zealand Embassy, Paris: +33 (0)1 4501 4343.
Customers
French culture is of paramount importance to the French and in an increasingly Americanised world they feel duty-bound to protect it. It is appreciated if visitors can speak a few words of French; locals do not respond well to being shouted at in English. While the food is second to none, foreigners may find the service in many restaurants sloppy; waiters can appear rude (particularly in Paris) and take their time. This is just the way they are. Traditional games such as (similar to lawn bowling but played on gravel) are popular in village squares, but the national sports are soccer, rugby and cycling. Smoking in public places is not allowed and will incur heavy fines.
Business
Business etiquette is important in France. A smart, fashionable, sense of dress is common as the nation prides itself on . Punctuality is not always observed though and the 'fashionably late' tactic may be applied. A handshake is the common form of greeting for men and women upon first introductions. Titles are important and the person is to be referred to as 'monsieur' (Mr.), 'madame' (Mrs.), or 'mademoiselle' (Ms.). Meetings usually occur over lunches, and the French are known to enjoy food. Business hours are generally 9am to 6pm, Monday to Friday.
Tipping
Most restaurants and hotels automatically add a 15 percent service charge so a tip is not necessary, although another two to three percent is customary if the service has been good. If service is not included then 15 percent is customary. Taxi drivers expect 10 to 15 percent of the fare, and hairdressers about 10 percent. Hotel staff generally receive about €1.50 a day and tips of about €1 are given to washroom and cloakroom attendants and museum tour guides. Tour bus drivers and guides are also tipped.
Public Holidays in France
| | | |
| --- | --- | --- |
| | 2017 | 2018 |
| New Years Day | 1 Jan | 1 Jan |
| Easter Monday | 17 Apr | 2 Apr |
| Labour Day | 1 May | 1 May |
| WWII Victory Day | 8 May | 8 May |
| Ascension Day | 25 May | 10 May |
| Whit Monday | 5 Jun | 21 May |
| Bastille Day | 14 Jul | 14 Jul |
| Assumption of the Virgin Mary | 15 Aug | 15 Aug |
| All Saints Day | 1 Nov | 1 Nov |
| Armistice Day | 11 Nov | 11 Nov |
| Christmas Day | 25 Dec | 25 Dec |
Overview
France is one of the most popular sightseeing destinations in the world. With millions of visitors every year, and just about as many things to see and do, this beautiful and historic country is a must for every traveller. Its buildings can be treasures - such as the magnificent Notre-Dame, stately Arc de Triomphe and the palace of Versailles - or containers of treasures, such as the unrivalled collections of the Louvre and the Museé d'Orsay with its globally respected portfolio of Impressionist art.
As one might expect, the tourist infrastructure is excellent with diverse offerings for every type of traveller. An organised tour is a good option if you have only a week, but for those with longer to indulge, car rental or train travel is the best way to get around. Wherever you go, France reveals its many faces and charms: the busy weekly markets in small towns, the rolling vineyards of the wine country, the sage-scented Mistral winds of Provence, and the luxuriant high life of the Cote d'Azure all form their own enduring impressions in the visitor's mind.
France is a year-round destination, although be sure to book ahead if planning a trip around Christmas or New Year, and during the major US holidays, when trans-Atlantic bookings are especially high. Summer (June to August) is the peak tourist season in France.
Map of France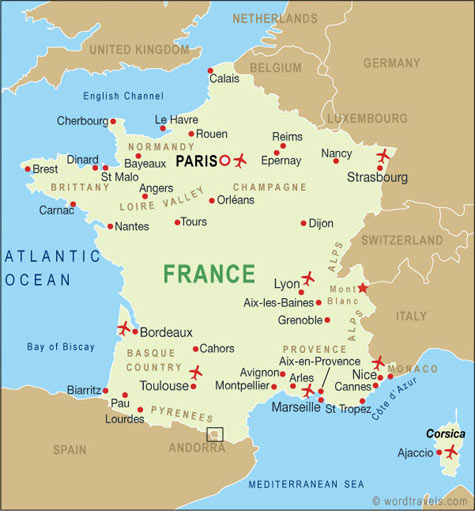 Travel Guide powered by www.wordtravels.com, copyright © Globe Media Ltd. All rights reserved. By its very nature much of the information in this guide is subject to change at short notice and travellers are urged to verify information on which they're relying with the relevant authorities. Globe Media and UNIGLOBE Travel does not accept any responsibility for any loss or inconvenience to any person as a result of information contained above.