General
Money
Entry Requirements
Health & safety
Weather
Embassies
Etiquette
Public Holidays
Attractions
Map
---
Introduction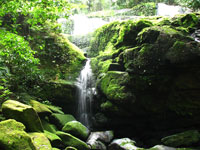 Waterfall in Ivindo National Park, Gabon ©Jefe Le Gran
One of the most naturally exquisite and prosperous countries in Sub-Saharan Africa, Gabon attracts adventurous travellers and nature lovers in equal measure. The country straddles the equator on the west coast of Africa and is bordered by Cameroon, Equatorial Guinea, the Democratic Republic of Congo and the Atlantic Ocean.
Many travellers opt to 4X4 through this rugged country, armed with little more than a French dictionary, some mosquito repellent and a taste for adventure. Gabon offers verdant tropical rainforests teeming with exotic wildlife such as chimpanzees, elephants and gorillas. There are vast green savannahs in the Lopé National Park, 500 miles (805km) of deserted sandy beaches, hidden lagoons, and exotic estuaries waiting to be explored. When it comes to African eco-tourism, Gabon is the talk of the town thanks to the government designating 10 percent of the country's land to national parks. Just by being there, visitors are already off the beaten track as everything outside the capital of Libreville is only recently accessible. Travellers in Gabon enjoy the thrill of discovery and exploration in a country which has not yet commercialised its many wonders.
Originally inhabited by the Pygmy people, it was colonised by the Portuguese in the 15th century. They named the country 'Gabão', which is Portuguese for 'cabin', after the shape of the estuary of the Komo River. It was later colonised by France in 1885, and went on to gain independence in 1960. The country is stable politically and encourages tourism, but it can still be a dangerous destination as a result of poverty-driven crime. Travellers are advised to be cautious in Libreville and carry a copy of their passport and visa at all times as police are known to hassle tourists. Female travellers should prepare themselves for plenty of unwanted attention, but are equally free to firmly dismiss it. Crime in the capital city is likely to be petty, but is still a concern.
For those wanting a more mainstream experience, Port Gentil at the mouth of the Ogooue River offers some wonderful fishing and is popular among European visitors who enjoy the high-life. With so much to see and do, Gabon has enough charm and diversity to appeal to travellers with a hearty sense of adventure and although it is not an 'easy' destination, Gabon richly rewards exploration.
Communications
The international access code for Gabon is 241. The outgoing code varies depending on which country is being called from Gabon (e.g. 44 for the UK). Gabon has an adequate phone system within urban areas and the mobile network system has multiple providers and is constantly growing. The cheapest way to make overseas phone calls is with an international phone card and avoid calling from hotels where possible as they add a hefty surcharge to calls. Internet is not widely available in Gabon, but there are a few internet cafes in Libreville and other major cities, and some hotels offer internet facilities.
Emergencies
The national emergency number is 177, but it does not always work on all mobile networks. The extension for the police is (+241) 1730, (+241) 300/399 for the ambulance and (+241) 18 for fire services.
Languages Spoken
The official language of Gabon is French and English is not widely spoken.
Duty Free
Travellers to Gabon may import three litres of wine and one litre of spirits, 400 cigarettes/cigarillos or 125g cigars or 500g of tobacco and up to 500g of jewellery. Counterfeit goods, child pornography, non-prescription drugs, and unlicensed arms and ammunition (without permission from the government) are prohibited. Bring prescription drugs in their original package, with a letter from the doctor who issued them detailing what they are and why they are needed.
Electricity
Electrical current is 220 to 240 volts, 50Hz. European two-pin plugs are standard (Type C sockets; Type E and F may also work).
Climate Info
Gabon is characterised by the heat, humidity and heavy rainfall typical of tropical regions. The dry months are from May to September, December and January. The average daily temperature is about 81°F (27°C) and the high average humidity level (80 percent) makes it seem even hotter. The hottest months are between February and April, when temperatures in the capital, Libreville, average between 73°F (23°C) and 88°F (31°C).
The long dry season, between May and September, is the best time to travel to Gabon weather-wise, because although it is hot, mosquitoes and other insects are at their least plentiful and the roads are more easily traversed when dry. However, many tourists travel to Gabon primarily to see the plentiful wildlife in the national parks and it is a good idea to check with the parks for information on seasonal wildlife migrations.
Passport
Keep all visa and travel documentation at all times, and make sure passports are machine readable- even with a valid visa entry may be denied if documents are not available for presentation. All visitors to Gabon must be in possession of a hotel voucher or a letter of invitation issued by their sponsor, a return/onward ticket, and the necessary travel documentation for their next destination, as well as proof of sufficient funds to complete the trip; OR, an Autorisation d'entree au Gabon, issued prior to their arrival in the country, by the Direction Generale de la Documentation et de l'Immigration in Gabon. Those who apply for e-visas (https://evisa.dgdi.ga) must print out the authorisation and will need to pay for their visa on arrival in Gabon. Proof of a yellow fever vaccination is required to enter Gabon. NOTE: It is highly recommended that your passport has at least six months validity remaining after your intended date of departure from your travel destination. Immigration officials often apply different rules to those stated by travel agents and official sources. Travellers from countries recently affected by Ebola outbreaks will be refused entry.
Entry Requirements
US citizens must have a passport that is valid upon arrival in Gabon. A visa is required: holders of entry authorisation, issued to them by Gabonese Immigration prior to their arrival in the country, can obtain a visa on arrival for a fee; or, e-visas can be applied for in advance online.
South African citizens must have a passport that is valid upon arrival in Gabon. South Africans can obtain a visa on arrival for a maximum stay of 30 days.
Health
Yellow fever vaccinations are required for all visitors over the age of one. Gabon is a malaria zone and there have been recent outbreaks of chikungunya fever and dengue fever, all transmitted by mosquito bites. There are no vaccines available for these diseases, but stringent anti-insect measures are recommended. Vaccinations for hepatitis A, hepatitis B and typhoid are recommended for all travellers to Gabon. Those who will be spending a lot of time outdoors may be at risk of animal bites and should also consider a rabies vaccination. Tap water should not be drunk unless it has been boiled, and ice and uncooked fruits should also be avoided. Following outbreaks of the ebola virus in some African countries during 2014, all persons travelling from recently infected countries will be barred from entry until further notice.
Healthcare in Gabon is poor, and traveller's insurance is a necessity. Many doctors will expect cash up front, regardless of insurance. Medical facilities in major cities should be sufficient for routine care, but in the rural areas healthcare is often non-existent. Take a custom medical kit and any necessary medication in the original packaging, with a signed and dated letter from a doctor detailing exactly what it is and why it is needed (this applies to syringes and needles as well).
Safety
Urban hubs like Libreville and Port Gentil experience the most petty and violent crime. Avoid becoming a victim and hide expensive jewellery, cameras, and other valuables. Avoid walking alone or at night and parking in unlit, ungaurded areas. Petty crime is common and violent crime is on the rise, with some incidents of armed robbery and assault in homes, restaurants and at beaches frequented by tourists and foreigners. Carjacking is also a concern and visitors should keep their car doors locked and their windows up while driving, and never leave valuables visible in their vehicles. Unfortunately, Police are often slow to respond when called. Female travellers can expect unwanted attention from men, but are free to be firm in their refusal. Tourists should be careful and vigilant when drawing money as robberies at ATMs do occur and credit card fraud is common. Gabon's government is relatively stable, however, there is still the possibility of demonstrations and rallies in urban areas. Avoid large gatherings where possible because protests can turn violent, as they did in late 2014 and early 2015, resulting in property damage and a number of casualties. It is advisable to remain up to date with the political circumstances and local news in order to avoid any danger.
Emergency Phone Number
The national emergency number is 177, but it does not always work on all mobile networks. The extension for the police is (+241) 1730, (+241) 300/399 for the ambulance and (+241) 18 for fire services.
* For current safety alerts, please visit
Foreign travel advice - GOV.UK
or
Travel.State.Gov
Money
The Central African CFA franc (FCFA) is the official currency of Gabon (along with five other central African countries). It is divided into 100 smaller units called centime. Gabon is largely a cash economy and credit cards are only accepted at some major hotels. Foreign currency can be exchanged at hotels and banks and there are some ATMs in major cities. ATMs are targeted by thieves, so tourists should be wary when withdrawing cash.
Exchange Rate
Not available.
Embassies of Gabon
Gabon Embassy, Washington DC. Tel: (202) 797 1000.
Gabon Embassy, London (also responsible for Ireland). Tel: (+44) 20 7823 9986.
Gabon Embassy, Ottawa. Tel: (613) 232 5301/2.
Gabon Embassy, Pretoria. Tel: (012) 342 4376/7.
Foreign Embassies in Gabon
US Embassy, Libreville. Tel: (241) 01 45 71 00.
British High Commission in Yaoundé, Cameroon (also serving Gabon). Contact: (+237) 22 222 07 96 / (+237) 22 222 05 45
Canadian High Commission, Cameroon (also representing Gabon). Tel: (+237) 222 50 39 00.
Australian High Commission, Kenya (also responsible for Gabon). Tel:+254 20 4277 160
South African Embassy, Libreville. Tel: (241) 77 45 30/1.
Customers
Drug possession is a serious offence in Gabon and punishment will include a prison sentence, even for tourists. Homosexuality is not widely accepted and has recieved cultural backlash in recent years, but it is not illegal. Taking photographs of government buildings, including the Presidential Palace, the airport, and all military sites, is prohibited. Gabon is home to over 40 ethnic groups and customs vary between them, so make an effort to get to know some of the local customs on arrival.
Business
The export of petroleum, timber and manganese has helped Gabon develop one of Africa's more successful and stable economies. The country still has strong business ties with France, as well as the US, China and a few African countries. French is the principal business language and formal business attire is required. Handshakes are an acceptable method of greeting and business cards should have a French translation. Office hours in Gabon are generally 7:30am to 12pm and 2:30pm to 6pm, Monday to Friday.
Tipping
Tipping etiquette hasn't really been established in Gabon and it's best to just tip according to the quality of service received. Taxi drivers don't expect tips, but rounding up the fare for good service will be appreciated. Service fees are seldom added to the bill in restaurants and a 10 percent tip for good service will be appreciated.
Overview
Gabon is a rewarding travel destination, but exploring the country is not easy. Infrastructure is limited, the tourism industry is in its infancy, and travel in Gabon is surprisingly expensive despite being off-the-beaten-track. Although the wildlife and landscapes are magnificent, foreigners shouldn't expect world-class museums and amenities just yet. The main tourist attractions in Gabon are wildlife safaris, nature treks and national parks and it is a gem of a destination for the adventurous traveller who doesn't mind roughing it.
Most tourists arrive in Libreville and although the capital has some treats for sightseers it can be thoroughly explored in a day or two. A trip to the colourful and busy markets, a promenade down the lovely coastal boulevard, and a sampling of the local cuisine in the city's restaurants are the highlights. There are some wonderful excursions from Libreville though, with the beautiful beaches of Pointe Denis a short ferry ride away, and the Pongara National Park extending beyond it and offering a tantalising mix of rolling savannah, pristine coastline, and tropical forest. One of Gabon's greatest draw cards for visitors are the leatherback turtles that nest on its beaches and Pointe Denis is the perfect place to seek them out. The baby turtles emerge in December and January, making this the best time to visit Gabon for many animal lovers.
There are 13 national parks in Gabon, covering a whopping 10 percent of the country, but not all of them are easily accessible. The most famous is Loango National Park, in western Gabon, which is widely considered one of the most beautiful swathes of Africa, and has become well-known for its surfing hippos, western gorillas and other wildlife that can be seen cavorting on its unspoiled white beaches.
Travel Guide powered by www.wordtravels.com, copyright © Globe Media Ltd. All rights reserved. By its very nature much of the information in this guide is subject to change at short notice and travellers are urged to verify information on which they're relying with the relevant authorities. Globe Media and UNIGLOBE Travel does not accept any responsibility for any loss or inconvenience to any person as a result of information contained above.