General
Money
Entry Requirements
Health & safety
Weather
Embassies
Etiquette
Public Holidays
Attractions
Map
---
Introduction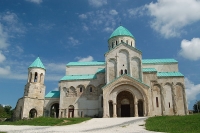 Bagrati Cathedral, Georgia Republic ©Halaston
The Georgia Republic is fast becoming a popular tourist hub. Offering vast mountain ranges with superb walking, skiing and snowboarding opportunities, a magnificent sub-tropical coastline with a temperate climate, immense architectural and archaeological sites, and a modern capital displaying contemporary Georgian culture, there is plenty for visitors to see and do in Georgia.
Located on the strip of land between the Black Sea and Caspian Sea known as the Caucasus, Georgia has been continuously inhabited since the Stone Age. The busiest trade route of the ancient world, the Silk Road, ran through Georgia, enriching the region both economically and culturally. Because of its transcontinental location the country has been invaded and occupied throughout the centuries by various forces such as the Persians, Romans, Arab Caliphs and Mongols. This turbulent history is best seen in the country's impressive archaeological ruins, some dating back to the 5th century BC, and in its impressive fortresses and churches.
Having gained independence from the Soviet Union in 1991, the country has only recently started to really embrace its potential as a tourist destination. Known for their sincere hospitality, Georgians do their best to make visitors feel welcome. Often guests are invited to dine at residents' homes to partake in the tradition, a sampling of the local cuisine which is an amazing blend of Asian, Middle Eastern, Mediterranean, Persian and European flavours. Such occasions are marked by toasts of wine, reflecting the 3,000 year-old Georgian viticultural heritage.
The capital, Tbilisi, named after the warm springs found in the area, has a distinct Mediterranean atmosphere. Visitors can wander the winding narrow streets and indulge in the café culture, visit some of the finest museums and art galleries in the region, as well as the theatre and Turkish baths. At the other end of this small country, the warm Black Sea invites travellers to discover its more isolated beaches and visit the many local markets, spilling over with fresh produce from the orange, banana and lemon groves found in the area.
Communications
The international dialling code for Georgia is +995. The outgoing code is 8-10 followed by the relevant country code (e.g. 8-1044 for the UK). Area codes exist, such as 32 for Tbilisi. Mobile phone coverage is good in the capital and in coastal regions, but signal strength is not as good in rural areas. Landlines are widely available and internet access is available in the city and at major hotels.
Emergencies
Emergencies: 112.
Languages Spoken
Georgian is the official language but Russian and English are also spoken widely. In Abkhazia, a region in west Georgia, the Abkhazian language also has the status of an official language.
Duty Free
Travellers are allowed 250 cigarettes or 250g of tobacco, 1 litre of spirits or 2 litres of wine, and a reasonable amount of perfume for personal use without incurring a customs duty. If importing more than 20kg of goods, a tax of 1 Lari per kilo will apply.
Electricity
Electrical current is 220 volts, 50 Hz. The Type C Europlug with two round pins is standard.
Climate Info
Georgia has a warm, temperate climate. The Likhi mountain range divides the country into western and eastern halves, shielding the eastern part of the country from the influence of the Black Sea, and creating a continental climate. The average temperature in the east in summer ranges between 60°F to 75°F (20°C - 24°C) and in winter ranges between 36°F to 39°F (2°C - 4°C). The western part of the country experiences a sub-tropical, maritime climate and in summer the average temperature is 72°F (22°C), dropping to 41°F (5°C) in winter. The western part of the country can get humid and experiences rainfall throughout the year, although it is at its heaviest in the autumn and winter months. In the east rainfall peaks in spring and winter is the driest season; although the mountainous areas receive a lot of rain, generally the amount of rainfall decreases with distance from the coast.
The best time to visit Georgia, whether you're travelling to the mountains or the coast, is during summer. The weather is at its sunniest and most pleasant in May, June and September. However, as the climate of the country varies somewhat from region to region it is worth checking out exactly what to expect for your particular destination.
Passport
Travellers to Georgia require valid passports and may require proof of sufficient funds for their stay, proof of health insurance and an onward ticket and documentation for the next leg of their journey. NOTE: It is highly recommended that your passport has at least six months validity remaining after your intended date of departure from your travel destination. Immigration officials often apply different rules to those stated by travel agents and official sources.
Entry Requirements
US citizens must have a passport that is valid for the period of intended stay in Georgia. No visa is required for a stay of up to a year.
British citizens must have a passport that is valid for the intended period of stay in Georgia. For passports endorsed British Citizen or British Overseas Territories Citizen no visa is required for a stay of up to a year. Those with passports with any other endorsement should confirm entry requirements before travel.
Canadian citizens must have a passport that is valid for the period of intended stay in Georgia. No visa is required for a stay of up to a year.
Australian citizens must have a passport that is valid for the period of intended stay in Georgia. No visa is required for a stay of up to a year.
South African citizens must have a passport that is valid for the period of intended stay in Georgia. No visa is required for a stay of up to a year.
Irish citizens must have a passport that is valid for the period of intended stay in Georgia. No visa is required for a stay of up to a year.
New Zealand citizens must have a passport that is valid for the period of intended stay in Georgia. No visa is required for a stay of up to a year.
Health
Travel to Georgia is usually incident-free from a health point of view so long as visitors go prepared. Preventative health measures should be taken for malaria when travelling to Georgia; there is no risk in Tbilisi, but visitors to the southeastern areas should take malaria medication. Speak to your doctor about the best kind to take. There are no required vaccinations for Georgia but your doctor may recommend some or all of the following vaccinations, depending on what you are planning to do on your trip: hepatitis A, hepatitis B, typhoid, tetanus-diphtheria, and rabies. Avoid drinking untreated tap water; bottled water is widely available. Medical care in Georgia is limited, especially outside Tbilisi. Many doctors and hospitals will expect payment in cash, regardless of whether you have travel health insurance. If you need prescription medications it is best to take them along with you, making sure you have a copy of a letter from your doctor explaining your condition and what has been prescribed so that you don't have difficulties with customs.
Safety
To ensure personal safety in Georgia be advised that travel to the separatist regions of South Ossetia and Abkhazia is not advised at present. These regions have sporadic clashes with the national government. Another area of concern is Pankisi Gorge where national armed forces have occasionally conducted operations against suspected international terrorists, Chechen fighters and criminals who have taken refuge in the area. Robbery in Georgia has increased, so travellers should not carry large amounts of cash on them or flaunt their wealth. Walking alone in quiet areas at night is also not safe and visitors should be vigilant when using public transport and watch their belongings. The most common forms of crime against foreigners are petty acts of theft and pickpocketing. Make use of hotel safes to store valuables and divide money, cards and travel documents between various bags and people to minimise the risk. Having said all that, holidays in Georgia are likely to be trouble-free if you take the necessary precautions.
Emergency Phone Number
Emergencies: 112.
* For current safety alerts, please visit
Foreign travel advice - GOV.UK
or
Travel.State.Gov
Money
The official currency is the Lari (GEL), which is divided into 100 tetri. Cash is the preferred method of payment in Georgia but major credit cards are accepted in established restaurants, hotels and shops in Tbilisi. Euros, Roubles or US Dollars can be exchanged at any of the widespread bureaux de change, but other currencies should generally be changed at the bank. ATM machines can be found in the major cities. Banking hours are Monday to Friday from 10am to 6pm.
Exchange Rate
Not available.
Embassies of Georgia Republic
Embassy of Georgia, Washington DC, United States: +1 202 387 2390.
Embassy of Georgia, London, United Kingdom: +44 (0)20 7603 7799.
Embassy of Georgia, Ottawa, Canada: +1 613 421 0460.
Embassy of Georgia, Canberra, Australia (also responsible for New Zealand): +61 2 6162 0126.
Foreign Embassies in Georgia Republic
United States Embassy, Tbilisi: +995 (32) 227 7000.
British Embassy, Tbilisi: +995 (32) 227 4747.
Canadian Embassy, Ankara, Turkey (also responsible for Georgia): +90 (0)312 409 2700.
Australian Embassy in Ankara, Turkey (also responsible for Georgia): +90 312 459 9500.
South African Embassy, Kiev, Ukraine (also responsible for Georgia): +380 (44) 289 8870.
Customers
Georgians are generally friendly, hospitable and gregarious people. Visitors should not be surprised if offered drinks by complete strangers while dining at a restaurant or sitting at a bar. If visiting a church, suitable clothing should be worn - shorts are inappropriate and women should cover their heads. Homosexuality is legal in Georgia but still not widely accepted.
Business
Suitable business attire for men is a suit, while dresses or suits are appropriate for women. Business cards are frequently exchanged. Georgians pride themselves on being good hosts, so meetings are often followed by a meal or drinks. If invited into a private home, a small gift of chocolates, flowers or alcohol is appreciated. Business hours are usually 10am to 6pm, with a short break taken over lunch.
Tipping
For restaurants, cafés or taxis, the bill is usually rounded up to the nearest 10 Lari, making tipping unnecessary.
Public Holidays in Georgia Republic
Travel Guide powered by www.wordtravels.com, copyright © Globe Media Ltd. All rights reserved. By its very nature much of the information in this guide is subject to change at short notice and travellers are urged to verify information on which they're relying with the relevant authorities. Globe Media and UNIGLOBE Travel does not accept any responsibility for any loss or inconvenience to any person as a result of information contained above.