General
Money
Entry Requirements
Health & safety
Weather
Embassies
Etiquette
Public Holidays
Attractions
Map
---
Introduction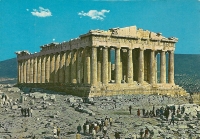 The Parthenon ©Nathan Hughes Hamilton
The Olympic Games were spawned in ancient Greece, along with democracy and the fundamentals of philosophy, science and mathematics. The Greek civilisation is renowned for contributing many of the cultural building blocks that western civilisation is founded on.
Modern Greece is better known as a great holiday destination, rather than a centre of learning and culture. Today the country attracts visitors by the thousands by offering simple pleasures: delicious food and wine at reasonable prices; beautiful beaches and plentiful sunshine; quaint villages; a seemingly endless lacework of coastline; and little islands full of scenic surprises and ancient sites.
The country exudes traditional charm, particularly on its ever-popular islands, which cling to their traditional architecture and way of life despite being often over-run with tourists. Black-clad women still deliver vegetables to island tavernas on panniered donkeys, while bronzed, weather-beaten fishermen sit in the sun, drink thick coffee, and play dominoes or backgammon. The tourist infrastructure has intruded in many respects, but the timeless aspect of whitewashed buildings clustered on hillsides around narrow pebbled alleys has been retained. The myriad islands in the Aegean Sea are easily accessible from Piraeus, the historic harbour of Greece's mainland capital, Athens, by ferry or hydrofoil, offering a unique chance for 'island-hopping'. Many of the larger islands also have airports with connections to Athens or seasonally with major European cities.
On the mainland, the city of Athens in the south is sprawling, overcrowded and polluted but nevertheless enthrals visitors, while Thessaloniki in the north is vibrant and modern with a Byzantine flavour. Athens is dominated by its major landmark, the Parthenon, but the remains of other wonders of the ancient Greek classical world are to be found mainly on the Peloponnese Peninsula, south of Corinth, which is the gateway to a veritable treasure trove of history.
Greece and Greeks welcome with open arms the thousands of visitors that flock to admire their national assets every year - no one leaves without having been warmed, both by the sun and the hospitality.
Communications
The international access code for Greece is +30. The outgoing code is 00 followed by the relevant country code (e.g. 0044 for the United Kingdom). The city code for Athens is 21. There are often surcharges on calls made from hotels and it is generally cheaper to use OTE (Hellenic Telecommunications Organisation) offices for local and international calls. Calls can also be made from public card phone booths and cards can be bought from kiosks or OTE offices. The local mobile phone operators use GSM networks and have roaming agreements with most international operators. Coverage is exceptional. Internet cafes are available in the main towns and resorts and are cheaper than accessing the internet from hotels.
Emergencies
112 (General European Emergency Number); 100 (Police), 166 (Ambulance), 199 (Fire)
Languages Spoken
Greek is the national language, but English is widely spoken.
Duty Free
Travellers from non-EU countries do not pay duty when entering Greece for 200 cigarettes, or 100 cigarillos, or 50 cigars, or 250g tobacco; 1 litre of spirits with alcohol volume under 22 percent, or 2 litres of dessert wine not exceeding 22 percent alcohol volume, 4 litres of wine and 16 litres of beer.
Electricity
Electrical current is 220 volts and 50Hz. A variety of plugs are in use, including the European-style two-pin and the round three-pin.
Climate Info
The climate of Greece is Mediterranean, enjoying long hot dry summers and mild winters. Summer temperatures in Greece are tempered by the Etesian northerly wind, which blows across the Aegean Sea, and breezes called 'meltemia', but the mercury on the mainland regularly hits the high spots. Winters are mild and the wettest season but rainfall is generally low in most of Greece so this is not a big hinderance to travellers. In the mountainous regions, however, rainfall is heavier, snow is likely and temperatures can get severe.
The peak holiday season in Greece is summer, between June and August, when the heat and sunshine attracts millions for beach holidays. June and September are also lovely, hot times to visit and slightly less crowded. Autumn is generally a pleasant time to visit Greece as it is less hot and the weather is mild. The winter months, between December and February, are the coldest and the most variable weather-wise making them the least popular months to visit. However, for those visiting to explore Greece's cultural and historical attractions the country can be seen as a year-round destination.
Passport
The borderless region known as the Schengen Area includes the following countries: Austria, Belgium, Czech Republic, Denmark, Estonia, Finland, France, Germany, Greece, Hungary, Iceland, Italy, Latvia, Lithuania, Luxembourg, Malta, The Netherlands, Norway, Poland, Portugal, Slovakia, Slovenia, Spain, Sweden and Switzerland. All these countries issue a standard Schengen visa that has a multiple entry option, and which allows the holder to travel freely within the borders of all the aforementioned countries. Non-EEA travellers to Greece must hold visible means of financial support to cover their stay in the country - entry may be refused if proof of sufficient funds (at least EUR 50/day) cannot be shown. It is also recommended that non-EEA members hold return/onward tickets, and the necessary travel documentation for their next destination. Passengers not holding onward tickets may be asked for proof of sufficient funds for their return/onward journey. Visitors requiring a visa are also required to have medical insurance, covering them for their full period of stay in Greece. Note that the admission of visa-free nationals into Greece is considered upon their arrival in the country; and that visitors wishing to extend their stay in the country, must register at the Aliens Police Department or at the Security Police Department BEFORE (i) the expiry date of their visa, or (ii) the end of the period of visa-free stay. NOTE: It is highly recommended that your passport has at least six months validity remaining after your intended date of departure from your travel destination. Immigration officials often apply different rules to those stated by travel agents and official sources.
Entry Requirements
US citizens must have a passport that is valid three months beyond the period of intended stay. No visa is required for a touristic stay of up to 90 days.
Holders of identity cards issued by Gibraltar authories, and endorsed 'Validated for EU travel purposes under the authority of the United Kingdom', do not require a visa to visit Greece.
Canadian citizens must have a passport that is valid for at least three months beyond the period of intended stay in Greece. No visa is required for a touristic stay of up to 90 days.
Australian citizens must have a passport that is valid for at least three months beyond the period of intended stay in Greece. No visa is required for a touristic stay of up to 90 days.
South African citizens must have a passport that is valid for at least three months beyond the period of intended stay, and a valid Schengen visa, to enter Greece.
Irish citizens must have a passport that is valid for the duration of intended stay in Greece. No visa is required.
New Zealand citizens must have a passport that is valid for at least three months beyond the period of intended stay in Greece. No visa is required for a touristic stay of up to 90 days.
Health
There are no specific health risks associated with travel to Greece, but visitors who plan to walk through forested areas are advised to consider vaccination against tick-borne encephalitis. Yellow fever vaccination certificates are required for those arriving from infected areas. A hepatitis A vaccination may be recommended by some doctors for extended travel in rural areas.
Medical facilities in Greece vary: those in major cities are excellent but many of the islands are some distance from a decent hospital. For this reason, it is best to take along any prescription medication you may require. Food and water are safe, but those visiting for short periods should consider sticking to bottled water. UK nationals are entitled to a refund on emergency hospital treatment under a reciprocal agreement between the UK and Greece, and a European Health Insurance Card (EHIC) should be taken on holiday for this purpose. Despite this, all visitors are advised to take out medical insurance.
Safety
There is a safety risk of indiscriminate terrorist attacks and visitors are urged to be vigilant in public places, including tourist sites. Austerity strikes have taken place in the past and have been widespread. These strikes can bring the country to a halt - transport networks particularly suffer during strikes. Thus far, strikes in Greece have inconvenienced travellers without turning violent; however, tourists are advised to stay away from political gatherings as there have been clashes between police and protesters. Greece is otherwise considered a safe destination, but the height of the tourist season does usually see an increase in petty theft cases, particularly in crowded areas. Visitors are advised not to carry valuables on them and to make use of hotel safes for valuables. Do not display conspicuous wealth and make sure your valuable possessions are not easily accessible to pick-pockets. Violent crime is infrequent, but there have been incidents on some Greek islands and lone visitors are advised not to accept lifts from strangers.
Emergency Phone Number
112 (General European Emergency Number); 100 (Police), 166 (Ambulance), 199 (Fire)
* For current safety alerts, please visit
Foreign travel advice - GOV.UK
or
Travel.State.Gov
Money
The official currency is the Euro (EUR), which is divided into 100 cents. Banks and bureaux de change are widely available and major credit cards are accepted. ATMs are widespread and are generally the cheapest and most convenient method of obtaining euros.
Exchange Rate
Not available.
Embassies of Greece
Greek Embassy, Washington DC, United States: +1 202 939 1300.
Greek Embassy, London, United Kingdom: +44 (0)20 7313 5600.
Greek Embassy, Ottawa, Canada: +1 613 238 6271.
Greek Embassy, Canberra, Australia: +61 (0)2 6271 0100.
Greek Embassy, Pretoria, South Africa: +27 (0)12 342 7136.
Greek Embassy, Dublin, Ireland: +353 (0)1 676 7254.
Greek Embassy, Wellington, New Zealand: +64 (0)4 473 7775.
Foreign Embassies in Greece
United States Embassy, Athens: +30 210 721 2951.
British Embassy, Athens: +30 210 727 2600.
Canadian Embassy, Athens: +30 210 727 3400.
Australian Embassy, Athens: +30 210 870 4000.
South African Embassy, Athens: +30 210 617 8020.
Irish Embassy, Athens: +30 210 723 2771.
New Zealand Consulate-General, Athens: +30 210 692 4136.
Customers
Indecent behaviour is not tolerated and the police will not hesitate to arrest or fine offenders. Some form of official identification should be carried at all times.
Business
Business in Greece is conducted in a similar fashion to Italy or Spain rather than their northern European counterparts. A formal dress style is adhered to: dark, conservative suits for men and women are best. Punctuality is not often practiced in Greece and often hosts arrive late to meetings. A firm handshake with eye contact is the norm for greeting men and women for the first time. Business cards should be printed in both Greek and English, although there is no ritual surrounding the exchange. Greeks like to get to know their business colleagues before conducting any serious business so don't expect to close a deal at the first meeting. Greek culture adheres to a hierarchical structure and respect should be shown accordingly. The giving of gifts is common in social circumstances though not necessarily in business. Business hours are generally 8.30am to 1pm and 3pm to 6pm Monday to Friday.
Tipping
A service charge is often included in the bill at restaurants in Greece; it is best to see if this is the case before tipping. If no service charge has been included, leave between 10 to 15 percent. For drinks at cafes, round the bill up to the nearest euro. Taxis expect change as do cloak room attendants and porters.
Public Holidays in Greece
| | | |
| --- | --- | --- |
| | 2017 | 2018 |
| New Years Day | 1 Jan | 1 Jan |
| Epiphany | 6 Jan | 6 Jan |
| Independence Day | 25 Mar | 25 Mar |
| Orthodox Good Friday | 14 Apr | 6 April |
| Orthodox Easter Sunday | 16 Apr | 8 Apr |
| Orthodox Easter Monday | 17 Apr | 9 Apr |
| Labour Day | 1 May | 1 May |
| Assumption of the Virgin Mary | 15 Aug | 15 Aug |
| Ochi Day | 28 Oct | 28 Oct |
| Christmas Day | 25 Dec | 25 Dec |
| Synaxis of the Mother of God | 26 Dec | 26 Dec |
| Clean Monday | 27 Feb | 19 Feb |
| Holy Spirit Monday | 5 Jun | 28 May |
Overview
For historic sightseeing Greece is inarguably one of the best travel destinations in the world. Every facet of Greek society is an attraction in itself, from food to fashion to architecture; it's a big fat Greek tourism magnet. Most visitors head right for the capital of Athens, where ancient civilisations are preserved in the famous Parthenon and Acropolis structures and there are many great museums to be explored. The more modern part of Athens is located in and around Syntagma Square, where the Greek parliament is housed.
From Athens, most tourists will set about a cruise to one or more of the multitude of smaller Greek isles. Mountainous Crete is the most popular, hosting sparkling beaches, spectacular green outcroppings, ancient Minoan and other historic sites as well as the jaw-dropping (and back-breaking) Samaria Gorge Trail. Other popular island destinations include: Corfu, for its mythic significance; Santorini, for its volcanic history and vibrant nightlife; and Rhodes Island which once held a Wonder of the Ancient World - the Colossus of Rhodes - and is today a World Heritage Site. While boats get visitors between islands, the most effective way to travel on the islands themselves is by scooter, bus or taxi.
For the historical sightseers and those fascinated by the ancient culture of the Greeks the Peloponnese Peninsula is one of the best regions to explore, due to its plentiful ancient battlefields and ruins.
Map of Greece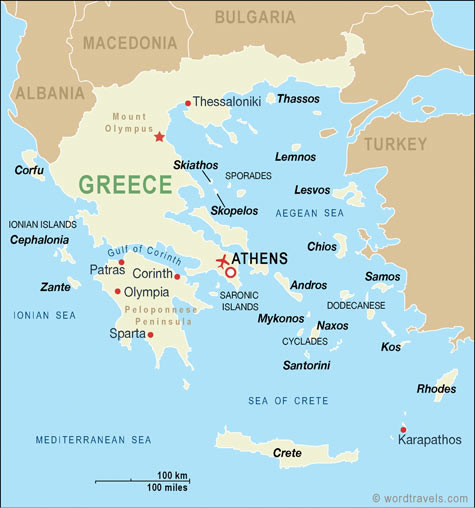 Travel Guide powered by www.wordtravels.com, copyright © Globe Media Ltd. All rights reserved. By its very nature much of the information in this guide is subject to change at short notice and travellers are urged to verify information on which they're relying with the relevant authorities. Globe Media and UNIGLOBE Travel does not accept any responsibility for any loss or inconvenience to any person as a result of information contained above.