General
Money
Entry Requirements
Health & safety
Weather
Embassies
Etiquette
Public Holidays
Attractions
Map
---
Introduction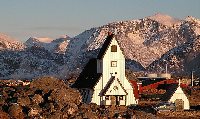 Church in Nanortalik ©Jens Buurgaard Nielsen
Occupying the no-man's-land at the top of the Atlantic Ocean, Greenland doesn't really seem to belong anywhere. Though it has historical and cultural ties to Denmark, the immense island is not really part of any continent, meaning it is often overlooked by travellers hopping 'over the pond'.
But the mysterious island holds secret wonders in its stunning Nordic landscape; including majestic mountain ranges, jagged fjords and giant glaciers. Sparsely populated, Greenland is a paradise for outdoor adventurers keen on activities like kayaking, hunting, fishing, mountaineering, dog sledding, whale watching and scuba diving. Truly an all-season travel destination, Greenland is also a popular place to see both the Northern Lights and the famed Midnight Sun, which keeps the northern parts of the island sunny for weeks on end in summer.
Though Greenland's population is small and scattered, the culture of the local Inuit tribes blends with the heavy Scandinavian influences to create a unique blend of Europe and North America that proves fascinating to intrepid explorers. Many quaint villages are scattered along the country's west coast, including popular towns like Nanortalik, Qassiarsuk, and the capital city of Nuuk. Though the towns and cities of Greenland can't compete with global capitals in terms of nightlife and shopping, the frontier feel of the settlements is supported by good infrastructure for active holidays in Greenland, including good hotels and restaurants, and interesting museums and cultural attractions.
Largely unexplored by package holiday tourists, travelling to Greenland allows an opportunity to trek off the beaten path and experience the undiscovered treasures of the north Atlantic isle.
Languages Spoken
Since 2009 Kalaallisut has been the sole official language of Greenland, but the majority of the population speaks both Kalaallisut and Danish.
Electricity
Electrical current is 220 - 240 volts, 50Hz. Two-prong round plugs (Europlug) and three-prong round plugs (as typical in Denmark) are most common.
Passport
All visitors to Greenland from countries other than those included in the Nordic Passport Union should contact the Danish immigration service in order to learn the specific requirements for entry.
Entry Requirements
Health
No vaccinations are required for travel to Greenland, but vaccinations are recommended for hepatitis A and hepatitis B. Medical facilities are limited in Greenland and travellers with serious health issues will generally need to be evacuated to Denmark, where the medical facilities are excellent. Comprehensive health and travel insurance is therefore recommended, and travellers should bring with them any prescription medication they require, in the original packaging and accompanied by a signed doctor's note detailing what it is and why it is required.
* For current safety alerts, please visit
Foreign travel advice - GOV.UK
or
Travel.State.Gov
Money
The currency of Greenland is the Danish Krone (DKK). There are banks and ATMs in all major towns and credit cards can be used at many hotels, restaurants and shops.
Exchange Rate
Not available.
Embassies of Greenland
Foreign Embassies in Greenland
Public Holidays in Greenland
Travel Guide powered by www.wordtravels.com, copyright © Globe Media Ltd. All rights reserved. By its very nature much of the information in this guide is subject to change at short notice and travellers are urged to verify information on which they're relying with the relevant authorities. Globe Media and UNIGLOBE Travel does not accept any responsibility for any loss or inconvenience to any person as a result of information contained above.