General
Money
Entry Requirements
Health & safety
Weather
Embassies
Etiquette
Public Holidays
Attractions
Map
---
Introduction

Central Parque in Guatemala ©Fernando Reyes Palencia
Guatemala is a small country, lush and mountainous, that is graced with beautiful scenery, a rich indigenous culture, colonial history and important archaeological ruins. The country lies at the heart of the Mayan culture in Central America with remarkable Mayan sites scattered throughout the land, none more so than the magnificent ruins of the ancient city of Tikal, set deep within the jungle.
The Mayan villages of the highlands are spread amid the breathtaking scenery of smoking volcanoes and spectacular lakes, where ancient customs and traditions persist despite five centuries of European domination. Their culture is expressed through vibrant weekly markets, bright traditional clothing, fabulous handicrafts, different languages and colourful religious festivals. Lake Atitlán, a beautiful deep lake ringed by volcanoes and Mayan villages, is a remarkable place combining astounding scenery with traditional culture.
Guatemalan society is split between the traditional and the modern, each following their own path in a country sprinkled with remnants of a colonial past. Nowhere is the Spanish legacy more evident than in the charming city of Antigua with its cobbled streets, plazas and elegant fountains, and towering volcanoes as a backdrop. Interrelations between the Spanish and the native population produced a mixed population, the Ladinos, who have embraced their European heritage and are typically city folk.
A rough past provides a troublesome background to the country and its people. Inequalities between the Spanish-speaking Indians and indigenous cultures, as well as between rich and poor, have been a source of tension and discord throughout the years. The violence caused by political differences has left thousands dead, while the devastation caused by earthquakes has left people homeless and in need of world aid. Despite this travellers are drawn to the intriguing mix of cultures and history set amid dramatic scenery, and they generally find the locals friendly, considerate and justifiably proud of their country.
Communications
The international access code for Guatemala is +502. The outgoing code depends on what network is used to dial out on, which is followed by the relevant country code (e.g. +44 for the United Kingdom). City codes are not required. There are generally surcharges on calls made from hotels and it is cheaper to use calling cards. Rates are generally less expensive after 7pm. Mobile phones work in the major towns and cities on a GSM network, but check that your network operator has a roaming agreement covering Guatemala. Internet cafes are available in the main tourist areas and many hotels, hostels and language schools will offer reasonable internet rates. Public phones require a call card and it may work out cheaper to use a call card for all calls, both local and, especially, international calls.
Emergencies
911 (General emergency line), 110 (Police), 123 (Fire Department).
Languages Spoken
The official language is Spanish, but English is understood in hotels and tourist destinations. In addition, there are many indigenous languages spoken in Guatemala as well.
Duty Free
Travellers to Guatemala over 18 do not have to pay duty on 500g of tobacco in any form and 500ml of liquor or spirits.
Electricity
Electrical current is 120 volts, 60Hz. A variety of plugs are in use including the flat two-pin (Type A).
Climate Info
Guatemala's climate is lovely year round and is generally hot throughout the county, making travel possible at any time. The rainy season is generally from May to November, with average temperatures of 68°F (20°C). Climate varies more due to altitude than season; however, it is easier to explore the country in the dry season, which runs from November to April and is an ideal time to explore the mountains, rainforests and volcanoes in the country. There are some regional variations, with the highlands, including Guatemala City and Antigua, experiencing less rainfall than the coast, and slightly colder temperatures at night.
Passport
It is strongly recommended that all foreign passengers to Guatemala hold return or onward tickets, and the necessary travel documentation for their next destination. Note that the period of stay for visa-exempt nationals is 90 days; however, 90-day extensions can be organised through the Immigration Office. For nationals requiring a visa, the consulate issuing the visa will advise visitors about the amount of deposit to be paid at the port of entry in Guatemala, which will be refunded when the visitor leaves Guatemala. NOTE: It is highly recommended that your passport has at least six months validity remaining after your intended date of departure from your travel destination. Immigration officials often apply different rules to those stated by travel agents and official sources.
Entry Requirements
US citizens must have a passport that is valid for the period of intended stay in Guatemala. No visa is required for stays of up to 90 days.
British citizens must have a passport that is valid for the period of intended stay in Guatemala. No visa is required for stays of up to 90 days for British passport holders endorsed British Citizen. Those holding passports with other endorsements should confirm entry requirements before travel.
Canadian citizens must have a passport or replacing document that is valid for the period of intended stay in Guatemala. No visa is required for stays of up to 90 days.
Australian citizens must have a passport valid for the period of intended stay in Guatemala. No visa is required for stays of up to 90 days.
South African citizens must have a passport valid for the period of intended stay in Guatemala. No visa is required for stays of up to 90 days.
Irish citizens must have a passport valid for the period of intended stay in Guatemala. No visa is required for stays of up to 90 days.
New Zealand citizens must have a passport valid for the period of intended stay in Guatemala. No visa is required for stays of up to 90 days.
Health
There are a number of health risks associated with travel to Guatemala and travellers are advised to take the latest medical advice at least three weeks prior to departure. Malaria is prevalent in the low-lying areas outside Guatemala City and dengue fever is endemic, so strict insect-bite protection measures must be taken. A yellow fever certificate is required from travellers entering the country from infected areas. Hepatitis A and B, and typhoid vaccinations are recommended, as well as an MMR (Measles, mumps and rubella) update. Visitors should be careful what they eat and stick to bottled water, or boil all water before drinking if bottled water is unavailable. Guatemalan hospitals are unlikely to give medical treatment unless the patient has medical insurance or can pay up front. Good travel insurance is therefore essential. State-funded hospitals are best avoided and travellers should only use private clinics where possible. All medication should be accompanied with a signed and dated letter from a doctor explaining what the medication is and why it is needed.
Safety
The rate of violent crime in Guatemala is exceptionally high. There has also been a relatively high rate of violent attacks on tourists, especially in remote places and in the capital, Guatemala City, especially after dark. Visitors need to be particularly vigilant in the central Zone 1 of Guatemala City where most of the cheap hotels and bus terminals are, and in all parts of the city at night. There has been an increase in crime targeting tourists arriving at Guatemala City airport and travelling to hotels in the business district of Zones 9 and 10, so visitors should be extremely alert when leaving the airport. Protest may arise without warning and should be avoided if possible. Pick-pocketing and petty theft are common in tourist areas and market places. Many robberies take place on the cheaper buses when travelling on the tourist routes from Guatemala City to Antigua, and from Antigua to Panajachel, keep all belongings close at hand. There has been an increase in reported incidents of attacks, including the rape of female passengers on buses during the day on main routes. Hold-ups by armed gangs occur frequently on city and long distance public buses. Visitors are advised to avoid them if possible. Armed robberies on minor roads around Lake Atitlan have taken place and visitors are advised to use the boat services between towns on the lakeshore. There have also been armed attacks on tourists at Tikal and on the approach road from Flores to Tikal. Guatemala's rainy season between April and November usually brings about heavy rain and flooding, mudslides and hurricanes. These mudslides have claimed the lives of many people in recent years and it is best to excercise extreme caution when travelling to areas known for heavy rains and mudslides. Guatemala has active volcanoes, so it is important to regularly be aware of any volcanic activity.
Emergency Phone Number
911 (General emergency line), 110 (Police), 123 (Fire Department).
* For current safety alerts, please visit
Foreign travel advice - GOV.UK
or
Travel.State.Gov
Money
The official currency is the Quetzal (GTQ), which is divided into 100 centavos. Cash exchange is easy, but visitors are not advised to exchange money at the informal booths on the street. There are ATMs in the towns and cities, which accept American Express and Visa, while MasterCard and Diners Club are not widely accepted.
Exchange Rate
Not available.
Embassies of Guatemala
Guatemalan Embassy, Washington DC, United States: +1 202 745 4953 / +1 202 745 3873
Guatemalan Embassy, London, United Kingdom (responsible for Ireland): +44 (0) 207 2217 448, +44 (0) 207 2211 525
Guatemalan Embassy, Tornoto, Canada: +1 (613) 233-7237 .
Embassy of Guatemala, Australian Capital Territory: +61 (2) 6162 7444, +61 (2) 6162 7405
Guatemalan Honorary Consulate, Cape Town, South Africa: +27 (0)21 418 2020 (Johannesburg: +27 (0)11 804 5080)
Foreign Embassies in Guatemala
United States Embassy, Guatemala City: +502 2326 4000.
British Embassy, Guatemala City: +502 2380 7300.
Canadian Embassy, Guatemala City: +502 2363 4348.
Australian Embassy in Mexico City (responsible for Guatemala): +52-55-11012200
South African Consulate, Mexico City (responsible for Guatemala): + 521 55 1100 4970
Irish Consulate, Mexico City (responsible for Guatemala): +52 55 5520 5803.
New Zealand Consulate, Mexico City (responsible for Guatemala): (+52 55) 5283 9460.
Customers
It is very common to greet most people, especially in the countryside. Clothing need not be too conservative, however, modesty is advised for female travellers in order to avoid unwanted attention. Ask permission before taking photographs, particularly of children, as local people are suspicious of foreigners approaching children for pictures due to incidences of child kidnapping, particularly in remote areas where tourists have been attacked. A small tip might be required. Military clothing is illegal. Public displays of affection between same sex couples should be avoided, particularly outside of Guatemala City.
Business
Business etiquette in Guatemala is similar to the rest of Latin America. Due to the warm, humid climate men often wear lightweight suits and women should wear a dress or a skirt with a blouse. Always be punctual for meetings, as Guatemalan business people are very punctual. Use professional titles such as such as 'Doctor', 'Professor', 'Ingeniero' (engineer) or 'Abogado' (lawyer), otherwise address colleagues as Señor (Mr), Señora (Mrs) and Señorita (Miss), followed by their last names. Speaking softly is considered polite. Business cards may be exchanged although there is no ritual around it. Business hours are generally 8am to 5pm Monday to Friday with an hour taken over lunch and business lunches or breakfasts are preferred over business dinners.
Tipping
Generally a 10 percent tip is recommended for good service in Guatemala. It is customary to tip waiters if a service charge hasn't been added to the bill and tipping extra for excellent service is also customary. Taxi drivers are not usually tipped. Hotel staff and tour guides expect to be tipped for their services and can be more favourable in their service when receiving generous tips.
Public Holidays in Guatemala
| | | |
| --- | --- | --- |
| | 2017 | 2018 |
| New Years Day | 1 Jan | 1 Jan |
| Good Friday | 14 Apr | 30 Mar |
| Holy Saturday | 15 Apr | 31 Mar |
| Labour Day | 1 May | 1 May |
| Army Day | 30 Jun | 30 Jun |
| Independence Day | 15 Sep | 15 Sep |
| Revolution Day | 20 Oct | 20 Oct |
| All Saints Day | 1 Nov | 1 Nov |
| Christmas | 25 Dec | 25 Dec |
| New Years Eve | 31 Dec | 31 Dec |
| Maundy Thursday | 13 Apr | 29 Mar |
Overview
The heart of ancient Mayan culture lives on in Guatemala, with a Spanish influence that blends ancient, colonial and modern eras together seamlessly. From the classical Spanish-Baroque architecture in Antigua, exemplified by such pieces as the famous fountain, Fuente de Pescado, to the legendary structural wonders of the Mayan temple complex Tikal, each step along Guatemala's quaint cobbled streets and jungle trails leads further into the distant past.
As with many of its Central American neighbours, Guatemala has held onto local customs and cultures, while developing its urban hubs to meet modern tourist standards. Party in Guatemala City's business district during warm evenings, then travel to the markets in Chichicastenango on a Sunday, a meeting place for traditional artisans and hub for local produce that is bound to entice all travellers with the sensory delicacies of Guatemala's verdant forests, farms and plantations. Adventurous travellers can hike up Volcan San Pedro, just behind the famous picturesque resort village of San Pedro La Laguna, but should note that a local guide is considered essential to conquering the dormant volcano's peak. While the adrenalin junkies are relishing Guatemala's many peaks, other travellers can enjoy a spate of urban sightseeing. The country is also home to a wealth of ancient artefacts and numerous historical sites so history buffs will be in their element.
The country has a strong tourism industry and travellers looking for an in-depth and immersive experience into authentic Central American culture should lace up their boots and pack their bags, for they need look no further than Guatemala.
Map of Guatemala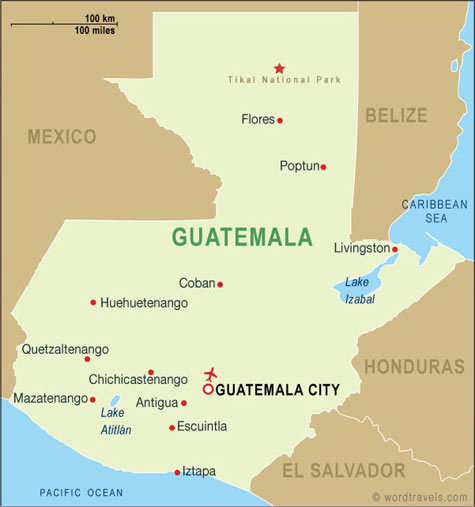 Travel Guide powered by www.wordtravels.com, copyright © Globe Media Ltd. All rights reserved. By its very nature much of the information in this guide is subject to change at short notice and travellers are urged to verify information on which they're relying with the relevant authorities. Globe Media and UNIGLOBE Travel does not accept any responsibility for any loss or inconvenience to any person as a result of information contained above.