General
Money
Entry Requirements
Health & safety
Weather
Embassies
Etiquette
Public Holidays
Attractions
Map
---
Introduction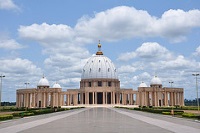 Yamoussoukro ©Guillaume Mignot
The independent republic of the Ivory Coast (or Côte d'Ivoire) lies on the south coast of the bulge of West Africa, consisting mainly of a vast plateau (except for mountains in the northwest extremity), hemmed in by five other countries and the Atlantic Ocean. Once, its main cities of Abidjan and Yamoussoukro were showpieces of the continent, politically stable and economically sound, attractive not only by dint of the physical beauty that abounds in the country but also boasting a rich culture.
In 2002 an armed rebellion split the nation, and although a peace deal between the rebels and the government was brokered in 2003, implementation was difficult and a further peace accord had to be signed in 2007. After the 2003 peace deal tensions remained high, and most foreign nationals left. Ivory Coast remains blacklisted as a 'no-go' destination by most western governments, with United Nations and French peacekeepers holding on to a volatile situation.
Tourists that do brave the political situation can experience attractions in the Ivory Coast like one of the last remaining virgin rainforests in West Africa at the Tai National Park, an unspoilt wonderland of huge trees, gurgling streams and abundant wildlife. Then there is the impressive Cascade Waterfall, located in a bamboo forest in the lush region around the town of Man, which also hosts the intriguing annual Festival of Masks with performing stilt-dancers.
The cities, too, are worthy experiences, particularly the capital Yamoussoukro. A unique city in Africa, boasting a full-sized replica of St Peter's Basilica in Rome. The stunning cathedral (containing more stained glass than you will find in all the churches of France), and other lavish edifices in the surprising city, including an internationally-rated golf course and multi-lane highways that disappear into the jungle, was built courtesy of long-term president Felix Houphouet-Boigny, who bestowed all these gifts on his hometown.
The largest city, Abidjan, has a cosmopolitan flavour lent to it by its large French and Lebanese communities. Abidjan presents an attractive aspect, set on a lagoon and boasting high-rise buildings like the spectacular Hotel Ivoire. Abidjan has its landmark cathedral too: St Paul's was built in 1985, and consecrated by the Pope. The city has a vibrant nightlife and bustling atmosphere, offering a few good museums for sightseeing and a rainforest reserve called Parc du Banco for shady relaxation.
If and when Ivory Coast solves its political dilemmas it will undoubtedly once again emerge as one of the tourist jewels of Africa, being able to utilise tourism as a means to help shrug off the debts incurred by its wasteful bureaucrats and years of unrest.
Communications
The country code for Ivory Coast is +225. The outgoing code is 00 followed by the relevant country code (e.g. 0044 for the United Kingdom). City/area codes are not required and all phone numbers have eight digits. GSM 900 networks provide mobile cellular coverage around the main towns and cities, and there are roaming agreements with most international networks. International Direct Dialling is available. There are internet cafes in Abidjan.
Emergencies
170 (General emergencies)
Languages Spoken
The official language of Ivory Coast is French but more than 60 native dialects are spoken.
Duty Free
Travellers to the Ivory Coast do not need to pay customs duty on 200 cigarettes or 100 cigarillos or 25 cigars or 250g of tobacco; one bottle of wine and one of spirits; 500ml eau de toilette and 250ml of perfume. A video camera may be imported (for personal use only) and must be declared on arrival; a deposit must be paid which will be refunded on departure. Currency should be declared.
Electricity
Electrical current is 220 volts, 50Hz. Plug types in use are round pin attachment plugs or round pin plugs and receptacles with male grounding pin.
Climate Info
The coastal region, where temperatures stay fairly constant between 73°F to 80°F (23°C to 27°C), is dry for most of the year, experiencing an intensely wet rainy season between mid-May and mid-July. In the central forest region of the country, however, it is continually wet and humid. The hottest part of the country is the northern savannah, where temperatures can reach 90°F (32°C). The north experiences a long wet season from June to October.
Passport
All foreign passengers to the Ivory Coast must hold proof of arranged accommodation, return/onward tickets, and the necessary travel documentation for their next destination. Note that a yellow fever vaccination certificate is required to enter the Ivory Coast. Holders of 'pre-approved enrollement' or a 'registration receipt' can obtain a visa on arrival in Abidjan (ABJ). NOTE: It is highly recommended that your passport has at least six months validity remaining after your intended date of departure from your travel destination. Immigration officials often apply different rules to those stated by travel agents and official sources.
Entry Requirements
US citizens must have a passport that is valid for at least six months beyond the period of intended stay, and require a visa, to enter the Ivory Coast.
British citizens must have a passport that is valid for at least six months beyond the period of intended stay. A visa is required.
Canadian citizens must have a passport that is valid for at least six months beyond the period of intended stay, and require a visa, to enter the Ivory Coast.
Australian citizens must have a passport that is valid for at least six months beyond the period of intended stay, and require a visa, to enter the Ivory Coast.
South African citizens must have a passport that is valid for at least six months beyond the period of intended stay, and require a visa, to enter the Ivory Coast.
Irish citizens must have a passport that is valid for at least six months beyond the period of intended stay, and require a visa, to enter the Ivory Coast.
New Zealand citizens must have a passport that is valid for at least six months beyond the period of intended stay, and require a visa, to enter the Ivory Coast.
Health
There are a variety of health risks prevalent in Ivory Coast, and a yellow fever vaccination is required for entry; immigration officials will check this at the airport. Cholera is present in rural areas, and malaria is widespread even in urban areas. Typhoid and Hepatitis A vaccinations are also recommended. Meningococcal vaccine is recommended for travel between November and June. HIV/AIDS is widespread and Dengue Fever can occur, so make sure you pack an effective mosquito repellant. All water should be sterilised before use, and milk, which is unpasteurised, should be boiled. Avoid dairy products and ensure meat is well cooked and eaten hot. Fruit and vegetables should be cooked and/or peeled before consumption. Medical treatment in Abidjan is of reasonable standard, but private care is expensive, and facilities outside the major towns are very limited. Medical insurance with provision for repatriation is essential.
Safety
The political situation in Ivory Coast is volatile and demonstrations can occur unexpectedly between supporters of the rival presidential candidates. Take care in public places and avoid crowds. Most governments advise against unnecessary travel to the Ivory Coast at present due to the potential for unpredictable unrest. If, despite this advice visitors decide to travel to the Ivory Coast, careful personal security arrangements should be made due to high levels of anti-western sentiment. Violent crime is on the increase, including armed break-ins, car jackings, muggings and hold-ups in restaurants. Evening rush hour on Abidjan's Charles de Gaulle Bridge is particularly dangerous. Visitors should be meticulous in respecting the numerous army and police roadblocks. Police and security forces can be excitable and undisciplined. Particular care should be taken in the north and west of the country, where there have been frequent clashes. All travel to the 18 Montagnes and Moyen Cavally regions should be avoided. In the area between Duékoué and Odienne, armed elements are often under the influence of drink or drugs, which makes them particularly unpredictable. Be aware of con-men and touts when arriving at Abidjan airport. The bridges crossing the lagoon in Abidjan should be avoided by those on foot. Taxis, except for metered orange taxis in Abidjan, are risky and often unroadworthy. Buses are overcrowded and best avoided. Sea bathing is dangerous as strong sea currents are present, and drownings are common.
Emergency Phone Number
170 (General emergencies)
* For current safety alerts, please visit
Foreign travel advice - GOV.UK
or
Travel.State.Gov
Money
The official currency is the West African CFA Franc (XOF), divided into 100 centimes. The CFA Franc is linked to the Euro at a fixed rate of exchange. New notes were issued in 2004 and only those issued by the Bank of West African States (Banque des États de l'Afrique de l'Ouest) are valid currency. There are a few ATMs in Abidjan but most will accept only Visa cards. It is unwise to use an ATM that is not guarded. Credit cards are accepted in the larger hotels and better restaurants. Most shops require cash.
Exchange Rate
Not available.
Embassies of Ivory Coast
Ivory Coast Embassy, Washington DC, United States: +1 202 797 0300.
Ivory Coast Embassy, London, United Kingdom: +44 (0)20 7201 9601 and +44 (0)20 7235 6991.
Ivory Coast Embassy, Ottawa, Canada: +1 (613) 236 9919.
Ivory Coast Embassy, Pretoria, South Africa: +27 (0)12 342 6913/4.
Foreign Embassies in Ivory Coast
United States Embassy, Abidjan: +225 2249 4000 and +225 2249 4594.
British High Commission, Accra, Ghana (also responsible for Ivory Coast): +233 (30) 2221 665/645/672.
Canadian Embassy, Abidjan (also responsible for Australia): +225 2030 0700.
South African Embassy, Abidjan: +225 2244 5963 and +225 2244 7534.
Customers
Photographing military or government installations is forbidden in Ivory Coast. Homosexuality is illegal. Dress is conservative for men and women. Shorts, tight clothing and strapless tops are frowned upon anywhere except on the beach.
Business
Business in the Ivory Coast is fairly formal with punctuality a must, though more casual cotton suits are acceptable attire. Business is often conducted in French, but translators are readily available. Greeting and acknowledging each person present with a handshake is important. Business hours are usually from 7.30am to 12pm, and 2.30pm to 6pm on weekdays, and from 8am to 12pm on Saturdays.
Tipping
A service charge is usually added to hotel and restaurant bills in Ivory Coast. Where it is not, a tip of 10 to 15 percent is acceptable. Taxi drivers usually expect 10 percent.
Public Holidays in Ivory Coast
| | | |
| --- | --- | --- |
| | 2017 | 2018 |
| New Years Day | 1 Jan | 1 Jan |
| Easter Monday | 17 Apr | 2 Apr |
| Labour Day | 1 May | 1 May |
| Lailat al Miraj (Night of Ascension) | 24 Apr | 13 Apr |
| Ascension Day | 25 May | 10 May |
| Whit Monday | 5 Jun | 21 May |
| Lailat al Qadr (Night of Power) | 21 Jun | 10 Jun |
| Korité (End of Ramadan) | 26 Jun | 15 Jun |
| Independence Day | 7 Aug | 7 Aug |
| Assumption | 15 Aug | 15 Aug |
| Aid el-Kebir (Feast of the Sacrifice) | 2 Sep | 22 Aug |
| All Saints Day | 1 Nov | 1 Nov |
| National Peace Day | 15 Nov | 15 Nov |
| Christmas Day | 25 Dec | 25 Dec |
| Birth of the Prophet | 1 Dec | 21 Nov |
Overview
The Ivory Coast has a number of interesting attractions available for sightseeing. Abidjan itself has the Parc du Banco on the outskirts of the city, where visitors can experience the rainforest's flora and fauna and interestingly, just near the entrance to the park, is Africa's largest open-air laundrette. Inside Abidjan city is the Hotel Ivoire, once a glamourous place to stay but now left to ruin. St Paul's Cathedral is another site within the city of Abidjan worth a visit for sightseeing tourists.
Further afield visitors can see the capital city (by name only) of Yamoussoukro, which is famous for multiple-laned highways leading straight into the jungle, or city streets and blocks all laid out but no houses or structures lining the streets. Yamoussoukro is also famous for the Basilica of Our Lady of Peace of Yamoussoukro (Basilica Notre Dame), which is a replica of St. Peter's Basilica in the Vatican. The town of Man is also well-known for its fabric and the traditional masks on sale, as well as for its surrounding waterfalls and beautiful natural scenery.
Map of Ivory Coast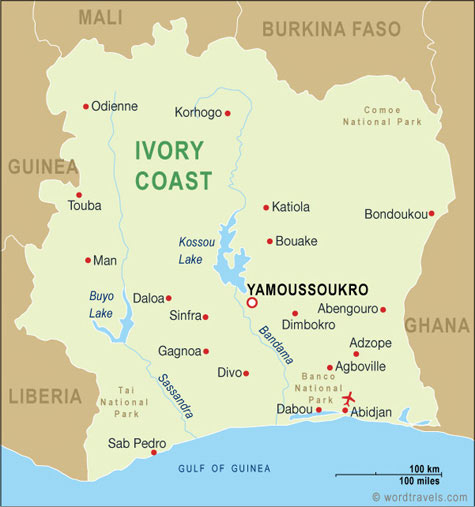 Travel Guide powered by www.wordtravels.com, copyright © Globe Media Ltd. All rights reserved. By its very nature much of the information in this guide is subject to change at short notice and travellers are urged to verify information on which they're relying with the relevant authorities. Globe Media and UNIGLOBE Travel does not accept any responsibility for any loss or inconvenience to any person as a result of information contained above.