General
Money
Entry Requirements
Health & safety
Weather
Embassies
Etiquette
Public Holidays
Attractions
Map
---
Introduction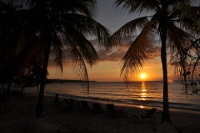 Jamaican Sunset ©Greg Walters
It's easy to wax lyrical about Jamaica, the famous island in the north Caribbean. From the glorious glow of its sunsets, to the unique and engaging ways of its people, its alluring white sandy beaches, lush green mountains and sparkling waterfalls - these stunning features can inspire the poet in anyone. The beauty of this island paradise has drawn visitors for centuries.
Historically, it was the wealthy few who were privileged to enjoy the unspoilt tropical delights of Jamaica, but today the northern and western coastlines of the island are stacked with tourist resorts and 'all-inclusive' hotels. Natural attractions have been commercialised to cope with the crowds, but somehow this commercialisation has not spoiled Jamaica. It still presents a magnificent kaleidoscope of colour and beauty that makes holidaymakers sad to leave, and vow to return.
The name Jamaica originates from the pre-colonial native inhabitants of the area, the Arawak Indians, to whom meant 'land of wood and water'. There is little left of the Indian culture: after being discovered by Columbus in 1494, Jamaica was ruled by the Spanish for 150 years and then by the British for the next 300 years. Independence came in 1962 to the Jamaican people, who are now a warm blend of different cultures and nationalities, though significantly African-based due to the number of imported slaves who endeavoured to keep their home traditions alive while being forced to work on the plantations.
There is, however, a little trouble in this island paradise: the Jamaican people on the whole are poor, and very reliant on tourism for their living. Some visitors object to being harassed by vendors, unlicensed taxi drivers, hair-braiders and the like. Petty crime is also a problem. These minor irritations, however, should not keep anyone away from savouring the spirit of Jamaica, which is as rich as the lilt of the local patois and the rhythms of the reggae music for which the island is famous.
Communications
The international access code for Jamaica is +1, in common with the US, Canada and most of the Caribbean, followed by 876. The outgoing code is 011 followed by the relevant country code (e.g. 01144 for the United Kingdom); the outgoing code is not needed when calling the US or Canada. City or area codes are not required.
Direct international telephone services are available, and operators can also facilitate calls. The local mobile phone operators use various networks, including GSM, which is compatible with most international networks. Internet cafes are available in the main towns and resorts, and access is also available from most hotels and parish libraries.
Emergencies
119 (Police); 110 (Abulance, Fire)
Languages Spoken
The official language of Jamaica is English but a local patois is also spoken, a mixture of English, Spanish, and various African languages.
Duty Free
Travellers to Jamaica over 18 years do not have to pay duty on 200 cigarettes or 50 cigars or 230g of other tobacco products; 1L alcoholic beverages and wine; and perfume up to 170ml. Prohibited items include products made from goatskin (e.g. drums, handbags and rugs).
Electricity
Electrical current is 110 volts, 50Hz. Flat two- and three-pin plugs are in use.
Climate Info
Jamaica's climate is tropical with constant warm to hot temperatures all year round, though cooler in the higher, central areas. On the coast temperatures range from 72°F (22°C) and 88°F (31°C). Mornings and evenings are slightly chillier in the winter months but Jamaica is hot year-round. There are variations in climate according to region; for instance, the east coast receives substantially more rain than the rest of the country, and the south coast far less.
The wettest months are between May and November, when short sharp showers can be expected. The heaviest rains occur in September and October and the hurricane season runs from June to November. Even though the powerful Hurricane Ivan made landfall in September 2004, relatively few hurricanes touch Jamaica. The country is also in the earthquake zone.
Due to its tropical climate Jamaica is a popular destination all year, but the best time to visit is between mid-December and mid-April, which is the peak tourist season. If you are travelling on a budget or want to avoid the crowds consider visiting in the rainy season which has its own charms.
Passport
All foreign visitors to Jamaica must hold proof of sufficient funds to cover their expenses while in the country, return/onward tickets to their country of permanent residence, and the necessary travel documentation for this next destination. Note that a yellow fever vaccination certificate is required to enter Jamaica, if arriving within six days of leaving or transiting through an infected area. NOTE: It is highly recommended that your passport has at least six months validity remaining after your intended date of departure from your travel destination. Immigration officials often apply different rules to those stated by travel agents and official sources.
Entry Requirements
US citizens must have a passport to enter Jamaica, that has to be valid upon their return to the USA. No visa is required for touristic stays of up to six months.
British citizens must have a passport that is valid for the period of intended stay in Jamaica. No visa is required for British passport holders, except for holders of passports endorsed 'British Overseas Territory Citizen' issued to residents of the Cayman Islands and the British Virgin Islands, who may obtain a tourist visa on arrival for a fee.
Canadian citizens require a passport valid for period of intended stay. No visa is required.
Australian citizens must have a passport that is valid for the period of intended stay in Jamaica. No visa is required.
South African citizens must have a passport that is valid for the period of intended stay in Jamaica. No visa is required.
Irish citizens must have a passport that is valid for the period of intended stay in Jamaica. No visa is required for stays of up to 90 days.
New Zealand citizens must have a passport that is valid for the period of intended stay in Jamaica. No visa is required.
Health
Dengue fever is a risk in Jamaica so visitors should take measures to protect against insect bites. No vaccination certificates are needed for entry into Jamaica, but yellow fever certificates are required for travellers coming from an infected area. Vaccinations for hepatitis A and hepatitis B are recommended for travel to Jamaica.
Although generally safe, the tap water can cause stomach upsets and visitors are advised to drink bottled water if on short trips. Private medical facilities are of a reasonable standard but can vary throughout the island, and facilities are limited outside Kingston and Montego Bay. Medical treatment can be expensive so insurance is advised. If you require prescription medication it is best to take it with you, with a signed and dated letter from your doctor naming the medication and explaining why you need it.
Safety
There are high levels of crime and violence in Jamaica, especially around Kingston, and tourists should be alert. They should not resist in the event of attempted robbery, and avoid walking or using public transport at night. If you are self-driving do not give lifts to strangers. When travelling to or from the airport in Kingston avoid the Mountain View route. Travellers on the Hummingbird route should also be cautious at night. Avoid walking alone in isolated areas or on beaches, even in daylight hours. Jamaica is not an LGBT-friendly destination, and affection between same sex couples can be met with violence.
Jamaica is prone to hurricanes between June and November and is in the earthquake zone.
Emergency Phone Number
119 (Police); 110 (Abulance, Fire)
* For current safety alerts, please visit
Foreign travel advice - GOV.UK
or
Travel.State.Gov
Money
The Jamaican Dollar (JMD) is divided into 100 cents. The island is well supplied with ATMs, banks and bureaux de change. Banking hours are usually Monday to Thursday from 9am to 2pm, and Friday from 9am to 4pm. Cambio exchange offices are found throughout the country, open later than banks and often offering better exchange rates. Retain receipts as proof of legal currency exchange. Exchange bureaux at the airports and hotels also offer better rates than banks. Major credit cards are widely accepted. Cash is best taken in US Dollars.
Exchange Rate
Not available.
Embassies of Jamaica
Jamaican Embassy, Washington DC, United States: +1 202 452 0660.
Jamaica High Commission, London, United Kingdom: +44 20 7823 9911.
Jamaican High Commission, Ottawa, Canada: +1 613 233 9311.
Jamaican Embassy, Sydney +61 04 0220 5266.
Jamaican High Commission, Pretoria, South Africa: +27 12 362 6667
Jamaican Embassy, Brussels, Belgium (also responsible for Ireland): +32 2 230 1170.
Foreign Embassies in Jamaica
United States Embassy, Kingston: +1 876 702 6000.
British High Commission, Kingston: +1 876 936 0700
Canadian High Commission, Kingston: +1 876 926 1500.
Australian High Commission, Port of Spain, Trinidad and Tobago (also responsible for Jamaica): +1 868 822 5450.
South African High Commission, Kingston: + 1 876 620 4840.
Irish Embassy, Ottawa, Canada (also responsible for Jamaica): +1 613 233 6281.
New Zealand High Commission, Ottawa, Canada (also responsible for Jamaica): +1 613 238 5991.
Customers
Contrary to popular belief, smoking ganja (marijuana) is illegal in Jamaica. Homosexuality is also prohibited by law, and the country is notorious for its intolerance towards it.
Business
Business in Jamaica is surprisingly formal, with proper titles used and suits and ties the norm despite the tropical climate. Introductions are usually made with a handshake and an exchange of business cards. Punctuality is key, and socialising is an important aspect of the business meeting. Business hours are usually from 8:30am to 4:30pm or 5pm on weekdays.
Tipping
Outside the all-inclusive resorts in Jamaica, where tips are part of the package, visitors should tip 10 to 15 percent for taxis, personal services, room service and restaurants where a service charge is not already included in the bill. Parking attendants, bellboys and porters also expect a small tip.
Public Holidays in Jamaica
| | | |
| --- | --- | --- |
| | 2017 | 2018 |
| New Years Day | 1 Jan | 1 Jan |
| Ash Wednesday | 1 Mar | 14 Feb |
| Good Friday | 14 Apr | 30 Mar |
| Easter Monday | 17 Apr | 2 Apr |
| Labour Day | 23 May | 23 May |
| Emancipation Day | 1 Aug | 1 Aug |
| Independence Day | 7 Aug | 6 Aug |
| National Heroes Day | 16 Oct | 15 Oct |
| Christmas Day | 25 Dec | 25 Dec |
| Boxing Day | 26 Dec | 26 Dec |
Overview
Jamaica has a fascinating history and culture and apart from its beautiful beaches and lush jungle landscapes it is riveting to learn about the slave culture which developed here; the island's holiday attractions extend far beyond the stretches of Negril's famous Seven Mile Beach. Among the many great things to see and do in Jamaica, there are destinations such as Kingston's Bob Marley Museum and Spanish Town, or the Montego Bay Marine Park and Rose Hall (said to be haunted by beautiful Annie Palmer, the 'White Witch of Rose Hall').
In Ocho Rios, visit Dolphin Cove and Dunn's River Falls, or explore the Green Grotto Caves. Fans of the movie Blue Lagoon will find the actual site near Port Antonio, while rum enthusiasts will enjoy the Appleton Rum Estate on Jamaica's South Coast. Jamaica's Blue Mountains have some exciting hiking trails for the adventurous, and there are caves and waterfalls to explore as well.
All this sightseeing is made more enjoyable by year-round good weather and visitors should prepare for the glorious tropical heat by bringing plenty of sunblock. Jamaica is subject to storms and hurricanes between July and November but hurricanes rarely hit the island.
Map of Jamaica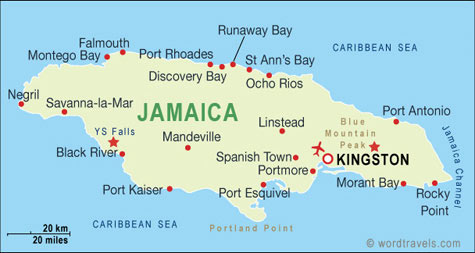 Travel Guide powered by www.wordtravels.com, copyright © Globe Media Ltd. All rights reserved. By its very nature much of the information in this guide is subject to change at short notice and travellers are urged to verify information on which they're relying with the relevant authorities. Globe Media and UNIGLOBE Travel does not accept any responsibility for any loss or inconvenience to any person as a result of information contained above.