General
Money
Entry Requirements
Health & safety
Weather
Embassies
Etiquette
Public Holidays
Attractions
Map
---
Introduction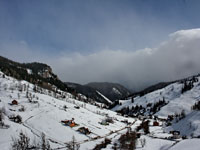 Brezovica ©Shkumbin Saneja
The once war-torn nation of Kosovo is landlocked and bordered by Central Serbia, Macedonia, Albania and Montenegro. It is also surrounded by serene and beautiful mountains and is home to Ottoman mosques, monasteries, rolling green vineyards and KLA war memorials. Kosovo offers a truly unexpected, yet wonderfully diverse, holiday for those who visit.
Kosovo is a former province of neighbouring Serbia, but after a long and violent dispute, which led to the disintegration of Yugoslavia, Kosovo declared its independence in February 2008 and is widely accorded recognition by international states. With the Serb minorities located in the north of the country, Kosovo is a largely Albanian speaking and Muslim nation, although a surprisingly large amount of English is spoken.
Apart from the political and historical situation of the country, which has little effect on foreigners visiting the land, the Sar Mountains National Park is a key attraction and a must for anyone who loves the outdoors; animals such as the lynx, bear, wolf and chamois can be spotted. The ski resort of Brezovica in the Sar Mountains is also a popular attraction owing to its incredible slopes and favourable year-round climate, both of which make it an ideal ski holiday destination.
The capital city of Prishtina has a growing number of shops, bars and restaurants where tourists can indulge in a bit of local fare, heavily influenced by Turkish and Albanian flavours. Visitors will also find themselves becoming coffee connoisseurs, as coffee shops abound in this flourishing city.
Communications
The international dialling code for Kosovo is +383. The outgoing code is 00 followed by the relevant country code (e.g. 0044 for the United Kingdom). Internet access is widespread and there are Internet cafes all over the country, especially in Pristina. The central post office in Pristina is open from 7am to 7.30pm Monday to Saturday and 8am to 2pm on Sundays. There is good cell phone coverage and roaming agreements are in place with major international operators.
Emergencies
112
Languages Spoken
Albanian and Serbian are the official languages, but English is widely spoken especially among the youth.
Duty Free
At present Kosovo still adheres to Serbian customs regulations, which state that visitors may import the following goods duty-free: 200 cigarettes, 50 cigars or 250g of tobacco. One litre of wine and one litre of spirits is permitted, as is 250ml of eau de toilette and a reasonable amount of perfume. Weapons and ammunition are prohibited.
Electricity
Electrical current is 220 volts (50Hz). European round two-pin attachment plugs are most commonly used.
Climate Info
Kosovo has a largely Continental climate, although Pristina is considered an Oceanic climate. Generally, summers are long and dry, and winters are mild and rainy, with occasional heavy snowfall in the mountains. It can get surprisingly hot in summer, between May and August, with temperatures sometimes reaching as high as 90°F (32°C). The warmest month is July, with an average high temperature of 79°F (26°C). Winters are cold and snowfall is common. The coldest month is January, with an average low temperature of 23°F (-5°C).
Rainfall is abundant, particularly in the short spring and autumn, with October being the wettest month, and August the driest. Visitors should note that the climate does vary according to region and geographical features.
Kosovo is a year-round destination, but the summer months, between May and August, are the peak tourism season and the optimum time to visit. At this time the popular cities like Pristina can get crowded. November to April is the least popular period for travel to Kosovo, with the exception of the ski season in January and February, which sees visitors flock to the slopes, as this is the best time to ski in Kosovo. Spring and autumn can also be very pleasant but it can be rainy.
Passport
Foreign passengers may be required to provide documentary evidence to local authorities when entering Kosovo, giving a reason for their entry and stay. A 90-day entry stamp will be issued, which is renewable for longer stays. It is recommended that you have at least two blank pages in your passport for stamps. NOTE: It is highly recommended that your passport has at least six months validity remaining after your intended date of departure from your travel destination. Immigration officials often apply different rules to those stated by travel agents and official sources.
Entry Requirements
US citizens must a have a valid passport to enter Kosovo. No visa is required for a stay of up to a maximum of 90 days within a six month period.
British citizens must a have a valid passport to enter Kosovo. No visa is required for a stay of up to a maximum of 90 days within a six month period.
Canadian citizens must a have a valid passport to enter Kosovo. No visa is required for a stay of up to a maximum of 90 days within a six month period.
Australian citizens must a have a valid passport to enter Kosovo. No visa is required for a stay of up to a maximum of 90 days within a six month period.
South African citizens must a have a valid passport to enter Kosovo. No visa is required for a stay of up to a maximum of 90 days within a six month period.
Irish citizens must a have a valid passport to enter Kosovo. No visa is required for a stay of up to a maximum of 90 days within a six month period.
New Zealand citizens must a have a valid passport to enter Kosovo. No visa is required for a stay of up to a maximum of 90 days within a six month period.
Health
There are no specific health risks for Kosovo and travel is usually problem free from a health perspective. Hepatitis A and hepatitis B vaccinations are recommended and it is also advised that you be up to date with your vaccinations for MMR (measles, mumps, rubella) and tetanus-diphtheria. A typhoid vaccination may be recommended for those travellers who will be eating and drinking outside of major restaurants and hotels. On a related note, avoid drinking tap water unless it has been boiled or filtered. A rabies vaccination may be recommended for those travellers who may have contact with wild animals while in Kosovo.
Medical facilities in Kosovo consist of private medical clinics and the government sponsored University Clinical Center. Quality controls are lacking in many medical facilities and their services are very basic. Comprehensive health insurance is recommended before travelling to Kosovo.
Safety
Kosovo is a relatively safe country to visit. Petty crime and pick pocketing can occur; be especially cautious at large markets in Pristina.
Emergency Phone Number
112
* For current safety alerts, please visit
Foreign travel advice - GOV.UK
or
Travel.State.Gov
Money
The official currency of Kosovo is the Euro, divided into 100 cents. As elsewhere in the ex-Yugoslav republics, the most frequently exchanged currencies are the Euro and US Dollar (Pound Sterling is rarely used). Money should be changed through official exchange offices only. ATMs are not hard to find in Pristina, but more difficult (or impossible) in smaller towns and villages.
Exchange Rate
Not available.
Embassies of Kosovo
Foreign Embassies in Kosovo
Customers
Perhaps understandably, Kosovars tend to be suspicious of foreigners, and reserved in their dealings with them. A very direct communication style is favoured. Visitors to Kosovo might be surprised at how ingrained smoking is in the culture - being offered a cigarette by a new acquaintance is entirely commonplace, and should be seen as a sign of acceptance. Note that, as in many western countries, in Kosovo "Yes" is indicated by nodding one's head; however, if the chin suddenly becomes raised (sometimes accompanied by a clicking sound), this indicates an emphatic "No". Clean shoes are treated as a matter of self-respect in Kosovo.
Business
Kosovars of all ethnic backgrounds are hospitable to foreigners, especially westerners. Invitations to lunch, dinner, receptions, even religious family customs, and other official or private family hospitalities are normally offered and should be accepted if possible. Be prepared for small talk dominating much of the discussion and do not be concerned if your interlocutor does not immediately get down to business. If offered, be prepared to accept coffee, tea, or other beverages, which are signs of respect for the host. (Note: Many Kosovars smoke, and a ban on smoking in public places is being sporadically followed.) Dress at meetings should be business attire, but a formal suit is not expected. It is preferable to print business cards with one side in English and the other side in Albanian and/or Serbian. It is advisable, but not necessary, to have a temporary local or international mobile phone, which can be obtained locally. While not expected, giving gifts depends on the closeness of the relationship. If it is known that your local contact will provide you with a gift, be prepared to offer one in exchange. Emphasis is not placed on the value of the item but on the thought.
Tipping
Tips of 10 percent of the bill are expected by waiters unless a service charge has already been added to the bill.
Public Holidays in Kosovo
Travel Guide powered by www.wordtravels.com, copyright © Globe Media Ltd. All rights reserved. By its very nature much of the information in this guide is subject to change at short notice and travellers are urged to verify information on which they're relying with the relevant authorities. Globe Media and UNIGLOBE Travel does not accept any responsibility for any loss or inconvenience to any person as a result of information contained above.