General
Money
Entry Requirements
Health & safety
Weather
Embassies
Etiquette
Public Holidays
Attractions
Map
---
Introduction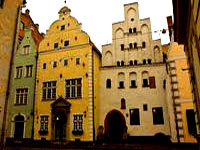 Three Brothers ©www.tunliweb.no
Latvia has a history of occupation, surviving two World Wars and 50 years behind the Iron Curtain, but the Latvia of today is rapidly pushing aside the years of decline, neglect and loss of identity suffered during the Russian occupation, and eagerly rebuilding a nation that is entering one of the most promising periods of its history.
A small, flat country nestled between its neighbours Estonia and Lithuania on the Baltic Sea, Latvia is a country whose picturesque towns and ancient cities are set within a landscape of plains, lakes, forests and river valleys, and where fishing villages interrupt the dramatic coastline that is interspersed with white sandy beaches. The country has numerous manor houses, medieval castles, photogenic palaces and ruins; and Riga, the beautiful capital, is rich in history and culture, boasting the best concentration of Art Nouveau buildings in Europe. The city also contains a diversity of other architectural styles, and has been declared a UNESCO World Heritage Site. The Latvian capital is an obvious tourist destination and is the largest city in the Baltic States, a major port that is home to almost half the country's population. Nearby, the Baltic health and recreation resort of Jurmala doubles its population during the summer months as a popular holiday destination, with its sandy beaches, healing waters, mud baths and quaint wooden houses.
Historical tourist attractions in Latvia include the ancient cities of Valmiera, Cçsis and Limbaþi in the northern region, which were once members of the Hanseatic League; the picturesque cultural towns of the Abava River Valley and the villages of the ancient Liv people in the south; the Rundale Palace, a popular sight along with the spectacular Baroque palace at Jelgava in the central region of Zemgale; and the scenic Tervete forest, boasting the oldest and tallest pine trees in Latvia.
Those keen on fun outdoor activities will enjoy the natural surroundings in the Latgale region (referred to as the Land of Blue Lakes); the coastal landscape of the Kurzeme region, where deserted beaches stretch for miles; and the coastline and hilly scenery of the northern Vidzeme region, which also is home to Sigulda, the country's downhill skiing area.
Communications
The international dialling code for Latvia is +371. The outgoing code is 00 followed by the relevant country code (e.g. 0044 for the UK). City/area codes are in use; there are three for Riga. International Direct Dialling is available from all public and hotel phones. Public phones use phone cards, which can be bought from numerous shops and kiosks. For local operator assistance dial 116. The two local GSM mobile phone operators use GSM 900 and GSM 1800 networks. Riga has an increasing number of internet cafes.
Emergencies
110 (Police); 112 (Fire); 113 (Ambulance)
Languages Spoken
Latvian is the official language, but English, Lithuanian, Russian and German are also spoken.
Duty Free
Travellers to Latvia over 17 years and arriving with goods purchased in the EU for personal use do not have to pay duty on 800 cigarettes, 400 cigarillos, 200 cigars, 1kg smoking tobacco; 10 litres of spirits with alcohol content higher than 22%, 20 litres of alcohol with alcohol content lower than 22%, 90 litres wine or 60 litres of sparkling wine, 110 litres of beer, and 110 litres of non-alcoholic beverages. Travellers arriving from non-EU countries do not have to pay duty on 200 cigarettes, or 100 cigarillos, or 50 cigars, or 250g smoking tobacco; 1 litre of spirits with alcohol volume higher than 22%, or 2 litres spirits, aperitifs, liqueur, sparkling or still wines with alcohol volume less than 22% and 2 litres still wine; perfume up to 50g or 250ml eau de toilette; other goods for personal use to the value of €175. Prohibited items include narcotics, guns, and fresh food products.
Electricity
Electrical current is 230 volts, 50Hz. European style two-pin plugs are in use.
Climate Info
May to September (spring and summer) is the best time to visit Latvia, with daytime temperatures averaging 61°F (16°C), but July and August is the peak tourist season and accommodation can be fully booked during this time. The coldest months are January and February, and winter temperatures can be extreme, averaging out at 25°F (-4°C) during the day.
Passport
The borderless region known as the Schengen Area includes the following countries: Austria, Belgium, Czech Republic, Denmark, Estonia, Finland, France, Germany, Greece, Hungary, Iceland, Italy, Latvia, Lithuania, Luxembourg, Malta, The Netherlands, Norway, Poland, Portugal, Slovakia, Slovenia, Spain, Sweden and Switzerland. All these countries issue a standard Schengen visa that has a multiple entry option, and which allows the holder to travel freely within the borders of all the aforementioned countries. Additionally, foreign passengers to Latvia must hold valid health insurance, that includes provision for repatriation costs. NOTE: It is highly recommended that your passport has at least six months validity remaining after your intended date of departure from your travel destination. Immigration officials often apply different rules to those stated by travel agents and official sources.
Entry Requirements
US citizens must have a passport that is valid for at least three months beyond the period of intended stay in Latvia. A visa is not required, for stays of up to 90 days per half-calendar year.
A visa is not required for British passports endorsed 'British Citizen' or 'British Subject' (containing a Certificate of Entitlement to the Right of Abode issued by the United Kingdom), nor for holders of identity cards issued by Gibraltar, and endorsed 'Validated for EU travel purposes under the authority of the United Kingdom'. No visa is required for stays of up to 90 days for holders of British passports with other endorsements.
Canadian citizens must have a passport that is valid for three months beyond the period of intended stay in Latvia. No visa is required, for a stay of up to 90 days per half-calendar year.
Australian citizens must have a passport that is valid for three months beyond the period of intended stay in Latvia. No visa is required, for a stay of up to 90 days per half-calendar year.
South African citizens must have a passport that is valid for three months beyond the period of intended stay, and require a valid Schengen visa to enter Latvia.
Irish citizens must have a passport that is valid for the period of intended stay in Latvia. No visa is required.
New Zealand citizens must have a passport that is valid for three months beyond the period of intended stay in Latvia. No visa is required, for a stay of up to 90 days per half-calendar year.
Health
No health certificates or vaccinations are required to enter Latvia, but visitors are advised to have an inoculation against tick-borne encephalitis if planning to hike in the country and forests or stay in rural areas, especially during the summer months of March to October. There was a outbreak of Hepatitis A in a restaurant in Riga in May 2008 and travellers are recommended to get vaccinated before travelling to Latvia. Rabies is endemic, and outbreaks of meningitis occur. Medicines are usually available, but it is best to bring a supply of personal medication. Health insurance is necessary. A reciprocal agreement with the UK entitles UK citizens to emergency treatment on the same terms as Latvian nationals on presentation of a European Health Insurance Card (EHIC).
Safety
Most visits to Latvia are trouble-free, but street crime can be a problem for tourists, and there are occasional muggings of foreigners, particularly if walking alone or at night. Car theft is rife. Reports indicate that foreigners are being charged ridiculously expensive prices for drinks in bars in Riga, and visitors are cautioned against becoming victims by checking on prices before buying. Muggings are common of tourists out late at night in the Old Town.
Emergency Phone Number
110 (Police); 112 (Fire); 113 (Ambulance)
* For current safety alerts, please visit
Foreign travel advice - GOV.UK
or
Travel.State.Gov
Money
The official currency is the Euro (EUR). Most hotels and restaurants in Riga accept credit cards, but outside of the capital credit cards are not widely accepted and credit card fraud can be a problem at smaller institutions. Foreign currency can be exchanged at any bank, at money change kiosks and at some hotels. Note that an extra fee will be charged to exchange US dollars that are torn or marked in any way. Most banks are closed on Saturdays and Sundays. ATMs are available in the larger cities.
Exchange Rate
Not available.
Embassies of Latvia
Embassy of Latvia, London, United Kingdom: +44 (0)20 7312 0041.
Embassy of Latvia, Ottawa, Canada: +1 613 238 6014.
Embassy of Latvia, Melbourne, Australia: +61 3 9499 6920.
Honorary Consulate of Latvia, Johannesburg, South Africa: +27 (0)11 750 1600.
Embassy of Latvia, Dublin, Ireland: +353 (0)1 478 0161.
Consulate of Latvia, Auckland, New Zealand: +64 (0)21 190 2618.
Foreign Embassies in Latvia
United States Embassy, Riga: +371 7036 200.
British Embassy, Riga: +371 777 4700.
Canadian Embassy, Riga: +371 781 3945.
Australian Embassy, Berlin (also responsible for Latvia): +49 30 88 00 88 0
South African Embassy, Stockholm, Sweden (also responsible for Latvia): +46 866 076 93.
Embassy of Ireland, Riga: +371 6703 9370.
New Zealand Embassy, Warsaw, Poland (also responsible for Latvia): +48 22 521 0500.
Customers
Latvians are generally reserved, quiet and extremely courteous, and are not comfortable making small talk. Good manners dictates that people are not embarrassed or criticised in public.
Business
Conducting business in Latvia can sometimes be a challenge due to bureaucracy, as well as the lack of English spoken. Business tends to be formal, with a clear-cut hierarchy, and titles are usually used. Punctuality, directness and organisation are all important. Suits and ties are the norm and when in doubt, dress conservatively. Women might encounter some sexism and roles should be clarified to avoid confusion. Business hours are usually from 9am to 6pm, Monday to Friday.
Tipping
Tipping is not obligatory in restaurants, but it is customary to round up the bill to no more than 10% if a service charge has not been included and the service was good. Carry small change for tipping taxi drivers. In hotels, tip according to the services provided.
Public Holidays in Latvia
| | | |
| --- | --- | --- |
| | 2017 | 2018 |
| New Years Day | 1 Jan | 1 Jan |
| Good Friday | 14 Apr | 30 Mar |
| Easter Monday | 17 Apr | 2 Apr |
| Labour Day | 1 May | 1 May |
| Declaration of Independence Day | 4 May | 4 May |
| Ligo (Midsummers Eve) | 23 Jun | 23 Jun |
| Jani (St Johns Day) | 24 Jun | 24 Jun |
| Latvian National Day | 18 Nov | 18 Nov |
| Christmas Day | 25 Dec | 25 Dec |
| Boxing Day | 26 Dec | 26 Dec |
| New Years Eve | 31 Dec | 31 Dec |
Map of Latvia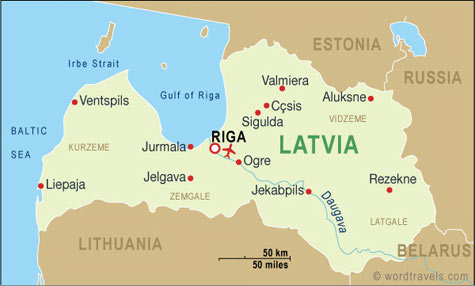 Travel Guide powered by www.wordtravels.com, copyright © Globe Media Ltd. All rights reserved. By its very nature much of the information in this guide is subject to change at short notice and travellers are urged to verify information on which they're relying with the relevant authorities. Globe Media and UNIGLOBE Travel does not accept any responsibility for any loss or inconvenience to any person as a result of information contained above.