General
Money
Entry Requirements
Health & safety
Weather
Embassies
Etiquette
Public Holidays
Attractions
Map
---
Introduction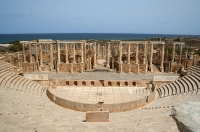 Leptis Magna ruins in Libya ©David Gunn
Oil-rich Libya has had a tumultuous history and many have wrestled for control of this fascinating and beautiful land. Tucked between Egypt and Tunisia, and bordering on the Mediterranean Sea, Libya has seen invasions by Turks, Vandals, Byzantines, Romans, Arabs and Italians, only gaining independence in 1951. These various civilisations have left their mark, particularly evident in the striking Roman and Greek ruins at Leptis Magna, Cyrene and Sabratha, though Libya remains quintessentially Arabic, as evident in the Medina (old city) of the capital Tripoli, the nomadic lifestyle of desert-dwelling Bedouin and Berber tribes, and the language, culture and customs of the people.
Tripoli, in the northeast, is the country's main port, and is a bustling city dominated by the splendid Assaraya al-Hamra (Red Castle), a large palace complex, as well as the walls and gates of the Medina. Filled with orange groves, grapevines, palms and olive trees, the lush city is home to several interesting mosques, museums and historical sites, as well as modern amenities. Benghazi is Libya's second largest city and is chiefly more modern in flavour, having been all but destroyed during World War II, though one can still enjoy the lively local (markets), and it acts as a good base from which to explore the neighbouring Green Mountain area, as well as several Roman ruin sites along the coast.
Libya is largely an undiscovered tourist destination, due to sanctions imposed on the country through its rocky political history, and a current high risk of terrorism. There was a rise in tourism and an increased interest in the country after the lifting of sanctions in 2003, with a number of resorts springing up along Libya's Mediterranean coast; however, the country's descent into civil war in 2011 put an end to Libya's gradual rise as a travel destination. Nevertheless, although 90 percent of Libya is desert or semi-desert, there are breath-taking oases to be discovered, ruins to explore, cities to investigate, and beaches to laze on. Political instability aside, Libya promises to be an interesting country to explore.
Languages Spoken
The official language of Libya is Arabic (used for all official business), though some Italian and English is spoken, especially in the cities.
Duty Free
Travellers may enter the country with 200 cigarettes or 250 cigars or 250g tobacco, and 250ml of perfume. All alcohol and drugs are strictly prohibited, as well as almost all foodstuffs. There is also an extensive list of banned items, including any articles manufactured or produced in Israel, and it is best to consult a Libyan Embassy for more information before travel.
Electricity
Electrical current is 230 volts, 50Hz. Round three-pin plugs are used. Power outages are common.
Climate Info
The Libyan Desert is one of the harshest and most arid in the world, and decades can go by without rain in certain areas, but this harsh interior is tempered by the Mediterranean climate in the north. Summers are hot and dry, while winters are cooler with lower temperatures in the evening, and rainfall is minimal. The desert is more extreme: hot in the day and cold at night. Spring and autumn experience the , a hot, dry and dusty desert wind that can last up to four days, bringing temperatures in the coastal areas up to 122°F (50°C). June to October is the best time to travel to Libya, particularly to the coastal areas, as temperatures are in the more manageable region of 80°F (27°C).
Passport
Most foreign passengers require a visa to enter Libya. Tourist visas must be organised in advance, but can sometimes be issued on arrival; provided that travellers are holding a copy of a letter issued by the Libyan immigration authorities, confirming that a visa will be granted to them upon their arrival at the airport. This copy must be sent to the office of the transporting carrier in Libya at least 24 hours in advance. Visitors travelling to Libya for touristic purposes are also required to convert USD 1,000 (or equivalent) in freely convertible cash, or to debit the amount from a valid credit card upon their arrival at the airport. Failure to do so will result in the traveller being refused entry to Libya. Note that admission and transit will be refused to holders of (i) documents containing a valid or expired visa for Israel, or (ii) tickets showing an Israeli destination. All visitors must also hold proof of sufficient funds to cover their expenses while in Libya, and a yellow fever vaccination certificate (if arriving within six days or leaving or transiting through an infected area). Please note that the volatile political situation in Libya means that visa/entry requirements often change abruptly, and as such, travellers should make sure they are in possession of up-to-date information BEFORE leaving home. NOTE: It is highly recommended that your passport has at least six months validity remaining after your intended date of departure from your travel destination. Immigration officials often apply different rules to those stated by travel agents and official sources.
Entry Requirements
US citizens must have a passport that is valid upon their arrival in Libya. A visa is required.
British citizens must have a passport that is valid upon their arrival in Libya. A visa is required.
Canadian citizens must have a passport that is valid upon their arrival in Libya. A visa is required.
Australian citizens must have a passport that is valid upon their arrival in Libya. A visa is required.
South African citizens must have a passport that is valid upon their arrival in Libya. A visa is required.
Irish citizens must have a passport that is valid upon their arrival in Libya. A visa is required.
New Zealand citizens must have a passport that is valid upon their arrival in Libya. A visa is required.
Health
There are no major health risks associated with travel to Libya. Visitors travelling from infected areas require a yellow fever vaccination certificate. Travellers are encouraged to get vaccinations for hepatitis A, hepatitis B and typhoid. Healthcare facilities in Libya are basic and travellers are advised to have full health insurance. In remote areas there may be no health facilities at all, therefore travellers are advised to carry their own basic medications. Tap water in Libya is chlorinated, but it is advised that visitors drink only bottled or boiled water.
Safety
Libya remains unstable and unpredictable in the wake of civil war, with various extremist groups and political factions warring for control. Ports and airports have been targeted by terrorist groups. Terrorism is a real threat and travellers should be particularly alert to the kidnapping threat as foreigners have previously been targeted. The political instability has reportedly also led to an increase in crime levels.
Safety in Libya is far from certain and most government agencies advise against all travel to the country at this time.
* For current safety alerts, please visit
Foreign travel advice - GOV.UK
or
Travel.State.Gov
Exchange Rate
Not available.
Embassies of Libya
Foreign Embassies in Libya
Customers
Libya is an Islamic country and visitors should be respectful in terms of following Arabic customs, particularly during the month of Ramadan when eating, drinking, smoking and chewing gum in public is forbidden. Swimwear should be restricted to beaches, and women should dress modestly, and avoid Arab gatherings where women are not permitted. Homosexuality is illegal and extramarital sexual relationships are forbidden. Criticism of the Libyan Government, Islam and the country itself is not tolerated. Permission must always be sought prior to photographing people, and it is not recommended that a camera be used or carried near any official or military buildings. Libya is one of the strictest countries in terms of a ban on alcohol and drugs, and neither should be brought into the country, though smoking is very common.
Public Holidays in Libya
| | | |
| --- | --- | --- |
| | 2017 | 2018 |
| Independence Day | 24 Dec | 24 Dec |
| Liberation Day | 23 Oct | 23 Oct |
| Day of Ashura | 1 Oct | 20 Sep |
| Libyan Revolution Day | 17 Feb | 17 Feb |
| Eid al-Fitr | 26 Jun | 15 Jun |
| Mawlid al-Nabi (The Prophets Birthday) | 1 Dec | 20 Nov |
| Eid al-Adha | 2 Sep | 22 Aug |
| Islamic New Year (Al-Hijra/ Muharram) | 22 Sep | 12 Sep |
Map of Libya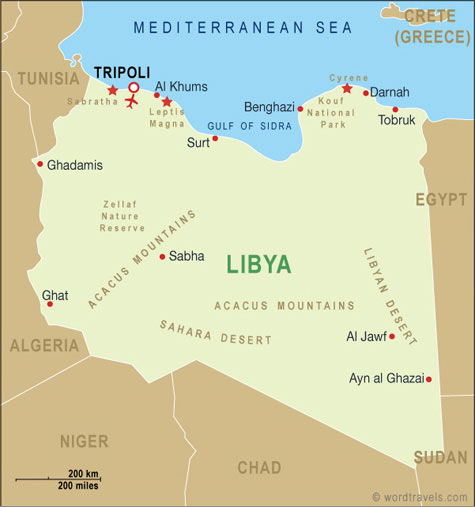 Travel Guide powered by www.wordtravels.com, copyright © Globe Media Ltd. All rights reserved. By its very nature much of the information in this guide is subject to change at short notice and travellers are urged to verify information on which they're relying with the relevant authorities. Globe Media and UNIGLOBE Travel does not accept any responsibility for any loss or inconvenience to any person as a result of information contained above.