General
Money
Entry Requirements
Health & safety
Weather
Embassies
Etiquette
Public Holidays
Attractions
Map
---
Introduction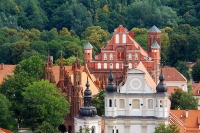 Vilnius Old Town ©Sarunas Burdulis
The Republic of Lithuania, on the east coast of the Baltic Sea, boldly became the first of the Soviet republics to declare its independence in 1990. With a restructured economy it joined the EU in the spring of 2004, and the gates of this fascinating ancient country are now wide open for tourists and pleasure-seekers.
Relatively small, with only 62 miles (100km) of Baltic coastline, and hemmed in by Latvia, Belarus, Poland and part of the Russian Federation, Lithuania has a big heart and a wide variety of offerings for visitors, including around 2,500 lakes, 18 sizeable meandering rivers, and forests covering a third of its territory. The country can also boast of being smack in the centre of Europe: travellers can stand in the official centre of the continent at a now popular tourist attraction 15 miles (24km) northwest of the capital, Vilnius.
Vilnius itself is an atmospheric and ancient city, founded in 1323, with a beautiful old quarter that has been declared a UNESCO World Heritage Site. Just a few miles from Vilnius lies Trakai, capital of Lithuania in the Middle Ages, on the shore of the scenic Lake Galve, and a little farther west visitors can revel in the peaceful Birstonas mineral water spa resort. Lithuania's second largest city, Kaunas, is a cultural centre boasting numerous museums and a number of renowned theatres among its attractions. On its Baltic coastline, Lithuania lures travellers with pretty seaside resorts such as Palanga, with unspoilt white sandy beaches backed by pine forests.
An increasing number of travellers are savouring the delights of this re-discovered Baltic State, which is easily accessible from the main centres of Europe by air and road, and whose people are ready, willing and proud to show off its attributes.
Communications
The international dialling code for Lithuania is +370. The outgoing code is 00 followed by the relevant country code (e.g. 0044 for the UK) and the country has three-digit area codes. Local calls can be dialled without the area codes. There are at least three major mobile GSM network service providers and connections are excellent. There are also 2G and 3G networks, with 4G/LTE networks starting out in the bigger cities. The internet is well established in Lithuania and cities teem with internet cafes. Small towns and villages have public internet access points in libraries, post offices and tourist information centres.
Emergencies
Emergencies: 112
Languages Spoken
Lithuanian is the official language, but Russian and English are widely spoken.
Duty Free
Duty free allowances for non-EU travellers to Lithuania include 200 cigarettes or 250g of tobacco or 50 cigars; 1 litre spirits, 4 litres wine or 16 litres beer; perfume for personal use. There is technically no limitation on alcohol and tobacco products for those travelling from other EU countries.
Electricity
European-style, two-pin plug sockets are standard, with an electrical current of 230 volts, 50Hz.
Climate Info
Lithuania has a climate mid-way between maritime and continental. The weather is changeable, with mild, wet summers and cold winters. Rainfall is spread throughout the year, but more rain tends to fall on the coast than inland; summer and spring are the wettest seasons and cloudy skies and afternoon thunderstorms are common during these months. January is the coldest month, with daytime temperatures averaging around 23°F (-5°C), but the winter months can see temperatures going below -4°F (-20°C), with freezing northeasterly winds into the bargain. Heavy snowfall is fairly common in Lithuania. Summer temperatures sit comfortably between 68°F (20°C) and 77°F (25°C), but can reach higher than 86°F (30°C). July is the warmest month.
May to September - late spring, summer and early autumn - are the most pleasant time to visit Lithuania weather-wise as winters can be brutally cold. Between May and September tourists should anticipate some rain but generally the weather is lovely. The summer months of June through August are the most popular time to visit and many of the country's festivals are held during this time, giving some extra incentive to visitors.
Passport
The borderless region known as the Schengen Area includes the following countries: Austria, Belgium, Czech Republic, Denmark, Estonia, Finland, France, Germany, Greece, Hungary, Iceland, Italy, Latvia, Lithuania, Luxembourg, Malta, The Netherlands, Norway, Poland, Portugal, Slovakia, Slovenia, Spain, Sweden and Switzerland. All these countries issue a standard Schengen visa that has a multiple entry option, and which allows the holder to travel freely within the borders of all the aforementioned countries.
Non-EEA foreign passengers to Lithuania must hold (i) return/onward tickets, (ii) the necessary travel documentation for their next destination, (iii) sufficient funds to cover their expenses while in the country, and (iv) valid health and travel insurance, to cover any medical expenses incurred while in Lithuania.
NOTE: It is highly recommended that your passport has at least six months validity remaining after your intended date of departure from your travel destination. Immigration officials often apply different rules to those stated by travel agents and official sources.
Entry Requirements
US citizens must have a passport that is valid for at least three months beyond the period of intended stay in Lithuania. No visa is required, for stays of up to 90 days.
A visa is not required for passports endorsed 'British Citizen', 'British Subject' (containing a Certificate of Entitlement to the Right of Abode issued by the United Kingdom), and 'British Overseas Territories Citizen' issued by Gibraltar. No visa is required for stays of up to 90 days in a half-year period for holders of passports with any other endorsement.
Canadian citizens must have a passport that is valid for at least three months beyond the period of intended stay in Lithuania. No visa is required, for stays of up to 90 days.
Australian citizens must have a passport that is valid for at least three months beyond the period of intended stay in Lithuania. No visa is required, for stays of up to 90 days.
South African citizens must have a passport that is valid for at least three months beyond the period of intended stay in Lithuania. A visa is required.
Irish citizens must have a passport that is valid for duration of intended stay in Lithuania. No visa is required.
New Zealand citizens must have a passport that is valid for at least three months beyond the period of intended stay in Lithuania. No visa is required, for stays of up to 90 days.
Health
The only real health risks associated with visiting Lithuania are for those intending to visit forested areas for lengthy periods, who are advised to take the necessary precautions against tick-borne encephalitis. Nevertheless, your doctor may advise that you are also vaccinated for hepatitis A and hepatitis B.
EU citizens are entitled to emergency medical treatment if they have a European Health Insurance Card (EHIC) from their country of origin. Medical facilities are fair and there are plenty of doctors, but equipment and resources are lacking in some areas. There are a few private clinics of high standard. Doctors and hospitals usually expect immediate cash payment for services. Travel medical insurance is highly recommended.
Safety
Safety in Lithuania is not a major issue for travellers as the country is largely devoid of civil unrest and the terrorism threat is low. Car theft is rife, and there is a risk of mugging, pick-pocketing and bag snatching especially on public transport, but the majority of crime is petty rather than life-threatening. Visitors should exercise due care and avoid carrying valuables or flashing conspicuous wealth. It is advisable to carry a copy of your passport for identification purposes. Traffic accidents are common, so extra vigilance is required for driving, especially at night.
Emergency Phone Number
Emergencies: 112
* For current safety alerts, please visit
Foreign travel advice - GOV.UK
or
Travel.State.Gov
Money
The unit of currency is the Euro (EUR), divided into 100 cents. ATMs are found in Vilnius on the Cirrus and Visa networks, but are rare in smaller towns. Most retailers, hotels, restaurants and the like accept credit cards.
Exchange Rate
Not available.
Embassies of Lithuania
Embassy of Lithuania, Washington DC, United States: +1 202 234 5860.
Embassy of Lithuania, London, United Kingdom: +44(0)20 7592 2840.
Embassy of Lithuania, Ottawa, Canada: +1 (613) 567 5458.
Consulate General of Lithuania, New South Wales, Australia: +61 (0)2 9969 6232.
Honorary Consul of Lithuania, Pretoria, South Africa: +27 (0)12 328 3550.
Embassy of Lithuania, Dublin, Ireland: +353 1 203 5757.
Foreign Embassies in Lithuania
United States Embassy, Vilnius: +370 (5)26 65500.
British Embassy, Vilnius: +370 (5)24 62900.
Canadian Embassy, Vilnius: +370 (5)24 90950.
Australian Honourary Consul, Vilnius: +370 (5)212 3369.
Irish Embassy, Vilnius: +370 (5)262 9460.
Customers
The Catholic Church is influential in Lithuania and travellers should be respectful of religious customs. A handshake is the most common greeting among strangers in Lithuania.
Business
Business in Lithuania is usually conducted formally, though the younger generation is less conservative. Face-to-face meetings are key, with good eye contact and a firm handshake upon greeting. Business cards are usually exchanged and it is important to be punctual. Use titles and surnames, unless otherwise indicated. Suits and ties are the norm. Lithuanians are hospitable and friendly and any invitation should be accepted, as this is a good opportunity to forge better business relations and build trust. Meetings tend to start with some small talk and can sometimes end with a summary of the discussions, though decision making and results can be slow. Business hours are usually from 9am to 1pm and 2pm to 6pm, Monday to Friday.
Public Holidays in Lithuania
| | | |
| --- | --- | --- |
| | 2017 | 2018 |
| All Saints Day | 1 Nov | 1 Nov |
| New Years Day | 1 Jan | 1 Jan |
| Restoration of the State Day | 16 Feb | 16 Feb |
| Restoration of Independence Day | 11 Mar | 11 Mar |
| Easter Monday | 17 Apr | 2 Apr |
| Labour Day | 1 May | 1 May |
| St Johns Day | 24 Jun | 24 Jun |
| Anniversary of the Coronation of King Mindaugas | 6 Jul | 6 Jul |
| Assumption | 15 Aug | 15 Aug |
| Christmas Eve | 24 Dec | 24 Dec |
| Christmas Day | 25 Dec | 25 Dec |
| Second Day of Christmas | 26 Dec | 26 Dec |
Map of Lithuania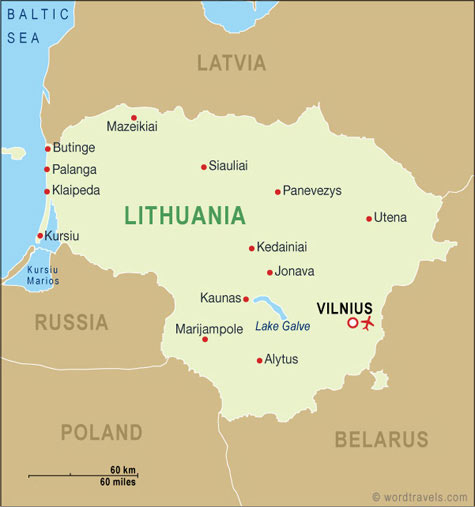 Travel Guide powered by www.wordtravels.com, copyright © Globe Media Ltd. All rights reserved. By its very nature much of the information in this guide is subject to change at short notice and travellers are urged to verify information on which they're relying with the relevant authorities. Globe Media and UNIGLOBE Travel does not accept any responsibility for any loss or inconvenience to any person as a result of information contained above.