General
Money
Entry Requirements
Health & safety
Weather
Embassies
Etiquette
Public Holidays
Attractions
Map
---
Introduction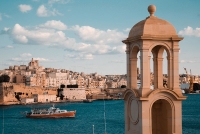 Walled city of Valletta ©Mstyslav Chernov
It has been said that the Maltese islands are the 'open air museum of the Mediterranean', offering 7,000 years or more of history to explore with numerous unique cultural and historical sites. The islands boast prehistoric ruins older than Stonehenge and the Pyramids of Egypt, and are steeped in the legacy of the medieval order of the Knights of St John, who used the islands as their stronghold for defending Christendom.
Malta lies about 60 miles (97km) south of Sicily and 160 miles (257km) north of Libya, a strategic position in the Mediterranean that has made the islands a crossroads of history. The last occupiers were the British, who granted Malta independence in 1964, but the biggest and most unique influence was left by the Knights of St John, to whom the island was donated in 1530. The Knights reigned supreme over the island for 270 years, building magnificent churches and monuments. Malta has truly ancient mysteries too, primarily in the form of 30 prehistoric sites boasting massive Neolithic temples, considered to be the oldest freestanding stone buildings known to man.
Malta and its little sister island, Gozo, are not stuck in a time warp, however. The islanders enjoy life to the full, and the calendar is liberally sprinkled with summertime , with fireworks and revelry in every little parish in honour of the village patron saints, as well as the major carnival in early spring every year. The capital, Valletta, besides offering some awesome Baroque buildings and fortifications as its main sightseeing attractions, is bursting with restaurants and cafes. The island's compact size is also a plus for visitors; it takes no more than an hour to drive between any two points on the main island, and there is very little open space. The dense population means that the island is virtually one large urban area, with buildings occupying every inch. Malta is blessed, however, with a rugged and appealing coastline boasting secluded bays and sandy beaches hidden between rocky outcrops, which attract travellers at least as much as the historical sightseeing.
Communications
The country code for Malta is +356, and the outgoing code is 00 followed by the relevant country code (e.g. 0044 for the United Kingdom). City/area codes are not required. Local and international telephone calls can be made from hotel rooms, and most hotels also offer fax and internet access. GO telecommunications offices also provide these services in the main towns, and coin and card operated telephone boxes can be found all over Malta. The islands are covered by comprehensive GSM 900 and 1800 mobile phone networks as well as nationwide 3G coverage. Internet cafes can be found in all the main towns and tourist resorts.
Emergencies
Emergencies: 112.
Languages Spoken
English and Maltese are the official languages; Italian is also spoken
Duty Free
Travellers arriving in Malta from non-EU countries do not need to pay customs duty on 200 cigarettes, 50 cigars, 100 cigarillos or 250g of tobacco; 4 litres of wine and 2 litres of spirits. Travellers may carry personal items of non-commercial nature worth up to €430 when travelling by air or sea.
Electricity
230 volts, 50Hz. UK-style three-pin square plugs are used.
Climate Info
Malta has a typically Mediterranean climate with hot, dry summers and mild winters, very similar to the climate in southern Italy and Greece. Almost all the rain falls between October and March making the rest of the year consistently dry. The temperature is fairly constant in Malta and there are frequent and often strong winds. It is humid year-round, seldom falling below 40 percent. In summer temperatures frequently reach 84ºF (30ºC) and can rise above 95°F (35°C), but thankfully the heat is often tempered by sea breezes. July and August are the hottest months. In spring and autumn a hot wind, known as the Xlokk, sometimes brings high temperatures and humidity and autumn does get sporadic rainfall. Winters are mild with daytime temperatures seldom falling below 50°F (10°C). Nights are somewhat colder. Snow never falls in Malta.
The wonderful Mediterranean climate makes Malta a year-round travel destination. The peak summer months are the most popular with tourists but some prefer to visit in spring and autumn, between April and early June or in October, when the heat is less oppressive. If you are travelling primarily for historical sightseeing then winters can be a pleasant time to visit, as it is less crowded and slightly cheaper.
Passport
The borderless region known as the Schengen Area includes the following countries: Austria, Belgium, Czech Republic, Denmark, Estonia, Finland, France, Germany, Greece, Hungary, Iceland, Italy, Latvia, Liechtenstein, Lithuania, Luxembourg, Malta, The Netherlands, Norway, Poland, Portugal, Slovakia, Slovenia, Spain, Sweden and Switzerland. All these countries issue a standard Schengen visa that has a multiple entry option, and which allows the holder to travel freely within the borders of all the aforementioned countries. Additionally, non-EEA passengers to Malta must hold return/onward tickets, the necessary travel documentation for their next destination, and sufficient funds to cover their expenses while in the country. For visitors who are visa-exempt, extensions of stay are possible, by reporting to the Police Headquarters in Malta, no later than one week prior to the expiration of the period of visa exemption. Note that a yellow fever vaccination certificate is required, if arriving within six days of leaving or transiting through an infected area. NOTE: It is highly recommended that your passport has at least six months validity remaining after your intended date of departure from your travel destination. Immigration officials often apply different rules to those stated by travel agents and official sources.
Entry Requirements
US citizens must have a passport that is valid for at least three months beyond the period of intended stay in Malta. No visa is required, for stays of up to 90 days.
A visa is not required for passports endorsed 'British Citizen' or 'British Subject' (containing a Certificate of Entitlement to the Right of Abode issued by the United Kingdom), nor for holders of identity cards issued by Gibraltar authories, and endorsed 'Validated for EU travel purposes under the authority of the United Kingdom'. No visa is required for a stay of up to 90 days, for holders of British passports with any other endorsement.
Canadian citizens must have a passport that is valid for at least three months beyond the period of intended stay in Malta. No visa is required, for stays of up to 90 days.
Australian citizens must have a passport that is valid for at least three months beyond the period of intended stay in Malta. No visa is required, for stays of up to 90 days.
South African citizens must have a passport that is valid for at least three months beyond the period of intended stay in Malta. A visa is required.
Irish citizens must have a passport that is valid for at least three months beyond the period of intended stay in Malta. No visa is required.
New Zealand citizens must have a passport that is valid for at least three months beyond the period of intended stay in Malta. No visa is required, for stays of up to 90 days.
Health
There are no health risks associated with travel to Malta, and water and food is generally safe for consumption. Travellers coming from recognised infected areas require a yellow fever vaccination certificate to enter Malta. A reciprocal health agreement exists between the United Kingdom and Malta and as a result British citizens receive emergency medical treatment on the same terms as Maltese nationals on presentation of a European Health Insurance Card (EHIC). Visitors should, however, take out adequate medical and travel insurance in case medical evacuation or further treatment is required. Medication should be available in Malta but those requiring specific prescription medication should take it with them, in the original packaging and accompanied by a signed and dated letter from a doctor detailing what the medicine is and why it is needed.
Safety
Malta is considered very safe for tourists. Crime is rare, though theft from parked cars and handbag snatching can occur. Local driving can be challenging so exercise caution on the roads.
Emergency Phone Number
Emergencies: 112.
* For current safety alerts, please visit
Foreign travel advice - GOV.UK
or
Travel.State.Gov
Money
The currency was changed to the Euro (EUR) in 2008 (Maltese lira are no longer accepted). Banks, ATMs and exchange bureaux can be found all over the islands, as well as foreign exchange machines in the tourist areas. Banks generally open mornings Monday to Saturday, but exchange bureaux at the international airport are open 24 hours a day. Most hotels and restaurants, as well as many shops, accept American Express, MasterCard and Visa.
Exchange Rate
Not available.
Embassies of Malta
Embassy of Malta, Washington DC, United States (also responsible for Canada): +1 202 462 3611.
Malta High Commission, London, United Kingdom: +44 (0)20 7292 4800.
High Commission for Malta, Canberra, Australia (also responsible for New Zealand): +61 (02) 2124 2191.
Malta Honorary Consulate, Johannesburg, South Africa: +27 (0)11 706 3052.
Embassy of Malta, Dublin, Ireland: +353 (0)1 676 2340.
Foreign Embassies in Malta
United States Embassy, Valletta: +356 2561 4000.
British High Commission, Ta'Xbiex: +356 2323 0000.
Canadian Embassy, Rome, Italy (also responsible for Malta): +356 2552 3233.
Australian High Commission, Ta' Xbiex: +356 2133 8201.
South African Embassy, Rome, Italy (also responsible for Malta): + 39 (0)6 852 541.
Embassy of Ireland, Ta' Xbiex: +356 2133 4744.
New Zealand Embassy, Rome, Italy (also responsible for Malta): +39 (0)6 853 7501.
Customers
The wearing of skimpy clothing away from the beaches should be avoided, and dress should be conservative when visiting churches.
Business
Business in Malta tends to be conducted as elsewhere in Europe; formally and politely. Punctuality is important; dress should be formal with suit and tie the norm, unless weather is hot when one can forgo the jacket. Handshakes and the exchanging of business cards takes place on greeting. English is widely spoken in business and so a translator is unnecessary. Business hours can vary but are usually 8.30am to 4.30pm Monday to Friday. Some businesses open for a half-day on Saturdays.
Tipping
A gratuity of about 10 percent is expected in hotels and restaurants if a service charge is not included in the bill. Most services are tipped about five to 10 percent (including taxi drivers).
Public Holidays in Malta
| | | |
| --- | --- | --- |
| | 2017 | 2018 |
| New Years Day | 1 Jan | 1 Jan |
| St Pauls Shipwreck | 10 Feb | 10 Feb |
| St Josephs Day | 19 Mar | 19 Mar |
| Freedom Day | 31 Mar | 31 Mar |
| Good Friday | 14 Apr | 30 Mar |
| Workers Day | 1 May | 1 May |
| Sette Giugno | 7 Jun | 7 Jun |
| St Peter & St Pauls Day | 29 Jun | 29 Jun |
| Assumption of the Virgin Mary | 15 Aug | 15 Aug |
| Feast of Our Lady of Victories | 8 Sep | 8 Sep |
| Independence Day | 21 Sep | 21 Sep |
| Immaculate Conception | 8 Dec | 8 Dec |
| Republic Day | 13 Dec | 13 Dec |
| Christmas Day | 25 Dec | 25 Dec |
| Boxing Day | 26 Dec | 26 Dec |
Overview
While on holiday in Malta there are various wonderful things to see and do, as well as beautiful island beaches to enjoy. Visit St John's Co-Cathedral to see Caravaggio's painting and the inlaid tombstones covering the Cathedral floor. Still in Valletta, the Malta Experience illustrates the history of Malta at the Mediterranean Conference Centre. The Three Cities are home to architectural displays of the island's maritime history, while Hagar Qim boasts a prehistoric temple complex including the oldest human structures in the world. Dive into the 'blue hole' at Dwejra's secluded pebbled bathing pool, and visit Marsalforn for great restaurants and bars. There is a wealth of historical sightseeing for tourists, and combined with the hedonistic glories of the Mediterranean coast this makes Malta a superb travel destination.
Getting around in Malta is made easy by the cheap and reliable public bus system, which has an unexpected charm due to the use of vintage buses. Services radiate from Valletta, so you may find yourself doubling back to get to other destinations. The buses can be uncomfortable in extreme heat since none are air-conditioned, but the short rides make it bearable. You can pick up schedules at terminals or on the buses themselves. You can also take the white taxis that will transport you anywhere on the island, or local pre-booked black cabs that are cheaper. Hiring a car in Malta is another option, and you can do so at many hotels, harbours, and the airport. Another pleasant transport alternative is hiring a bike, which you can do in Valletta.
Travel Guide powered by www.wordtravels.com, copyright © Globe Media Ltd. All rights reserved. By its very nature much of the information in this guide is subject to change at short notice and travellers are urged to verify information on which they're relying with the relevant authorities. Globe Media and UNIGLOBE Travel does not accept any responsibility for any loss or inconvenience to any person as a result of information contained above.