General
Money
Entry Requirements
Health & safety
Weather
Embassies
Etiquette
Public Holidays
Attractions
Map
---
Introduction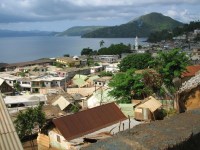 Sada ©Christopher Laborderie
Located in the Comoros group of islands, between Madagascar and Mozambique, Mayotte is set apart by its decision in the 1970s to remain a French protectorate instead of becoming part of the independent Union of the Comoros. In 2011 the island officially became an Overseas Department of France.
Although it is officially part of France, Mayotte has little in common with its parent country. French, the official language, is spoken by only about 35 percent of the population, with local dialects like Mahorian and Malagasy more common. The population is mostly Muslim, though with some interesting cultural beliefs and practices unique to the region. The standard of life is also not quite up to French standards, but the infrastructure is more than sufficient for travellers, who are mainly drawn to Mayotte for the scuba diving and hiking the undulating volcanic landscape.
Mayotte is made up of two islands, Grande-Terre and Petite-Terre, with sparkling white sand beaches and excellent diving among the colourful coral reefs. Sea turtles lay eggs on the southern beaches, while lemurs make their home in the interior. The best views of the islands are to be had from the summit of Mount Choungui, a popular hiking spot.
The islands have no large cities, however the biggest town, Mamoudzou on Grand-Terre, is a busy town with banks, restaurants, hotels, bars, and a bustling market.
Mayotte is a stunning setting for a relaxing holiday on the Indian Ocean; however, it is considerably more expensive than other islands in the archipelago, with prices on a par with destinations in Europe.
Communications
The international access code for Mayotte is +262. The outgoing code is 00 followed by the relevant country code (e.g. 001 for the United States). The island has good 3G network coverage and some hotels offer wifi, but fixed line internet is limited in Mayotte.
Emergencies
17 (police); 15 (ambulance)
Languages Spoken
French is the official language of Mayotte, but the most commonly spoken languages are Shimaore and Shindzwani.
Duty Free
Travellers over 17 years entering Mayotte can bring in the following items duty-free: 200 cigarettes, or 100 cigarillos, or 50 cigars, or 250g tobacco; 1 litre of spirits with alcohol content 22% and over, or 2 litres of dessert wine or sparkling wine not exceeding 22% alcohol volume, and 2 litres of table wine; 50g perfume or 250ml eau de toilette and other goods to the value of €430 per adult.
Electricity
The electrical current in Mayotte is 220-240 volts, 50Hz. Two-prong plugs are used.
Entry Requirements
Health
No vaccinations are required for travel to Mayotte but vaccinations are recommended for hepatitis A, hepatitis B and typhoid. It is also recommended that travellers see their doctor for advice on malaria medication prior to travel. Chikungunya and dengue fever (also mosquito-borne diseases) are also present in Mayotte so travellers should take precautions against mosquito bites.
Medical facilities are available and the presentation of a European Health Insurance Card (EHIC) entitles travellers to medical care. Comprehensive travel insurance is advised.
Emergency Phone Number
17 (police); 15 (ambulance)
* For current safety alerts, please visit
Foreign travel advice - GOV.UK
or
Travel.State.Gov
Money
Mayotte is politically part of France and an Outermost Region of the European Union, and thus uses the Euro (EUR) as its official currency. Banking facilities are comparatively limited in Mayotte, but the banking system is integrated with France's and is therefore modern and efficient.
Exchange Rate
Not available.
Embassies of Mayotte
Foreign Embassies in Mayotte
Customers
Mayotte is an overseas department of France and is home to a large expat community as well as being a popular holiday destination for the French, all of which gives the capital a European flavour. However, beyond the expats and holidaymakers the population of Mayotte is largely Muslim, which ensures that the island is culturally distinct from France. Outside of the main resort areas travellers, especially women, should be respectful of Islamic customs.
Public Holidays in Mayotte
| | | |
| --- | --- | --- |
| | 2017 | 2018 |
| Easter Monday | 17 Apr | 2 Apr |
| Abolition Day | 27 Apr | 27 Apr |
| Labour Day | 1 May | 1 May |
| Victory Day | 8 May | 8 May |
| Miraj | 24 Apr | 13 Apr |
| Ascension Day | 25 May | 10 May |
| Whit Monday | 5 Jun | 21 May |
| National Day | 14 Jul | 14 Jul |
| Id al Fitr | 26 Jun | 15 Jun |
| Assumption Day | 15 Aug | 15 Aug |
| Id al Kabir | 2 Sep | 22 Aug |
| All Saints Day | 1 Nov | 1 Nov |
| Armistice Day | 11 Nov | 11 Nov |
| Christmas Day | 25 Dec | 25 Dec |
Travel Guide powered by www.wordtravels.com, copyright © Globe Media Ltd. All rights reserved. By its very nature much of the information in this guide is subject to change at short notice and travellers are urged to verify information on which they're relying with the relevant authorities. Globe Media and UNIGLOBE Travel does not accept any responsibility for any loss or inconvenience to any person as a result of information contained above.