General
Money
Entry Requirements
Health & safety
Weather
Embassies
Etiquette
Public Holidays
Attractions
Map
---
Introduction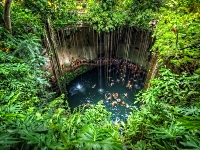 Cenote Ik Kil ©Vicente Villamon
Mexico's Native American heritage and a distinct Spanish flavour make it a vibrant, colourful and unique destination. Its varied terrain ranges from cactus-studded deserts to white sandy beaches and blue waters, tropical rainforest and jungle-clad hills to steep rocky canyons and narrow gorges, and from snow-capped volcano peaks to huge, bustling cities. The extraordinary history of the country is visible in the ancient Mayan temples strewn across the jungles, the ruins of Aztec civilisations, rural indigenous villages, Spanish colonial cities, silver mining towns, and traditional Mexican ports.
Since the height of the Mayan and Aztec civilisations, Mexico has suffered the destructive force of the Conquistadors, European colonial rule, civil and territorial wars, rebellions, dictatorships, recessions and earthquakes. Despite all this, Mexico's people are warm and friendly, much of the countryside remains unspoilt by development, and its cities have a unique blend of architecture. Mexican Buildings display a striking combination of colonial and pagan architecture, blending together Art Nouveau, Baroque, Art Deco and Native American design in churches and public structures. The country's culture is a similar blend of the traditional and modern, where pagan meets Christian in a series of festivals, or fiestas, throughout the year.
Besides a combination of unique culture and fascinating cities, Mexico also has several hundred miles of coastline extending down through both the Pacific and the Caribbean, which has branded the country as an extremely popular beach resort destination. Resort cities such as Acapulco, Cancun and those of the Baja California peninsula are vacation havens. The countryside enclosing these summer retreats is also rich in archaeological treasures with pyramids, ruins of ancient cities and great stone carvings of ancient gods standing as testament to a country once ruled by the Aztecs and Mayans.
Despite recent reports of drug wars and safety issues Mexico remains a hugely popular and predominantly safe tourist destination. Violence linked to the drug cartels is widespread but seldom aimed at tourists and generally does not spill over into the resort areas.
Communications
The international access code for Mexico is +52. Some US long-distance phone companies have access numbers which can be dialled in order to use your phone card - calls are usually cheaper than direct-dialled calls from a hotel room. If calling internationally from a phone booth use the official TelMex phone booths, as all others charge very high fees. GSM mobile networks cover most of the country, but international roaming costs can be exorbitantly high. Internet cafes are widely available, especially in tourist-orientated areas.
Emergencies
911 (General Emergency Hotline)
Languages Spoken
Spanish is the official language in Mexico. Some English is spoken in tourist regions.
Duty Free
Travellers to Mexico over 18 years do not have to pay duty on 200 cigarettes or 25 cigars or 200g tobacco; 3 litres spirits or 6 litres wine; other goods to the value of US$500 if arriving by air, or US$300 if arriving by land are premitted without incurring duty fees. Prohibited goods include narcotics, firearms and used clothing that is not part of your personal luggage. The export of archaeological artefacts is strictly forbidden.
Electricity
110-120 volts, 60Hz. Two-pin flat blade attachment plugs are standard.
Climate Info
The Tropic of Cancer divides Mexico into a tropical south and temperate north, which means that the northern region experiences cooler winter temperatures, whereas the south is hot all year with little seasonal variation. Having said that, Mexico has a wide variety of terrain and things like altitude also affect the weather. The coastal plains and Yucatan Peninsula of the south experience average annual temperatures ranging between 75°F and 82°F (24°C and 28°C). The annual average temperatures in the northern lowlands are somewhat lower, ranging between 68°F and 75°F (20°C and 24°C), mainly because there is greater seasonal variation. The whole country tends to be hot and humid between May and August and is pleasantly warm throughout the year. Rainfall varies widely according to region and terrain, but Mexico does have distinct wet and dry seasons: most of the country experiences a rainy season between late May and mid-October, with significantly less rain the rest of the year. February is the driest month and July is the wettest. Hurricanes are possible between June and November.
The best time to visit Mexico is between November and early May; it is best to avoid the peak summer months (June to August), when it is uncomfortably hot, and the Easter holidays (March and April), when it can get unbearably crowded.
Passport
All foreign passengers to Mexico must hold a Mexico Visitor's Permit (FMM), which is issued free of charge, and obtainable from airlines, Mexican Consulates, Mexican international airports, and border crossing points. As part of the Western Hemisphere Travel Initiative (WHTI), all travellers transiting through the United States are required to present a passport, or other valid travel document, to enter or re-enter the United States. Foreign passengers to Mexico should ensure that their passports and other travel documents are in good condition - even slightly torn passports will not be accepted. NOTE: It is highly recommended that your passport has at least six months validity remaining after your intended date of departure from your travel destination. Immigration officials often apply different rules to those stated by travel agents and official sources.
Entry Requirements
US citizens must have a passport that is valid upon their arrival in Mexico. A visa is not required, for stays of up to 180 days.
British citizens must have a passport that is valid upon their arrival in Mexico. A visa is not required for holders of British passports endorsed British Citizen, British National (Overseas) or British Subject, nor for holders of a valid visa for the USA, for stays of up to 180 days.
Canadian citizens must have a passport that is valid upon their arrival in Mexico. A visa is not required, for stays of up to 180 days.
Australian citizens must have a passport that is valid upon their arrival in Mexico. A visa is not required, for stays of up to 180 days. Note that visa exemptions apply to holders of an APEC Business Travel Card, provided that the card is valid for travel to Mexico (i.e. endorsed with "MEX" on its reverse side).
South African citizens must have a passport that is valid upon their arrival in Mexico. A visa is required. Note that visa exemptions, for stays of up to 180 days, apply to holders of a valid visa for the USA, Canada, Japan, United Kingdom or a Schengen Member State.
Irish citizens must have a passport that is valid upon their arrival in Mexico. A visa is not required, for stays of up to 180 days.
New Zealand citizens must have a passport that is valid upon their arrival in Mexico. A visa is not required, for stays of up to 180 days. Note that visa exemptions apply to holders of an APEC Business Travel Card, provided that the card is valid for travel to Mexico (i.e. endorsed with "MEX" on its reverse side).
Health
Those entering Mexico from an infected area require a yellow fever certificate. There are no vaccination requirements for visitors to Mexico, however visitors should take medical advice if travelling outside the major tourist areas. A malaria risk exists in some rural areas, but not on the Pacific and Gulf coasts, and dengue fever is on the increase. Vaccinations are recommended for hepatitis A and typhoid. Travellers who may come into close contact with animals and may be at risk of bites should consider a rabies vaccination.
Sensible precautions regarding food and water should be followed and visitors are advised to be cautious of street food and stick to bottled water. Medical facilities are basic, so comprehensive medical insurance is recommended. As medicines may be in short supply in certain areas travellers should consider taking along prescription medications, in their original packaging, and accompanied by a signed and dated letter from a doctor detailing what it is and why it is needed.
Note: Zika is a risk in Mexico. Because Zika infection in a pregnant woman can cause serious birth defects, women who are pregnant should not travel to Mexico.
Safety
There is a risk of indiscriminate terrorist attacks in public places. Crime is high in Mexico, especially in Mexico City, where robberies and muggings are prevalent. Travellers should avoid displays of wealth and be particularly vigilant on public transport, at stations and tourist sites. Only use authorised taxi services, from the taxi rank. All bus travel should be in daylight hours and if possible it is advisable to travel first class. Women travelling on their own should be alert, especially in tourist areas, as a number of serious sexual assaults have occurred in Cancun recently. Visitors drawing money from cash machines or exchanging money at bureaux de change should do so in daylight hours and be especially vigilant on leaving.
There have been reports of tourists being approached by 'questionnaire agents', who use visitors' personal details to mislead relatives about their well-being, so be cautious. Visitors are advised to be wary of people presenting themselves as police officers attempting to fine or arrest them for no apparent reason, leading to theft or assault; if in doubt ask for identification, and, if possible make a note of the officer's name, badge number and patrol number. The practice is most common in Cancun where increasing numbers of motorists in rental cars have been stopped and threatened with imprisonment if an immediate fine is not paid.
Recent reports of the drug cartel wars in Mexico may seem alarming to tourists travelling to Mexico, however most of this violence is concentrated along the border between Mexico and the United States. The violence is generally between drug cartels and law enforcement agents and tourists are generally unaffected provided they keep to tourist zones and do not travel to the affected areas. Having said that, travellers should research possible dangers before setting off.
Hurricanes may affect the coastal areas between June and November.
Emergency Phone Number
911 (General Emergency Hotline)
* For current safety alerts, please visit
Foreign travel advice - GOV.UK
or
Travel.State.Gov
Money
Mexican currency is the Mexican Peso (MXN), divided into 100 centavos. Credit cards are widely accepted, particularly Visa, MasterCard and American Express. ATMs are available in most cities and towns and are the most convenient way to get money, but for safety reasons should only be used during business hours and vigilance is advised. Although many businesses will accept foreign currency (particularly US Dollars) it is best to use pesos. Foreign currency can be exchanged at one of many casas de cambio (exchange houses), which have longer hours and offer a quicker service than the banks.
Exchange Rate
Not available.
Embassies of Mexico
Mexican Embassy, Washington DC, United States: +1 202 728 1600.
Mexican Embassy, London, United Kingdom: +44 20 7499 8586.
Mexican Embassy, Ottawa, Canada: +1 613 233 8988.
Mexican Embassy, Canberra, Australia: +61 2 6273 3963.
Mexican Embassy, Pretoria, South Africa: +27 12 460 1004.
Mexican Embassy, Dublin, Ireland: +353 1 667 3105.
Mexican Embassy, Wellington, New Zealand: +64 4 472 0555.
Foreign Embassies in Mexico
United States Embassy, Mexico City: +52 55 5080 2000.
British Embassy, Mexico City: +52 55 1670 3200.
Canadian Embassy, Mexico City: +52 55 5724 7900.
Australian Embassy, Mexico City: +52 55 1101 2200.
South African Embassy, Mexico City: +52 55 1100 4970.
Irish Embassy, Mexico City: +52 55 5520 5803.
New Zealand Embassy, Mexico City: +52 55 5283 9460.
Customers
Mexicans are not impatient and do not appreciate impatience in others, so travellers should expect opening hours and public transport times to be flexible and laid back. Mexicans are friendly and hospitable people and courteous behaviour and polite speech in return is greatly appreciated. Travellers should also note that it is common for Mexicans to communicate closer than one arm's length from each other and that it is not an attempt to be forward.
Business
Professionals looking to do business in Mexico will find that the North American country is a friendly, hospitable place. Successful, productive business relationships are invariably built on personal trust and familiarity between individuals. In Mexico, business is ideally conducted face-to-face, and among people who know and trust each other. Although many Mexican businessmen speak perfect English, Spanish is the official language of business in Mexico - and learning a few choice words and phrases will go a long way toward ingratiating yourself with your new associates.
Although management structures in Mexico remain hierarchical (and at worst, they can even be a little paternalistic), business etiquette in Mexico is marked by a combination of formality and real warmth, friendliness, and openness between individuals. Use titles ('Señhor' and 'Señhora') until specifically instructed not to do so, but do not shrink away from engaging in personal discussions with your colleagues. Remember, in Mexico, your qualifications, expertise and work experience - as important as they are - will not serve you as well as your ability to develop personal relationships with your associates. Business meetings must be scheduled in advance, and then confirmed a few days before they are due to take place. Meetings often begin with some small talk to encourage people to get to know each other - and will proceed at the pace determined by the important role-players present. Even though executive company decisions are always made by the person in the highest authority, junior employees are encouraged to share their opinions during meetings, and to engage in debate.
Bear in mind that in Mexico it is very rare to hear the word 'No' being used in a direct or confrontational way - bald refusals are seen as rude. The dress code for the Mexican business world is smart and formal, with an emphasis on style. Men wear ties and dark colours, and accessories, and the basic assumption is you'll endeavour to look as good as you possibly can! Women also dress smartly and stylishly (business suits are widely worn) - and will often go to work in high heels and make-up. Business hours in Mexico are generally from 9am to 6pm, Monday to Friday (with a 2 or 3 hour siesta in the early afternoon).
Tipping
Tipping is customary in Mexico for almost all services as employees are not paid sufficient hourly wages and often rely on tips. Waiters and bar staff should be tipped 10 to 15 percent if a service charge hasn't already been added to the bill. The American custom of tipping 15 to 20 percent is practiced at international resorts, including those in Los Cabos.
Public Holidays in Mexico
| | | |
| --- | --- | --- |
| | 2017 | 2018 |
| Maundy Thursday | 13 Apr | 29 Mar |
| New Years Day (Año Nuevo) | 1 Jan | 1 Jan |
| Constitution Day (Día de la Constitución) | 6 Feb | 5 Feb |
| Benito Juárezs birthday | 20 Mar | 19 Mar |
| Labour Day | 1 May | 1 May |
| Independence Day | 16 Sep | 16 Sep |
| Revolution Day | 20 Nov | 19 Nov |
| Christmas Day | 25 Dec | 25 Dec |
| Good Friday | 14 Apr | 30 Mar |
| Day of the Virgin of Guadalope | 12 Dec | 12 Dec |
Overview
With enchanting attractions offering plenty of sightseeing opportunities, Mexico has consistently proven to be one of the most popular holiday destinations in the world and for good reason. With its exotic sandy beaches, blue waters and warm climate, extraordinary history and diverse landscapes, it would take a few months, if not years, to explore and discover all that this magical country has to offer.
Spend a few days wandering round the ancient Mayan and Aztec pyramids and ruins, explore the deserts and swamps, marvel at the rainforests and discover a few of the 176 species of orchid along the way, or navigate an eco-tour by mountain bike, jeep, kayak or horseback. There are 58 National Parks conserving indigenous fauna and flora, and the country is a bird-watcher's paradise, with the most species of birds in the whole of North America. Marine life is abundant off these tropical shores and the (Gray Whale National Park) is a must for whale watchers. Beach resort cities such as Acapulco, Cancun and those of the Baja California region are considered to be a slice of heaven. The wonderfully unique architecture and evidence of European colonial rule still exist in the cities, while El Zócalo in Mexico City, the second largest city square in the world, is where it all happens and is the best place to experience some real Mexican flavour!
Most domestic travel throughout Mexico can be done by bus with several dozen companies operating by region. Passenger train transportation between cities is limited but flying domestically is considered the most efficient and safest mode of transport in Mexico.
Map of Mexico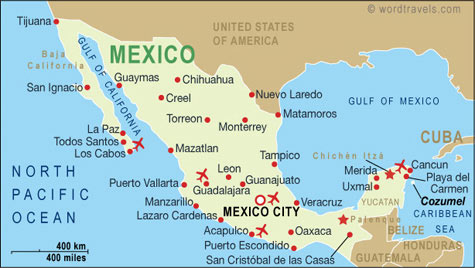 Travel Guide powered by www.wordtravels.com, copyright © Globe Media Ltd. All rights reserved. By its very nature much of the information in this guide is subject to change at short notice and travellers are urged to verify information on which they're relying with the relevant authorities. Globe Media and UNIGLOBE Travel does not accept any responsibility for any loss or inconvenience to any person as a result of information contained above.