General
Money
Entry Requirements
Health & safety
Weather
Embassies
Etiquette
Public Holidays
Attractions
Map
---
Introduction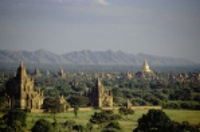 Bagan, Myanmar ©CortoMaltese_1999
Myanmar, still known as Burma to many, is fondly referred to as 'the Golden Land' because of the abundant use of gold leaf on its temples and shrines. It is a country with a rich diversity of cultures, religions and languages - home to more than 100 ethnic groups - and a history spanning over three millennia, reflected in some of Southeast Asia's most abundant and opulently adorned temples. The majesty of gold-plated Schwedagon Pagoda in Yangon, the astounding temple ruins of Bagan, and the mystique of Mandalay are just some of the unique drawcards that earn rave reviews and repeat visits from those that enter Myanmar's well-guarded borders.
Myanmar is situated along the eastern coast of the Bay of Bengal and the Andaman Sea and its northern borders stretch all the way up to the Eastern Himalayan mountain range. It borders India to the west, China to the north, and Thailand and Laos to the east. One third of Myanmar's perimeter is uninterrupted and largely undeveloped coastline.
This beautifully scenic country has a rocky political past. It was a British Colony from 1885 until 1948, and since independence has largely been ruled by a military dictatorship. Ethnic strife has plagued the country leading to a poor human rights record and international sanctions; however, Myanmar has taken long strides towards democracy in the last few years, with the election of Aung San Suu Kyi's party in 2015 bolstering hope for further reform. Certainly, this once secretive and isolated country has enthusiastically flung open its borders to travellers, and although ethnic conflict is still a problem, foreigners are seldom the target of this violence. In fact, Myanmar has one of the lowest tourist crime rates in the world, so travellers can relax in the knowledge that their trip should be trouble-free.
Myanmar is only recently making an appearance on the international travel scene due to its internal politics, but the lovely beaches, incredible historical attractions, snow-capped mountains and jungle wilderness have already attracted lots of attention. In fact, past tragedies have ensured that Myanmar is one of the most authentic and unspoiled countries in Asia, an irresistible destination for travellers wanting to experience the ancient traditions of the continent.
Communications
The international dialling code for Myanmar (Burma) is +95. The outgoing code is 00 followed by the relevant country code. The area code for Yangon (Rangoon) is (1) and Mandalay is (2). Internet cafes are widely available in Mandalay and Yangon and public telephone booths can be found on nearly every street corner as well as at railway stations and airports; however, international calls are expensive. The government has been known to monitor and censor internet usage and some websites may not be available.
Emergencies
Emergencies: 199 (police); 191 (fire); 192 (ambulance).
Languages Spoken
Burmese is the official language, yet English is widely spoken and understood.
Duty Free
Two bottles of liquor, 200 cigarettes or 50 cigars, and half litre of perfume are allowed per person. Valuables including jewellery, cameras, electronic equipment, etc, should be declared at customs upon arrival. Purchases of locally bought goods may require receipts upon departure.
Electricity
Electrical current is 230 volts, 50Hz. European plugs with two circular metal pins are most common.
Climate Info
Myanmar has a tropical monsoon climate and three seasons: the very hot summer from March to May; the wet and humid monsoon from May to October; and the cold, dry winter from November to February. During the long rainy season it can rain almost daily, and typhoons occasionally occur in Myanmar between April and October. There is less rainfall in the interior than on the coast. It is a hot country, and the average daily temperatures usually reach around 86°F (30°C) in the hot months, while the evenings are slightly cooler. During the winter season, average temperatures are around 77°F (25°C) with evening temperatures dropping to 59°F (15°C). Coastal areas are usually much more humid, but slightly cooler overall. The hottest and driest months are March and April, when temperatures can rise as high as 110°F (43°C), with high humidity thrown in. Visitors should note that climate in Myanmar varies according to altitude and can be quite changeable.
The best time to visit Myanmar is between November and February, which allows you to miss the rainy monsoon season and the worst of the heat, which can be extremely oppressive. Myanmar is still a fairly undiscovered travel destination so whatever time of year you go, you are unlikely to have to deal with crowds of tourists.
Passport
All foreign passengers to Myanmar must hold confirmed return/onward tickets, and the necessary travel documentation for their next destination. They will also require a tourist visa, which is valid for 28 days. Note that applications for visa extensions are not possible once in Myanmar; however, a fine of USD 3 per day overstayed, can be paid at Immigration upon departure. Foreign passengers are only allowed to travel to/from Myanmar by air or sea, and will be required to convert a minimum of USD 200 into local currency upon their arrival in the country. Note that a yellow fever vaccination certificate is required to enter Myanmar, if arriving within six days of leaving or transiting through an infected area. NOTE: It is highly recommended that your passport has at least six months validity remaining after your intended date of departure from your travel destination. Immigration officials often apply different rules to those stated by travel agents and official sources.
Entry Requirements
US citizens must have a passport that is valid for at least six months beyond the date of their arrival in Myanmar. A visa is required.
British citizens must have a passport that is valid for at least six months beyond the date of their arrival in Myanmar. A visa is required.
Canadian citizens must have a passport that is valid for at least six months beyond the date of their arrival in Myanmar. A visa is required.
Australian citizens must have a passport that is valid for at least six months beyond the date of their arrival in Myanmar. A visa is required.
South African citizens must have a passport that is valid for at least six months beyond the date of their arrival in Myanmar. A visa is required.
Irish citizens must have a passport that is valid for at least six months beyond the date of their arrival in Myanmar. A visa is required.
New Zealand citizens must have a passport that is valid for at least six months beyond the date of their arrival in Myanmar. A visa is required.
Health
Vaccinations for hepatitis A and hepatitis B are recommended for all travellers. Malaria is common in Myanmar, especially during the rainy season (May to October) and visitors are usually encouraged to take anti-malaria medication, although there is no danger if you are only visiting the cities of Yangon and Mandalay. Travellers from yellow fever infected areas require a vaccination certificate to enter Myanmar. If you will be spending a lot of time outdoors in rural areas you should also consider getting vaccinated for rabies and Japanese encephalitis.
MSG (monosodiumglutomate) is added liberally to many dishes and travellers sensitive to this ingredient should specify 'no Ajinomoto' when ordering. The tap water should not be drunk unless it has been boiled, filtered or chemically disinfected.
There are basic medical facilities in Yangon (Rangoon) and Mandalay, but in general medical facilities in Myanmar are poor and evacuation is recommended for serious medical cases. Payment in cash is usually required before any treatment. Comprehensive medical insurance is advised.
Safety
Due to the ongoing risk of armed conflict, travellers are advised to avoid some parts of Myanmar, including most of the states of Rakhine and Kachin and the north of the state of Shan. Special care should be taken in border areas; there are only a handful of legal crossing points. While Myanmar does boast one of the lowest crime rates in the world, violent political protests are still common and should be avoided at all costs. Visitors are also advised not to take any photographs of the police, military or demonstrations.
The monsoon season is June to September in the southwest of Myanmar and December to April in the northeast, and flooding may occur. Severe weather often also precedes monsoon season; a devastating cyclone hit Myanmar in May 2008, killing thousands of people.
Emergency Phone Number
Emergencies: 199 (police); 191 (fire); 192 (ambulance).
* For current safety alerts, please visit
Foreign travel advice - GOV.UK
or
Travel.State.Gov
Money
The official currency is the Kyat (MMK) pronounced 'Chat'. The best foreign currency to travel on in Myanmar is the US Dollar. The Foreign Exchange Certificate (FEC) is a legal currency for visiting tourists that is usable in government shops and hotels. It is no longer a requirement to convert US$200 into FEC upon arrival in Myanmar, as it once was. One FEC is equivalent to one US Dollar. US Dollar notes will not be accepted if they are damaged or torn in any way, or have pen marks on them. There is a big difference between the official and unofficial exchange rates in Myanmar; street moneychangers offer favourable rates at hotels and markets. Of course, using the black market is risky. Few major hotels, airlines, shops and restaurants accept credit cards and ATM cards can rarely, if ever, be used. It is advisable to carry cash.
Exchange Rate
Not available.
Embassies of Myanmar
Embassy of Myanmar, Washington DC, United States: +1 202 332 3344.
Embassy of Myanmar, London, United Kingdom (also responsible for Ireland): +44 (0) 20 7499 4340.
Embassy of Myanmar, Ontario, Canada: +1 613 232 9990.
Embassy of Myanmar, Canberra, Australia (also responsible for New Zealand): +61 (0)2 6273 3811, 6273 3751.
Embassy of Myanmar, Pretoria, South Africa: +27 (0)12 341 2557/2556.
Foreign Embassies in Myanmar
United States Embassy, Yangon (Rangoon): +95 1 536 509.
British Embassy, Yangon (Rangoon): +95 1 370 865.
Canadian Embassy, Yangon (Rangoon): +95 1 384 805.
Australian Embassy, Yangon (Rangoon): +95 1 251 810.
South African Embassy, Bangkok, Thailand (also responsible for Myanmar): +66 2 659 2900.
New Zealand Embassy, Yangon (Rangoon), currently has no phone number but can be reached by fax: +95 1 230 5805.
Customers
It is rude to step over any part of a person or touch an adult on the head, and hugging and kissing in public is frowned upon. Most Burmese families don't wear shoes in their homes and if visiting it is advised to remove shoes before entering the house. Monks should be treated with respect, even if they are children, and women should not speak to or touch monks. Religion practices, beliefs and sites should be treated with respect; insulting religion is a prosecutable offense in Myanmar. Homosexuality is technically illegal but the law is seldom enforced.
Business
Business hours are generally 9.30am to 4.30pm from Monday to Friday. Lightweight suits are recommended during the day and jackets are needed for top-level meetings. Most commercial business transactions will be conducted in English. Business cards in Burmese script can be useful. It is important to maintain trust, honesty and friendship in a business relationship. Favours received, such as a reference, should be repayed later in the future.
Tipping
The Burmese offer their help freely and genuinely, and don't expect much in return, though gratuity is greatly appreciated. Tipping 10 percent on a meal is considered quite generous. Porters, drivers and tour guides expect a small tip.
Public Holidays in Myanmar
Overview
Myanmar is a dream destination for those who enjoy off-the-beaten track travel, and the sightseeing in the country incorporates scenic wonders, remarkable religious sites, and many historical attractions. Myanmar is rapidly growing in popularity with travellers and it is easy to see why: names like Burma and Mandalay have romantic connotations in the global imagination and Myanmar has somehow remained a mysterious and exotic land, troubled politically but with myriad treasures to compensate.
Thousands of ancient and intriguing temples, each one unique, await visitors in Bagan. The floating villages of Lake Inle allow travellers to drift into another culture and lifestyle. The city of Mandalay draws visitors with its scenic surroundings, royal palace complex and the Mahamuni Buddha. The pristine Ngwe Saung coastline attracts people with its white sands and unspoiled beauty. The astounding Shwedagon Pagoda will blind you with its gold and gems, standing sentinel over the city of Yangon. Myanmar's many bustling markets will challenge and enchant and the country's sacred sites are moving and lovely. The Burmese culture is ancient, proud and, in many ways, profound, and will keep tourists thoroughly occupied.
Travel Guide powered by www.wordtravels.com, copyright © Globe Media Ltd. All rights reserved. By its very nature much of the information in this guide is subject to change at short notice and travellers are urged to verify information on which they're relying with the relevant authorities. Globe Media and UNIGLOBE Travel does not accept any responsibility for any loss or inconvenience to any person as a result of information contained above.