General
Money
Entry Requirements
Health & safety
Weather
Embassies
Etiquette
Public Holidays
Attractions
Map
---
Introduction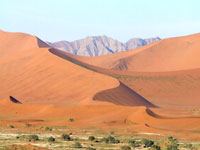 Sossusvlei dunes ©Judith Duk
A holiday in Namibia is the opportunity of a lifetime to experience the beauty of a pristine natural environment teeming with wildlife.
Since Namibia has one of the most uninviting and desolate coastlines in the world, it was neglected by early European explorers like the Portuguese, who limited their activities to setting up navigational crosses along the desert shoreline. Today visitors have discovered the vast potential of a country rich in natural resources, with desert landscapes, sunshine, wildlife and a rugged, barren beauty.
It was only during the last half of the 19th century that the race for colonies among the world powers began, and so ensued the German control that became Namibia's colonial reign of terror. The indigenous tribes tried vigorously to retain their independence, and in 1904 a major uprising by the Herero and Nama people resulted in massive genocidal retaliation by the colonialists, with an estimated 60 percent of the southern native population being wiped out. Today the total population reaches just over two million and consists of 11 main ethnic groups, while the influence of German colonisation is still evident in architecture, food and language, particularly in the capital city of Windhoek.
Namibia has a diversity of natural habitats: the rugged coastline and haunting beauty of the Skeleton Coast, the endless stretch of undulating ochre-coloured sand dunes at Sossusvlei, the impressive gorge of the Fish River Canyon winding through the arid landscape of the great plateau, and the vast salt pan of Etosha National Park, one of the world's greatest wildlife viewing destinations. These are the attractions that draw travellers to one of Africa's more intriguing destinations, the unspoilt wilderness of Namibia.
Communications
The international access code for Namibia is +264. The outgoing code is 00 followed by the relevant country code (e.g. 0027 for South Africa). City/area codes are in use, e.g. (0)61 for Windhoek. Most towns are covered by a GSM 900/1800 mobile network. Internet access is available from some hotels and Internet cafes are available in Windhoek and Walvis Bay.
Emergencies
In most of the country 10111 is the emergency number for police.
Languages Spoken
English is the official language, but many people also speak Afrikaans and German. There are also several indigenous languages spoken, mainly in the rural areas.
Duty Free
Travellers to Namibia over 16 years do not have to pay duty on 400 cigarettes, 50 cigars and 250g of tobacco; 2 litres wine and 1 litre spirits or liquor; 50ml perfume and 250ml of eau de toilette; and gifts to the value of N$50,000.
Electricity
Electrical current is 220 volts, 50Hz. Round three-pin plugs are standard.
Climate Info
Namibia's climate is generally hot and dry. Rainfall occurs exclusively in the summer months, between November and February, when some humidity and heavy thunderstorms can be expected. Even during the rainy season, thunderstorms tend to be localised and occur more in the centre and east of the country, while the desert receives markedly less rain. Summer is very hot and the Namib Desert should be avoided at this time as temperatures are often above 104ºF (40ºC) and extremely uncomfortable. The coast is cooler and often foggy in summer. Average winter temperatures during the day range between 64°F (18°C) and 71°F (22°C) and the days are pleasantly warm and sunny, but the nights can be very cold, especially in the desert, with frost covering the ground in the mornings, so be sure to bring warm things. The best time to visit is during the winter months from March to October: April and May are green and fresh months in Namibia; June and August are the best for game viewing as animals tend to congregate around waterholes, making them easy to spot; September and October are also fantastic for game viewing, but it can be very dry and dusty.
Passport
All foreign passengers to Namibia must have confirmed return/onward tickets, and the necessary travel documentation for their next destination. Additionally, visitors should ensure that they have at least two blank pages remaining in their passports, for entry and departure endorsements from the Namibian Immigration Service. Note that a yellow fever vaccination certificate is required to enter Namibia, if arriving within six days of leaving or transiting through an infected area. All travellers must have a passport that is valid for at least six months beyond the period of intended stay in Namibia.
Entry Requirements
No visa is required, for touristic or business-related stays of up to three months.
No visa is required, for touristic or business-related stays of up to three months.
No visa is required, for touristic or business-related stays of up to three months.
No visa is required, for touristic or business-related stays of up to three months.
No visa is required, for touristic or business-related stays of up to three months.
No visa is required, for touristic or business-related stays of up to three months.
No visa is required, for touristic or business-related stays of up to three months.
Health
Typhoid, hepatitis A and hepatitis B vaccinations are recommended for travel to Namibia. Safety regulations in Namibia require all visitors to have a yellow fever certificate if arriving from an infected area. There is a malaria risk in the northern region of Namibia during the rainy season (January to April). HIV/AIDS is prevalent and precautions are essential, although travellers are seldom at risk unless engaging in unprotected sex with locals. Cholera outbreaks do occur and visitors should drink only boiled or bottled water, and avoid ice in drinks. There has been an increase in the incidence of rabies among dogs in Windhoek; travellers at risk of animal bites should consider a rabies vaccination.
There are good medical facilities in Windhoek, but medical insurance is essential as treatment is expensive. Outside of the main cities medical treatment may be hard to come by. Travellers to Namibia should seek medical advice at least four weeks prior to departure. For peace of mind it is best to take prescription medications along when travelling; medicines should be kept in their original packaging and accompanied by a signed and dated letter from a doctor detailing why the medication is needed.
Safety
The majority of visits to Namibia are safe and trouble-free, but beware of increasing street crime and pick-pockets in Windhoek and other town centres. Theft from vehicles, especially from service stations, is common and valuables should be kept out of sight and the car locked. Avoid using taxis if possible and never take one alone. Care should be taken when travelling in the Caprivi Strip; travel in daylight hours only (livestock wandering onto roads at night cause many accidents), and stay on the main tarred highway as there is a risk of landmines remaining from the Angolan civil war. Namibia is considered at very low risk of terrorism, and no major incidents of violence against foreigners have been reported. Travellers should carry identification, such as photocopies of their passport, at all times.
Emergency Phone Number
In most of the country 10111 is the emergency number for police.
* For current safety alerts, please visit
Foreign travel advice - GOV.UK
or
Travel.State.Gov
Money
The official currency is the Namibian Dollar (NAD) divided into 100 cents. Its value is equal to the South African Rand, which is also accepted as legal currency in Namibia. Major credit cards are accepted. Foreign currency can be exchanged at any bank or bureau de change. ATMs are available in larger towns only.
Exchange Rate
Not available.
Embassies of Namibia
Embassy of Namibia, Washington DC, United States (also responsible for Canada): +1 202 986 0540.
Namibia High Commission, London, United Kingdom (also responsible for Ireland): +44 (0)20 7636 6244.
Namibia High Commission, Pretoria, South Africa: +27 (0)12 481 9100.
Foreign Embassies in Namibia
United States Embassy, Windhoek: +264 (0)61 295 8500.
British High Commission, Windhoek: +264 (0)61 274 800.
Canadian Consulate, Windhoek: +264 (0)61 251 254.
Australian High Commission, Pretoria, South Africa (also responsible for Namibia): +27 (0)12 423 6000.
South African High Commission, Windhoek: +264 (0)61 205 7111.
Irish Embassy, Lusaka, Zambia (also responsible for Namibia): +260 211 291 298.
New Zealand High Commission, Pretoria, South Africa (also responsible for Namibia): +27 (0)12 435 9000.
Customers
It is best to check before taking pictures of State House or properties where the President is residing, as well as any buildings guarded by the army or police. Homosexuality is criminalised in Namibia, although these laws may not always be enforced.
Business
Business in Namibia is conducted somewhat formally, although drinking and socialising are an important part of building good working relationships. Standard business etiquette applies; dress tends to be formal with more lightweight materials worn in the hotter seasons, punctuality is important, people shake hands on greeting and leaving and should generally be polite and professional. English is the language of business, though German and Afrikaans are widely spoken. Business hours are usually 9am to 5pm Monday to Friday.
Tipping
Tips of 10 percent are expected where a service charge has not been included in the bill. Tour guides, game rangers and trackers rely on tips for their income and should be tipped accordingly.
Public Holidays in Namibia
| | | |
| --- | --- | --- |
| | 2013 | 2014 |
| New Years Day | 1 Jan | 1 Jan |
| Independence Day | 21 Mar | 21 Mar |
| Good Friday | 29 Mar | 18 Apr |
| Easter Monday | 1 Apr | 21 Apr |
| Workers Day | | 1 May |
| Cassinga Day | 4 May | 4 May |
| Ascension Day | 9 May | 29 May |
| Africa Day | | 25 May |
| Heroes Day | 26 Aug | 26 Aug |
| Human Rights Day | 10 Dec | 10 Dec |
| Christmas Day | 25 Dec | 25 Dec |
| Day of Goodwill | 26 Dec | 26 Dec |
Overview
Namibia is one of the best places in the world to visit if you have a hankering for a stunning variety of dramatic desert landscapes. The country's most popular attractions include salt pans, sand dunes, rock formations and clay pans, which form the beautiful but harsh backdrop for wildlife safaris and a wealth of ancient rock art. Travel in Namibia is a celebration of open spaces and silence, and the country is a photographer's dream.
The formidable coastline of the Namib Desert is one of the most popular areas to explore, with tourists most commonly choosing to stay at Walvis Bay and the charming Swakopmund, and enjoying excursions to desert gems like Sossusvlei and the Spitzkoppe Mountains. Windhoek, the capital city, is also a great base for travel, with a number of urban attractions and potential for excursions further afield. The best places to see San (Bushmen) rock art are Twyfelfontein and Brandberg, although the ancient carvings and paintings are wonderfully common. Etosha National Park is a delight for game viewing and the Fish River Canyon is a magnificent and challenging place to hike. Popular activities in Namibia include wildlife safaris, surfing, scuba diving, dune boarding, fishing, golf and boating.
Map of Namibia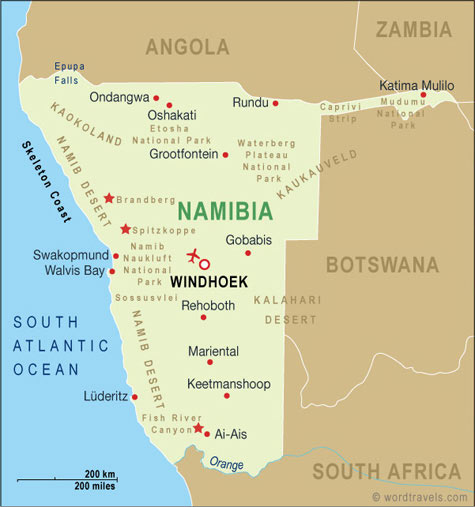 Travel Guide powered by www.wordtravels.com, copyright © Globe Media Ltd. All rights reserved. By its very nature much of the information in this guide is subject to change at short notice and travellers are urged to verify information on which they're relying with the relevant authorities. Globe Media and UNIGLOBE Travel does not accept any responsibility for any loss or inconvenience to any person as a result of information contained above.