General
Money
Entry Requirements
Health & safety
Weather
Embassies
Etiquette
Public Holidays
Attractions
Map
---
Introduction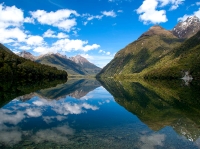 Lake Gunn, South Island ©Jocelyn Kinghorn
New Zealand, 'Land of the Long White Cloud', is a small, sparsely populated country consisting of two major islands, North and South Island, and a scattering of smaller ones. Despite its small size it is crammed with magnificent natural beauty and has an incredible amount to offer; the only complaint travellers have is that they haven't allowed enough time in the country. Fresh air, breathtaking scenery and outdoor activities are the main attractions of New Zealand, with a tremendously friendly, honest and helpful population, colloquially nicknamed after their country's distinct symbol, the unusual but amiable flightless kiwi bird.
The two islands have surprisingly different characters. The North Island has dramatic volcanic landscapes and highly active thermal areas, long stretches of beautiful beaches and excellent sailing, ancient indigenous forests and a strong Maori cultural influence. The South Island has a slower pace of life dominated by a magnificent spine of mountains, the snow-covered Southern Alps, and the spectacular scenery of the southern waterways of the fjord lands, with glaciers, deep lakes and verdant forests.
The signing of the Treaty of Waitangi in 1840 was New Zealand's founding document, an attempt to settle disputes between the European settlers and the Maoris, conceding the country to British rule while guaranteeing the Maori people possession of their land and cultural identity. Today, integration has been replaced by a policy of upholding two different cultures alongside each other. Their shared love of sport, most notably the revered national sport of rugby union, and their enthusiasm for adventure and the outdoors is the unifying factor among the whole population.
New Zealand offers a huge variety of action-packed and laid back activities, from bungee jumping to skiing, swimming with dolphins, scenic flights and boat cruises on the fjords, as well as several world famous walking trails with unrivalled scenery. Alternatively visitors can immerse themselves in culture at the museums and galleries of the country's main cities - Auckland and the capital Wellington in the North, and Christchurch in the south.
New Zealand is an easy and compact place in which to travel and its spectacularly dramatic landscape alone, famous for its setting for the 'The Lord of the Rings' film trilogy, makes the long trip to these southern islands more than worthwhile.
Communications
The international access code for New Zealand is +64. The outgoing code is 00 followed by the relevant country code (e.g. 0061 for Australia). City/area codes are in use, e.g. (0)9 for Auckland and (0)4 for Wellington. Vodafone offers GSM 900 coverage in and around the main cities and popular holiday areas. Internet cafes are widely available.
Emergencies
111 (All Emergencies)
Languages Spoken
The official languages in New Zealand are English and Maori.
Duty Free
Travellers to New Zealand over 17 years do not have to pay duty on 50 cigarettes, or 50g of cigars or tobacco, or a mixture of all three not exceeding 50g; three bottles of spirits or liqueur each containing not more than 1,125ml; 4.5 litres of wine or beer; and other goods to the value of NZD 700. Goods exceeding the allowances must be declared. Personal effects not dutiable include items such as jewellery, binoculars, portable radios, prams, camping equipment, cameras and video cameras. Prohibited items include concealed firearms, foodstuffs, animals, plants and plant products. It is forbidden to export Greenstone, Maori antiquities and Paua shells (unless they are products manufactured from such shells). Prescription medications need to be accompanied by a doctor's letter and the original prescription, they should not amount to more than three months worth of the medication.
Electricity
Electrical current is 230 volts, 50Hz. Oblique flat blade plugs are standard.
Climate Info
The weather in New Zealand is changeable throughout the year, however the climate is fairly temperate, with fairly predictable conditions over longer periods. The North Island has mild winters and warm and humid summers, the South Island has lower temperatures with cold winters and extensive snowfields and glaciers. Snow falls on all the mountains in winter, and the west coast receives the most rain. The summer months in New Zealand are from November to April.
Passport
All foreign passengers to New Zealand must hold return/onward tickets, the necessary travel documentation for their next destination, and proof of sufficient funds to cover their expenses while in the country (usually NZD 1,000 per month, or NZD 400 if accommodation has been prepaid). Note that all visitors must obtain a permit to enter Tokelau from the Tokelau Apia Liaison Office in Apia, at least two weeks prior to travel. NOTE: It is highly recommended that your passport has at least six months validity remaining after your intended date of departure from your travel destination. Immigration officials often apply different rules to those stated by travel agents and official sources.
Entry Requirements
US citizens must have a passport that is valid for at least one month beyond the period of intended stay in New Zealand. No visa is required, for stays of up to three months.
UK citizens must have a passport that is valid for at least one month beyond the period of intended stay in New Zealand. British citizens holding a passport endorsed British Citizen, or a passport containing a Certificate of Entitlement to the Right of Abode issued by the United Kingdom (and accompanied by documents that further establish their right of abode in the UK), do not require a visa to enter New Zealand for a stay of up to six months. British citizens with passports endorsed British National (Overseas) may stay for up to three months without a visa. In all other cases, a visa is required.
Canadian citizens must have a passport that is valid for at least one month beyond the period of intended stay in New Zealand. No visa is required, for stays of up to three months.
Australian citizens must have a passport that is valid upon their arrival in New Zealand. No visa is required.
South African citizens must have a passport that is valid for at least three months beyond the period of intended stay in New Zealand. As of 21 November 2016, South African Nationals require a visitor visa which must be organised prior to travel.
Irish citizens must have a passport that is valid for at least one month beyond the period of intended stay in New Zealand. No visa is required, for stays of up to three months.
Health
There are no health risks associated with travel to New Zealand. New Zealand's accident compensation scheme (ACC) covers emergency treatment for visitors, but health insurance is recommended to cover any additional charges and for those not entitled to free emergency treatment. Those intending to participate in adventure activities, such as bungee jumping, white water rafting, etc should ensure that their travel insurance covers these types of activities.
Safety
New Zealand has a reputation as one of the safest destinations in the world, however sensible precautions against petty theft are still advised.
Emergency Phone Number
111 (All Emergencies)
* For current safety alerts, please visit
Foreign travel advice - GOV.UK
or
Travel.State.Gov
Money
Local currency is the New Zealand Dollar (NZD), divided into 100 cents. Most businesses accept MasterCard and Visa, and while Diners Club and American Express are also widely accepted in the main tourist centres, they might have limited acceptance elsewhere. ATMs can be found in all towns and cities.
Exchange Rate
Not available.
Embassies of New Zealand
New Zealand Embassy, Washington DC, United States: +1 202 328 4800.
New Zealand High Commission, London, United Kingdom (also responsible for Ireland): +44 20 7930 8422.
New Zealand High Commission, Ottawa, Canada: +1 613 238 5991.
New Zealand High Commission, Canberra, Australia: +61 2 6270 4211.
New Zealand High Commission, Pretoria, South Africa: +27 12 435 9000.
Foreign Embassies in New Zealand
United States Embassy, Wellington: +64 4 462 6000.
British High Commission, Wellington: +64 4 924 2888.
Canadian High Commission, Wellington: +64 4 473 9577.
Australian High Commission, Wellington: +64 4 473 6411.
Honorary Consulate of South Africa, Wellington: +64 4 815 8484.
Honorary Consul General of Ireland, Auckland: +64 9 919 7450.
Customers
Quarantine procedures mean that strict bio-security regulations are in place at immigration points into New Zealand. It is illegal to import most foodstuffs, and care should be taken when importing wood products, golf clubs and shoes (which may have soil and dirt attached), and items made from animal skin. The immigration arrivals card has full details.
Business
New Zealand is ranked first in the World Bank's Ease of Doing Business rankings, so those looking to do business in New Zealand are sure to find that the corporate atmosphere of the country is well-suited to their ambitions. The business culture of New Zealand conforms to a typically British model - being formal, reserved, and conservative. However, New Zealand's corporate culture distinguishes itself from the metropole with its characteristically Antipodean warmth and friendliness, creating a relaxed, yet professional atmosphere, in which rewarding personal relationships may be developed among associates.
The general approach to management in New Zealand is hierarchical, with decisions being made by senior-level executives - though ideas, input and collaboration, from all members of the organisation, are also highly valued in the New Zealand workplace. Business etiquette in New Zealand will be familiar to those who've worked in western corporate environments before. Use titles, until instructed not to do so, and maintain eye contact when speaking to your associates. New Zealand businessmen tend to favour forthrightness, honesty, and hard work over self-aggrandisement and empty promises - they will be far more interested in what you actually do, than what you merely say you can do.
Business meetings should be scheduled at least a week in advance, and then confirmed a few days before they are due to take place. When raising an idea or responding to someone else's, present your point directly, and back it up with facts and figures - while a relaxed, human-orientated atmosphere is prized in the New Zealand workplace, business decisions remain unemotional, and motivated by the business' best interests. The dress code for business in New Zealand is difficult to pin down, though you should always appear well-groomed and presentable. For a first meeting, men should stick to a dark suit, worn with a tie; and women should wear a smart dress/business suit/pants suit and limited accessories. The official language of business in New Zealand is English, and business hours are generally from 8.30am (or 9am) to 5pm, Monday to Friday; and 9am to 12.30pm on Saturdays.
Tipping
Gratuities are not expected in New Zealand and service charges are not applied to bills, but it is acceptable to tip at your discretion.
Public Holidays in New Zealand
| | | |
| --- | --- | --- |
| | 2017 | 2018 |
| New Year's Day | 1 Jan | 1 Jan |
| Day after New Year's Day | 2 Jan | 2 Jan |
| Waitangi Day | 6 Feb | 6 Feb |
| Good Friday | 14 Apr | 30 Mar |
| Easter Monday | 17 Apr | 2 Apr |
| ANZAC Day | 25 Apr | 25 Apr |
| Queens Birthday | 5 Jun | 4 Jun |
| Labour Day | 23 Oct | 22 Oct |
| Christmas Day | 25 Dec | 25 Dec |
| Boxing Day | 26 Dec | 26 Dec |
Overview
There is so much to see and do in New Zealand that it is difficult to know where to start. This is, after all, the self-styled 'adventure capital of the world', where you can bungee jump, zorb and sky dive to your heart's content. The splendid natural landscape lends itself equally well to hiking (they call it 'tramping' here), mountain biking, and general sightseeing.
New Zealand is also developing other sides to its tourist offering with a burgeoning wine industry, fascinating Maori culture, restorative thermal pools and natural spas, and plenty of tours themed around The Lord of the Rings, which was filmed at locations around the country.
Getting around is a breeze. You can cycle, or rent a camper van or motor car. In general the roads are excellent and very safe and there are plenty of domestic flights for getting between North and South Island destinations.
There is no bad time to visit either. It does get cold in winter, particular in the south island, where Otago can dip to 14°F (-10°C), but overall the climate is pretty welcoming all year round. Local tourism picks up around the summer break of mid-December to end January. Book well ahead if you intend visiting over this period.
Map of New Zealand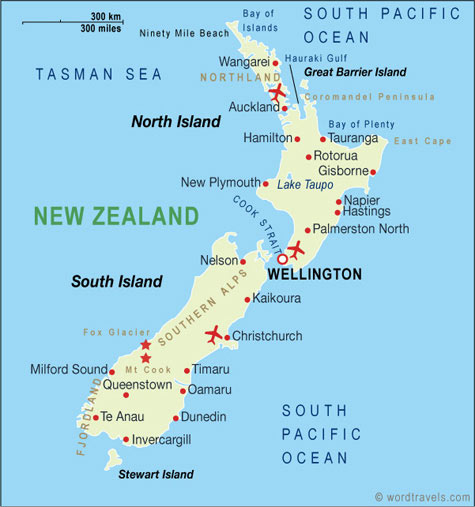 Travel Guide powered by www.wordtravels.com, copyright © Globe Media Ltd. All rights reserved. By its very nature much of the information in this guide is subject to change at short notice and travellers are urged to verify information on which they're relying with the relevant authorities. Globe Media and UNIGLOBE Travel does not accept any responsibility for any loss or inconvenience to any person as a result of information contained above.