General
Money
Entry Requirements
Health & safety
Weather
Embassies
Etiquette
Public Holidays
Attractions
Map
---
Introduction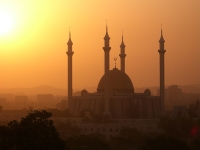 Mosque in Abuja ©Kipp Jones
Situated in tropical West Africa, the oil-rich state of Nigeria is the most populous country in Africa. It is listed as one of the 'Next Eleven' major economies of the world - yet despite its abundant natural resources and its position as Africa's largest economy, poverty remains pervasive.
Decades of civil war, famine, military dictatorships and rampant corruption have left the country with deep divisions that will take many years to heal completely, but Nigeria shows stirring signs of recovery. The country is made up of over 500 ethnic groups and several religions, with a wide variety of languages, customs and cultures shaping a diverse nation.
Abuja is the capital city, but the largest economic centre and chief port is the former colonial capital of Lagos, located on the Bight of Benin in southwestern Nigeria. The capital was moved to Abuja, located in the heart of the country, in 1991, largely in a bid to curb the frenetic migration to Lagos not only from rural Nigeria, but from neighbouring countries as well. Despite this measure, Lagos remains a sprawling, overcrowded industrial metropolis, home to over 15 million people.
Although the vast majority of visitors arrive on business, the country is emerging as a prominent tourist destination in Africa, welcoming nearly two million travellers a year. With 500 miles (805km) of coastline, a vibrant arts and culture scene, and abundant natural beauty, Nigeria has all the raw ingredients to make for a top tourist destination; in an effort to unlock the country's tourism potential, the government has pledged to increase investment and improve infrastructure. Meanwhile, only the most adventurous travellers are enjoying this diverse land of sandy beaches, tropical forest, magnificent waterfalls and fascinating historic and cultural sites.
Communications
The country code for Nigeria is +234. Full international direct dialling is available. There are good GSM 900 and 1800 mobile phone networks covering Lagos, Abuja and some other major towns. Internet cafes can be found in major cities.
Emergencies
112 (General Emergency, Lagos only)
Languages Spoken
English is the official language in Nigeria and is widely used, though many other languages are also spoken.
Duty Free
Travellers to Nigeria over 18 years old do not have to pay duty on 200g of tobacco products, 1 litre of spirits and 1 litre wine, perfume or eau de Cologne for personal use and gifts to the value of NGN 50,000 (excluding jewellery, photographic equipment, electronics and luxury goods). Prescription medication and pharmaceutical products should be accompanied by a letter from your GP as well as the original prescription, and should not be carried in your checked luggage.
The following items carry substantial duty levies: cameras, projectors and other electronic goods, unless visitors can provide proof of possession for at least three years or can submit a certificate of re-importation. Prohibited items include beer, mineral water, soft drinks, sparkling wine, fresh fruit and vegetables, textiles, mosquito netting, jewellery and precious metals, cereals and eggs. Flowers, plants and seeds often need permits and the rules regarding specific species often change, so it is best to check the situation as close to your time of travel as possible.
Electricity
Electrical current is 240 volts, 50Hz. Round and square three-pin plugs are used.
Climate Info
Nigeria is generally hot all year round, with little variation between winter and summer. Seasons are defined as the wet season, from April to October, and the dry season, from November until March. The dry season is accompanied by the dusty northeast winds. The wet season is particularly noticeable on the south-eastern coast, where annual rainfall reaches about 130 inches (330cm).
Passport
Nationals of virtually all countries require a visa to enter Nigeria (the few exceptions are mainly neighbouring African states). Visas must be obtained in advance and all visitors require a return ticket, documents for onward travel and sufficient funds. Those entering for business reasons must also have a letter of invitation and verification from Nigerian representatives abroad stating purpose of entry. Passports must be valid for at least six months after arrival.
Entry Requirements
United States citizens must have a passport valid for six months after intended date of departure. A visa is required.
British citizens must have a passport valid for six months after intended date of departure. A visa is required.
Canadians must have a passport valid for six months after intended date of departure. A visa is required.
Australians must have a passport valid for six months after the intended date of departure. A visa is required.
South Africans must have a passport valid for six months after intended date of departure. A visa is required.
Irish citizens must have a passport valid for six months after intended date of departure. A visa is required.
New Zealand citizens must have a passport valid for six months after the intended date of departure. A visa is required.
Health
When travelling to Nigeria, an international vaccination certificate against yellow fever is required. A Cholera vaccination certificate is also required if coming from an infected area. As a precaution against cholera, visitors should drink only boiled or bottled water and avoid ice in drinks. Anti-malaria prophylaxis and TB inoculation are recommended, and at present there is a high risk of polio infection in northern Nigeria. Visitors should seek the latest medical advice on inoculations at least three weeks prior to departure. In major cities, private hospitals offer good facilities, and private clinics are found even in the smallest towns. As in many countries, costs for medical services or hospital care must be shouldered by the traveller. There are government hospitals throughout the country, but apart from emergencies, the hospitals are more geared to serving the local population. Individuals needing specialised treatment for acute illness or severe injury are usually evacuated to Europe or South Africa. Good, comprehensive insurance is strongly advised, and should include evacuation. Pharmacies abound in Nigeria, even in supermarkets, and are open during normal trading hours.
Safety
Numerous hazards await unwary and uninformed visitors, from bogus greeters at the airport, to scams attempting to extort money from visitors' relatives back home, and even kidnappings for ransom. Violent street crime, armed robberies, muggings and car jackings are prevalent in Lagos and elsewhere in the more populous southern regions of the country. Visitors should ensure that their local hosts and/or family and friends at home know their travel plans.
Public transport is potentially dangerous with poorly maintained buses and taxis, and fraud and criminal activity rife among drivers. The reliability of domestic airlines has also been questioned after numerous accidents. Fuel shortages often occur, and road travel may be hazardous due to the risk of armed robbery and car jackings, particularly in traffic jams and rural areas. Visitors should avoid travelling at night, and should consider driving in convoy through rural areas.
There are frequent outbreaks of civil unrest and violence in Nigeria, usually caused by ethnic tensions, and strikes often cause disruption to transport and other services. Travellers are advised to avoid all protests and demonstrations, and to be extremely cautious in the northern region of Nigeria. Yobe, Borno, Adamawa, Gombe and Bauchi States should all be avoided to due frequent violent attacks, as should Kano City and Warri City. The Delta, Rivers and Bayelsa States should also be avoided, particularly the riverine areas and Port Harcourt, due to hostage-taking and terrorist threats. All but essential travel to Akwa Ibom State should also be avoided, as oil facilities have been attacked and expatriate oil workers seized.
Emergency Phone Number
112 (General Emergency, Lagos only)
* For current safety alerts, please visit
Foreign travel advice - GOV.UK
or
Travel.State.Gov
Money
Nigerian currency is the Naira (NGN), which is divided into 100 kobo. Approved exchange facilities include major hotels and the airport, but official rates are very high. It is illegal to change money on the street. Credit card fraud is a problem, and visitors are advised to exercise caution when using credit cards. Credit card facilities are also limited outside of the major cities. Prior to travel, visitors should ensure they have a variety of currency options available to them (Pounds, US Dollars or Euros) in cash. Travellers should be aware of the prevalence of commercial fraud in, and emanating from, Nigeria.
Exchange Rate
Not available.
Embassies of Nigeria
Nigerian Embassy, Washington DC, United States: +1 202 986 8400.
Nigeria High Commission, London, United Kingdom: +44 (0)20 7839 1244.
Nigeria High Commission, Ottawa, Canada: +1 613 236 0521.
Nigeria High Commission, Canberra, Australia (also responsible for New Zealand): +61 (0)2 6215 8500.
Nigeria High Commission, Pretoria, South Africa: +27 (0)12 342 0808.
Embassy of Nigeria, Dublin, Ireland: +353 (0)1 660 4366.
Foreign Embassies in Nigeria
United States Embassy, Abuja: +234 (0)9 461 4000.
British High Commission, Abuja: + 234 (1) 277 0780.
Canadian High Commission, Abuja: +234 (0)9 461 2900.
Australian High Commission, Abuja: +234 (0)9 461 2780.
South African High Commission, Abuja: +234 (0)9 462 4200.
Irish Embassy, Abuja: +234 (0)9 462 0611.
New Zealand High Commission, London, United Kingdom (also responsible for Nigeria): +44 20 7930 8422 .
Customers
Nigeria has a relatively formal society and it is appropriate to address Nigerians by their surnames until you know them very well. Beachwear is only appropriate for the beach. Nigeria has the largest Muslim population in Africa, concentrated mainly in the north. Women should dress modestly, and avoid wearing trousers, and all visitors should exercise discretion in behaviour and dress, especially when visiting religious sites and during the holy month of Ramadan.
Time is a different concept in West Africa than in Europe or North America. Being 'on time' to a Nigerian could easily be a couple of hours after an agreed start-time. Evening social events tend to start late and often continue into the small hours. Photography in airports may lead to arrest. Homosexuality is illegal in Nigeria.
Business
Those looking to do business in Nigeria, and especially those who've never done business on the African continent before, will certainly have to prepare themselves to face unique challenges. Although great strides have been made within Nigeria's corporate landscape, the country still suffers from massive corruption and a debilitating lack of infrastructure, which can make doing business there difficult. The management style typically found in Nigeria is extremely hierarchical. The boss - invariably male, and always of an older generation - will expect and will receive respect from all those working beneath him, and will never be publicly criticised. However, this does not necessarily mean that all decisions are made on this authority-figure's whim; business relationships are extremely important in Nigeria, and often, compromises can be reached.
In general, Nigerian business leaders will lead firmly, giving their employees instructions that are expected to be followed closely. Teamwork, and the ability to work together toward clearly-defined goals, is considered a more valuable asset than independent thinking or individualistic efforts. Business meetings in Nigeria are very social occasions, providing the framework within which solid interpersonal connections are to be made. Bear the following in mind: respect for elders is huge in Nigeria; even if one is more qualified than older colleagues, there is no surer way to cause offence in Nigeria than by disrespecting members of the older generation.
In Nigeria, especially for men, it is important that business dress reflects status; men tend to wear dark, stylish suits and a tie, and don't hold back on the accessories. Dressing for work in Nigeria can be trickier for female expats, especially those used to the more relaxed dress codes of the UK or America. Nigeria is a very traditional country, and therefore, skirts above the knee and cleavage-revealing tops are unacceptable in the office environment, as is the exposure of too much skin around the collarbone and shoulder area.
There is no specific protocol for the exchanging of business cards in Nigeria - although it is considered rude not to study the card in the presence of the person who gave it to you. Make sure any tertiary education or qualifications you have received are printed on your card, and that your title is prominently displayed. In a country of so many different ethnic groups and dialects, English has emerged as the de facto language of business in Nigeria. Business hours are generally from 8am (or 8.30am) to 5pm, from Monday to Friday. In the northern (predominately Muslim) part of Nigeria, Friday is a day of rest.
Tipping
In restaurants, a 10% tip is adequate if a service charge hasn't already been added. Negotiate taxi fares before embarking on a journey; remember that fares are usually increased for tourists so tipping isn't necessary. Porters should be tipped accordingly.
Public Holidays in Nigeria
| | | |
| --- | --- | --- |
| | 2017 | 2018 |
| Eid el-Maulud (Prophets Birthday) | 1 Dec | 21 Nov |
| New Years Day | 1 Jan | 1 Jan |
| Good Friday | 14 Apr | 30 Mar |
| Easter Monday | 17 Apr | 2 Apr |
| Workers Day | 1 May | 1 May |
| Independence Day | 1 Oct | 1 Oct |
| Christmas Day | 25 Dec | 25 Dec |
| Boxing Day | 26 Dec | 26 Dec |
| Eid al-Fitr (end of Ramadan) | 26 Jun | 15 Jun |
| Eid al-Adha (Feast of the Sacrifice) | 2 Sep | 22 Aug |
| Democracy Day | 29 May | 29 May |
Overview
The majority of visitors travel to Nigeria for business purposes and don't do much sightseeing, but that doesn't mean that there aren't some fascinating attractions in Nigeria that are worth a visit for anyone willing to stray off the beaten path.
Most travel centres on the major cities of Lagos and Abuja, which offer plenty of attractions in the form of national museums, bustling markets, and pretty parks. Venture further afield however, and visitors will discover the beautiful beaches on the coast, the sacred forest groves of Osogbo, the pre-colonial settlements at Sungbo's Eredo, and picturesque scenery in Nigeria's national parks.
A holiday in Nigeria is definitely for the adventurous, and is guaranteed to be unforgettable!
Map of Nigeria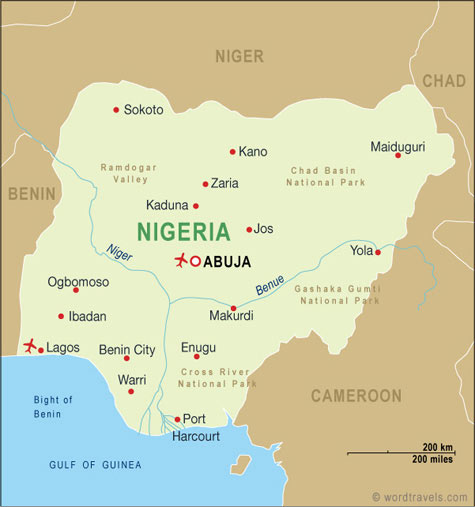 Travel Guide powered by www.wordtravels.com, copyright © Globe Media Ltd. All rights reserved. By its very nature much of the information in this guide is subject to change at short notice and travellers are urged to verify information on which they're relying with the relevant authorities. Globe Media and UNIGLOBE Travel does not accept any responsibility for any loss or inconvenience to any person as a result of information contained above.