General
Money
Entry Requirements
Health & safety
Weather
Embassies
Etiquette
Public Holidays
Attractions
Map
---
Introduction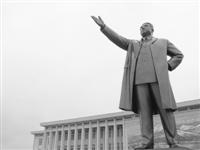 Memorial to Kim Il Jung ©yeowatzup
North Korea is the world's most bizarre tourist destination and for that reason uniquely worth visiting for the curious tourist looking to experience a regime founded on a cult of personality and delusional fear of outsiders.
Once supported by the USSR's communist regime, the Democratic People's Republic of Korea (DPKR) is easily the purest example of a totalitarian regime in the 21st century; the state controls virtually every aspect of life. In turn, that state is controlled by one particular family, with Kim Jong Un succeeding his father, Kim Jong Il, as the supreme leader of North Korea in 2011. The country's history, current leadership and structure make it unlike any other tourist destination on earth.
Tourism is tightly controlled but visas are rarely refused. The country attracts 100,000 tourists each year, the majority of whom come from China, and the government has plans to rapidly expand its tourism industry over the coming years. Each group is assigned tour guides that restrict visitors to a pre-approved government itinerary prohibiting individual and free exploration. On the plus side your chance of getting mugged is zero, however don't expect to see anything but the sanitised version of North Korea.
Visitors should never insult or disrespect the regime or Kim Jong Un, no matter how appealing the prospect. You and especially your guide will get into serious trouble, as it is possible that you are being monitored in some form during your visit. In fact, in North Korea it is impossible to be paranoid - here, you often being scrutinised, whether by the government or the average citizen.
Tourists will enter on an Air Koryo flight, the national airline that has the dubious distinction of earning the only one-star rating by Skytrax, the lowest rating available (although, some reports boast of recent improvements).
The capital city is Pyongyang, notable for its strangely absent people and empty roads. The main sites are enormous memorials and statues commemorating the DPRK's founder leader, Kim Il Sung. It's a strange and sterile environment, uncannily clean, which somewhat belies the difficulties its people face behind the concrete facades, such as the struggle to survive without power and regular food, under the yoke of an oppressive regime notorious for human rights violations. Symbolic of some of the regime's failures, the city skyline is dominated by the enormous and permanently unfinished Ryugyong hotel, a yet unrealised step toward foreign investment, growth and connection with the rest of the world.
Languages Spoken
Korean is the official language of North Korea, but there are minor differences between the Korean spoken in North and South Korea.
Duty Free
Information on the exact amounts of duty-free cigarettes, tobacco and liquor allowed is unclear and it is best to check with your tour operator. Prohibited items include binoculars, guns and ammunition, explosives, drugs, seeds, pornography, certain types of media and books or literature in Korean. Gifts, cameras, watches, tape recorders and precious metals must be declared on arrival.
Electricity
Electrical current is 120 or 220 volts, 60Hz. They use two-prong plugs, with either round or flat pins (Plug type A & C).
Passport
Passport and/or passport replacing document must be valid on arrival. Visitors must hold tickets and documents required for their next destination and sufficient funds to cover their stay. It is highly recommended that passports have at least six months validity remaining after your intended date of departure from your travel destination. Immigration officials often apply different rules to those stated by travel agents and official sources.
Entry Requirements
United States citizens must have a valid passport. A visa is required.
UK citizens must have a valid passport. A visa is required.
Canadian citizens must have a valid passport. A visa is required.
Australian citizens must have a valid passport. A visa is required.
South African citizens must have a valid passport. A visa is required.
Irish citizens must have a valid passport. A visa is required.
New Zealand citizens must have a valid passport. A visa is required.
Health
Recommended routine vaccinations include MMR (measles-mumps-rubella) updates, diphtheria-tetanus-pertussis vaccine, varicella (chickenpox) vaccine, polio vaccine, and a yearly flu shot.
Typhoid and hepatitis A is recommended for most travellers and some travellers should consider hepatitis B, Japanese encephalitis and rabies vaccines. Proof of a yellow fever vaccination is required when travelling from countries with yellow fever risks. Use anti-malarial medication and take plenty of insect repellent.
The most common ailment is travellers' diarrhoea and can be avoided with basic precautions. Don't eat food that has not been cooked or unwashed fruits and vegetables. Don't drink tap water unless it has been disinfected, boiled or filtered. When using prescription medication, take a letter from your doctor detailing your condition and confirming the necessity of your medication; it is also important to find out, from your tour operator, what OTC medication you are allowed to take.
Medical facilities are limited, so people with underlying problems should avoid travelling to North Korea. The Friendship Hospital in Pyongyang provides adequate surgical facilities, but it's not comparable to other major hospitals in nearby Asian countries. It is advisable to have medical insurance with provision for air evacuation to well-developed medical facilities in Beijing should an emergency warrant high-end medical care.
Safety
Crime against foreigners is rare and normal travel precautions are advised. Always carry ID. All tourism in North Korea is guided, so do not leave the group and wander off alone. This could result in serious reprimand from police or officials, and your tour guide is likely to bear the brunt of this. Do not criticise the government and stick to photographic regulations. All contraband media will be confiscated and there are strict laws regarding contraband items; be sure to have a list of safe items/contraband items from your tour operator.
All travel outside of Pyongyang must be government sanctioned and local taxi drivers are unlikely to take you anywhere unaccompanied by a guide. After years of relative peace, the demilitarised zone between the DPRK and the Republic of Korea (South Korea) became a place of tension in 2010, culminating in an artillery exchange in August 2015. This area is volatile and must be avoided at all times.
* For current safety alerts, please visit
Foreign travel advice - GOV.UK
or
Travel.State.Gov
Exchange Rate
Not available.
Embassies of North Korea
Foreign Embassies in North Korea
Customers
Locals warm up to friendly travellers, who respect tour rules and take the time to learn a few Korean phrases. In terms of 'regular' social etiquette, bowing is the normal form of greeting (the deeper the bow, the more respect being shown), and you will be expected to remove your shoes when entering certain buildings or places of historical interest. Bowing to pictures and statues of the supreme family is also expected. Homosexuality is not illegal, but is discouraged and frowned upon by the authorities. Clothing should be neat and smart clothing is preferable to casual; collared shirts are preferable to T-shirts and trousers and neat jeans to shorts or tracksuits.
Tipping
Tipping is frowned upon in most sectors, however some hotel staff may be open to it. Monetary tipping is not allowed, but chocolates and cigarettes, or other small gifts like cosmetics, are perfect for tipping. Tour guides and drivers always welcome such tips and it is a great way of showing appreciation to helpful staff and to gain a bit of favour with the guides.
Public Holidays in North Korea
Travel Guide powered by www.wordtravels.com, copyright © Globe Media Ltd. All rights reserved. By its very nature much of the information in this guide is subject to change at short notice and travellers are urged to verify information on which they're relying with the relevant authorities. Globe Media and UNIGLOBE Travel does not accept any responsibility for any loss or inconvenience to any person as a result of information contained above.