General
Money
Entry Requirements
Health & safety
Weather
Embassies
Etiquette
Public Holidays
Attractions
Map
---
Introduction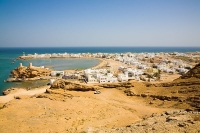 Sur, Oman ©Andries Oudshoorn
The second largest country in the Middle East, Oman occupies the southeastern part of the Arabian Peninsula, bordered by Saudi Arabia and the United Arab Emirates. Its topography is varied and dramatic, with rocky mountains and deep water inlets in the north, rolling dunes and salt flats in the central interior, verdant green hills in the southern Dhofar province, and a coastline stretching thousands of miles with magnificent beaches and cosy coves.
In fact, the main reason people travel to Oman is the astounding beauty of the natural landscape. The dramatic coastline of Masirah Island, the rolling sand dunes of the vast Wahiba Sands desert, the prehistoric fossils in the valleys around Buraimi, and the rugged Hajar Mountains are all unforgettable experiences on any Oman holiday.
Sultan Qaboos bin Said has realised that tourism is an integral part of his modernisation programme, but thus far it is the wealthy who are being urged to bring their holiday funds to spend in Oman. Sightseeing and activities are mainly restricted to Muscat and the southern town of Salalah, famed for its seafood, frankincense trees and the ruins of the palace of the Queen of Sheba. Accommodation is offered mainly in luxury resort hotels.
Making responsible use of oil revenue, Muscat has taken on the veneer of a prosperous modern Arab city without losing its old world charm and heritage. It features forts, palaces and other historic sites of interest to visitors, as well as an exciting traditional souq (bazaar) and some stunning long sandy beaches like Qurum, Bandar Al-Jissah and Yeti.
Communications
The international direct dialling code for Oman is +968, and the outgoing international code 00, followed by the relevant country code (e.g. 0044 for the UK). City/area codes are in use. Oman has GSM and 3G mobile phone networks in operation, with international roaming agreements with most international operaters. There are internet cafes in main towns and cities.
Emergencies
999 (General Emergencies)
Languages Spoken
The official language of Oman is Arabic, but English is widely spoken. Hotel staff often also speak German and French.
Duty Free
Travellers to Oman do not have to pay duty on 200 cigarettes and 2 litres/2 bottles of liquor per family, provided they are non-Muslim visitors. Meat products officially require an Islamic slaughter certificate. Videotapes for personal use may be confiscated and sent to Ministry of National Heritage and Culture for verification. Prohibited items include dates (including shoots of date palm), coconut, ornamental palm trees and parts thereof. Also prohibited are firearms and toy weapons, swords or knives and flammable material, obscene reading material and non-canned foodstuffs from cholera-infected areas. Items of value may be exempted, subject to an assessment by a security officer.
Electricity
Electrical current is 220/240 volts, 50Hz. Plugs with rectangular, three-pin flat blades are used.
Passport
All visitors (except those with Gulf Co-Operation Council passports) require a visa to enter Oman. Visas can be obtained on arrival. All visitors require a passport with spare pages, valid for six months (or a year for a multiple entry visa), onward or return tickets, and all documents needed for the next destination. Visitors with valid visas for Dubai and Qatar generally do not need a visa for Oman, but it is best to confirm this with the nearest embassy before travel.
Entry Requirements
A passport valid for six months from date of arrival is required. A one-month tourist visa or three-week business visa is obtainable on arrival for a fee.
A passport valid for six months from date of arrival is required. A one-month tourist visa or three-week business visa is obtainable on arrival for a fee.
A passport valid for six months beyond date of arrival is required. A one-month tourist visa or three-week business visa is obtainable on arrival for a fee.
A passport valid for six months from date of arrival is required. A one-month tourist visa or three-week business visa is obtainable on arrival for a fee.
A passport valid for six months beyond date of arrival is required. A one-month tourist visa or three-week business visa is obtainable on arrival for a fee.
A passport valid for six months beyond date of arrival is required. A one-month tourist visa or three-week business visa is obtainable on arrival.
A passport valid for six months beyond date of arrival is required. A visa is not required for stays of up to a maximum of three months.
Health
No vaccinations are required for entry to Oman, except for yellow fever for those entering within six days of having been in an infected area. Visitors should ensure they are up to date on all routine vaccinations. Avoid mosquito bites, as dengue fever may be a risk, and there is a small risk of malaria in remote areas. Brucellosis is reported, particularly in the south of the country. Health and medical services in the country, particularly Muscat, are of a high standard, but are expensive for foreigners (Oman nationals receive free treatment), so health insurance is recommended. Food and water in Muscat is considered safe, but bottled water and precautions with unpasteurised milk are advised outside of the city.
Safety
Like all the Gulf States, Oman is considered to be under a high risk of indiscriminate terrorist attacks, particularly against Western interests, therefore vigilance is necessary. Crime, though, is not a problem for visitors, although common sense precautions should be practised. Rental and company vehicles have been vulnerable to robbery in the southern areas of Thumrait, Marmul and Nimr. Piracy is considered a threat in the Gulf of Aden and the Indian Ocean. Women are advised not to wear shorts or scanty clothing in the towns to avoid risk of sexual harassment. It is advised to carry a copy of your passport at all times.
Emergency Phone Number
999 (General Emergencies)
* For current safety alerts, please visit
Foreign travel advice - GOV.UK
or
Travel.State.Gov
Money
The currency of Oman is the Omani Rial (OMR), divided into 1,000 baisa. Foreign currency can be exchanged at banks, exchange bureaux, hotels and at the airport. Outside banking hours, moneychangers operate in the evenings and at weekends. US Dollars are recommended. American Express, MasterCard and Visa credit cards are readily accepted in large shops and hotels and by an increasing number of traders in souqs. Most banks in cities and towns have ATMs.
Exchange Rate
Not available.
Embassies of Oman
Embassy of the Sultanate of Oman, Washington DC, United States (also responsible for Canada): +1 202 387 1980.
Embassy of the Sultanate of Oman, London, United Kingdom (also responsible for Ireland): +44 (0)20 7225 0001, +44 (1)71 225 0001.
Embassy of the Sultanate of Oman, Tokyo, Japan (also responsible for Australia and New Zealand): +81 (0)3 5468 1088.
Embassy of the Sultanate of Oman, Pretoria, South Africa: +27 (0)12 632 8301.
Consulate of the Sultanate of Oman, Auckland, New Zealand: +64 (0)9 522 4426.
Foreign Embassies in Oman
United States Embassy, Muscat: +968 246 43400.
British Embassy, Muscat: +968 246 09000.
Canadian Consulate, Riyadh, Saudi Arabia: +966 1 488 2288.
Australian Embassy, Riyadh, Saudi Arabi: +966 (0)1 488 7788.
South African Embassy, Muscat: +968 2464 7300.
Irish Honorary Consul, Riyadh, Saudi Arabia: +966 11 488 2300.
New Zealand Consulate, Riyadh, Saudi Arabia: +966 1 488 7988.
Customers
Oman is a predominantly Muslim country and visitors should respect religious sensitivity, particularly in the matter of dress and public conduct. Women, in particular, should wear loose fitting clothes that cover most of the body. Eating, drinking and smoking in public during the holy month of Ramadan should be avoided, as it is forbidden by the Muslim culture. Homosexuality is illegal in the country. Importing obscene publications or videos is subject to severe penalties. Alcohol is available only at licensed hotels and restaurants and penalties for driving under the influence of alcohol are drastic. The legal blood alcohol level in the country is close to zero.
Business
The business world in Oman is minute, with a small core of families controlling most of the country's industry and trade. As in most of the Middle East, it is preferable to conduct business face to face and develop good working relations built on trust and friendship. Hospitality is important and visitors will be treated with respect; it is a good idea to have a basic idea of Omani customs and attempting to speak some Arabic will be appreciated. Business attire is usually formal with suits and ties the norm; women in particular should dress modestly. English is spoken widely. The working week is normally from Sunday to Thursday, and hours can vary. Most businesses are open from 8am to 1pm and 4pm to 7pm.
Tipping
A service charge is usually added to bills, however a 'little extra' is appreciated, as the service charge usually never makes it to the attendant. A general rule would be 5 percent additional to service charge, or between 10-15 percent where service has not been added.
Public Holidays in Oman
| | | |
| --- | --- | --- |
| | 2017 | 2018 |
| Milad un Nabi (Prophets Birthday) | 1 Dec | 21 Nov |
| New Years Day | 1 Jan | 1 Jan |
| Lailat al Miraj (Ascension of the Prophet) | 24 Apr | 13 Apr |
| Renaissance Day | 23 Jul | 23 Jul |
| Eid al-Fitr (end of Ramadan) | 26 Jun | 15 Jun |
| Eid al-Adha (Feast of Sacrifice) | 1 Sep | 22 Aug |
| Muharram (Islamic New Year) | 22 Sep | 12 Sep |
| National Holiday | 18 Nov | 18 Nov |
Overview
Oman is a unique destination, offering visitors myriad exclusive attractions. While not typically considered a holiday spot, visitors to Oman will find a rich and sophisticated culture, as well as incredible and varied landscapes.
The eastern region of the Arabian Peninsula is home to superb natural beauty. Sightseers enjoy exploring the striking beaches, which stretch for miles along the Arabian Sea coastline and provide wonderful swimming spots. There are also wadis (valleys) to explore, turtle-nesting sites to see, as well as the extraordinary desert dunes to discover. The Al Hajar Mountains are also a scenic wonder where visitors can experience the dramatic vistas of canyons, gorges and plateaus.
A must-see in Oman is the Nizwa Fort, not far from Muscat, which has stood since the 12th century and is the country's most visited tourist attraction. Those wanting a taste of local culture and an authentic shopping experience should visit the Old Mutrah Souk, the most popular traditional bazaar in Muscat.
Known to be a sophisticated travel destination offering the full array of luxuries and modern amenities, Oman also boasts well-preserved ancient traditions and landmarks.
Map of Oman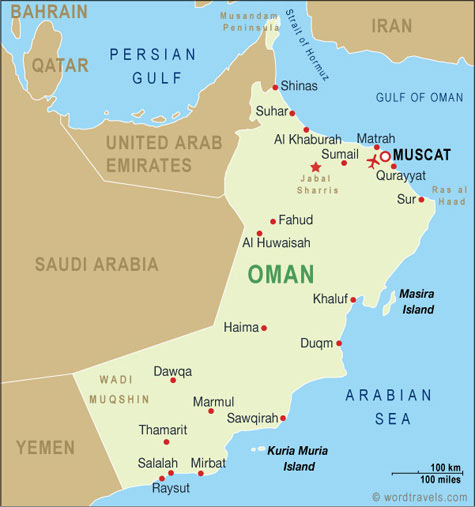 Travel Guide powered by www.wordtravels.com, copyright © Globe Media Ltd. All rights reserved. By its very nature much of the information in this guide is subject to change at short notice and travellers are urged to verify information on which they're relying with the relevant authorities. Globe Media and UNIGLOBE Travel does not accept any responsibility for any loss or inconvenience to any person as a result of information contained above.