General
Money
Entry Requirements
Health & safety
Weather
Embassies
Etiquette
Public Holidays
Attractions
Map
---
Introduction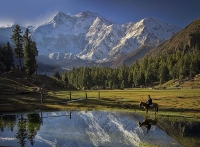 Nanga Parbat, the ninth highest mountain in the world ©Tahsin Anwar Ali
Strategically situated between India, China, Afghanistan and Iran, Pakistan follows the Indus River down from the spectacular mountain ranges in the north (which include the world's second highest peak, K2) to the Arabian Sea. The river passes through the fertile provinces of Punjab and Sindh in the east and south. The southwest of Pakistan consists of the arid plateau of Baluchistan. The major cities of Karachi, the capital Islamabad, Lahore and Rawalpindi are all situated in the lowlands of the Indus valley.
The nation of Pakistan itself may be relatively new, but the Indus region has hosted civilisation for thousands of years and the country has a rich culture and fascinating history from Alexander the Great to the heyday of the Silk Route, with the lucrative trade between China, India and the Roman empire; and rivalries between Hindu and Islamic dynasties and later the British Empire.
Life in the bustling southern cities is a mix of ancient tradition and modern technology, where shoppers haggle in colourful bazaars and craftsmen ply their trade, while others tuck into hot and spicy treats at street restaurants, or take their ease at teahouses.
Pakistan is largely overlooked as a travel destination due to valid safety concerns, but those brave enough to explore its cities and landscapes will be rewarded with unforgettable sights and experiences.
Communications
The international dialling code for Pakistan is +92. The outgoing international code is 00, followed by the relevant country code (e.g. 0027 for South Africa). City/area codes are in use, e.g. (0)51 for Islamabad, (0)21 for Karachi. There are several GSM 900 and 1800 mobile networks in operation, providing fair coverage, concentrated in urban areas. Internet cafes also exist in the main towns and cities.
Emergencies
15 (Police) ; 115 (Ambulance)
Languages Spoken
Urdu is the official language, but English is widely spoken and understood. There are also several regional languages and local dialects.
Duty Free
Passengers arriving in Pakistan over 18 years do not have to pay duty on either 200 cigarettes, 50 cigars or 500g tobacco, as well as 250ml eau de toilette and perfume, provided that not more than 125ml of that is perfume, and gifts and/or souvenirs up to the value of Rs.2,000. Non-residents do not have to pay duty on 200 cigarettes, 50 cigars or 227g tobacco, 250ml perfumed spirits and eau de toilette, gifts and souvenirs to the value of Rs.2,000. The import of alcohol is strictly prohibited for both residents and non-residents, regardless of nationality. Other prohibited items include matches, fruits, plants and plant material.
Electricity
Electrical current is 230 volts, 50Hz. Round two- or three-pin plugs are used.
Climate Info
Pakistan's climate is varied because of the difference in elevation from one end of the country to another. During the summer months from April to September the mountainous north is pleasant and temperate, but the Indus Valley swelters in temperatures of 100ºF (40ºC) or more. In late summer the southern region experiences monsoons, particularly along the coast. In winter the low-lying areas cool down appreciably to average temperatures of between 50ºF and 70ºF (10ºC to 25ºC), while the northern mountains ice up with the air well below freezing.
Passport
All foreign passport holders require a visa issued in their country of origin (or the nearest consulate if there is no diplomatic representation) to enter Pakistan. A return ticket and all documents needed for next destination are required. All visitors are advised to carry a photocopy of their passport, including the Pakistani visa, at all times. If stay exceeds 30 days, passengers must register within 30 days at the Immigration Head Office. It is highly recommended that passports have at least six months validity remaining after your intended date of departure from your travel destination. Temporary and emergency passports are not accepted. Immigration officials often apply different rules to those stated by travel agents and official sources.
Entry Requirements
US nationals require a visa and a valid passport.
UK nationals require a visa and a valid passport.
Canadian nationals require a visa and a valid passport.
Australian nationals require a visa and a valid passport.
South African nationals require a visa and a valid passport.
Irish nationals require a visa and a valid passport.
New Zealand nationals require a visa and a valid passport.
Health
A yellow fever vaccination certificate is required for entry to Pakistan by travellers coming from an infected area. Malaria exists in areas below 6,562 feet (2,000m) year round, and travellers should seek medical advice before travelling. Dengue fever is another reason to protect against mosquito bites. Vaccinations for typhoid, Japanese encephalitis (long-term travellers to rural areas) and polio are also recommended. There is a risk of diarrhoeal diseases; visitors should only drink bottled or otherwise sterilised water, and avoid dairy products, uncooked meat, salads and unpeeled fruit. There is a low risk of cholera and Hepatitis E. Outside the major cities there are few hospitals of a high standard. Medical insurance is strongly advised.
Safety
Warnings have been issued against non-essential travel to Pakistan in light of the threat of terrorist activity. There is a serious threat of terrorism in Pakistan, particularly in major cities where suicide bombings, kidnappings and murders have taken place, often injuring or killing innocent bystanders. Foreigners of Western origin are particularly likely to be targets for terrorists, including kidnapping. Women are not advised to go anywhere alone. Crime is also high, as are incidents of sectarian attacks and tribal killings. It is also recommended that visitors avoid places of worship during busy prayer times and festivals. Particular care should be taken if visiting Karachi, as well as Peshawar, due to recent bombings. Visitors of visibly Western origin are advised to avoid hanging around public places and to be particularly vigilant in areas frequented by foreigners. The departure of Musharraf from Pakistan's presidency has led to further political upheavals, with parties fighting over the leadership of the country. Travellers should keep up to date with the latest travel advisories regarding Pakistan before and during a visit. Currently holiday visits are not advised, and only necessary business travel or visits to family should be contemplated. Kashmir in the north is regarded as particularly dangerous with a high incidence of lawlessness and militant activity. It is recommended that all travel to Waziristan, as well as to northern and western Baluchistan, be avoided, and all but essential travel to the Sui area, the Swat Valley in the North West Frontier Province (NWFP), the Federally-Administered Tribal Areas and Agencies (FATA), and to the border areas except for official crossing points, be undertaken. Travel by bus and train in Baluchistan should also be avoided due to repeated bomb plants. Visitors should also avoid the centre of Gilgit, as sectarian tension is high at present; access to Gilgit should be by air only. It is recommended that road travel along the Karakoram Highway to and from Islamabad should be undertaken only during daylight hours.
Emergency Phone Number
15 (Police) ; 115 (Ambulance)
* For current safety alerts, please visit
Foreign travel advice - GOV.UK
or
Travel.State.Gov
Money
The Pakistani Rupee (PKR) is divided into 100 paise. Travellers cheques (best carried in US Dollars or Pounds Sterling) are accepted at most banks, upmarket hotels and major shops. Larger shops and hotels commonly accept credit cards, and ATMs are available in big cities. Banking hours are generally 9am to 5pm, Monday to Thursday, but close earlier on Fridays and on weekends. Bargaining is expected in street markets and small stores.
Exchange Rate
Not available.
Embassies of Pakistan
Pakistan Embassy, Washington DC, United States: +1 202 243 6500.
Pakistan High Commission, London, United Kingdom: +44 (0)20 7664 9200.
Pakistan High Commission, Ottawa, Canada: +1 613 238 7881.
Pakistan High Commission, Canberra, Australia (also responsible for New Zealand): +61 (0)2 6290 1676.
Pakistan High Commission, Pretoria, South Africa: +27 (0)12 362 4072.
Pakistan Embassy, Dublin, Ireland: +353 (0)1 261 3032.
Pakistan High Commission, Wellington: +64 (0)4 479 0026.
Foreign Embassies in Pakistan
United States Embassy, Karachi: +92 (0)21 3527 5000.
British High Commission, Islamabad: +92 (0)51 201 2000.
Canadian High Commission, Islamabad: +92 (0)51 208 6000.
Australian High Commission, Islamabad: +92 (0)51 835 5500.
South African High Commission, Islamabad: +92 (0)51 226 2354.
Honorary Consul of Ireland, Karachi: +92 (0)21 920 6654.
New Zealand Consulate-General, Karachi: +92 (0)21 3583 7291.
Customers
Pakistan is a strict Muslim state and religious customs should be respected, particularly during the month of Ramadan when eating, drinking and smoking during daylight hours should be discreet as it is forbidden by the Muslim culture. Homosexuality is illegal. It is considered offensive to give, receive or eat with the left hand. Affection between opposite sexes is not shown in public. Women, in particular, are expected to dress and behave decorously in public; even in the large cities shoulders and legs should be covered, and men should not wear shorts. Westerners should expect to be stared at - this is not considered rude in Pakistan, and is purely because you are new and different. Do not take photographs at military establishments, airports or any infrastructure.
Business
In Pakistan, third party introductions are vital to doing business successfully. Building up good working relations and a level of trust is essential and plenty of time will be spent socialising and getting to know each other. Face to face dealings are imperative and meetings are usually conducted somewhat formally. Communication may be somewhat frustrating as Pakistanis can approach things in a round about manner, although English is widely spoken and understood. Bureaucracy can also hold up any deals. Punctuality is important, although meetings might not begin on time. Business cards are usually exchanged on greetings. Greetings should be between same sexes only. Business attire is usually formal, and women in particular should dress conservatively. Business hours are usually 9am to 5pm Monday to Thursday and Saturdays. Some businesses are open until 12.30pm on Fridays.
Tipping
The larger hotels and restaurants add a service charge of 10 percent to their bills, otherwise tipping is not obligatory in Pakistan. Baksheesh, however, helps get things done more quickly.
Public Holidays in Pakistan
| | | |
| --- | --- | --- |
| | 2017 | 2018 |
| Boxing Day | 26 Dec | 26 Dec |
| Birth of the Prophet | 1 Dec | 21 Nov |
| Kashmir Day | 5 Feb | 5 Feb |
| Pakistan Day | 23 Mar | 23 Mar |
| Eid al-Fitr (End of Ramadan) | 26 Jun | 15 Jun |
| Independence Day | 14 Aug | 14 Aug |
| Eid Al-Adha (Feast of Sacrifice) | 2 Sep | 22 Aug |
| Ashura | 30 Sep | 12 Sep |
| Allama Muhammad Iqbal Day | 9 Nov | 9 Nov |
| Quaid-e-Azams Birthday | 25 Dec | 25 Dec |
Overview
Pakistan certainly holds its marvels, which is mostly due to its complex and intriguing history. With so many rich cultural and historical sites to be seen, a trip to Pakistan will possibly surprise visitors with the unexpected and give them something to remember.
Offering visitors beautiful mosques to see nationwide as well as forts, tombs and national monuments to explore, those in search of military or religious landmarks will not be left disappointed. There are also incredible caves to be seen in the Balochistan province, for the adventurous among tourists, and Lahore Historic City is where all things cultural can be experienced, boasting some wonderful historic architecture with its pink and white marble buildings, and the beautiful Moghul-style Badshahi Mosque, one of the largest mosques in the world. Visitors will also see the Shalimar Gardens and the Tomb of Jahangir, both memorable sites.
For those interested in exploring the city capital, Islamabad, there is lots to discover and delve into, in any one of its museums. Its most popular are the Natural History Museum, the Lok Virsa Museum, or the National Art Gallery; all will leave visitors with a better understanding of Pakistan, its fascinating history and its people.
Map of Pakistan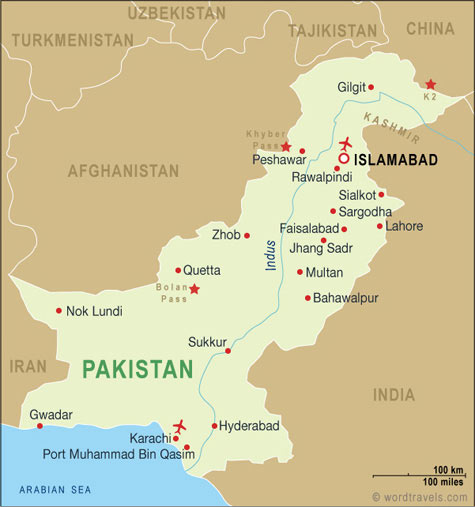 Travel Guide powered by www.wordtravels.com, copyright © Globe Media Ltd. All rights reserved. By its very nature much of the information in this guide is subject to change at short notice and travellers are urged to verify information on which they're relying with the relevant authorities. Globe Media and UNIGLOBE Travel does not accept any responsibility for any loss or inconvenience to any person as a result of information contained above.