General
Money
Entry Requirements
Health & safety
Weather
Embassies
Etiquette
Public Holidays
Attractions
Map
---
Introduction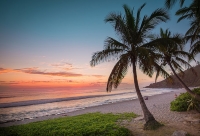 Reunion Island sunset ©Vicente Villamon
The island of Reunion is a tiny bit of France with a tropical twist, situated 500 miles (805km) east of Madagascar, deep in the heart of the Indian Ocean. Nicknamed 'l'Ile Intense', Reunion is a dramatic, mountainous paradise created and shaped by volcanoes. The scent of vanilla, stretches of black and white sand beaches, forest-covered peaks, rugged valleys, gushing waterfalls and an incredibly diverse and friendly population make this overseas department of France an idyllic destination. Reunion is first and foremost an alluring tropical island getaway, but its interesting mix of cultures and peoples adds another interesting element to the holiday.
The history of the island is reflected in its people. The Portuguese stumbled across the unoccupied island in 1513, but it was the French that descended in 1646 and stayed put. French exiles and colonists, Malagasy slaves, Chinese indentured labourers, Indians and Pakistanis have subsequently created a rich melting pot of culture, as well as the island's most widely spoken language, Reunion Creole.
Reunion was hard hit by the opening of the Suez Canal in 1869, as it lost significance as a stopover on the East Indies trade route, and today it relies heavily on mainland France for financial support. Its main industries are the cultivation of sugarcane, rum, vanilla, geranium oil for perfumes and, not surprisingly, tourism. Although inequality and the resulting socio-economic strife is an occasional concern for locals, for the most part everybody seems to live relatively equably side-by-side on this beautiful island, with a heartening bonhomie shared between the many different racial and religious groups.
Reunion is home to one of the world's most accessible active volcanoes, Piton de la Fournaise, and has three major (amphitheatre-like craters): Cilaos, Mafate and Salazie. This rugged topography, in many cases overgrown by lush forest, provides breathtaking scenery and world-class trekking and canyoning with many waterfalls to admire along the way. The interior is home to small mountain villages and rich birdlife and the lack of commercial development is refreshing. The island's beaches are also worth writing home about, with the black volcanic sands at Etang-Sale particularly remarkable. The beaches are lapped by the warm Indian Ocean and the abundance of underwater creatures makes snorkelling a delight. The popular St Gilles-les-Bains offers classic palm-fringed shores on a wide lagoon and Saint Leu boasts wonderful surfing.
As if all this natural splendour wasn't enough, the unusual cultural melting pot of Reunion ensures travellers can sample delicious creole cuisine, and revel in the island's unique music and dance offerings, while still enjoying a little taste of French sophistication.
Communications
The international access code for Reunion is +262. The outgoing code is 00, followed by the relevant country code (e.g. 0027 for South Africa). City/area codes are not in use. Three local mobile phone companies provide service, and some international roaming agreements exist but these tend to be expensive. Internet cafes are available in the main centres and hotels generally provide internet access but it isn't always free.
Emergencies
Emergencies: 17 (Police); 15 (Ambulance)
Languages Spoken
French is the official language but the most widely spoken language among locals is Reunion Creole. English is taught at school level.
Duty Free
There are no restrictions on the import of local or foreign currency but amounts exceeding €10,000 or equivalent must be declared if arriving from a country outside the European Union.
Travellers over 17 years of age entering Reunion can bring in the following items duty-free: either 200 cigarettes, 50 cigars or 250g tobacco; one litre of spirits, four litres of wine and 16 litres of beer; perfume for personal use; and goods up to the value of €1,000 if arriving from an EU country, and €430 if arriving from a non-EU country.
Electricity
Electrical current is 220 volts, 50Hz. European-style plugs with two round pins are standard.
Climate Info
Reunion's climate is tropical, with temperatures varying according to elevation. Humidity is generally high. There is not a big temperature range between the seasons, but the year can be divided into summer and winter: November to April is hot and rainy, while May to November is usually dry and cooler, and is the most popular time for travel to Reunion. In Saint-Denis the summer temperatures average between 73°F (23°C) and 84°F (29°C), and in winter temperatures average between 64°F (18°C) and 75°F (24°C). Rain patterns vary hugely according to region, with the east of the island much wetter than the west. The cyclone season runs from mid-November to mid-April and the island is occasionally affected.
Passport
Passports must be valid for length of intended stay. Travellers must have proof of return or onward tickets, sufficient funds or lodging certificate and all travel documents needed for onward journey. Schengen visa is also valid if endorsed "also valid for Reunion". It is highly recommended that passports have at least six months validity remaining after your intended date of departure from your travel destination. Immigration officials often apply different rules to those stated by travel agents and official sources.
Entry Requirements
US nationals do not require a visa for stays of up to 90 days; a passport valid for period of intended stay is required.
UK nationals do not require a visa for stays of up to 90 days; a passport valid for period of intended stay and endorsed 'British Citizen', 'British National (Overseas)', or 'British Overseas Territories Citizen with Right to Abode' is required.
Canadian nationals do not require a visa for stays of up to 90 days; a passport valid for three months beyond period of intended stay is required.
Australian nationals do not require a visa for stays of up to 90 days; a passport valid for period of intended stay is required.
South African nationals require a passport valid for period of intended stay; a visa is not required for touristic stays of up to 90 days.
Irish nationals do not require a visa; a passport valid for period of intended stay is required.
New Zealand nationals do not require a visa for stays of up to 90 days; a passport valid for period of intended stay is required.
Health
There are no real health risks associated with travel to Reunion. A yellow fever vaccination certificate is required for travellers arriving from countries with a risk of yellow fever transmission. Vaccinations are recommended for hepatitis A and hepatitis B. There is no chance of contracting malaria but precautions should still be taken against mosquito bites as there are occasional outbreaks of mosquito-borne diseases like dengue fever and chikungunya.
Reunion's medical facilities are very good. Most towns have doctors and clinics, while the principal hospital is in Saint-Denis. Tap water is usually safe for drinking. Public water sources are unsafe if labelled 'Eau non potable'. There is a reciprocal health agreement with the UK and most EU countries, whose citizens are entitled to emergency medical treatment on presentation of a European Health Insurance Card (EHIC).
Safety
Most visits to Reunion are trouble-free. Crime levels are low but visitors should still be vigilant and avoid extravagant displays of wealth. Swimmers should be aware of currents and riptides; take note of signs on the beaches and, if unsure, ask the locals. Shark attacks are a concern off the island. The cyclone season is from November to April and travellers in Reunion during this time should keep track of storm alerts. The Piton de la Fournaise volcano is still active and an eruption is always possible, but volcanic activity is carefully monitored.
Emergency Phone Number
Emergencies: 17 (Police); 15 (Ambulance)
* For current safety alerts, please visit
Foreign travel advice - GOV.UK
or
Travel.State.Gov
Money
Reunion is an overseas departement of France and uses the Euro as its official currency. There are plenty of banks and ATMs on the island, and most shops and hotels accept major credit cards (though many require a minimum amount for card payments). Most businesses display their prices in their windows and restaurants and hotels should have their rates visible from the exterior.
Exchange Rate
Not available.
Embassies of Reunion
French Embassy, Washington DC, United States: +1 202 944 6000.
French Embassy, London, United Kingdom: +44 (0)20 7073 1000.
French Embassy, Ottawa, Canada: +1 613 789 1795.
French Embassy, Canberra, Australia: +61 (02) 6216 0100.
French Embassy, Pretoria, South Africa: +27 (0)12 425 1600.
French Embassy, Dublin, Ireland: +353 (0)1 277 5000.
French Embassy, Wellington, New Zealand: +64 (0)4 384 2555.
Foreign Embassies in Reunion
United States Embassy, Paris (also responsible for Réunion): +33 (0)1 4312 2222.
British Embassy, Paris (also responsible for Réunion): +33 (0)1 4451 3100.
Canadian Embassy, Paris (also responsible for Réunion): +33 (0)1 4443 2900.
Australian Embassy, Paris (also responsible for Réunion): +33 (0)1 4059 3300.
South African Embassy, Paris (also responsible for Réunion): +33 (0)1 5359 2323.
Irish Embassy, Paris (also responsible for Réunion): +33 (0)1 4417 6700.
New Zealand Embassy, Paris (also responsible for Réunion): +33 (0)1 4501 4343.
Customers
Broadly speaking, Reunion follows French tradition and culture, although the island is influenced by its many different population groups. There is a mix of Catholicism, Hinduism, Buddhism and Islam on the island and visitors should respect the different religious groups and their customs.
Business
The business culture is quite relaxed in Reunion and only the most formal of occasions will require suits. French is the language of business and an interpreter should be brought along if needed as there are few professional interpreters on the island. Business hours are generally 8am to 12pm and 2pm to 6pm, Monday to Friday.
Tipping
Tipping is not necessarily expected but is usually appreciated in Reunion. Some restaurants do add a service charge to the bill but if they don't a tip of about 10 percent is appropriate for good service.
Public Holidays in Reunion
Overview
Reunion is a fascinating geological destination, with its rugged valleys and volcanic landscapes softened by lush forest. The Plaine des Sables is a stark ash and lava rock plain at the foot of Reunion's volcano, which feels like a moon landscape. The Piton de la Fournaise Volcano, the only active volcano on the island, and indeed one of the most active in the world, is thrillingly accessible to the adventurous. The Riviere des Remparts Canyon is a steep and beautiful river valley, and the three cirques, deep circular canyons, lure visitors with scenic overlooks and exciting hiking trails.
Of course, Reunion is also a celebrated beach getaway, with its tropical climate and lovely coastline. Visitors should note that the beaches on the western coast of the island, between St Gilles-les-Bains and Hermitage-les-Bains (where many hotels can be found) are sandy and comparatively safe, making this the best stretch of coastline for families and those seeking calmer waters. Much of Reunion's coast, though beautiful, is rocky, with rough surf. Those snorkelling and swimming should also bear in mind that shark attacks do occasionally occur off the island; it is worth researching where the attacks most commonly take place and consulting locals when in doubt. Those fond of marine life should visit the Kelonia Marine Turtle Observatory, dedicated to the study and conservation of Reunion's resident turtles.
Map of Reunion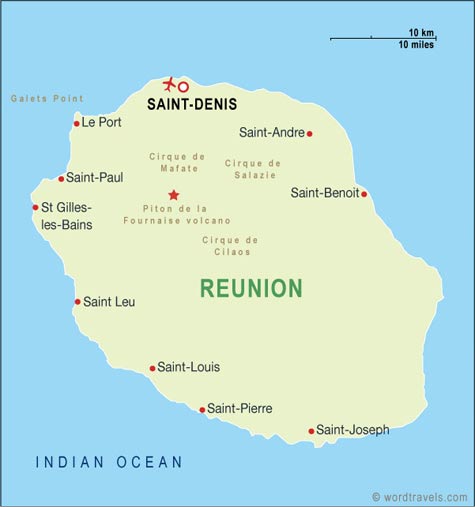 Travel Guide powered by www.wordtravels.com, copyright © Globe Media Ltd. All rights reserved. By its very nature much of the information in this guide is subject to change at short notice and travellers are urged to verify information on which they're relying with the relevant authorities. Globe Media and UNIGLOBE Travel does not accept any responsibility for any loss or inconvenience to any person as a result of information contained above.