General
Money
Entry Requirements
Health & safety
Weather
Embassies
Etiquette
Public Holidays
Attractions
Map
---
Introduction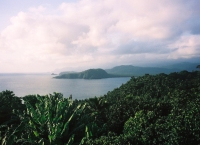 Sao Tome and Principe ©Maria Cartas
Forget the Caribbean or Bali, the remote island nation of São Tomé and Príncipe in the Gulf of Guinea is a land brimming with natural resources and breathtaking scenery, but far removed from mass tourism. From volcanic peaks to underwater caves, São Tomé and Príncipe is the perfect destination for an exotic holiday in paradise.
These two relaxed islands form Africa's second-smallest country after the Seychelles, and both were uninhabited before the Portuguese arrived in the 15th century. Travellers should head to the colonial capital of São Tomé to admire the distinctive architecture and enjoy the cooling sea breeze, or visit the fortress museum at Sao Sabastiao to discover colonial art and religious artefacts.
Trek through unspoilt rainforests and explore the cascading waterfalls, laze on sun-drenched beaches while palm fronds rustle overhead, or dive and snorkel in uncharted turquoise waters. Visitors can appreciate the islands' natural biodiversity by doing some bird-watching, or by visiting the turtle-nesting grounds at Obo National Park and the Boca do Inferno Blowhole.
Savour the islands' Portuguese-Creole soul and enjoy the local island rhythms and flavours by feasting on delicious seafood, fresh fruit and some of the world's finest coffee. Visit the colourful Sao Tome market, or one of the many old plantations, where slaves once toiled to produce cocoa, coffee and sugar.
With only a handful of tourists arriving per week, you can be sure you will be enjoying your very own slice of tropical heaven well off the beaten track. However you decide to pass the time in São Tomé and Príncipe, make sure you do it slowly.
Languages Spoken
The official language is Portuguese, and French is widely spoken, along with local languages.
Duty Free
Visitors to Sao Tome and Principe may import a reasonable quantity of tobacco and perfume for personal use. Alcoholic beverages and lottery tickets are prohibited.
Electricity
Electrical current in Sao Tome and Principe is 220 volts, 50Hz. A variety of plugs are in use including the European-style two-pin plug and Schuko two-pin.
Passport
It is highly recommended that passports have at least six months validity remaining after your intended date of departure from your travel destination. Immigration officials often apply different rules to those stated by travel agents and official sources.
Entry Requirements
Passport required. No visas for UK Nationals required for a stay of up to 15 days.
Passport required. No visas for Canadian Nationals required for a stay of up to 15 days.
Passport required. Visa required.
Passport required. Visa required.
Passport required. No visas for Irish Nationals required for a stay of up to 15 days.
Passport required. Visa required.
Health
Hepatitis A, typhoid, yellow fever, MMR (measles-mumps-rubella), and tetanus are all recommended as pre-travel immunisations. Cholera vaccinations are not generally recommended for travel to Sao Tome and Principe. HIV is not as common as in other African countries, and travellers are not at risk unless they engage in unprotected sexual contact or receive injections or blood transfusions. Schistosomiasis may be acquired through contact with contaminated water, and travellers are advised to avoid swimming, wading, or rafting in bodies of fresh water, such as lakes, ponds, streams, or rivers.
Malaria is not as common a concern as it once was in Sao Tome, however visitors are still advised to take precautions, including insect repellent, netting, and antimalarial tablets. Either mefloquine (Lariam), atovaquone/proguanil (Malarone), or doxycycline may be taken. It is recommended to wear long sleeves, long pants, hats and closed shoes in forested areas to prevent tick bites.
Medical facilities in Sao Tome and Principe are extremely limited. The main healthcare facility is the Ayres Menezes Hospital, located on Sao Tome. Be advised that most doctors and hospitals will expect cash payment, regardless of whether you have travel health insurance. Serious medical problems will require air evacuation to a country with state-of-the-art medical facilities. It is also recommended that travellers carry a personal supply of basic first aid and antibiotics.
* For current safety alerts, please visit
Foreign travel advice - GOV.UK
or
Travel.State.Gov
Exchange Rate
Not available.
Embassies of Sao Tome and Principe
Foreign Embassies in Sao Tome and Principe
Customers
In Sao Tome and Principe, customs are fairly casual and relaxed, but you shouldn't wear beachwear anywhere but on the beach. It is considered polite to ask a local's permission before taking their picture, and do not try to photograph the palace. Sao Tomeans are very respectful of older people and those with high social status. It is considered a privilege to be invited into a person's home, and you should remove your shoes upon entering.
Public Holidays in Sao Tome and Principe
Travel Guide powered by www.wordtravels.com, copyright © Globe Media Ltd. All rights reserved. By its very nature much of the information in this guide is subject to change at short notice and travellers are urged to verify information on which they're relying with the relevant authorities. Globe Media and UNIGLOBE Travel does not accept any responsibility for any loss or inconvenience to any person as a result of information contained above.