General
Money
Entry Requirements
Health & safety
Weather
Embassies
Etiquette
Public Holidays
Attractions
Map
---
Introduction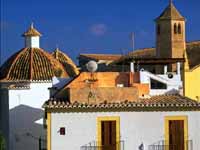 Ibiza Town ©Spanish National Tourist Board
Budget airlines and affordable fares have turned Spain into a beach resort haven for northern Europeans wishing to escape their own (sometimes) damp and dreary climates. With sun-bleached beaches and a favourable rate of exchange for most travellers, it's easy to see why Spain is such a popular choice for an unforgettable beach holiday in Europe. An incredible 53 million people visit Spain each year (the second most in Europe after France), and the country deserves its formidable reputation as a tourist haven.
Some may feel that the Canary and Balearic Islands have been overrun by tourists, and this is true to some extent - Tenerife, Lanzarote and Mallorca have become synonymous with cheap package holidays and warm beer, and Ibiza's reputation has, for some, been tarnished by the revellers frequenting its famous dance clubs and beach parties. However, even in these crowded resort areas you will find many magical, unspoilt corners awaiting discovery.
Spain is comprised of numerous autonomous regions, offering great variation within one country. The hundreds of miles of Mediterranean coastline provide ample opportunity to get off the beaten track, and the country's vibrant cities and colourful festivals will amaze and delight even the most seasoned traveller. Art lovers can get lost in the Spain of Gaudi, Dali, and Picasso, of Goya and Velazquez - proudly displayed in the country's museums and galleries.
Spain's Pamplona is a unique experience of thundering streets that vibrate to the rhythm of man and beast during the annual running of the bulls, and while the whole country celebrates each February with the Carnaval, no place does it better than Sitges. Barcelona is Spain's showcase of the unique architectural style of Gaudi's bizarre organic turrets and balconies. For a more provincial experience, the Valencian town of Buñol goes wild every year with the La Tomatina festival, a time when the region's surplus tomatoes - following the annual harvest - are dumped on the streets and pelted about in a friendly riot.
Spain is also a country rich in heritage and the historic cities of Toledo, Salamanca, Seville and Granada promise a wealth of early Christian and Moorish buildings and monuments, as well as the remains of some incredible medieval sites. Spain has six cities that have been declared UNESCO World Heritage sites, more than any other country in the world.
Communications
The international access code for Spain is +34. Pay phones are either blue or green and few accept coins, so buying phone cards, which are sold at post offices, tobacco shops and newsagents, is the best option. Mobile phone operators provide thorough GSM 900/1800 coverage throughout the country and the Balearic and Canary Islands. Internet access is available at internet cafes in most towns and resorts.
Emergencies
112 (General).
Languages Spoken
Spanish is the official language, but English is widely understood in areas frequented by tourists. Catalan, Galician and Basque are spoken in the relevant areas.
Duty Free
If tax was included in the purchase price, travellers form EU countries are allowed the following items duty free: €300 (by land) or €430 (by air) gifts/souvenirs, 3200 cigarettes, 400 cigarillos, 200 cigars or 3kg smoking tobacco, 110 litres beer, 90 litres wine or 10 litres spirits, 60ml perfume. Travellers from non-EU countries may have 200 cigarettes, 100 cigarillos, 50 cigars or 250g smoking tobacco, 1 litre spirits or 2 litres wine, 60ml perfume and €200 worth of gifts/souvenirs.
Electricity
Electrical current is 230 volts, 50Hz. European-style two-pin plugs are standard.
Climate Info
Southern Spain is the ideal holiday region, having the warmest weather on mainland Europe, even during the winter months. The southern and eastern coast of Spain has a Mediterranean climate with hot, dry summers and mild winters, while the west Atlantic coast is cooler in summer and wet in winter. Inland the climate is temperate and the capital Madrid, which is situated on a plateau, can be surprisingly cold in winter. Most of Spain is extremely hot during mid-summer, in July and August. The rest of the year the climate is generally temperate in the north, but warm in the south. The peak tourism season is summer, between June and August, with August the busiest month, but many people prefer to visit Spain during spring or autumn (May or October) when the weather is still pleasant and the crowds thinner. The exception to this recommendation is the Atlantic coast, which has heavy rains in October and November. Budget travellers should consider visiting Spain in the winter as accommodation and flights are offered at discount rates. The Canary Islands are a good beach destination if visiting in winter, and cities like Barcelona are exciting destinations at any time of year.
Passport
The borderless region known as the Schengen area includes the following countries: Austria, Belgium, Czech Republic, Denmark, Estonia, Finland, France, Germany, Greece, Hungary, Iceland, Italy, Latvia, Lithuania, Luxembourg, Malta, The Netherlands, Norway, Poland, Portugal, Slovakia, Slovenia, Spain and Sweden. All these countries issue a standard Schengen visa that has a multiple entry option that allows the holder to travel freely within the borders of all. Non-EU nationals must hold a return or onward ticket, all necessary documents for onward travel and sufficient funds. For travel to Spain, sufficient funds is defined as EUR 62.40 per day of stay with a minimum of EUR 561.60 or equivalent in other freely convertible currency. Visitors to Spain also require an invitation letter or confirmation of accommodation.
It is highly recommended that passports have at least six months validity remaining after your intended date of departure from your travel destination. Immigration officials often apply different rules to those stated by travel agents and official sources.
Entry Requirements
United States citizens require a passport valid for at least three months beyond period of intended stay. No visa is required for stays of up to 90 days.
No visa is required for passports endorsed 'British Citizen', 'British Overseas Territories Citizen' issued by Gibraltar, Identity Cards issued by Gibraltar, and 'British Subject' (containing a Certificate of Entitlement to the Right of Abode issued by the United Kingdom). All other British nationals are entitled to a maximum stay of 90 days without a visa.
Canadian citizens require a passport valid for at least three months beyond period of intended stay. No visa is required for stays of up to 90 days.
Australian citizens require a passport valid for at least three months beyond period of intended stay. No visa is required for stays of up to 90 days.
South African citizens require a passport valid for at least three months beyond period of intended stay. A visa is required.
Irish nationals require a valid passport, but a visa is not necessary.
New Zealand citizens require a passport valid for at least three months beyond period of intended stay. No visa is required for stays of up to 90 days.
Health
There are no health risks associated with travel to Spain, and no vaccination certificates are required for entry. Medical facilities are good in Spain, but comprehensive travel insurance is always advised. Spain has a reciprocal health agreement with most EU countries, including the UK, providing emergency health care for EU travellers on the same terms as Spanish nationals. EU travellers should take a European Health Insurance Card (EHIC). Note that the scheme gives no entitlement to medical repatriation costs, nor does it cover ongoing illnesses of a non-urgent nature, so comprehensive travel insurance is still advised. Travellers should take any medication they require along with them, in its original packaging and accompanied by a signed and dated letter from a doctor detailing what it is and why it is needed.
Safety
Most visits to Spain are trouble-free, except for occasional street crime, which is common in the big cities; travellers are advised to take precautions to avoid theft of passports, credit cards, travel documents and money. Crime is usually petty and violent assault is rare. Be wary of strangers offering or asking for help of any kind, as it is often a distraction for accomplices. There are also scams involving letters for outstanding traffic fines or Spanish lottery winnings. If travellers exercise all the normal precautions they should have a trouble-free holiday in Spain.
Emergency Phone Number
112 (General).
* For current safety alerts, please visit
Foreign travel advice - GOV.UK
or
Travel.State.Gov
Money
Spain's official currency is the Euro (EUR). One Euro is divided into 100 cents. Money can be exchanged at bureaux de change and major hotels, but banks give the best rates. All major credit cards are widely accepted at most hotels, restaurants and shops. ATMs are widespread and are generally the cheapest and most convenient method of obtaining money.
Exchange Rate
Not available.
Embassies of Spain
Spanish Embassy, Washington, United States: +1 202 452 0100.
Spanish Embassy, London, United Kingdom: +44 0207 235 5555.
Spanish Embassy, Ottawa, Canada: +1 613 747 2252.
Spanish Embassy, Canberra, Australia: +61 02 6273 3555.
Spanish Embassy, Pretoria, South Africa: +27 012 460 0123 (ext. 116/117).
Spanish Embassy, Dublin, Ireland: +353 01 283 9900.
Spanish Consulate, Wellington, New Zealand: +64 04 802 5665.
Foreign Embassies in Spain
United States Embassy, Madrid: +34 91 587 2200.
British Embassy, Madrid: +34 91 714 6300.
Canadian Embassy, Madrid: +34 91 382 8400.
Australian Embassy, Madrid: +34 91 353 6600.
South African Embassy, Madrid: +34 91 436 3780.
Irish Embassy, Madrid: +34 91 436 4093.
New Zealand Embassy, Madrid: +34 915 230 226.
Customers
Smoking in public places is banned and stiff fines will be imposed for smoking in areas such as enclosed public spaces, areas where food is prepared and sold, public transport, non-smoking areas of bars and restaurants, and any places that cater for children. Drinking alcohol in the streets of Madrid, and in the Canary and Balearic Islands is illegal.
Business
The business culture in Spain is slowly shifting, but for now it is entrenched in tradition and it can take some time to gain a foothold in the Spanish working world. Hierarchy is central to Spain's business world and managers tend to make decisions without considering input from their colleagues. It is important never to undermine authority. A strong emphasis is placed on social status, character attributes and personal pride. Business success is often hinged upon being well-dressed, honourable and dignified while also exhibiting great social and entertainment skills. Business meetings are generally conducted face-to-face and can go on for long periods, as Spaniards prefer long deliberations in order to avoid uncertainty in business dealings. Business meetings in Spain tend to tread a fine line being personal and formal.
Conducting business in Spain can entail navigation through a lot of red tape and bureaucracy. Spanish is the language of business, but some of the larger multinationals conduct meetings in both English and Spanish. Business hours are often quite varied, but generally open by 9am and close in the mid-evening with a two-hour lunch break during the early afternoon. Business attire is quite conservative with dark or linen suits, with shirts and silk ties for men. Women should wear modest dresses or tailored suits. Brand names or labels attract affirmation from colleagues and associates.
After the conclusion of successful negotiations, gifts are appropriate. Gifts should be of high quality and when receiving a gift, open it in front of the giver. Business cards are important and should be bilingual. Meetings are best scheduled for mid-morning. In business meetings always establish a formal, yet personable, environment before beginning business. Meetings often occur over lunches and dinners and may be characterised by several speakers. A hierarchy is generally observed with respect.
Tipping
Hotel and restaurant bills usually include service charges, but additional tips are welcomed for services rendered. In established restaurants tips of about 10 percent are expected. In Mallorca value-added-tax is usually included in restaurant bills, designated 'I.V.A', and may be mistaken for a service charge. Drivers of metered taxis expect small tips and it is customary to tip about 5 to 10 percent for most services, including guides.
Public Holidays in Spain
| | | |
| --- | --- | --- |
| | 2017 | 2018 |
| New Year's Day | 1 Jan | 1 Jan |
| Good Friday | 14 Apr | 30 Mar |
| Labour Day | 1 May | 1 May |
| Assumption of Mary | 15 Aug | 15 Aug |
| Hispanic Day | 12 Oct | 12 Oct |
| All Saints Day | 1 Nov | 1 Nov |
| Constitution Day | 6 Dec | 6 Dec |
| Immaculate Conception | 8 Dec | 8 Dec |
| Christmas Day | 25 Dec | 25 Dec |
| Epiphany | 6 Jan | 6 Jan |
Overview
Spain is more than a travel destination - it's a way of life. The country's many attractions and the journeys between them are infused with the warm welcome of the diverse people and the laid-back lifestyle that the Spaniards have perfected. Spanish holidays should be slow, with room for spontaneity and unexpected diversions.
The wealth of things to see and do is such that the top attractions in Spain are whole cities, towns and islands, and a single holiday can barely scratch the surface of what this country has to offer. It is often best to plan an itinerary around a single city or region.
Favourite destinations in Spain include: Toledo, for Roman architecture and ancient history; Santiago de Compostela for religious history and art; Cordoba, for medieval charm and the Mezquita cathedral; Barcelona, for Gaudi and almost anything else a tourist could want; Ibiza, for beach parties and clubbing; Bilbao, for industrial creativity and the Guggenheim Museum; Majorca, for stunning landscapes and medieval villages; Madrid, the capital, for a cosmopolitan Spanish experience; Tenerife, for spectacular beaches and diverse landscapes; Seville, for history and fun after dark; Granada, for mountains, tradition and architecture; and San Sebastian, for beautiful beaches and good food.
Map of Spain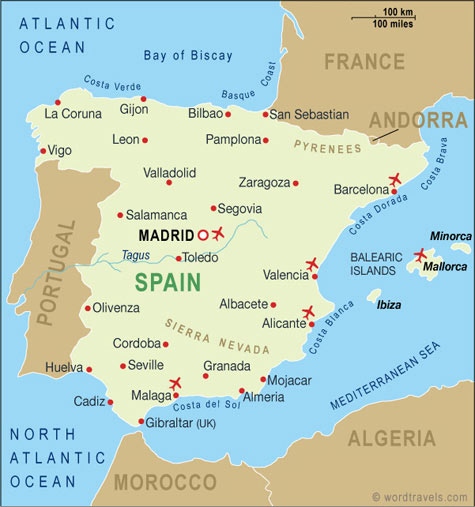 Travel Guide powered by www.wordtravels.com, copyright © Globe Media Ltd. All rights reserved. By its very nature much of the information in this guide is subject to change at short notice and travellers are urged to verify information on which they're relying with the relevant authorities. Globe Media and UNIGLOBE Travel does not accept any responsibility for any loss or inconvenience to any person as a result of information contained above.