General
Money
Entry Requirements
Health & safety
Weather
Embassies
Etiquette
Public Holidays
Attractions
Map
---
Introduction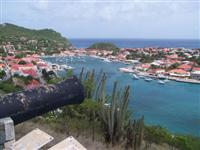 A view of Gustavia Harbour ©Kevin Gabbert
Saint Barthelemy, generally known as St Barths, is a tiny and luxuriant Caribbean island famous for its beauty and A-list visitors. It is an overseas collectivity of France and has a distinctly French flavour. St Barths was also once a Swedish colony, a curious fact commemorated in the name of the capital, Gustavia. Situated in the northeastern Caribbean, St Barths is close to other tropical gems like Saint Martin and St Kitts.
This lush volcanic island is fully encircled by shallow reefs and home to a number of marinas, making it a fabulous sailing, snorkelling and scuba diving destination. Other popular watersports in St Barths include wind surfing, kite surfing and sport fishing. There are 23 beaches on the island, all magnificent and relatively secluded. Overall, mountainous St Barths is surprisingly undeveloped, preserving much of its small-town character and natural beauty.
Celebrities flock here to enjoy the seclusion afforded by the private villa-style accommodation, the absence of mass tourism and the top-quality restaurants and hotels. The shopping is also surprisingly top-notch. The period between Christmas and Easter is referred to as 'The Season' and is when the majority of visitors come to enjoy the many attractions of St Barths.
Crime is practically unheard of on this paradise island, and people invariably greet strangers and friends alike with a hearty 'bonjour!'.
Communications
The country code for St Barths is +590. Cellular service providers on the island have deals in place with some international providers, but cellular coverage should be checked with your provider in advance. There are public pay phones on the island, the majority of which operate with Telecartes that can be purchased at post offices and petrol stations. Internet and wifi are provided by some restaurants and hotels.
Languages Spoken
French is the official language. English is also widely spoken.
Duty Free
Visitors to St Barths may import reasonable quantities of items for personal use without incurring customs duty. The exact amount that constitutes a reasonable quantity is at the discretion of the border officials but generally about four litres of alcohol and a carton of cigarettes or equivalent in tobacco or cigars is acceptable.
Electricity
Electrical current is 220 volts, 60Hz. Rounded two-pin plugs are standard.
Climate Info
St Barths only experiences minor seasonal variations in temperature and the year can be roughly divided into the hotter, wetter summer months between May and November, and drier, slightly cooler winter months between December and April. In the cooler months temperatures average between 72°F (22°C) and 82°F (28°C), with summer temperatures averaging only slightly higher between 75°F (24°C) and 86°F (30°C). The east of the island is marginally wetter than the west but as the climate is essentially arid plenty of sunshine can be expected year-round.
Entry Requirements
Health
There are no specific health risks associated with travel to St Barths but a yellow fever vaccination is required for all travellers over the age of one arriving from a yellow-fever-infected country in Africa or the Americas. A hepatitis A vaccination is also recommended. There have been outbreaks of chikungunya fever, a mosquito-borne disease, in recent years in St Barths; there is no vaccine or treatment for chikungunya fever, but visitors to St Barths should take precautions against mosquito bites.
Medical care on St Barths is extremely limited and significant health problems will usually require treatment on nearby islands like St Martin or Guadeloupe. Travellers are advised to have comprehensive health insurance and to take along all necessary medications, accompanied by a signed and dated letter from their doctor detailing what the medication is and why it is needed.
Safety
St Barths is virtually crime-free and is considered one of the safest destinations in the Caribbean. Travellers should always be alert to the possibility of petty crime but even things like pick-pocketing are rare on the island.
* For current safety alerts, please visit
Foreign travel advice - GOV.UK
or
Travel.State.Gov
Money
The official currency is the Euro (EUR) but US Dollars (USD) are also widely accepted. ATMs are widely available, though those using American Express cards may struggle to withdraw cash and should visit an American Express branch to do so. Banking facilities are of a high standard on the island with banks generally open 8am to 3.30pm Monday to Friday, with a closure of an hour or two over lunch.
Exchange Rate
Not available.
Embassies of St Barths
Foreign Embassies in St Barths
Customers
St Barths has a traditional French culture, and it is polite to greet with 'bonjour' in a shop or restaurant or when passing a stranger in an uncrowded environment, and likewise to take leave with 'au revoir'. Men and women may kiss on both cheeks when greeting, starting with the right. While men may greet with a handshake, men and women generally only shake hands in business environments. It is considered rude to honk your horn when driving.
Tipping
Service charges are often included in the bill, as in France, but tipping small amounts for good service has become more common on St Barths. If there is no service charge a tip of about 10 percent is appreciated by waiters, and this tip is usually left in cash. Hotel staff appreciate small tips for service.
Public Holidays in St Barths
Travel Guide powered by www.wordtravels.com, copyright © Globe Media Ltd. All rights reserved. By its very nature much of the information in this guide is subject to change at short notice and travellers are urged to verify information on which they're relying with the relevant authorities. Globe Media and UNIGLOBE Travel does not accept any responsibility for any loss or inconvenience to any person as a result of information contained above.