General
Money
Entry Requirements
Health & safety
Weather
Embassies
Etiquette
Public Holidays
Attractions
Map
---
Introduction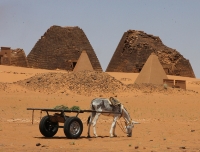 Nubian pyramids of Meroe ©joepyrek
Sudan is not a country to visit for traditional sightseeing or a typical tourist experience, but rather a destination for those keen to get totally off the beaten track and meet people largely untouched by the preoccupations of the developed world.
In the north, the Nubian Desert forms a large part of the country, where huge clay water pots can be seen under every tree or shady shelter to provide much-needed sustenance in the heat. In contrast, the narrow strip of land running the length of the Nile River is lush and green. Desert towns have wide, dusty roads, which seem eerily empty at midday due to the heat. In the evenings, however, the streets come alive with movement and colour, the women's vivid wrap-around clothing and hennaed fingers standing out from the crisp, white kaftans and turbans of the men. Beyond these barren desert reaches, the south is characterised by swamps and rainforest but is generally considered less safe for travellers.
Torn into North and South Sudan by cultural and religious disputes, it is the north that occupies the largest area and includes most of the urban centres, including the capital, Khartoum. The largely Muslim, Arabic-speaking population of this area are proud of their country and will take great delight in showing it off. For those in search of what Sudan has to offer, the peaceful capital at the junction of the White and Blue Niles, and its sister city Omdurman, are good places to begin, with the National Museum, a large (covered market), camel market, and the Tomb of the Mahdi. To the north of Khartoum are the ruins of the Royal City of Meroe as well as the pyramids in which the kings are buried. Kassala to the east boasts a wonderful known for its local variety of fruit and silver jewellery, and a desert landscape dominated by , or hills. The war-torn south is largely rural and lacking in infrastructure, and holds little of interest for the international visitor.
Sudan has been afflicted by violent civil wars for nearly half a century, and more often than not makes headlines for the wrong reasons. However, outside of the main conflict areas the country is generally considered safe to travel in, and those who get there will be treated with extreme courtesy and friendliness. The Sudanese take Arabic hospitality very seriously and it is unlikely that a traveller will pass by without an invitation to share in a meal or to visit someone's home. Travellers are advised to avoid all travel to certain parts of Sudan - mostly the southern states and border areas - and are advised to do comprehensive research prior to travel, taking government travel alerts into account.
Communications
The international dialling code for Sudan is +249. The outgoing code is 00 followed by the relevant country code (e.g. 0044 for the UK). City codes are in use e.g. (0)183 for Khartoum. Outgoing international calls must go through the operator. GSM mobile coverage extends as far south as Malakal, and covers most cities and towns. Internet cafes are increasing in major cities, but can be hard to find outside of these areas.
Emergencies
999 (Police)
Languages Spoken
Arabic is the official language, but English is quite widely spoken.
Duty Free
The import and export of local currency is prohibited. Passengers over the age of 20 can bring in 200 cigarettes or 50 cigars or 450g of tocabbo; perfume for personal use; and a reasonable amount of gifts into the country duty-free. Alcohol is prohibited, as are goods from Israel.
Electricity
Electrical current is 230 volts, 50Hz. Round two- and three-pin plugs are in use.
Passport
Most nationalities require a visa for entry to Sudan. Visitors should be aware that if their passport contains evidence of a visit to Israel, a visa for Sudan will be refused, as will entry to the country even if in possession of a valid visa. Only holders of a business visa or permit may conduct business in Sudan. Entry visas are valid for one entry only, unless otherwise stated. Extensions of stays are possible and should be paid at the Ministry of Interior. All travellers need to register with the Aliens Department at the Ministry of Interior within three days of arrival in Sudan - hotels may do this automatically but it is worth checking. It is highly recommended that passports have at least six months validity remaining after your intended date of departure from your travel destination. Immigration officials often apply different rules to those stated by travel agents and official sources.
Entry Requirements
US nationals require a passport valid for six months and a visa for entry into Sudan.
UK nationals require a passport valid for six months and a visa for entry into Sudan.
Canadians require a passport valid for six months and a visa for entry into Sudan.
Australians require a passport valid for six months and a visa for entry into Sudan.
South Africans require a passport valid for six months and a visa for entry into Sudan.
Irish nationals require a passport valid for six months and a visa for entry into Sudan.
New Zealand nationals require a passport valid for six months and a visa for entry into Sudan.
Health
A yellow fever certificate is required by those arriving from an infected country. Malaria is rife and malaria medication is recommended for travel to all parts of the country; dengue fever also occurs, so precautions against mosquito bites should be taken. Vaccinations are recommended for hepatitis A, hepatitis B, typhoid and meningococcus. Water and food-borne diseases are common and travellers should purify drinking water and carry anti-diarrhoeal drugs.
Medical facilities in Khartoum are adequate for routine problems, but the war has resulted in a shortage of medicine and hospital equipment; visitors should ensure they have comprehensive medical insurance, which should include evacuation by air ambulance.
Emergency Phone Number
999 (Police)
* For current safety alerts, please visit
Foreign travel advice - GOV.UK
or
Travel.State.Gov
Money
The official currency is the Sudanese Pound (SDG), which is divided into 100 piastres. It is advisable to bring cash, preferably in US dollars, rather than rely on credit card facilities. Receipts should be kept after changing money at banks and bureaux de change. Banking hours are from Saturday to Thursday from 8.30am to, at least, 12pm.
Exchange Rate
Not available.
Embassies of Sudan
Foreign Embassies in Sudan
Customers
Northern Sudan and Khartoum are predominantly Islamic, and religious customs and sensitivities should be respected, particularly with regard to dress and public conduct. Women, in particular, should wear loose fitting clothes that cover most of the body, although covering the head is unnecessary. Eating, drinking and smoking in public during the holy month of Ramadan should be avoided, as it is forbidden by Islam. Sharia law applies in Sudan. Travel outside of Khartoum may require a permit and visitors arriving in any town or city are required to register with the police. Photography permits are also required by anyone intending to take photographs while in the country; certain subjects are forbidden. Homosexuality is illegal. Visitors are advised to avoid political discussion and any kind of street protest.
Public Holidays in Sudan
| | | |
| --- | --- | --- |
| | 2017 | 2018 |
| New Years Day (Independence Day) | 1 Jan | 1 Jan |
| Coptic Christmas Day | 8 Jan | 8 Jan |
| Coptic Easter | 16 Apr | 8 Apr |
| Revolution Day | 30 Jun | 30 Jun |
| Boxing Day | 26 Dec | 26 Dec |
| Eid al-Fitr (End of Ramadan) | 26 Jun | 15 Jun |
| Eid Al-Adha (Feast of Sacrifice) | 2 Sep | 22 Aug |
| Islamic New Year | 22 Sep | 12 Sep |
| Christmas Day | 25 Dec | 25 Dec |
| Easter Monday | 17 Apr | 2 Apr |
| Birth of the Prophet | 1 Dec | 21 Nov |
Travel Guide powered by www.wordtravels.com, copyright © Globe Media Ltd. All rights reserved. By its very nature much of the information in this guide is subject to change at short notice and travellers are urged to verify information on which they're relying with the relevant authorities. Globe Media and UNIGLOBE Travel does not accept any responsibility for any loss or inconvenience to any person as a result of information contained above.