General
Money
Entry Requirements
Health & safety
Weather
Embassies
Etiquette
Public Holidays
Attractions
Map
---
Introduction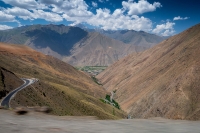 The Republic of Tajikistan is a landlocked, mountainous country in central Asia with much to offer adventurers, mountaineers and lovers of the road less travelled.
Tajikistan came into being as an independent nation with the break-up of the Soviet Union in 1990. It promptly fell into a bitter civil war until 1997, when a peace agreement led to the formation of a republic under the leadership of Emomali Rahmon. Subsequent elections have reportedly been flawed and Rahmon remains in power but peace has prevailed giving this impoverished country a chance at better things.
Dushanbe, the capital city, is famous for its Monday market and Soviet-era statues and is a good place to start a trip, but the main attractions of Tajikistan are natural. In the far west of the country, the city of Khorog serves as a gateway to the magnificent Pamirs, perhaps the least-explored mountain range in the world. This vast region is difficult to access but rewards intrepid visitors with splendid Alpine vistas and endless mountaineering opportunities in gorgeously unspoiled landscapes. Also making an appearance on the highlights reel of Tajik natural wonders are the seven Muragazor Lakes which famously change colour throughout the day.
Trekkers also come to Tajikistan to traverse the ancient Silk Road routes, and in doing so retrace journeys first taken three millennia ago.
Languages Spoken
The official language is Tajik but Russian is also commonly spoken.
Duty Free
Travellers over 20 years of age are allowed to import 200 cigarettes or 50 cigars or 500g of tobacco; perfume for personal use; and a reasonable amount of goods for personal use and gifts. Note that it is illegal to import the local currency.
Electricity
Electrical current is 220 volts, 50Hz. Plugs with two round pins are standard.
Passport
Visas are no longer available on arrival in Tajikistan. It is highly recommended that passports have at least six months validity remaining after your intended date of departure from your travel destination. Immigration officials often apply different rules to those stated by travel agents and official sources.
Entry Requirements
Passport must be valid for duration of stay. A visa is required.
Passport valid for duration of stay is required. A visa is required.
Passport valid for duration of stay is required. A visa is required.
Passport valid for duration of stay is required. A visa is required.
Passport valid for duration of stay is required. A visa is required.
Passport valid for duration of stay is required. A visa is required.
Passport valid for duration of stay is required. A visa is required.
Health
Malaria is a concern in parts of Tajikistan and malaria medication is recommended in all areas below 2,000 metres (6,562ft). Vaccinations are recommended for hepatitis A, hepatitis B and typhoid and travellers should be up to date on vaccinations for tetanus-diphtheria, polio and MMR (measles, mumps, rubella).
Medical facilities are extremely limited in Tajikistan and some essential medications are in short supply. Comprehensive travel health insurance is necessary and travellers should take along all required medications, in their original packaging, with a signed and dated letter from a doctor detailing what they are and why they are needed.
* For current safety alerts, please visit
Foreign travel advice - GOV.UK
or
Travel.State.Gov
Exchange Rate
Not available.
Embassies of Tajikistan
Foreign Embassies in Tajikistan
Customers
Although the country has a secular constitution, the culture of Tajikistan is predominantly Islamic and tourists should be careful to respect Islamic tradition. Modest clothing is expected, but women are not required to cover their heads. Men should not enter a house where only women are present and vice versa. It is polite to remove your shoes when entering a house. When greeting someone, you may shake hands, but it shows respect to also bow slightly with your hand placed over your heart. Travellers should carry a photocopy of their passports at all times as requests to produce an ID are frequent.
Public Holidays in Tajikistan
Travel Guide powered by www.wordtravels.com, copyright © Globe Media Ltd. All rights reserved. By its very nature much of the information in this guide is subject to change at short notice and travellers are urged to verify information on which they're relying with the relevant authorities. Globe Media and UNIGLOBE Travel does not accept any responsibility for any loss or inconvenience to any person as a result of information contained above.