General
Money
Entry Requirements
Health & safety
Weather
Embassies
Etiquette
Public Holidays
Attractions
Map
---
Introduction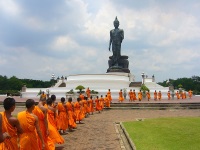 Buddha in Phutthamonthon ©Tevaprapas
From idyllic beaches with turquoise seas and white sands to bustling cities sporting exotic markets and a vibrant, colourful nightlife, it is easy to see why Thailand has become one of the most popular tourist destinations for the adventurous and young at heart.
A turbulent and often bloody history spanning several millennia has left Thailand scattered with ruins, forgotten temples and deserted cities, revealing a rich tableau of past eras that contrasts sharply with the more modern aspects of the nation's contemporary face.
As Thailand's tourist industry has boomed, helped to some extent by Hollywood's influence (the country has been the setting for movies like The Man with the Golden Gun, The Bridge over River Kwai and Alex Garland's The Beach), numerous large and luxurious resorts have been developed. Yet, for those with a smaller budget, many cheap, comfortable and more basic accommodation options are still readily available on the islands and beaches.
The size and geographical diversity of Thailand provides for a variety of activities: snorkelling, diving and a host of watersports are very popular around the islands, while inland enthusiasts can trek into the mountains or cycle along the flat river areas of the northeast. Bustling, crowded cities like Bangkok display the wilder urban side of Thailand, ensuring the country has something to offer everyone who visits.
Communications
The international country dialling code for Thailand is +66. The outgoing code is 001, followed by the relevant country code (e.g. 00144 for the United Kingdom). City/area codes are in use. To dial a mobile in Thailand a 6, 8 or 9 must precede the city code. International direct dial facilities are available throughout most of the country. Mobile phone networks cover most towns, cities and holiday resorts; operators use GSM 900, 1800 and 1900 networks. Internet cafes are available in the main towns and resorts.
Emergencies
191 (Police); 1155 (Tourist Police); 1554 (Ambulance)
Languages Spoken
Thai is the official language, although English is widely spoken in tourist areas.
Duty Free
Travellers to Thailand do not have to pay duty on 200 cigarettes, 250g tobacco or equivalent amount of cigars, 1 litre of alcohol, 1 camera with 5 rolls of film or 1 movie camera with 3 rolls of 8 or 16 mm film. Goods to the value of THB 10,000 per person for non-residents with transit visas and THB 20,000 per person for holders of tourist visas are allowed. Family allowances are double the individual allowances. Prohibited items include firearms and ammunition without licenses, fireworks, and drugs. Trafficking in drugs carries the maximum penalty. Restrictions apply to meat imported from countries affected by BSE or mad cow and foot-and-mouth diseases. Antiques or objects of art and religious articles may not be exported without a license.
Electricity
220 volts, 50Hz. Both flat and round two-pin plugs are used.
Climate Info
The climate in Thailand experiences high temperatures and humidity levels throughout the year. The hottest months in Thailand are between March and May, and monsoon season runs from June to October. In September and October much of the country suffers from flooding, particularly in the north, northeastern and central regions. The cool season is the best time to visit Thailand, running from November to February. Temperatures are fairly consistent throughout the year, especially in southern regions, ranging between 74°F (23°C) and 86°F (30°C).
Passport
Travellers entering Thailand are required to prove they have sufficient funds to cover the length of their stay, and are recommended to hold documentation for return/onward travel. As of February 2017, if visitors are using the 30 day visa exemption, they can only enter Thailand through a land border twice per calendar year. To cross more frequently, travellers must obtain a visa in advance of travelling. It is highly recommended that passports are valid for six months beyond travel.
Entry Requirements
US passports must be valid for six months beyond date of arrival. No visa is required for tourist stays of up to 30 days.
Passports must be valid for six months beyond date of arrival. British nationals with passports endorsed 'British Citizen' do not require a visa for stays of up to 30 days. British travellers carrying passports with other endorsements should check official requirements.
Canadian Passports must be valid for six months beyond date of arrival. No visa is needed for touristic stays of up to 30 days.
Australian passports must be valid for six months beyond date of arrival. No visa is required for touristic stays of up to 30 days. APEC Business Travel Card holders endorsed for travel to Thailand may stay up to 90 days.
South African passports must be valid for six months beyond date of arrival. No visa is required for touristic stays of up to 30 days.
Irish passports must be valid for six months beyond date of arrival. No visa is required for stays of up to 30 days.
Passports from New Zealand must be valid for six months beyond date of arrival. No visa is required for touristic stays of up to 30 days. Holders of APEC Business Travel Cards endorsed for travel to Thailand may stay up to 90 days.
Health
As a health precaution, travellers should take medical advice at least three weeks before travelling to Thailand. There is no malaria risk in major tourist resorts or in the cities of Bangkok, Chiang Mai, Chiang Rai, Pattaya, Ko Samui, and Ko Phangan. But in rural, forested areas that border Burma (Myanmar), Cambodia, and Laos, preventions against malaria are recommended and immunisation against hepatitis A and typhoid fever is also advised. Yellow fever vaccination certificates are required for travellers from infected areas. There has been an increase in reported cases of dengue fever, particularly in the south, and vaccination against Japanese encephalitis is also recommended. Outbreaks of leptospirosis occur during the rainy season and after flooding. There have been outbreaks of waterborne diseases in the Provinces of Khon Kaen, Lop Buri, Phitsanulok and Prachin Buri. Outbreaks of cholera have also been reported. You should drink or use only boiled or bottled water and avoid ice in drinks. If you suffer from diarrhoea during your visit you should seek immediate medical attention. HIV/AIDS is prevalent in the major cities and resorts. Medical facilities are good in major cities, but good medical insurance is vital - without insurance, or cash/credit card, travellers will not be treated. Bangkok has excellent international hospitals.
Safety
Although the political situation in Thailand is currently more stable than before, there have been major political demonstrations in Bangkok in recent months accompanied by outbreaks of violence. Tourists have not been targeted during the protests, but travellers are advised to avoid all political gatherings and marches and to stay well-informed about the situation in the country. Travellers should check out the official travel alerts for Thailand before visiting, and should be careful to abide by any curfews or other rules imposed by the Thai government.
There is a threat from terrorism throughout South East Asia and travellers should be particularly vigilant in public places, including tourist resorts. Avoid the border areas and don't camp in undesignated areas in national parks. The security situation in the southern provinces near the Malaysian border is unstable and travel to Pattani, Yala and Narathiwat and Songkhla is to be avoided. Violence near the Preah Vihear temple area has been recurrent and visitors are advised to avoid travel there.
Visitors to major cities are advised to secure their passports and credit cards and not carry too much money or jewellery. In Bangkok visitors should be aware of scams, often involving gems recommended by kind strangers. In tourist areas, particularly at the Full Moon Party on Ko Phan Ngan, be careful about accepting drinks from strangers as there have been reports of drinks being drugged. Incidents of sexual assault do occur and female travellers should be cautious.
The monsoon season in September and October (November to March on Koh Samui) brings about flooding in the north, northeast and central regions, causing mudslides and flash floods; visitors planning to trek in the jungle during this time should check conditions with licensed tour guides before leaving.
Emergency Phone Number
191 (Police); 1155 (Tourist Police); 1554 (Ambulance)
* For current safety alerts, please visit
Foreign travel advice - GOV.UK
or
Travel.State.Gov
Money
The unit of currency is the Baht (THB), which is divided into 100 satang. Currency can be exchanged at the airport, banks, hotels and bureaux de change. Banks are open Monday to Friday. ATMs are available in most cities and tourist resorts, but there is a surcharge for each withdrawal. Most major credit cards are accepted at hotels and larger businesses.
Exchange Rate
Not available.
Embassies of Thailand
Royal Thai Embassy, Washington DC, United States: +1 202 944 3600.
Royal Thai Embassy, London, United Kingdom: (also responsible for Ireland) +44 (0)20 7589 2944 ext 5500.
Royal Thai Embassy, Ottawa, Canada: +1 613 722 4444.
Royal Thai Embassy, Canberra, Australia: +61 (0)2 6206 0100.
Royal Thai Embassy, Pretoria, South Africa: +27 (0)12 342 5470.
Royal Thai Embassy, Wellington, New Zealand: +64 (0)4 496 2900.
Foreign Embassies in Thailand
United States Embassy, Bangkok: +66 (0)2 205 4000.
British Embassy, Bangkok: +66 (0)2 305 8333.
Canadian Embassy, Bangkok: +66 (0)2 646 4300.
Australian Embassy, Bangkok: +66 (0)2 344 6300.
South African Embassy, Bangkok: + 66 (0)2 659 2900.
Honorary Consul of Ireland, Bangkok: +66 (0)2 632 6720.
New Zealand Embassy, Bangkok (also responsible for Cambodia, Laos and Myanmar): +66 (0)2 254 2530.
Customers
Public displays of affection are frowned upon. Dress is informal, although beachwear should be confined to the beach. Drugs are illegal and travellers should know that possession of even small quantities can lead to imprisonment, and that drug traffickers risk the death penalty. Avoid touching others hair or head (rubbing a child hair for example), as this is a disrespectful gesture. Taking off one's shoes when entering a home is customary, although most shops and restaurants do not always expect tourists to remove their footwear. Do not put your feet on table or chairs, as lifting a foot toward someone, especially the underside of the foot is considered a disrespectful gesture. Although haggling is common when buying items, especially at markets, Thais are generally very calm and soft spoken people. Arguing loudly or raising one's voice when haggling is deemed disrespectful in Thai culture.
Business
Business culture in Thailand is considerably more relaxed than other Asian countries within the region. However, Thailand shares its neighbours' work ethic and value systems, as well as emphasis on hierarchy and building relationships. Senior managers must be consulted on all matters and decisions. Appearance and age are important in Thai business culture as they illustrate social standing and status. Older individuals are generally afforded a great deal of regard in Thailand. Building relationships is central to business culture in Thailand. It is ill regarded for a businessman to start negotiating before being properly acquainted with his business associates.
The concept of 'face' and saving face is important in Thailand; so if you make a mistake, don't expect it to be pointed out to you. Also, if a business associate makes a mistake, it is impolite to draw attention to it or correct them. In 2010, Thailand was the fastest growing economy in SouthEast Asia. Despite this, Thais value family time and time to actually live life. Placing family in front of business priorities is the norm.
English is the language of business in Thailand, but translators are often needed. Business hours are from 8am to 5pm or 9am to 6pm with an hour for lunch. Dress styles tend to be quite formal, but due to the humid climate, heavy suits are rare. However, meetings with senior management tend to be slightly more formal and jackets are usually worn. Men generally wear shirts, slacks and a tie while women wear below-the-knee skirts and blouses. Pants-suits for women are quite rare.
Shaking hands is not a popular form of greeting and the wai (putting cupped hands in front of oneself and bowing slightly) is more acceptable. The higher the hands compared to the face when bowing, the more respect is meant by the wai. It is customary to wai first to those older than oneself. Thais use first names rather than surnames preceded by Kuhn for both men and women. As with many Asian nations, giving gifts to business associates is generally a good idea. When receiving gifts, don't open them in front of the giver. Wait to be introduced to others, as it is an indication of rank. Often the hierarchical structures favour the elders in a group and respect must be given accordingly.
Tipping
Tipping is not expected, but is becoming more common in places frequented by tourists. Tipping 10 to 15 percent on a restaurant bill is usual, but ultimately this is left up to the customer to decide based on service performance. Sometimes a 10 percent service charge is added to the bill at hotels and restaurants, but this is not common. All help with carrying bags, tour guides etc. welcome small tips. Taxi drivers are not generally tipped.
Public Holidays in Thailand
| | | |
| --- | --- | --- |
| | 2017 | 2018 |
| Visakha Bucha | 10 May | 29 May |
| New Year's Day | 1 Jan | 1 Jan |
| Chakri Day | 6 Apr | 6 Apr |
| Songkran Festival | 13 Apr | 13 Apr |
| National Labour Day | 1 May | 1 May |
| Coronation Day | 5 May | 5 May |
| H.M. Queen's Birthday | 12 Aug | 12 Aug |
| Chulalongkorn Day | 23 Oct | 23 Oct |
| H.M. King's Birthday | 5 Dec | 5 Dec |
| Constitution Day | 10 Dec | 10 Dec |
| New Year's Eve | 31 Dec | 31 Dec |
| Asahna Bucha | 8 Jul | 27 Jul |
Overview
There is so much to see and do in Thailand that few visitors can resist returning. With an expansive coast line and gorgeous tropical islands, Thailand is justly famed for its wonderful beaches and laid-back lifestyle. Inland, there are the iconic sights of lush jungles, rolling hills and rice paddies. As a country of Buddhists, there is also an abundance of golden temples and beautiful, spiritually-inspired architecture. One word of caution though: to avoid the common fate of temple fatigue, don't try to see too much. Rather concentrate on a few key attractions and spend some quality time in each of them.
In contrast is the buzzing atmosphere of Bangkok, whose neon lights and smoggy streets blend with gardens and floating markets to create a unique hybrid of old and new - at a frenetic pace.
One reason why Thailand is such a rewarding sightseeing destination is that it has retained its distinctive identity in the face of significant western influence. That makes visiting here an exciting and exotic experience, whether you are a resort loving beach bum or an adrenaline junky exploring hill tribes and river rapids. More good news is that Thailand is blessed with year-round temperate weather so you visit at any time, although in the months from June-October rough sea conditions may make some islands unreachable via the ferry system.
Getting around is fairly easy and remarkably safe. An excellent bus network connects even far-flung towns with the major cities, while a comfortable sleeper train connects Chiang Mai in the far north with the capital Bangkok. Many people prefer to see the sights via organised tours and air-conditioned buses, but by doing so you risk missing out on the fun of getting between attractions, where you will encounter local people in unexpected ways.
Map of Thailand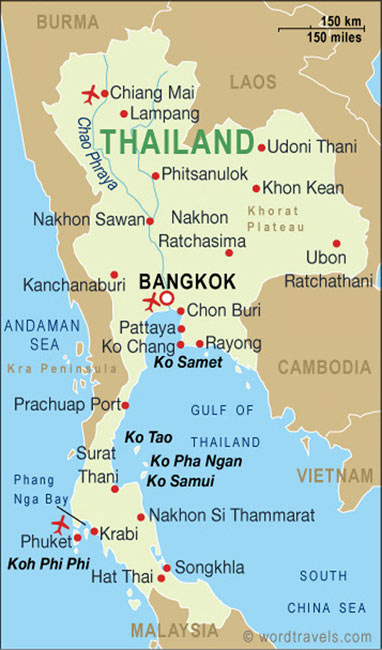 Travel Guide powered by www.wordtravels.com, copyright © Globe Media Ltd. All rights reserved. By its very nature much of the information in this guide is subject to change at short notice and travellers are urged to verify information on which they're relying with the relevant authorities. Globe Media and UNIGLOBE Travel does not accept any responsibility for any loss or inconvenience to any person as a result of information contained above.