General
Money
Entry Requirements
Health & safety
Weather
Embassies
Etiquette
Public Holidays
Attractions
Map
---
Introduction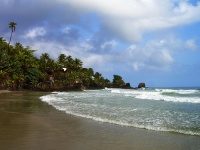 Blanchisseuse beach ©Andy
The island nation of Trinidad and Tobago, known colloquially as 'TNT', consists of the two southernmost Caribbean islands, which are geologically an extension of the South American continent. While the two islands are vastly different in character, together they offer the best of everything one can expect from a Caribbean experience.
Trendy Trinidad, site of the bustling capital Port of Spain, is sophisticated, cosmopolitan and culturally diverse, its vibrancy reflected in its main attraction, the annual Carnival. Locals spend most of the year preparing for the lavish February fling which is an orgy of calypso music and dance, steel bands, food, dazzling costumes and marvellous floats. The chic capital, with its colonial architecture and modern high-rise towers, continually hums with colourful markets, bazaars, and malls, with a mish-mash of Gothic cathedrals, mosques and Hindu temples testifying to the diversity of cultures and creeds that throng the streets.
Those wanting a quieter experience can leave the hectic city behind and explore Trinidad's beautiful north coast beaches or hike through the forested peaks of the interior. Along the east coast nature lovers will find protected wetlands and coconut groves, while down south on this rectangular island are some enchanting fishing villages nestled near quiet, empty beaches.
A daily domestic ferry service connects Trinidad to its more laid back little sister island, Tobago, renowned for being one of the last slices of unspoilt Caribbean paradise. A typical tropical wonderland of palm-fringed beaches, verdant rainforests and sparkling coral reefs, Tobago also boasts a nature-lovers treasure trove of birds, butterflies, flowering plants and shrubs. There are 100 different mammals and 70 kinds of reptiles roaming the island, too, most famous of which is the giant leatherback turtle which nests on the magnificent leeward (north) beaches. To the south the Atlantic beats against a coast studded with fishing villages, while the hilly interior is coated with one of the world's oldest rainforest reserves.
Communications
The international dialling code for Trinidad and Tobago is +1 868. To dial out from the islands the prefix is 011, followed by the relevant country code (e.g. 01127 for South Africa). A GSM cell phone network is in operation on the islands, with fairly wide coverage. There are several internet cafes on the island in the main town centres.
Emergencies
Emergencies: 999 (Police); 990 (Fire/Ambulance).
Languages Spoken
English is the official language in Trinidad and Tonago.
Duty Free
Visitors arriving in Trinidad and Tobago are allowed to bring in the following goods without paying duty: 200 cigarettes, or 50 cigars, or 227g tobacco; 1 quart wine or spirits; and perfume for personal use. Travellers are also permitted to bring gifts totalling not more than USD 200 in value. Alcohol and tobacco products are allowed only for passengers over the age of 17 years.
Electricity
Electrical current is in Trinidad and Tobago 110 - 120 volts, 60hz. Two-pin flat blade plugs are used as well as three-pin plugs in the North American style.
Climate Info
Trinidad and Tobago enjoys a tropical climate with average maximum temperatures of 89°F (32°C). Tobago's average temperatures are slightly cooler, owing to the more constant northeast trade winds which bring relief from the heat. There is a dry season between January and May and a wet season from June to December. Annual rainfall is about 40 inches (200cm) in most of the country. Trinidad and Tobago lies just south of the hurricane belt. The rainy season is characterised by afternoon showers and the weather is generally still quite pleasant, while accommodation prices are slightly lower.
The best and most popular time to travel to Trinidad and Tobago is during the winter dry season, between January and May, when the skies are generally clear.
Passport
Passports must be valid for at least the period of the proposed visit. Visitors require documents for return or onward travel, and a fixed address for the period of their stay. Since 23 January 2007 all US citizens travelling to and from Trinidad and Tobago by air require a valid passport; this requirement has been extended to include all land and sea border crossings as well. It is highly recommended that passports have at least six months validity remaining after your intended date of departure from your travel destination. Immigration officials often apply different rules to those stated by travel agents and official sources.
The wearing of camouflage clothing, or the possession of camouflage bags in Trinidad and Tobago is illegal for anyone not in the military services. Visitors wearing such items will be asked to change and the camouflage items will then be confiscated. Failure to comply with this rule will result in detention and possible fines.
Entry Requirements
US citizens must have a valid passport for the duration of their stay. A visa is not required for a stay of up to 90 days for touristic purposes.
UK passport holders require a passport valid for the duration of their stay but do not need a visa.
Canadians need a passport valid for duration of stay but do not need a visa.
Australians require a passport valid for duration of stay and a visa for Trinidad and Tobago, but a visa waiver can be obtained on arrival for a fee of TTD 400.
South Africans nationals require a passport valid for duration of stay, but do not require a visa for stays of up to 90 days.
Irish nationals require a valid passport for duration of stay, but do not require a visa.
New Zealanders require a passport valid for duration of stay and a visa for Trinidad and Tobago, but a visa waiver can be obtained on arrival for a fee of TTD 400.
Health
A yellow fever vaccination is required for entry for those entering Trinidad and Tobago from infected areas, and it is recommended that all travellers to Trinidad are vaccinated against yellow fever anyway; those only visiting Tobago do not need a yellow fever vaccination unless arriving from an infected area. Vaccinations for hepatitis A and hepatitis B are also recommended for all travellers. Insect protection is advised, as there is an increasing risk of dengue fever, a mosquito-borne disease.
Medical facilities are limited in Trinidad and Tobago and medicines may be in short supply. Emergency evacuation to a nearby country will likely be required for serious injury or illness. Proof of ability to pay is often required before treatment is given, even in emergencies. Medical insurance with provision for evacuation is strongly advised.
Safety
Most visits to Trinidad and Tobago are trouble free, but there is an increasing incidence of crime against tourists on both islands. In Trinidad be especially vigilant in downtown Port of Spain (particularly at night), and when travelling from Piarco Airport where gangs have been known to follow cars and attack the occupants at their final destination. There has been an increase in robberies at tourist sites, including Fort George and the Pitch Lake, and these attacks can be violent; visitors are warned not to resist muggers and robbers who are also targeting foreigners at car parks outside places like shopping malls and restaurants. Take precautions like not wearing flashy jewellery and storing valuables in hotel safety deposit boxes.
Emergency Phone Number
Emergencies: 999 (Police); 990 (Fire/Ambulance).
* For current safety alerts, please visit
Foreign travel advice - GOV.UK
or
Travel.State.Gov
Money
The unit of currency is the Trinidad and Tobago, or TT Dollar (TTD), which is divided into 100 cents. Most ATMs and stores will accept international credit cards. Travellers cheques, US dollars cash and credit cards are accepted by most establishments. Money can also be changed at bureaux de change offices. Banks are open from Monday to Friday.
Exchange Rate
Not available.
Embassies of Trinidad and Tobago
Embassy of the Republic of Trinidad & Tobago, Washington DC, United States: +1 202 467 6490.
High Commission of the Republic of Trinidad & Tobago, London, United Kingdom: +44 (0)20 7245 9351.
High Commission of the Republic of Trinidad & Tobago, Ottawa, Canada: +1 613 232 2418.
High Commission of the Republic of Trinidad & Tobago, Pretoria, South Africa: +27 (0)12 460 9688.
Foreign Embassies in Trinidad and Tobago
United States Embassy, Port of Spain: +868 622 6371.
British High Commission, Port of Spain: +868 350 0444.
Canadian High Commission, Port of Spain: +868 622 6232.
Australian High Commission, Port of Spain: +868 822 5450.
South African Embassy, Port of Spain: +868 622 9869.
Irish Honorary Consul, Port of Spain: +868 628 2385.
New Zealand High Commission, Ottawa, Canada (also responsible for Barbados, Guyana, Jamaica and Trinidad and Tobago): +1 613 238 5991.
Customers
The people of Trinidad and Tobago are friendly and hospitable and generally happy to assist tourists, but keep in mind that it is polite to greet a stranger before asking a question. Nude or topless bathing is frowned upon in Trinidad and Tobago and certain homosexual acts are illegal. Wearing camouflage clothing is illegal. The penalties for possession of drugs are severe and thorough checks are often done at borders. If invited to a home, it is customary to bring a gift.
Business
The economy of Trinidad and Tobago has been growing steadily over the past few years and foreign investment is on the increase. A firm handshake starts and ends a meeting. Formal attire is common but not always strictly necessary; it is worth finding out about the dress code for the relevant sector of business. Business cards are generally handed out and received immediately after introductions. Business hours are generally 8am to 5pm, Monday to Friday, with about an hour taken over lunch.
Tipping
Most hotels and restaurants in Trinidad and Tobago add a service charge to the bill, usually 10 or 15 percent. If this is not the case a 10 percent tip is expected for good service.
Public Holidays in Trinidad and Tobago
Overview
Attractions in Trinidad and Tobago are as abundant and rich as its oil reserves and, excluding Port of Spain's Carnival party, much more pristine. Many choose to get lost in the decadence of Carnival or Port of Spain's nightlife, while others lose themselves among the island's natural wonders. These include the Gasparee and Aripo cave systems, full of stalagmites and stalactites; the Hollis Reservoir; and the Caroni Bird Sanctuary, which is a treasure trove for bird watchers. Maracas Bay is the island's most celebrated beach, but the competition is fierce. Port of Spain is home to some charming colonial architecture. Perhaps the most notable building is The Mount St Benedict Monastery, established in 1912, said to be the oldest and largest monastery in the Caribbean.
A ferry connection to the relaxed little brother island Tobago opens up a host of beach and water attractions. Tobago is less developed and crowded than Trinidad and the place to go for peace and natural beauty. The most spectacular beach on Tobago is widely acknowledged to be Pigeon Point, but there are many other Eden-like options including Campbleton Bay, Englishman's Bay, Bacolet Bay and Castara Bay. Off the east coast of Tobago, across from Speyside, the uninhabited bird sanctuary island of Little Tobago beckons travellers, with popular activities in and around the island including hiking, snorkelling and glass-bottomed boat jaunts. Away from the glorious beaches, the best place to explore Tobago's rainforest is Main Ridge Forest Reserve, said to be the oldest protected forest in the western hemisphere and home to more than half of the island's prodigious bird life. Those wanting a touch of culture during a Tobago holiday can visit Fort King George and the nearby Tobago Museum.
Between rainy and dry seasons, October to December and April to June, are the best times for a holiday Trinidad and Tobago for avoiding crowds and too much rain.
Map of Trinidad and Tobago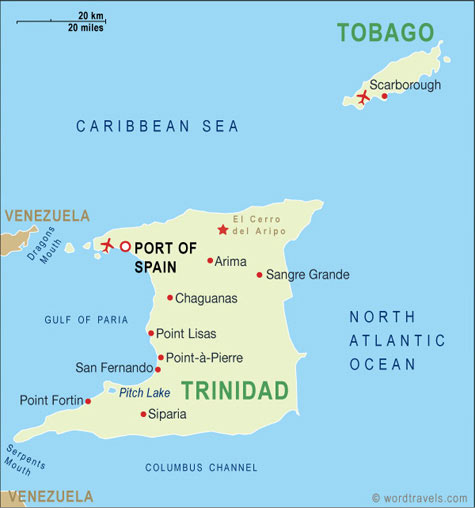 Travel Guide powered by www.wordtravels.com, copyright © Globe Media Ltd. All rights reserved. By its very nature much of the information in this guide is subject to change at short notice and travellers are urged to verify information on which they're relying with the relevant authorities. Globe Media and UNIGLOBE Travel does not accept any responsibility for any loss or inconvenience to any person as a result of information contained above.