General
Money
Entry Requirements
Health & safety
Weather
Embassies
Etiquette
Public Holidays
Attractions
Map
---
Introduction
Hagia Sophia at night ©Moyan Brenn
Linking Europe and the Middle East, suspended between the new and the long-established, Turkey retains a disconcerted balance of both east and west, representing a cultural mix with many discrepancies and contradictions. Modern city boutiques and exotic bazaars clamour for customers, the weekly tolling of church bells interrupts the daily call of the muezzin, and Roman ruins and the beginnings of Christianity compete for attention with the history of the Ottoman Empire and modern secularity.
The different regions of Turkey offer an assortment of landscapes, activities and characters, and whether one is a history or archaeology enthusiast, a sun-worshipper, sailor, or city-lover keen on shopping, there is something on offer for everyone. Istanbul, with one part in Europe and the other in Oriental Asia, is a fascinating city with its frenzied market places, imperial residences and minarets, and sporting a lively ambience of contemporary art and musical entertainment. Cappadocia in Central Turkey offers an astounding landscape of eroded volcanic rock cones and fairy chimneys, remarkable subterranean cities and rock-hewn houses that merge harmoniously with the ochre-coloured landscape; while further south the 'Turquoise Coast' is a haven for boat cruises. One can enjoy a variety of water sports, sunbathe on golden sands, or explore the wonderful ancient cities of Troy and Ephesus on the shores of the Aegean Sea.
Most visitors concentrate on Western Turkey, with its picturesque seaside resorts along the Aegean and Mediterranean coasts, scenic and recreational attractions, well-preserved archaeological sites and fascinating museums that bring its rich history to life. Wherever one ventures in Turkey there is certain to be a warm welcome and traditional hospitality, making this a deeply satisfying corner of the world in which to travel.
Communications
The international country dialling code for Turkey is +90. Mobile phone coverage is good with GSM 900 and 1800 networks covering most of the country. Internet cafes are available in the main towns and resorts.
Emergencies
112 (Medical Emergency);155 (Police)
Languages Spoken
Turkish is the official language, but English is widely understood in the main tourist areas.
Duty Free
Travellers to Turkey do not have to pay duty on the following items: 200 cigarettes, or 50 cigars, or 200g tobacco. Alcohol allowance includes 1 litre or 700ml bottle of wine or spirits. Other allowances include 5 bottles of perfume up to 120ml each; gifts to the value of TRY 500, tea and coffee for personal consumption, jewellery and guns for sporting purposes. Tape recorders, record players and transistor radios have to be declared on arrival. Restricted items include playing cards limited to one pack.
Electricity
220 volts AC, 50Hz. The European two-pin plug is standard.
Climate Info
The Aegean and Mediterranean coasts of Turkey have very hot and dry summers, and wet, mild winters when the coastal towns more or less shut down between October and April. Winter in Istanbul and Cappadocia can be very cold with a dusting of snow. The peak tourist season is during high summer, roughly between July and September, and this is the ideal time for a beach holiday in Turkey.
The spring and autumn months are also a good time to to visit, with warm days, cool evenings, and no mosquitos. Eastern Turkey should be visited during summer as roads and mountain passes may close due to winter ice and snow.
Passport
All passports must be valid for at least the period of stay. All travellers to Turkey are required to hold return or onward tickets, documents for the next destination and sufficient funds for the period of their stay. It is highly recommended that passports have at least six months validity remaining after your intended date of departure from your travel destination. Immigration officials often apply different rules to those stated by travel agents and official sources.
Entry Requirements
US passport holders must have a passport that is valid for the duration of their stay. A visa is required, and can be obtained either online, or if this is not possible from the point of entry, for a fee of USD 30. The visa is valid for 90 days.
UK passport holders must have a valid passport for the duration of their stay. British Citizens can obtain a visa online, or if this is not possible can obtain one on arrival, valid for 90 days and costing GBP 20. British nationals with passports endorsed anything other than 'British Citizen' should check official requirements.
Canadian passport holders must have a valid passport for duration of stay. A visa is required, which is valid for up to 90 days, and can be obtained online, or if this is not possible at the point of entry, for a fee of USD 70.
Australian passport holders must have a valid passport for duration of stay. A visa is required, which is valid for up to 90 days, and can be obtained online, or if this is not possible from the point of entry, for a fee of USD 70.
South Africans must hold a valid passport for duration of stay. A visa is required and can be obtained online, or if this is not possible on arrival. Visas are valid for 30 days and are issued free of charge.
Irish nationals require a valid passport for duration of stay. A visa is required and can be obtained online, or if this is not possible on arrival. Visas are valid for for 90 days and cost EUR 25.
New Zealand nationals require a valid passport for duration of stay, but no visa is necessary for a stay of up to 90 days.
Health
There are no vaccination requirements for travelling to Turkey. Mosquitoes can be an irritation in mid-summer but malaria is not considered a risk in the main tourist areas in the west and south-west of the country. Most tap water in the larger towns and cities has been chlorinated, but bottled water is still recommended for drinking. Food from street vendors should be treated with caution unless it is obviously fresh or piping hot. The standard of health care is not high in state hospitals but the private health sector is well-regarded and modern facilities exist in private hospitals in Ankara and Istanbul. Travel insurance is recommended.
Safety
As in many Western countries, there is a threat from terrorism in Turkey and there have been a number of incidents, including explosions in Istanbul, the capital Ankara, and in the coastal tourist resorts. The Istanbul Ataturk International Airport has been the most recent target. There are also continuing incidents of local terrorism in eastern Turkey, particularly the southeast. Visitors should avoid any public demonstrations. Street crime is relatively low although visitors should guard their valuables at all times. Many parts of Turkey lie on a major seismic fault line and are subject to earthquakes and tremors; several fairly recent earthquakes have shaken eastern Turkey, the southwest and southeast.
Emergency Phone Number
112 (Medical Emergency);155 (Police)
* For current safety alerts, please visit
Foreign travel advice - GOV.UK
or
Travel.State.Gov
Money
The official currency is the Turkish Lira (TRY), which is divided into 100 kurus. Currency can be exchanged at banks, exchange booths, post offices, airports and ferry ports; banks have the worst rates but will exchange lesser known foreign currencies. Banks open mainly Monday to Friday, but some are open daily in tourist areas.
ATMs are widely available in major cities and tourist areas, but Turkish ATM keypads usually do not have letters of the English alphabet on their keys. Major credit cards are widely accepted; the most popular are Visa or MasterCard, but American Express is also accepted in some areas. Some hotels in the most popular destinations accept US dollars as payment.
Exchange Rate
Not available.
Embassies of Turkey
Turkish Embassy, Washington DC, United States: +1 202 612 6700.
Turkish Consulate, London, United Kingdom: +44 (0)20 7391 6900.
Turkish Embassy, Ottawa, Canada: +1 613 789 4044.
Turkish Embassy, Canberra, Australia: +61 (0)2 6234 0000.
Turkish Embassy, Pretoria, South Africa: +27 (0)12 342 6055.
Turkish Embassy, Dublin, Ireland: +353 (0)1 668 5240.
Turkish Embassy, Wellington, New Zealand: +64 (0)4 472 1290.
Foreign Embassies in Turkey
United States Consulate General, Istanbul: +90 (0)212 335 9000.
British Embassy, Ankara: +90 (0)312 455 3344.
Canadian Embassy, Ankara: +90 (0)312 409 2700.
Australian Embassy, Ankara: +90 (0)312 459 9500.
South African Embassy, Ankara: +90 (0)312 405 6861.
Irish Embassy, Ankara: +90 (0)312 459 1000.
New Zealand Embassy, Ankara: +90 (0)312 446 3333.
Customers
Although it is difficult to stereotype in a country that runs from Armenia to Greece, the Turkish people are in general welcoming and hospitable. Most visitors will stay in modern Istanbul or in one of the popular holiday resorts where locals are likely to be fairly open-minded, however tourists should respect religious customs, particularly during the month of Ramadan. Dress modestly when visiting mosques or religious shrines. There is a smoking ban on all forms of public transport and in outdoor venues.
Business
In Turkey, business associates are addressed by their first names. If the associate is male, then his name is followed by 'bey', and 'hanim' is used for females. A formal, conservative dress code is observed in Turkey, and women should be careful to dress particularly conservatively. Gifts are common and are usually something the associate would use in business such as a pen or other office stationary. Business hours throughout Turkey are generally 9am to 5pm Monday to Friday with an hour taken over lunch.
Tipping
Tipping is a way of life in Turkey and it is customary to give some small change for most services, or a small percent of the bill. In bigger hotels and restaurants if a service charge is not added to the bill, it is customary to tip between 10 and 15 percent. For taxi fares it is enough to round up the bill. Attendants at Turkish baths expect to share about 15 percent of the total bill if service has been good.
Public Holidays in Turkey
| | | |
| --- | --- | --- |
| | 2017 | 2018 |
| New Years Day | 1 Jan | 1 Jan |
| National Sovereignty and Childrens Day | 23 Apr | 23 Apr |
| May Day | 1 May | 1 May |
| Commemoration of Atatürk | 19 May | 19 May |
| Victory Day | 30 Aug | 30 Aug |
| Ramadan | 25 Jun | 15 Jun |
| Republic Day | 29 Oct | 29 Oct |
| Feast of the Sacrifice | 1 Sep | 21 Aug |
Overview
Turkey is an action-packed destination with plenty to see and do for the adventurous visitor. The largest city, Istanbul, features some unique and world-class sights such as the Blue Mosque and Topkapi Palace, not to mention the shopping paradise of the Grand Bazaar, the largest and oldest covered market in the world.
Further afield you can find the ancient attractions of Ephesus, Troy and Augustus' Temple. Turkey is a year-round destination although it's at its hottest during the peak summer months of July and August (don't forget the sun block!).
Getting around the country is a simple matter of hopping on a short-haul flight or scheduled bus service, while in Istanbul you can negotiate the services of a taxi driver.
Map of Turkey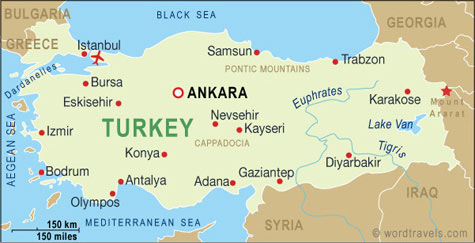 Travel Guide powered by www.wordtravels.com, copyright © Globe Media Ltd. All rights reserved. By its very nature much of the information in this guide is subject to change at short notice and travellers are urged to verify information on which they're relying with the relevant authorities. Globe Media and UNIGLOBE Travel does not accept any responsibility for any loss or inconvenience to any person as a result of information contained above.