General
Money
Entry Requirements
Health & safety
Weather
Embassies
Etiquette
Public Holidays
Attractions
Map
---
Introduction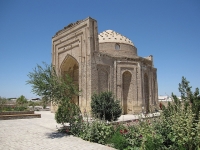 Turabek Khanum Mausoleum ©Stefan Krasowski
Turkmenistan is a central Asian country bordered by Iran, Afghanistan, Uzbekistan, Kazakhstan and the Caspian Sea and is considered to be a somewhat off-beat destination.
Turkmenistan has a subtropical desert climate with long, hot summers and cold and dry winters and is home to a good few captivating attractions, despite the fact that much of the country is desert and that the capital city Ashgabat was almost totally destroyed by a 1948 earthquake.
For those among visitors who are interested in the country's history, Turkmenistan certainly has one worth exploring. The country achieved independence from the former Soviet Union in 1991 under the eccentric leadership of President Niyazov who ruled as dictator until his death in 2006. Niyazov took autocratic narcissism to heights unscaled by some of the world's most notorious dictators: He renamed Monday after himself and decreed that bread be referred to by his mother's name; he also famously insisted on being referred to as Turkmenbashi ('Father of all Turkmen').
Although Turkmenistan is a young state, this region is one of the oldest inhabited areas on earth. Dekhistan is a considered a lost city of the Silk Road. Today its remote 10th-century ruins make for a fascinating excursion into the desert. Near the city of Mary are the ruins of the ancient Persian town of Merv. With over 4,000 years of history, this is the oldest and best preserved oasis city on the Silk Road. Despite these intriguing attractions Turkmenistan still receives more business travellers than tourists. With Niyazov's demise there are signs the country is opening up a bit but nevertheless Turkmenistan will, in all likelihood, remain an unconventional destination for some time to come.
Communications
The international dialling code for Turkmenistan is +993. The outgoing code is 8-10 followed by the relevant country code (e.g. 8-10 44 for the UK). City codes are in use, e.g. (12) for Ashgabat. International taxophones, using phone cards, are the cheapest way to make calls. A GSM mobile network covers the cities, and Internet usage is growing in the major cities.
Languages Spoken
Turkmen is the official language of Turkmenistan. Russian is widely spoken in cities though as a "language of inter-ethnic communication". Turkmen is spoken by 72 percent of the population, Russian, Uzbek, other languages by a lesser degree.
Duty Free
Travellers to Turkmenistan over the age of 21 years can import 2 litres of any alcoholic beverage for without paying duty; those over 16 years of age may import 200 cigarettes or 200g of tobacco and personal belongings up to a reasonable value. All narcotics, firearms, ammunition and accessories, and antiquities are prohibited from either import or export. The customs declaration, filled out upon entry to Turkmenistan, should be retained. When leaving this form may be used to audit items for export. Video camera are allowed for personal use, but must be declared on arrival.
Electricity
Electrical current is 220 volts, 50Hz. Round two-pin attachment plugs are in use.
Passport
Visitors to Turkmenistan and transit passengers are required to hold sufficient funds and onward/ return tickets and documentation for the duration of their stay in the country. Most visas for Turkmenistan are issued on arrival if visitors are travelling from countries without an embassy or consulate of Turkmenistan. Entry visas can be obtained for a maximum stay of 10 days provided the visitor has a letter of invitation from a company registered in Turkmenistan which has been approved by the Ministry of Foreign Affairs. A fee ranging USD 40-155 is incurred for this visa.
Visas issued are for the whole of the territory of Turkmenistan, however special permits are required for the following places: Atamurat, Cheleken, Dashoguz, Serahs and Serhetabat. Valid visas in expired passports are accepted provided that the passport holder also has a valid passport for the same nationality. Immigration authorities in Turkmenistan simply transfer the visa into your new passport on arrival, for a fee of USD 40.
All visitors to Turkmenistan are required to fill out a landing card which incurs a USD 12 fee. Furthermore, visitors must register themselves with the police department within three days of arrival. It is highly recommended that passports have at least six months validity remaining after your intended date of departure from your travel destination. Immigration officials often apply different rules to those stated by travel agents and official sources.
Entry Requirements
US citizens require a valid passport. Visa required.
UK citizens require valid passport. Visa required.
Canadian citizens require valid passport. Visa required.
Australian citizens require valid passport. Visa required.
SA citizens require valid passport. Visa required.
Irish citizens require valid passport. Visa required.
NZ citizens require valid passport. Visa required.
Health
No vaccinations are required by visitors to Turkmenistan. However, outbreaks of Hepatitis A, Hepatitis B, meningitis and diphtheria occur, and there is a risk of malaria, so the relevant vaccines are recommended. It is also recommended that all travellers to the country get vaccines for Rabies (for travellers spending a lot of time outdoors), Measles, mumps, rubella (MMR) and Typhoid. For any adult traveller who completed the childhood series of vaccines for polio but never had the polio vaccine as an adult, a booster is recommended.
Visitors should only drink bottled water. Hospitals offer adequate basic medical care, but serious cases will usually be treated outside of the country. Visitors should ensure that they have comprehensive medical insurance.
Safety
Travel to Turkmenistan is generally problem-free, but foreigners should take normal safety precautions, such as avoiding travel after dark or in deserted/ unfamiliar areas. Occasional muggings do occur. A general threat of terrorism exists particularly in places frequented by expatriates and foreign travellers. Planned demonstrations should be avoided, and it must be noted that visitors should carry passports/identity documents with them at all times; otherwise, there is a chance of detention.
* For current safety alerts, please visit
Foreign travel advice - GOV.UK
or
Travel.State.Gov
Exchange Rate
Not available.
Embassies of Turkmenistan
Foreign Embassies in Turkmenistan
Customers
Etiquette in Turkmenistan is governed by Islamic principles, though the state is officially secular. Conservative dress is required at all times, and neither women nor men wear shorts. Respect for elders is considered very important. Do not refer to Turkmens as Russians or Soviets, and avoid criticising the country in front of locals.
Business
Office hours are generally Monday to Friday 9am to 6pm. Men greet each other with handshakes.
Tipping
Tipping is common in restaurants and bars, and is usually 5-10 percent. Some tourist hotels and restaurants, and upmarket institutions will usually include service charge in the bill.
Public Holidays in Turkmenistan
Travel Guide powered by www.wordtravels.com, copyright © Globe Media Ltd. All rights reserved. By its very nature much of the information in this guide is subject to change at short notice and travellers are urged to verify information on which they're relying with the relevant authorities. Globe Media and UNIGLOBE Travel does not accept any responsibility for any loss or inconvenience to any person as a result of information contained above.