General
Money
Entry Requirements
Health & safety
Weather
Embassies
Etiquette
Public Holidays
Attractions
Map
---
Introduction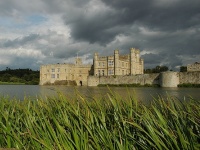 Leeds Castle ©raindog
It may seem hard to believe that this small, cold, wet island once held dominion over three quarters of the globe. The pomp and circumstance of previous centuries may have dwindled, and the monarchy takes almost daily batterings in the local press, yet the United Kingdom and its people remain fiercely proud, and the beauty and cultural wealth of the country would impress any visitor. The past century has seen a vast transformation as the UK has come to terms with its diminished role on the world stage, from colonial empire to a member of the EU, but the United Kingdom is still a world leader in numerous ways and tops many a travel bucket list.
The United Kingdom is made up of England, Scotland, Wales and Northern Ireland, as well as some smaller islands, and the geography sweeps from mountainous highlands, to green and pleasant rolling countryside and vibrant cities. The country is jam-packed with two millennia of heritage, so despite its seemingly small size, holidays in the UK of any length of time feel too short.
London is the UK's biggest city, a fantastic and frenetic metropolis teeming with people of all races, creeds and walks of life. Here the old contrasts spectacularly with the new, offering some of the world's most famous sights and an unrivalled nightlife. The medieval cathedral cities, like York and Durham, reveal the rich history of a bygone age, while the industrial cities of Liverpool and Newcastle harbour an exciting nightlife. Edinburgh's International Arts Festival draws talent from around the world to its ancient, picturesque streets.
Travelling through the country reveals the United Kingdom's diversity, from quiet country lanes and inland waterways to majestic stately homes and castles. Thatched cottages in the Cotswolds region paint a picture of perfect quaintness, where life appears to revolve around the village pub. The beauty of the Lake District remains almost untouched, and the dramatic, wild highlands of Scotland cannot fail to stir the soul.
Communications
The international country dialling code for the UK is +44. Mobile phone coverage is extensive, using GSM 1800 networks which may not be compatible with some dual-band US cell phones. Internet cafes are available in all major towns and cities, train stations and airports and wifi is widely available.
Emergencies
999/112 (General)
Languages Spoken
English is the official language, though visitors will be astonished by the variety of regional accents.
Duty Free
When arriving from a non-EU country, travellers can bring the following goods into the UK tax or duty free: 200 cigarettes, 100 cigarillos, 50 cigars or 250g of tobacco, 4 litres of still table wine, 16 litres of beer, 1 litre of spirits or strong liqueurs or 2 litres of fortified wine, sparkling wine or other alcoholic beverages of less than 22 per cent volume, £340 worth of all other goods including perfume and souvenirs.
When travelling from another EU country to the UK visitors do not have to pay tax or duty on goods purchased in said EU country provided tax was included in the purchase price, the items are for personal use and have been transported to the UK by the visitor, and do not exceed 3,200 cigarettes, 400 cigarillos, 200 cigars, 3kg of smoking tobacco, 110 litres of beer, 10 litres of spirits, 90 litres of wine and 20 litres of fortified wine. Note that although Gibraltar is part of the EU, it is outside the Community Customs territory and allowances for outside the EU therefore apply. In the case of Cyprus, only goods under the effective control of the Government of the Republic of Cyprus are treated as EU imports.
Electricity
The electrical current in the UK is 230 volts, 50Hz. Flat three-pin plugs are standard.
Climate Info
The United Kingdom is positioned at the convergence between the moist maritime and dry continental air currents, which results in atmospheric instability and extremely unpredictable weather. Many types of weather can be experienced in one day and travellers should go prepared, particularly as in most regions of the UK rain is possible at any time of year. Winters, between December and February, are cold and wet with occasional snow, especially in the high-lying areas. Summers, between June and August, are generally warm with frequent showers. Northern Ireland, Wales and the western regions of England and Scotland enjoy the mildest temperatures, but are the wettest and windiest parts of the UK; the eastern regions of England and Scotland are drier and cooler with more extreme temperatures. Generally speaking, southern regions are more temperate and mild than northern regions. England enjoys the warmest temperatures on average and is generally more sunny and less rainy than the rest of the UK. Scotland has the coldest weather and is also the wettest.
The peak tourist season in the UK is summer, between June and August, but it is pleasant to visit any time between April and October. The winters are cold and sometimes snowy, but travelling out of season is cheaper and the winter months can be cosy and exciting, particularly over the festive season.
Passport
If a visa is not required, travellers should hold a return or onward ticket, or proof of funds for the duration of stay. Passports must be valid for the period of intended stay in the UK; nationals of the EU require a passport valid on arrival. It is highly recommended that passports have at least six months validity remaining after your intended date of departure from your travel destination. Immigration officials often apply different rules to those stated by travel agents and official sources.
Entry Requirements
US travellers must hold a valid passport; a visa is not required for stays of up to 6 months.
Canadian nationals must hold a valid passport; a visa is not required for stays of up to 6 months.
Australian nationals must hold a valid passport; a visa is not required for stays of up to 6 months.
South Africans require a valid passport and a visa for entry or transit through the UK. South African temporary passports are not recognised.
Irish nationals need a valid passport but do not require a visa to enter the UK.
New Zealand nationals must hold a valid passport, but no visa is required for stays of up to 6 months.
Health
There are no specific health risks associated with travel to the UK and food and water can be considered safe. The British National Health Service is excellent. A number of countries have reciprocal health agreements with the UK including Australia, New Zealand and EU countries. Visitors from other countries (including Canada, South Africa and the US) are advised to take out comprehensive medical insurance.
Safety
It is generally safe to travel throughout the UK, although travellers are advised to take special care of their personal belongings in central London, where pick-pocketing is often reported and muggings are fairly common. Northern Ireland still occasionally experiences unrest in the form of protests and riots, but tourists are not targeted and so long as political marches are avoided there should be no risk.
There is some risk of international terrorism in the UK and security has been increased at transport hubs throughout the country; airports in particular have seen a serious heightening of security measures over recent years.
Emergency Phone Number
999/112 (General)
* For current safety alerts, please visit
Foreign travel advice - GOV.UK
or
Travel.State.Gov
Money
The currency is the British Pound (GBP), which is divided into 100 pence. ATMs are available in almost all towns and Visa, MasterCard and American Express are widely accepted; visitors with other cards should check with their credit card companies in advance. Foreign currency can be exchanged at bureaux de change and large hotels, however better exchange rates are likely to be found at banks.
Exchange Rate
Not available.
Embassies of United Kingdom
British Embassy, Washington DC, United States: +1 202 588 6500.
British High Commission, Ottawa, Canada: +1 613 237 1530.
British High Commission, Canberra, Australia: +61 (0)2 6270 6666.
British High Commission, Pretoria, South Africa: +27 (0)12 421 7500.
British Embassy, Dublin, Ireland: +353 (0)1 205 3700.
British High Commission, Wellington, New Zealand: +64 (0)4 924 2888.
Foreign Embassies in United Kingdom
United States Embassy, London: +44 (0)20 7499 9000.
Canadian High Commission, London: +44 (0)20 7004 6000.
Australian High Commission, London: +44 (0)20 7379 4334.
South African High Commission, London: +44 (0)20 7451 7299.
Irish Embassy, London: +44 (0)20 7235 2171.
New Zealand High Commission, London: +44 (0)20 7930 8422.
Customers
Handshaking is customary when introduced to someone new. Smoking is banned in all enclosed public spaces, including pubs and restaurants, and on public transport. The ban is also in effect in Wales, Scotland and Northern Ireland. There is strict etiquette on escalators: stand on the right, walk on the left. Visitors may find Londoners more rushed and less friendly than Brits in other parts of the country, particularly on London transport, where tourists are generally the only people who talk.
Business
The four countries of the United Kingdom, although culturally and historically different, generally keep to the same practices in business. Politeness and punctuality are key to good business relations, and initial meetings are often conducted formally and impersonally, becoming more open and social as things progress. Business cards are exchanged at introductions. Dress is formal, with dark suits preferred. Business hours are generally 8am to 5pm Monday to Friday with an hour taken at lunch.
The communication style can be difficult to adjust to: the British people respect politeness to a point that often obscures their ability to say exactly what they mean. As a result, travelling businessmen may need to learn to 'read between the lines' and to take cues from tone of voice and facial expression. Humour is also an integral part of the British system of communication, and is used to diffuse a tense situation and to cultivate relationships. Never assume that an attempt at humour undermines a person's ability to do their job, or discredits the importance they attach to a deal or negotiation. Furthermore, don't be fooled into thinking that the British propensity for irony and sarcasm equates with an informal work environment.
During meetings, be tactful, avoid becoming emotional, and illustrate your experience with the subject at-hand. Performance and initiative are looked upon favourably, whereas academic pretension is given far less credence. Meetings are often used as platforms for debate, rather than moments of confirmation, so don't be surprised if not much progress is made. Be sure to respect and appeal to all parties involved, as the British have recently begun to take a far flatter approach to management and the responsibility of decision-making. And if things go well, purchase a pint or two for your clients or colleagues; though gifts are borderline inappropriate, a round of drinks will rarely be refused.
Tipping
Tips of 10 to 15 percent are expected in restaurants and upmarket hotels in the UK if a service charge hasn't been included. Hotel service staff receive an optional amount. Taxi drivers are usually given 10 to 15 percent of the fare. Tipping for other services is discretionary.
Public Holidays in United Kingdom
| | | |
| --- | --- | --- |
| | 2017 | 2018 |
| St Patricks Day (Northern Ireland only) | 17 Mar | 17 Mar |
| New Years Day | 1 Jan | 1 Jan |
| Good Friday | 14 Apr | 30 Mar |
| Easter Monday | 17 Apr | 2 Apr |
| May Day | 1 May | 7 May |
| Spring Bank Holiday | 29 May | 28 May |
| Summer Bank Holiday | 28 Aug | 27 Aug |
| Christmas Day | 25 Dec | 25 Dec |
| Boxing Day | 26 Dec | 26 Dec |
| New Years Holiday (Scotland only) | 2 Jan | 2 Jan |
| Orangemens Day (Northern Ireland only) | 12 Jul | 12 Jul |
| St Andrews Day (Scotland only) | 30 Nov | 30 Nov |
Overview
The United Kingdom continues to rank as one of the top tourist destinations in the world, steadily attracting more than 32 million foreign visitors every year. This comparatively small island nation packs a touristic punch completely disproportionate to its size and the compact nature of the place, combined with excellent transport networks, makes it easy to get around for travellers.
For tourists, England remains the most popular country in the UK, and the vast majority of travellers visiting England spend time in London; in fact, nine out of 10 of the United Kingdom's top tourist attractions can be found in the capital. These include the National Gallery, St Paul's Cathedral, Tower of London, Tate Modern, Natural History Museum, Epping Forest, Science Museum and, topping the list, the incomparable British Museum. The only Top 10 UK attraction that isn't in London is Brighton Pier, the landmark feature of the UK's most beloved seaside resort. Other much-visited tourist attractions outside of London include Cornwall's Eden Project, Bath's Roman Baths, Canterbury Cathedral, Warwick Castle, the Lake District's Windermere Lake, and the iconic Stonehenge.
The UK is blessed with ample natural beauty and is well suited to walking holidays (the Lake District, the Scottish Highlands and Wales are particularly beguiling for hikers), but when the infamous weather is not obliging happy hours can be spent soaking up culture in the world-famous museums, galleries, shops and theatres of the United Kingdom. Another big draw card is the surfeit of grand estates and old castles to be explored, conjuring up the worlds of Jane Austen and Shakespeare. For something more Dickensian, the UK is chock full of wonderful old pubs in which to while away the rainy days.
Map of United Kingdom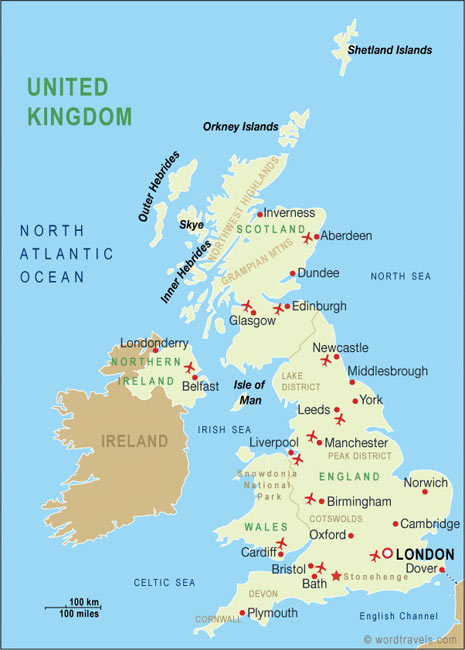 Travel Guide powered by www.wordtravels.com, copyright © Globe Media Ltd. All rights reserved. By its very nature much of the information in this guide is subject to change at short notice and travellers are urged to verify information on which they're relying with the relevant authorities. Globe Media and UNIGLOBE Travel does not accept any responsibility for any loss or inconvenience to any person as a result of information contained above.