General
Money
Entry Requirements
Health & safety
Weather
Embassies
Etiquette
Public Holidays
Attractions
Map
---
Introduction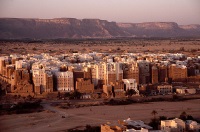 Yemen ©Jialiang Gao
At its best Yemen is a place of incredible scenery, striking Islamic architecture, bustling souks, peaceful mosques, lush valleys and epic mountains, and the Arab world's warmest, most hospitable people.
The capital Sana'a embodies the two faces of Yemen. There is the modern city with upmarket tourist facilities, and the old city with its Grand Mosque and distinctive multi-story buildings crafted in clay. Sana'a is one of the oldest continuously-inhabited cities in the world and has much to offer visitors. Take in the view of the old city from the roof of the Taj Talha Hotel, enjoy the old souk for a sense of what life is like without malls, and be spellbound by the magnificent 700-year-old Great Mosque.
Aden, the second largest city, is a port dating from Biblical times. It has a more cosmopolitan, liberal air than Sana'a and makes for an interesting visit. Other cities worth exploring are Shibam, known as the Manhattan of the Desert, and the garden city of Rawdha. Yemen's most incredible attraction, however, is the Socotra archipelago, with over 700 species of wildlife and plants unique to the islands. Known as 'the other Galapagos', this is a place of unique beauty and scientific fascination, with a distinct tribal culture that has thrived for thousands of years.
Certain sights are common no matter where you travel in Yemen: most men carry rifles, and almost all men carry distinctive ritual curved daggers. The latter is really the essential souvenir for visitors - choose yours carefully and don't pack it in your hand luggage when you fly home! The other site you'll get used to seeing is , the mildly narcotic leaf that men of all ages chew while reclining in the shade, socialising and drinking tea.
To the Romans, the country of Yemen was known as , the 'fortunate land', on account of its fertile fields. In Biblical times this was the land of milk and honey, a place of great significance. Today Yemen is struggling with unrest, instability and widespread terrorism but travellers eagerly await the day this famously interesting country will again be hospitable to visitors.
Languages Spoken
Arabic is the official language. English is the most commonly spoken foreign language.
Duty Free
The import and export of local currency is prohibited. The import of firearms, illegal drugs, obscene books and magazines, and any items of Israeli origin are also prohibited. Travellers to Yemen over the age of 18 years can import the following without incurring customs duty: 600 cigarettes or 60 cigars or 450g tobacco; two bottles of alcoholic beverages (if they are non-residents); one bottle of perfume or Eau de Cologne for personal use; and goods up to the value of YER 100,000.
Electricity
Electrical current is 220 - 240 volts, 50Hz. Plug types vary but plugs with two or three flat pins or three round pins are most common.
Passport
The government of Yemen refuses entry to both holders of Israeli passports, and those who have Israeli entry or exit stamps in their passports. Authorities in Yemen have stopped issuing visas upon arrival for foreign nationals from various countries in an effort to increase security measures due to concerns that extremists were entering Yemen to receive training to carry out attacks. Visitors to the country will now be required to apply for visas from a Yemeni diplomatic office in their country of residence. It is highly recommended that passports have at least six months validity remaining after your intended date of departure from your travel destination. Immigration officials often apply different rules to those stated by travel agents and official sources.
Entry Requirements
United States citizens must have a passport valid on arrival. A visa is required and must be applied for in advance.
British nationals must have a passport valid on arrival. A visa is required and must be applied for in advance.
Canadians must have a passport valid on arrival. A visa is required and must be applied for in advance.
Australians must have a passport valid on arrival. A visa is required and must be applied for in advance.
South Africans must have a passport valid on arrival. A visa is required and must be applied for in advance.
Irish nationals must have a passport valid on arrial. A visa is required and must be applied for in advance.
New Zealand nationals must have a passport valid on arrival. A visa is required and must be applied for in advance.
Health
Malaria medication is recommended for travel to all parts of Yemen except Sana'a and areas above 2,000 metres (6,561ft) altitude. A yellow fever vaccination certificate is required for all travellers arriving from infected areas. Vaccinations are recommended for hepatitis A, hepatitis B and typhoid, and travellers should be up to date on their vaccinations for MMR (measles, mumps, rubella), polio and tetanus-diphtheria.
Medical and health care facilities are generally good in Sana'a and Aden, but virtually non-existent outside of the big cities. Comprehensive medical travel insurance, with provision for emergency repatriation, is strongly advised.
* For current safety alerts, please visit
Foreign travel advice - GOV.UK
or
Travel.State.Gov
Exchange Rate
Not available.
Embassies of Yemen
Foreign Embassies in Yemen
Customers
Yemen is an Islamic country and the faith is tightly woven into the fabric of daily life. As a visitor you should dress conservatively to avoid causing offence; women should cover their shoulders, arms and legs and men should wear long trousers. Do not drink alcohol in public. Use your right hand when eating or greeting; the left is considered unclean. Only enter mosques if invited to do so. Do not take photographs of military personnel and installations or local people without permission. Yemeni people are famously hospitable and will frequently invite visitors to their homes to eat, drink and/or chew qat. These are sincere offers typically without ulterior motives.
Travel Guide powered by www.wordtravels.com, copyright © Globe Media Ltd. All rights reserved. By its very nature much of the information in this guide is subject to change at short notice and travellers are urged to verify information on which they're relying with the relevant authorities. Globe Media and UNIGLOBE Travel does not accept any responsibility for any loss or inconvenience to any person as a result of information contained above.