General
Money
Entry Requirements
Health & safety
Weather
Embassies
Etiquette
Public Holidays
Attractions
Map
---
Introduction
Balancing Rocks ©Susan E Adams
For a small, landlocked country in southern Africa, Zimbabwe offers an astounding variety of natural beauty and spectacular scenery. The country holds great appeal for active adventurers, outdoor enthusiasts and anybody with an appreciative eye for beauty. Famous sights include the majesty of the iconic Victoria Falls, the giant marble-like boulders of the Motopo Hills, the verdant mountains of the Eastern Highlands, the national parks teeming with wildlife, and the Great Zimbabwe ancient ruins. Zimbabwe's capital city, Harare, is also impressive in many ways.
The Victoria Falls are Zimbabwe's most popular tourist destination and one of the greatest natural wonders of the world. Their mile-wide (2km) curtain of water plunges deep into the Zambezi Gorge creating a cloud of mist that can be seen up to 20 miles (32km) away. This area is renowned for being the 'adventure capital of Africa', offering a variety of high adrenaline activities, including one of the wildest days of whitewater rafting on earth, and a 364-foot (111m) bungee jump into the Zambezi River gorge from the bridge linking Zimbabwe to Zambia. If you'd rather lie back and relax, there are scenic flights over the area, game viewing adventures and tranquil sundowner cruises above the falls.
Wildlife flourishes in the untamed wilderness of the Zambezi Valley, in national parks, and on the shores of Lake Kariba, where hippo, crocodiles, buffalo, rhino, elephant and lion roam freely. Remote and protected wildlife reserves line the banks of the Zambezi River and the region offers some of the finest canoe safaris in Southern Africa, particularly the UNESCO World Heritage Site at Mana Pools, which is renowned for its outstanding variety of game. The saltpans and grassy plains of Hwange National Park support one of the largest concentrations of animals in the world, and is the largest game reserve in the country. Lake Kariba is treasured as a source of hydro-electricity, as well as for its fishing resources. It is a beautiful stretch of water studded with islands and the sun-bleached branches of dead trees, surrounded by mountains and forests. Houseboats offer a wonderful opportunity to relax and take in the spectacular sunsets, enjoy a variety of watersports, and spot the vast quantities of game attracted to the lake, including huge Nile crocodiles and hippos.
The ongoing social and political unrest in Zimbabwe, together with an economy near to collapse, has deterred many potential travellers from visiting Zimbabwe and experiencing some of the most breathtaking scenery and first-class game viewing safaris in Africa. Although visitors to the country are urged to exercise caution at all times and to remain aware of recent political developments, the main tourist areas, and national parks in particular, have been largely unaffected by the political situation, being far from the main cities where much of the instability exists. Ivory poaching, particularly of Black Rhino horn, has become a significant challenge for conservationists. In a desperate attempt to attract business, many game lodges are offering extremely competitive prices to travellers.
Communications
The international dialling code for Zimbabwe is +263. Local mobile phone operators provide GSM network coverage in most cities, towns and tourist areas throughout the country. Internet facilities are available in most towns and cities, but internet cafes are often crowded.
Emergencies
Emergencies: 995 (112 from a cell phone)
Languages Spoken
English is the official language in Zimbabwe, although it is only spoken as a first language by a tiny percentage of the population. Several indigenous languages are spoken including Shona and Ndebele.
Duty Free
Travellers to Zimbabwe do not have to pay duty on items to the value of US$200 provided this allowance is not claimed more than once in a 30-day period. These include goods for personal consumption, including tobacco, and alcohol up to 5 litres with no more than 2 litres of this being spirits. Prohibited items include narcotic and amphetamine drugs, indecent or obscene reading material, toy firearms, and blade knives.
Electricity
Electrical current is 220-240 volts, 50Hz. Three-pin rectangular blade plugs are common.
Climate Info
The climate in Zimbabwe is sub-tropical with a summer season of about eight months (October to April), with hot, sunny days the norm. Summer daytime temperatures range around 86ºF (30ºC) in the main centres, though the low-lying areas such as the Zambezi Valley, Kariba and Victoria Falls tend to be hotter, and there is always a possibility of an afternoon thunderstorm. The Zimbabwean winter climate is pleasant, with warm, dry days from June to August (though temperatures do drop more extremely at night) and the average temperature is around 68ºF (20ºC). Rain occurs mostly between November and March in Zimbabwe, though rainfall patterns do vary according to region. The best game viewing time is during the months of August, September and October: this is the dry season when animals congregate at the waterholes. The best time of the year for whitewater rafting on the Zambezi is September, October and November.
Passport
All visitors require travel itineraries, tickets and documents for return or onward journeys, as well as sufficient funds for the duration of their stay. Visa fees, where applicable, are payable in US dollars. Fees vary depending on nationality and type of visa. It is highly recommended that passports have at least six months validity remaining after your intended date of departure from your travel destination. Immigration officials often apply different rules to those stated by travel agents and official sources. If travelling on business, you'll also need multiple copies of a letter from your company and an invitation letter from a Zimbabwean company, both on company stationery.
Entry Requirements
US passport holders must have a passport valid for at least the duration of their stay. A visa is required: a 90-day tourist visa or 30-day business visa can be obtained on arrival.
UK passport holders must have a passport valid for at least the period of stay in the country. A visa is required: on arrival a 90-day tourist visa or 30-day business visa can be obtained.
Canadian passport holders must have a passport valid for at least the period of stay in the country. A visa is required: on arrival a 90-day tourist visa or 30-day business visa can be obtained on arrival.
Australian passport holders must have a passport valid for at least the period of stay in the country. A visa is required: a 90-day tourist visa or 30-day business visa can be obtained on arrival.
South Africans must have a passport valid for at least the period of stay in the country. A visa is not required for stays of less than 90 days.
Irish nationals require a passport valid for at least the period of intended stay. A visa is required: a 90-day tourist visa or 30-day business visa can be obtained on arrival.
New Zealand nationals require a passport valid for the period of intended stay. A visa is required: a 90-day tourist visa or 30-day business visa can be obtained on arrival.
Health
Travellers to Zimbabwe who are coming from infected countries require a yellow fever vaccination certificate. Vaccinations against hepatitis A, hepatitis B, and typhoid are recommended. A high prevalence of AIDS/HIV exists in Zimbabwe. There is a risk of malaria all year in most of the country, particularly in the Zambezi Valley, Victoria Falls, Hwange National Park and in the Eastern Highlands; the risk is very small in Harare and Bulawayo. Mosquitoes are chloroquine resistant. Precautions against mosquito bites should be taken to avoid any number of mosquito-borne diseases. Cholera outbreaks occur usually during the rainy season when flooding and contamination of water sources takes place. Rapidly declining health standards are also responsible for Zimbabwe having one of the lowest life expectancies in the world, according to the World Health Organization. Visitors are advised to take food and hygiene precautions. The standard of tap water in urban areas is considered low, and bottled water is available. The current economic instability has led to shortages of medication in public hospitals, and striking is common; it is advisable to bring a supply of personal medication. Medical insurance is essential. Private clinics expect cash payment and medical costs can be high.
Safety
Zimbabwe has a less-than-glowing safety report according to most governments. Continued political unrest and vigilante action by members of the National War Veterans' Association have left most farm and rural areas unsafe for travel due to the high chance of crime.
Most recently, protests erupted in Zimbabwe on 6 July 2016. Thousands of Zimbabweans protested government repression, poor public services, high unemployment, widespread corruption and delays in civil servants receiving their salaries. A national strike, named "stay-away day", began on the same day in Harare. It is advised that visitors should avoid areas where demonstrations may be held, or where there are large gatherings of people; if a demonstration or disturbance is taking place, leave quickly.
The government is widely acknowledged to be dysfunctional. Although Zimbabwe is unstable, there have been no reports of violence targeted at foreign tourists; nonetheless it is wise to use taxis and hire cars to avoid walking the city streets alone at night.
While there are travel advisories in place for much of the country, Victoria Falls is considered safe and well-policed and the majority of visits are hassle-free. The resort areas around Lake Kariba are also considered to be safe, especially on guided tours and package holidays.
Emergency Phone Number
Emergencies: 995 (112 from a cell phone)
* For current safety alerts, please visit
Foreign travel advice - GOV.UK
or
Travel.State.Gov
Money
The de facto official currency is the US Dollar (USD). The Zimbabwe Dollar (ZWD) was effectively abandoned as the official curency in early 2009 after runaway inflation. The South African Rand (ZAR) and British Pound (GBP) are also sometimes accepted. Major international credit cards are accepted in most of the larger hotels, restaurants and shops. Many smaller establishments still do not have credit card facilities. Diners Club and American Express are often not accepted. ATM facilities, dispensing USD, are available in the cities, although in smaller towns and rural areas you'll need to bring cash.
Exchange Rate
Not available.
Embassies of Zimbabwe
Zimbabwe Embassy, Washington DC, United States: +1 202 332 7100.
Zimbabwe Embassy, London, United Kingdom (also responsible for Ireland): +44 (0)20 7836 7755.
Zimbabwe Embassy, Ottawa, Canada: +1 613 421 2824/1242.
Zimbabwe Embassy, Canberra ACT, Australia (also responsible for New Zealand): +61 (0)2 6286 2281/2700.
Zimbabwe Embassy, Pretoria, South Africa: +27 (0)12 342 5125.
Foreign Embassies in Zimbabwe
United States Embassy, Harare: +263 (0)4 250 593.
British Embassy, Harare: +263 (0)4 8585 5200.
Canadian Embassy, Harare: +263 (0)4 252 181/2/3/4/5.
Australian High Commission, Harare: +263 (0)4 853 23 555.
South African High Commission, Harare: +263 (0)4 760 404.
Honorary Consulate of Ireland, Harare +263 (0)4 771 949.
New Zealand High Commission, Pretoria (also responsible for Zimbabwe): +27 (0)12 435 9000.
Customers
In Zimbabwe it is against the law to take photographs of public buildings or government institutions, and it is not advisable to take photographs anywhere in the vicinity of such buildings, or any roadblocks and illegally occupied farms, as this could lead to arrest. It is also illegal to take photographs of police and military personnel, as well as of demonstrations. It is a criminal offence to make insulting comments about President Mugabe and his government. It is also an offence to continue driving when the President's motorcade goes past, no matter which side of the road you are on. Visitors should be aware that an open hand is the political symbol of the main opposition political party, the Movement for Democratic Change, and a friendly wave may therefore be misinterpreted as a provocative gesture. Homosexuality is illegal. Civilians are not permitted to wear camouflage clothing.
Business
Business in Zimbabwe is conducted in English, and is fairly informal, with drinking and socialising very much part of the business scene. Dress is fairly conservative, but lightweight suits or casual jackets are more suited to the hot climate than formal business wear. It is customary to shake hands with men and women at the beginning and end of a meeting. Business hours are generally Monday to Friday, 8am to 4.30pm, although hours vary considerably depending on the establishment; some businesses close at 11am on Wednesdays, and some are open on Saturday mornings.
Tipping
A service charge is usually included in the bill in Zimbabwe, otherwise a 10 percent tip is customary for staff in restaurants, hotels and taxis. In general, tipping for good service is discretionary. Some tour guides and game rangers depend largely on tips for their income.
Public Holidays in Zimbabwe
| | | |
| --- | --- | --- |
| | 2016 | 2017 |
| New Years Day | 1 Jan | 1 Jan |
| Independence Day | 18 Apr | 18 Apr |
| Good Friday | 25 Mar | 14 Apr |
| Easter Monday | 28 Mar | 17 Apr |
| Workers Day | 1 May | 1 May |
| Africa Day | 25 May | 25 May |
| Heroes Day | 8 Aug | 14 Aug |
| Defence Forces Day | 9 Aug | 8 Aug |
| Unity Day | 22 Dec | 22 Dec |
| Christmas Day | 25 Dec | 25 Dec |
| Boxing Day | 26 Dec | 26 Dec |
Overview
Zimbabwe is blessed with a host of globally-recognised touristic gems, mostly of the natural variety, beckoning outdoor enthusiasts and nature lovers.
The two most famous areas to visit in Zimbabwe are the incomparable Victoria Falls (on the western border), and the wide expanse of Lake Kariba (on the northwestern border). In both cases wondrous natural features have ensured the development of tourist hubs which are comparatively safe for visitors, boast plentiful activities and attractions, and offer well-developed amenities. Victoria Falls alone justifies travelling to Zimbabwe, with the Zambezi River, where the falls are located, also famed for its high-volume whitewater rafting adventures. Lake Kariba is a favourite playground for fishermen and boaters, particularly renowned for its house boating potential.
Of course, Zimbabwe is also home to diverse wildlife and some game viewing is a must during a visit to the country. The Matusadona National Park, which incorporates Lake Kariba, is a good option for animal sightings. Other popular game parks include Hwange National Park, Mana Pools National Park and Matobo Hills National Park. Keen bird watchers will find the Honde Valley and Eastern Highlands well worth a visit.
Culturally, the most popular attraction in the country is Great Zimbabwe, a UNESCO World Heritage Site dating back to the 11th century. Exploring the well-preserved ruins of this mysterious ancient culture is thrilling.
Map of Zimbabwe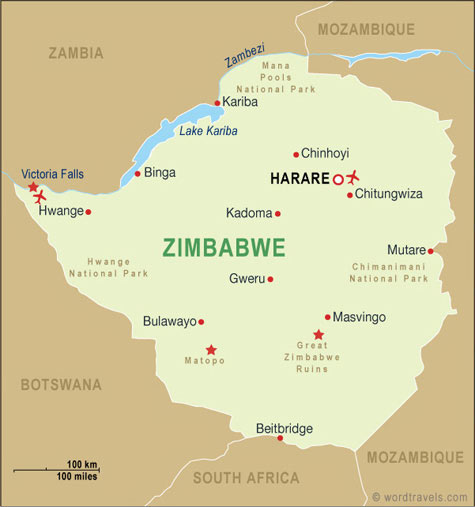 Travel Guide powered by www.wordtravels.com, copyright © Globe Media Ltd. All rights reserved. By its very nature much of the information in this guide is subject to change at short notice and travellers are urged to verify information on which they're relying with the relevant authorities. Globe Media and UNIGLOBE Travel does not accept any responsibility for any loss or inconvenience to any person as a result of information contained above.