General
Weather
Airports
Attractions
Activities
---
Introduction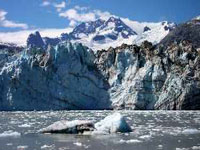 Glacier Bay, Alaska ©National Park Service
More than twice the size of Texas, Alaska is the largest state in the USA: a land of vast natural splendour, abundant wildlife and few people. It offers unique experiences such as walking in unspoilt wilderness, spectacular cruising through the fjords of the Inside Passage, and frontier towns rich in gold rush history. Alaska's sense of undiscovered wilderness and promise of adventure is still as strong today as it was in the past, and having attracted thousands of pioneers in search of gold, fur, fishing, logging and oil, this 'Last Frontier' today lures travellers in search of unspoilt beauty and close encounters with nature. In fact, Alaska's three largest cities - Fairbanks, Juneau, and Anchorage - are home to fewer than 350,000 people between them.
The southeast epitomises classic Alaskan scenery, with its fjords, mountains, forests and glaciers. Alaska is one of the top cruise destinations in the world and the main drawcard for visitors to this region is the lack of roads between towns and scenic wonders that make the waters of the Inside Passage a major marine highway ideal for ship travel. The number one attraction in the interior heartland is Denali National Park, an area of untamed magnificence that also encompasses North America's highest mountain, the snow-covered Mount McKinley. Arctic Alaska in the frozen north is less well-travelled, and few venture as far as Barrow and Nome.
Because of its location in the far north, Alaska is the land of the 'midnight sun', and visitors can experience the odd phenomenon of having over 21 hours of sunlight each day in the summer. Despite a reputation for high prices and inhospitable weather, millions of people have discovered in Alaska a unique piece of the US that is worth every dollar.
Climate Info
Although the assumption is that Alaska is a land of snow and sub-zero temperatures, the climate in Alaska is actually extremely varied, caused by the state's six different topographic regions. The far north is extremely dry and very cold, with Arctic conditions and temperatures averaging about -20°F (-29°C), and the ground at Point Barrow remains permanently frozen to a depth of 1,330 ft (405m). However, summer temperatures in most of Alaska are surprisingly high, averaging in the 60s Fahrenheit (about 16°C), and they have been known to reach 90°F (32°C) and up. The southeast tends to be fairly moderate, with damp, rainy and sometimes mild conditions, with temperatures in July averaging 56°F (13°C) and temperatures in January averaging 30°F (-1°C). The south and central areas tend to be similar, with slightly colder winter temperatures. Western Alaska tends to be rainy, while the Aleutian Islands in winter are damp and rainy, with fog. Heavy snows are common in the north and central regions of the state. The best time to visit Alaska is in the summer months, when days are long and the weather is perfect for outdoor adventures.
Getting Around
Anchorage's public transit system, People Mover, provides easy access to most tourist attractions and places of interest. The buses run between roughly 6.30am and 9pm on weekdays and thereafter until 11pm, but the service during these late hours is limited. Travellers should note that operating times vary by route and is reduced on weekends. Maps and schedules are available from the People Mover Transit Center on 6th Avenue. Adult bus fare starts at $2. Day passes are available and good value for money if you will be sightseeing all day.
Some tourist attractions provide free shuttles to and from downtown Anchorage, where many of the hotels are situated. There are also taxis, rental cars and rental bicycles available.
Ted Stevens Anchorage International Airport (ANC)
| | |
| --- | --- |
| Location | The airport is situated about two miles (3km) south of Anchorage. |
| Time Difference | GMT -9 (GMT -8 from mid-March to the first Sunday in November). |
| Contacts | Tel: +1 907 266 2526. |
| Transfer terminals | There is a free airport shuttle bus between the South (Domestic) Terminal, the North (International) Terminal and the rental car lots. |
| Getting to city | The People Mover bus service stops regularly at the airport, taking travellers to downtown Anchorage. It operates between roughly 6am and 11pm daily, at 30-minute intervals. Many hotels offer free airport pick-up services for their guests, and limousines and taxis are also available for hire. |
| Car Rental | Car rental companies include Alamo, Avis, Budget, Dollar, Hertz, National and Thrifty. |
| Airpor Taxis | Taxis are available outside both terminals. The ride to downtown Anchorage takes approximately 15-20 minutes. |
| Airport Facilities | Facilities include ATMs, currency exchange, restaurants, bars, shops, a massage centre, a barbershop, a nursery, mail drop points, a military lounge, a hotel reservations desk and tourist information. Disabled facilities are very good. |
| Car Parking | Short-term parking outside the North Terminal (international) is free for the first half hour, then $5 for two hours, and $8 for three hours up to $13 per day and $78 per week (10-day maximum). Short-term parking at the South Terminal (domestic) is slightly more expensive, charging $3 for the first hour, $6 for two hours, and $10 for three hours, up to $16 per day and $96 per week (30-day maximum). Long-term parking is near the South Terminal, costing $13 per day and $78 per week (90-day maximum). The Park, Ride & Fly Lot is the cheapest long-term option; located across from the DOTPF Central Regional Headquarters on International Airport Road, it charges $9 per day, $40 per week, and $100 per month (90-day maximum). The lot is serviced by a free shuttle to both terminals. |
| Website | www.anchorageairport.com |
Ketchikan International Airport (KTN)
| | |
| --- | --- |
| Location | The airport is situated three miles (4km) northwest of central Ketchikan. |
| Time Difference | GMT -9 (GMT -8 from mid-March to the first Sunday in November). |
| Getting to city | An airport ferry regularily leaves the airport for Ketchikan between 6.15am and 9.30pm. Metered taxis and a public bus service are readily available from the mainland ferry and water taxi docks. |
| Car Rental | Budget car rental is represented at the airport. |
| Airpor Taxis | Water taxis are available from the airport and many hotels offer complimentary taxi or shuttle services for guests. Taxi cabs meet the airport ferry in Ketchikan. |
| Airport Facilities | There is a lounge and snack bar in the terminal, as well as free wifi, rental car desks, a gift shop and a lost and found service. |
| Car Parking | Parking is available. |
| Website | www.borough.ketchikan.ak.us/130/Airport |
Juneau International Airport (JNU)
| | |
| --- | --- |
| Location | The airport is situated eight miles (13km) northwest of central Juneau. |
| Time Difference | GMT -9 (GMT -8 from mid-March to the first Sunday in November). |
| Getting to city | Juneau's public transit system, Capital Transit, provides bus and shuttle services to and from the airport. An adult fare starts at about $2. A number of hotels also offer shuttle services for guests. Rental cars and taxis are available at the airport. |
| Car Rental | Car hire companies represented at the airport include Alamo/National, Avis, Budget and Hertz. |
| Airpor Taxis | A number of taxi companies service the airport. |
| Airport Facilities | Facilities at the airport include a visitor information desk, baggage storage, a lost and found service, smoking rooms, disabled facilities, free wifi, a computer lounge, a gift shop and restaurants. |
| Car Parking | Short and long-term parking is available directly in front of the terminal building. In short-term parking the first 15 minutes are free, the first hour costs $3, and each hour thereafter costs $2. In long-term parking the first two hours cost $5 and each extra hour costs $1, up to a daily rate of $14, and a weekly rate of $75. |
| Website | www.juneau.org/airport |
Denali National Park and Preserve




Famous for its spectacular mountain vistas, abundant wildlife, glaciers, vast expanses of sub-arctic tundra, and North America's highest mountain, Mount McKinley, Denali National Park and Preserve is a real wilderness area that attracts millions of visitors a year. More than six million
▼ see more




Denali from Wonder Lake ©National Park Service
---
Glacier Bay National Park




When the early explorers and pioneers of the 18th century sailed this way, Glacier Bay was hidden under a huge sheet of solid ice, more than 4,000ft (1,219m) thick and up to 20 miles (32km) wide. Today the branching 65-mile (105km) long fjord is the work of the fastest-receding glacier o
▼ see more




Glacier Bay, Alaska ©National Park Service
---
Anchorage Museum of History and Art




The world-class Museum of History and Art is the largest museum in Alaska and is one of the most visited attractions in Anchorage. The exhibits cover the history and cultures of Alaska - from Native American beginnings to American colonisation - and explore the natural resources and land
▼ see more




Anchorage Museum of History and Art ©Anchorage Museum of History and Art
---
Hubbard Glacier




There is surely no more spectacular experience on the planet than to witness the calving of a titanic glacier. A stopover to watch nature's incredible marvel, the Hubbard Glacier, in action as the high wall of ice thickens and advances towards the Gulf of Alaska is one of the unforgettab
▼ see more




Hubbard Glacier ©NPS
---
Alaska Native Heritage Center




The Alaska Native Heritage Center is a wonderful place for visitors to learn about the culture and heritage of the native Alaskan people while in Anchorage. Indigenous traditions, customs and lifestyles are showcased in the centre's exhibits, which include artefacts such as tools, waterc
▼ see more




Maori Performer ©Alaskan Dude
---
Alaskan Ferry




Large cruise ships regularly travel to major ports in Alaska but a better idea for those who prefer a more intimate option is the Alaskan Ferry. Departing from Bellingham, Washington, these large ferries bounce through the major coastal towns of Canada and The Gulf of Alaska before stret
▼ see more




An Alaskan Ferry ©Alaskan Dude
---
Ketchikan




The 'salmon capital of the world' started as a summer fish camp on the shores of Ketchikan Creek used by the Tlingit natives, and became a major salmon canning centre. Native Inuit heritage plays a large role in the touristic appeal of Ketchikan, which boasts the largest collection of to
▼ see more




Misty Fjords ©Ketchikan Visitor\'s Bureau
---
Mendenhall Glacier




The most popular attraction in Juneau is the Mendenhall Glacier, located just 12 miles (19km) from the downtown area. Originally known as Sitaantaagu ('the Glacier Behind the Town') by the Tlingits, it was renamed in honour of Thomas Corwin Mendenhall, an American physicist, in 1891. The
▼ see more



---
Travel Guide powered by www.wordtravels.com, copyright © Globe Media Ltd. All rights reserved. By its very nature much of the information in this guide is subject to change at short notice and travellers are urged to verify information on which they're relying with the relevant authorities. Globe Media and UNIGLOBE Travel does not accept any responsibility for any loss or inconvenience to any person as a result of information contained above.